AMD is launching the Ryzen 7 7800X3D desktop processor at CES 2023 with V-Cache as the world's fastest gaming processor—and it's not even the fastest processor in its new family of chips.
In February, AMD will begin shipments of the Ryzen 9 7950X3D, the very similar Ryzen 9 7900X3D and the Ryzen 7 7800X3D, pairing a fast processor core with gobs of performance-enhancing cache. Following the launch of the $449 (and now significantly discounted) Ryzen 7 5800X3D in June, the new processors move the X3D lineup into what should be the AM5 socket architecture, increasing power from 105W to 120W as a consequence.
But the increased power consumption accompanies massive improvements across the board. Yes, the Ryzen 7 7800X3D includes eight cores and 16 threads, the same as the older Ryzen 7 5800X3D. But boost clocks shoot up to 5.0GHz, a 500MHz increase. And look out for not one but two Ryzen 9 processors: the Ryzen 9 7950X3D includes 16 cores, 32 threads, and a boost speed of 5.7GHz, which simply blows the prior generation out of the water.
The selling point of the X3D product line, however, is the inclusion of V-Cache. By bundling a massive amount of level-3 cache within the SOC package, AMD's processors can avoid having to search for key data in the relatively slower main memory. The top-end Ryzen 9 7950X3D includes 144MB of cache, a cool 50 percent more than the Ryzen 7 5800X3D, though it will only be available on a single chiplet that an app or game can remain pinned to if it needs the extra cache.
"It doesn't need to boost that high in order to get that game performance because there's so much memory on the chip," said Don Woligroski, an AMD senior product manager, in a briefing with reporters. The chips aren't overclockable, either.
AMD
Below you'll find a summary of AMD's three new X3D Ryzens. However, AMD hasn't formally released the base clock of the Ryzen 7 7800X3D quite yet.
Ryzen 9 7950X3D: 16 cores/32 threads; 4.2GHz base clock/5.7GHz turbo; 144MB of cache
Ryzen 9 7900X3D: 12 cores/24 threads; 4.4GHz base clock/5.6GHz turbo; 140MB of cache
Ryzen 7 7800X3D: 8 cores/16 threads; 4.x GHz base clock/5.0GHz turbo; 104MB of cache
AMD is positioning their new chips as ideal for both gaming as well as content creation, but as we pointed out earlier, the additional cache doesn't quite make as much difference in non-gaming applications. Woligroski noted, however, that you'll see a significant improvement in gaming where the games are CPU-limited, including popular e-sports games such as League of Legends.
We've included the performance data AMD provided below: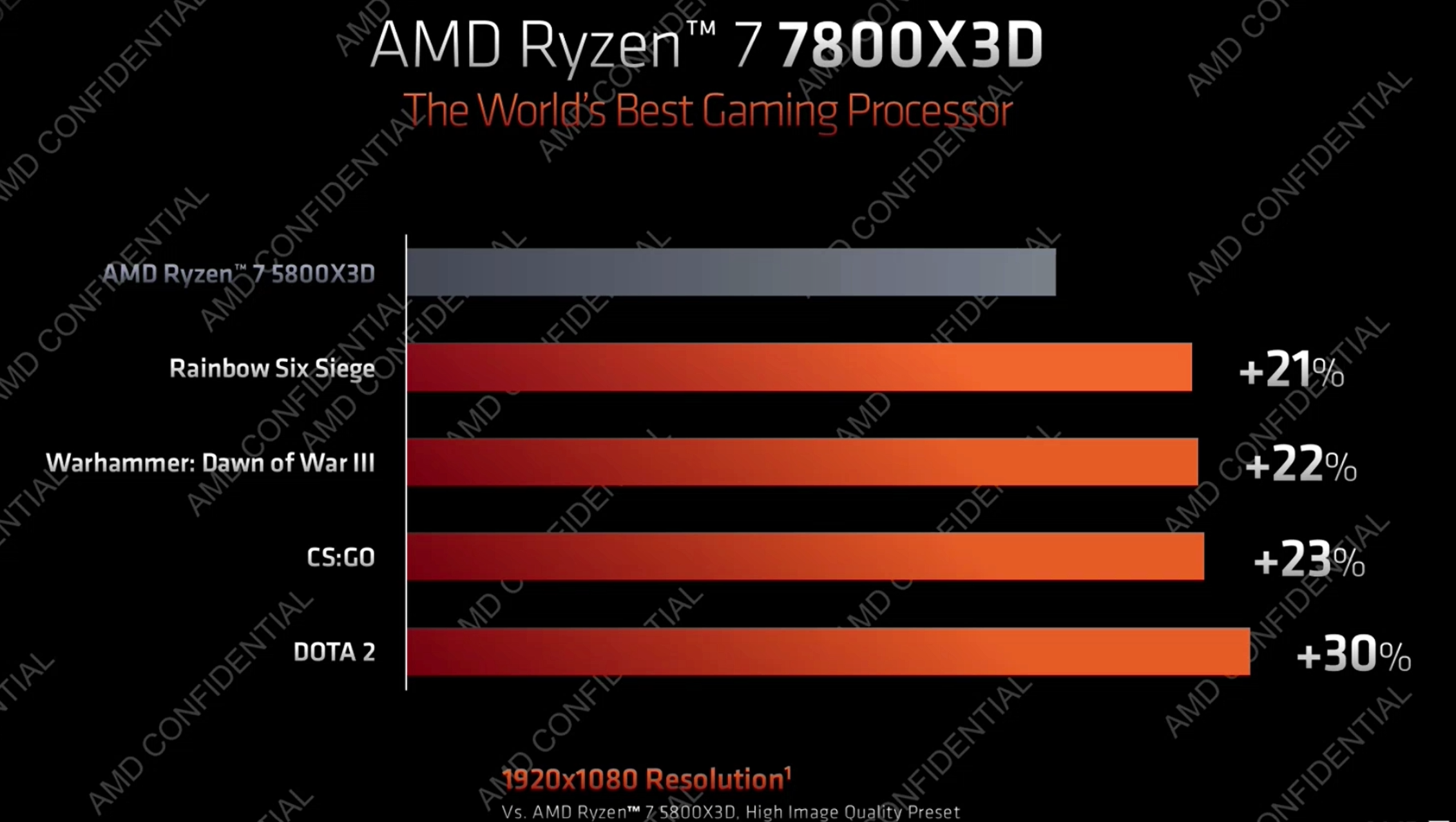 The performance of these new Ryzen X3D chips vary significantly when put to work on non-gaming tasks.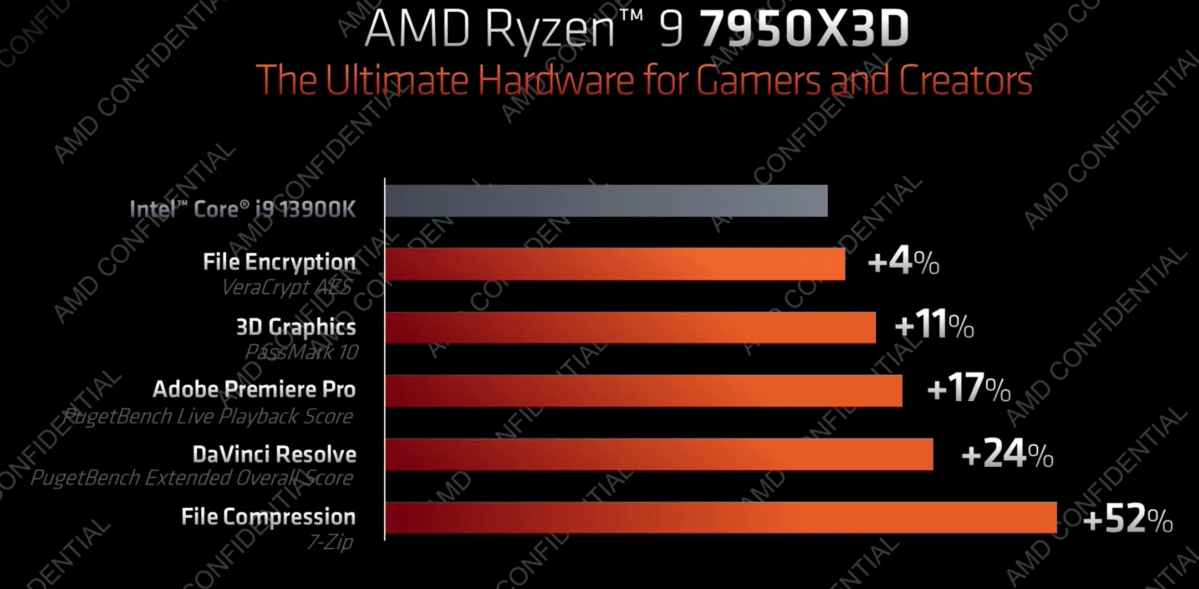 AMD
AMD hasn't released the pricing of these new X3D chips. You can probably expect them to be more expensive than a "generic" Ryzen thanks to all of that additional V-Cache. But by how much? For that, we'll have to wait and see. Until then, here's a peek under the hood of the Ryzen 9 7950X3D. If you look closely you can even see the cache!
Adam Patrick Murray / IDG
Read about all of AMD's announcements from CES 2023: