Editor's Note: AMD said late on Friday, March 10, that laptops with its new Ryzen Mobile 7045HX processors are now available. The original story follows.
AMD launched its Ryzen 7000 family of mobile processors at CES 2023 with a family spread across four different processor architectures—and with a new AI effort, Radeon XDNA, ushering in a future driven by artificial intelligence.
Recall last September when AMD introduced its new processor naming scheme. Now, that formula is more important than ever to decode the five Ryzen 7000 Mobile series—the Ryzen 7045, Ryzen 7040, Ryzen 7035, Ryzen 7030, and Ryzen 7020—and the Zen 4, Zen 3+, Zen 3, and Zen 2 processor architectures spread between them. AMD also refers to them by their platform, too: the U-series chips for thin-and-light notebooks between 15 and 28 watts, the Ryzen HS series for 35W to 45W thin enthusiast notebooks, and the Ryzen HX series for 55W ultra enthusiast notebooks.
AMD's new mobile offerings are headlined by "Dragon Range," the "extreme laptop gaming CPU" that AMD actually pre-announced last year. "Our mission statement last year was we want to lead with thinner, lighter, more power efficient, more performant laptop designs," Don Woligroski, an AMD senior product manager, said in a briefing with reporters. "And that's still true. The real big change this year is we're also focusing on new technologies to kind of really change the user experience."
AMD is continuing to bet big on performance and battery life as its selling points. Though AMD's share of the mobile PC processor market fell to about 16 percent during the third quarter of 2022, AMD's eager to regain lost ground. Meanwhile, Intel has launched its own 13th-gen mobile Core chips at CES, including AI technologies as well. Here's what each of AMD's product families has to offer—and how you'll know if you're actually buying AMD's latest and greatest.
In all, AMD believes that it will ship more than 250 mobile Ryzen designs this year, AMD chief executive Dr. Lisa Su said at a CES keynote on Wednesday night.
AMD's Ryzen 7000 Mobile series: Too many details?
In a recorded briefing for reporters, AMD published a summary of the new Ryzen 7000 series of mobile processors. Only the top two tiers—the Ryzen 7045 and the Ryzen 7040 series—use AMD's latest Zen 4 processor architectures. The others are based on combinations of the mobile Zen 3+ architecture, (launched this past January), the mobile Zen 3 (launched two years ago in January 2021), and the Zen 2 architecture, part of the 2020 Ryzen 4000 mobile Ryzen lineup. AMD is using different process technologies for each of these families, as well.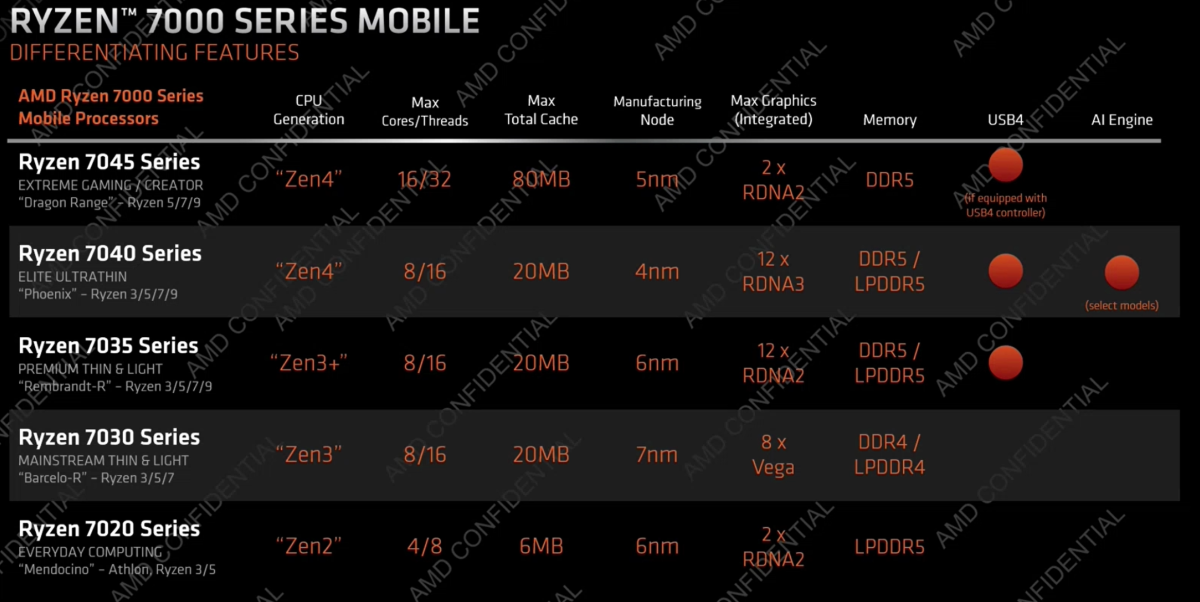 AMD
Those numerical processor designations will form the foundation of the new chips. Just keep in mind that the generic "series" descriptions aren't actually product names: the Ryzen 7040 series includes the Ryzen 9 7940HS, the Ryzen 7 7840HS, and the Ryzen 5 7640HS, which aren't implied by the "7040" name at all, really.
But if you're buying a laptop, you'll also see a few letters tacked on at the end of the processor's name. One of these suffixes, "U," should be familiar to laptop buyers, as that typically signals the lowest end of the lineup. Intel uses "U" to denote a tablet processor, and both companies have begun using "H" to indicate a higher-end chip. That's the case, here, too: HS chips indicate "elite ultrathin" notebooks, while the "HX" suffix is reserved for the best of the best: the "extreme" gaming and creator notebooks.
AMD
AMD is still using its Ryzen 3, Ryzen 5, Ryzen 7, and Ryzen 9 designations, too, to let you know the good-better-best-really best hierarchy. Is it all overkill? Probably, but at least AMD is making an effort to try and tell you what to buy. Just make sure you have an article like this handy when you go shopping.
AMD Ryzen 7045 Mobile series: Premium power
AMD's new "Dragon Range" processor is its best and brightest, featuring almost all of its latest technologies. Though AMD didn't call it out as such, the chip family seems designed for an external CPU, leaning heavily on a high-end core count (16 cores, 32 threads) and just a pair of last-gen RDNA2 graphics units instead. Though AMD is separately announcing its latest desktop Ryzen chips with performance-enhancing V-Cache, the 7045 chips include a relatively massive 80MB of cache memory, far more than the other mobile series.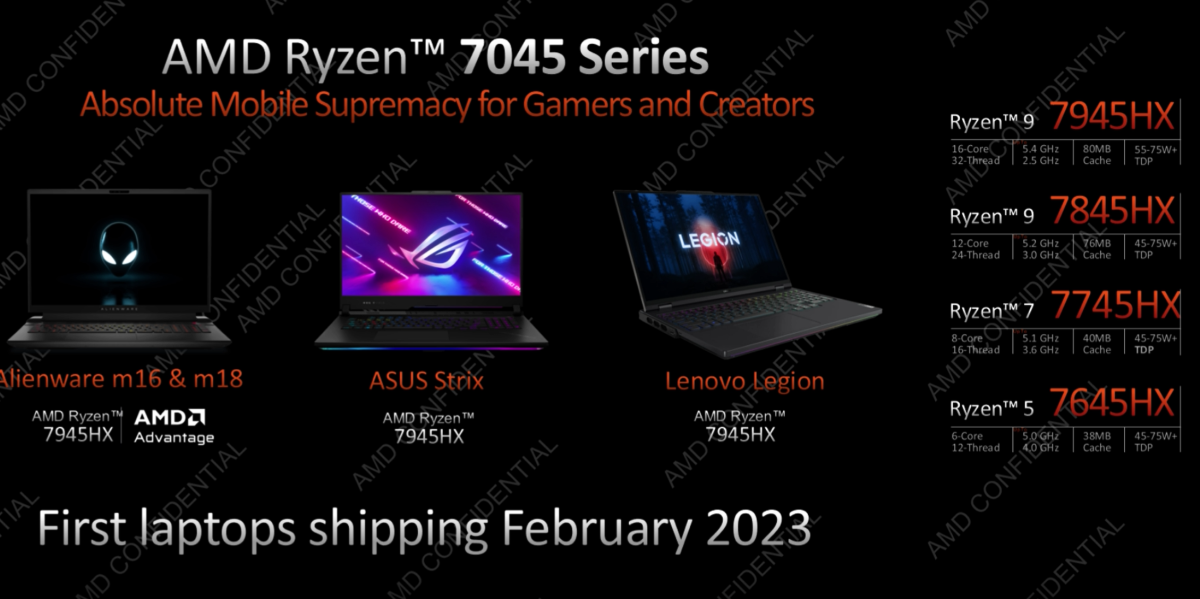 AMD
The 7045 series includes four chips, which will begin shipping inside laptops in February. AMD announced that four laptops (the Alienware m16 and m18, the Asus Strix, and the Lenovo Legion) will include the 7945HX.
Ryzen 9 7945HX (pictured at top): 16 cores/32 threads, 2.5GHz base clock/5.4GHz turbo; 80MB cache; 55-75W+ TDP
Ryzen 9 7845HX: 12 cores/24 threads, 3.0GHz base clock/5.2GHz turbo; 76MB cache; 45-75W TDP
Ryzen 7 7745HX: 8 cores/16 threads, 3.6GHz base clock/5.1GHz turbo; 40MB cache; 45-75W TDP
Ryzen 5 7645HX: 8 cores/12 threads, 4.0GHz base clock/5.0GHz turbo; 38MB cache; 45-75W TDP
From a performance standpoint, AMD is promising an 18 percent performance improvement on the Cinebench benchmark using its single-thread test, versus the last-generation Ryzen 6900HX (8 cores, 16 threads, 4.9GHz turbo clock), and a 78 percent increase on the option to use all of the available threads. AMD is also promising a hefty performance increase over Intel's 12th-gen mobile Core chips. (Though Intel just announced its 13th-gen mobile Core chips, they weren't available for testing.)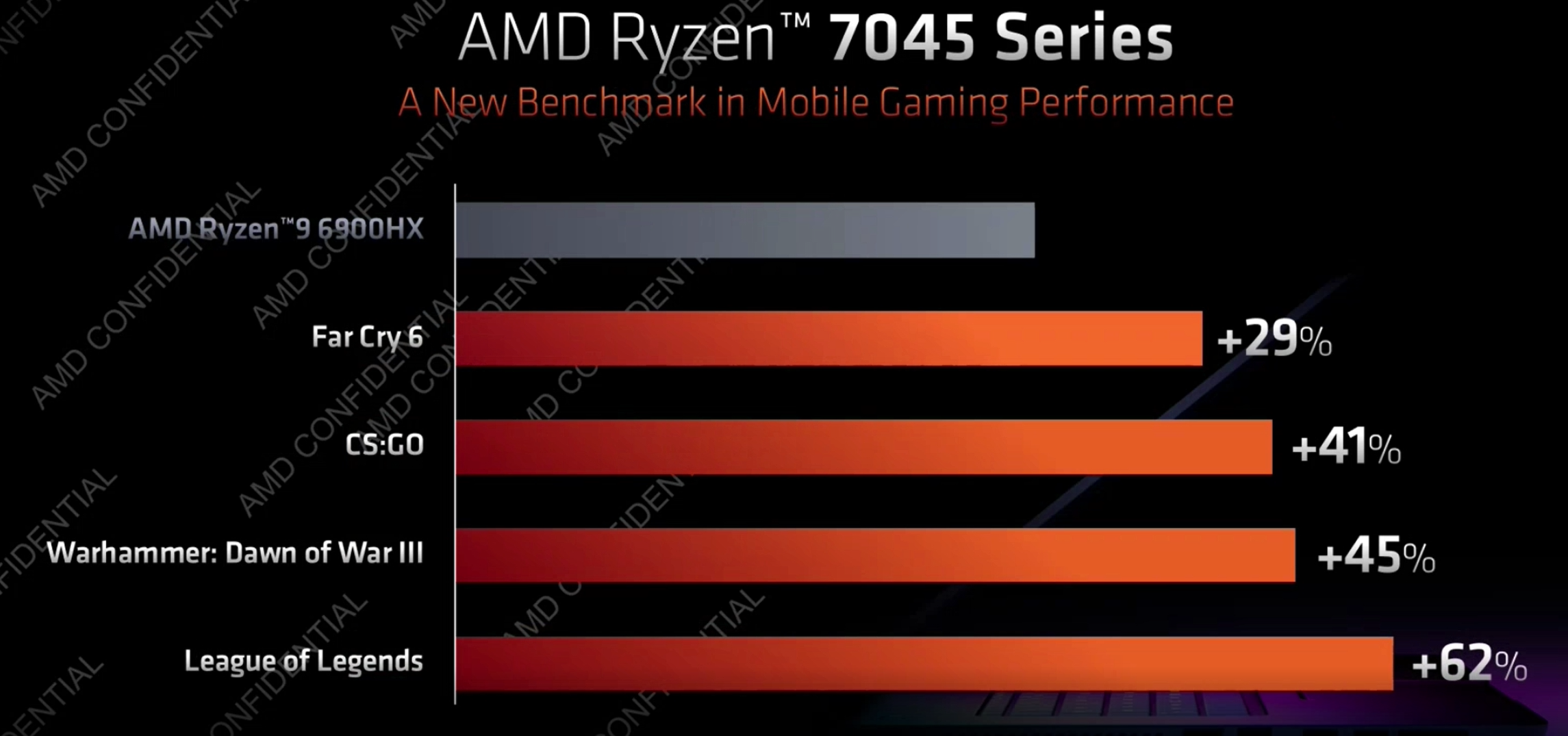 AMD Ryzen 7040 Mobile series: Meet the new XDNA Ryzen AI engine
AMD's Ryzen 7040 Mobile series of processors is noteworthy for two things: AMD's other new mobile Ryzen family to offer the Zen 4 architecture, and the debut platform for XDNA, AMD's new Ryzen AI engine architecture. If you're in the market for the latest in AMD Ryzen technology, the 7040 series may be your best bet: It offers Zen 4, the leading-edge 4nm process, DDR5/LPDDR5 support, USB4, and a hefty dozen RDNA3 GPU cores integrated within it.
The three chips within the family are all designed for "elite ultrathin" laptops, and carry the HS designation. Laptops using these new chips will begin shipping in March, and AMD CEO Lisa Su promised that they would have more than 30 hours of battery life.
Ryzen 9 7940HS: 8 cores/16 threads, 4.0GHz base clock/5.2GHz turbo; 40MB cache; 35-45W TDP
Ryzen 7 7840HS: 8 cores/16 threads, 3.8GHz base clock/5.1GHz turbo; 40MB cache; 35-45W TDP
Ryzen 5 7640HS: 6 cores/12 threads, 4.3GHz base clock/5.0GHz turbo; 38MB cache; 35-45W TDP
AMD chose to compare its new 7040 series chips to the Intel Core i7-1280P, as well as the Apple M1 Pro, in terms of content creation.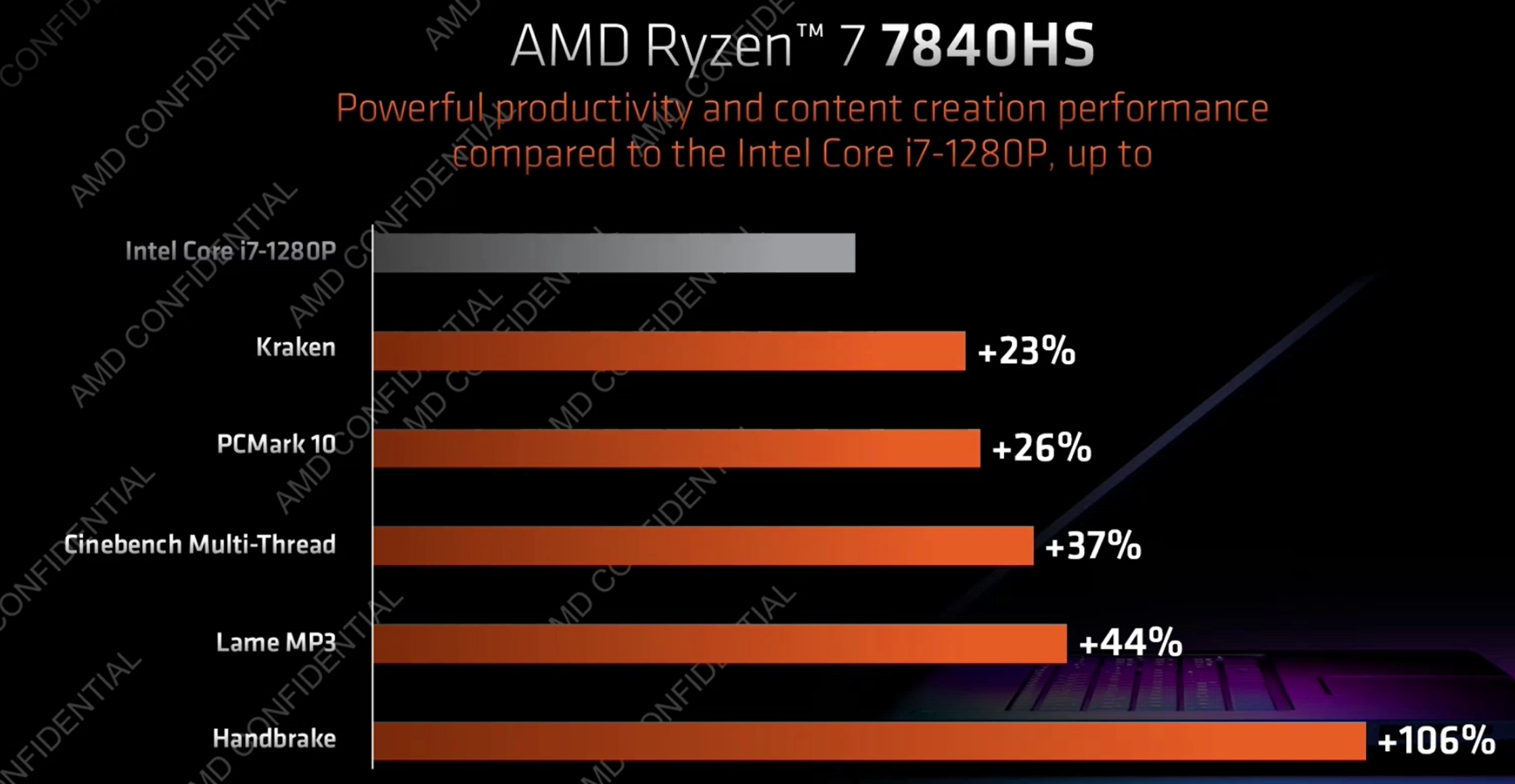 The most interesting new addition to the 7040 series is XDNA, which, for now, will be the only AMD Ryzen processor to feature the new XDNA architecture. AMD sees XDNA in the same light as RDNA: decades ago, the CPU performed sound and graphics calculations. Over time, those functions migrated to discrete logic blocks, with graphics eventually partitioned off into the GPUs and graphics cards we see today. AMD sees AI evolving somewhat in the same vein, as a function that can be offloaded to a dedicated engine.
According to Nick Ni, senior director for AI and the computing markets for AMD, AMD already attacks AI at the enterprise and server space with cards like the AMD Alveo V70, which provides AI functionality that can use connected cameras to recognize the potential for auto accidents or anticipate hospital patients falling when impaired. Closer to home, AI is used in both smartphone cameras for portrait mode, Windows Studio Effects for Windows on Arm PCs, and, potentially, AI art, though those functions currently run on the GPU. Like other AMD GPUs, XDNA is just a scaled-down version of the AI inferencing technology found in the V70.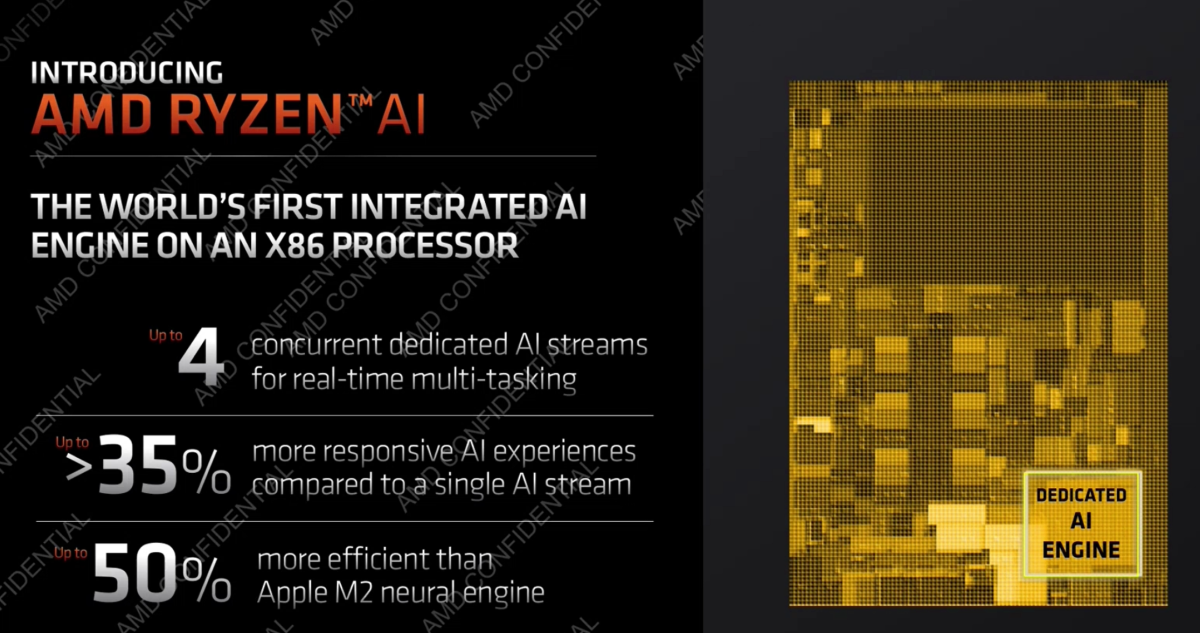 AMD
AMD is remaining somewhat vague about the advantages of AI in current PCs. However, AMD Ryzen AI, which runs on top of the XDNA architecture, can run up to four concurrent AI streams at once, and is 50 percent more responsive than the AI engine built into the Apple M2. The multi-stream AI engine should deliver 35 percent more responsiveness than a single AI engine, AMD said.
Executives said that the XDNA architecture that makes up Ryzen AI is actually an FPGA (Field Programmable Gate Array), logic that was acquired as part of AMD's $35 billion acquisition of Xilinx in 2020. Though analysts told PCWorld that they believe the FPGA is actually fixed-function, the advantage of an FPGA is that it can be reconfigured after it's been shipped.
"In a market that is inevitably going to drive toward AI solutions, you can see the potential for ChatGPT and Dall-E, and those are just two things that can change how AI can be leveraged," said Don Woligroski, an AMD senior product manager, in a briefing with reporters. "And make no mistake, AMD sees that. This is a very early time in the game, and this is only going to get more pervasive."
Is AI important for your next PC? Not now, probably. But eventually? It seems likely.
Ryzen 7035, 7030, and 7020 Mobile series: Mainstream Ryzen laptops
AMD's Ryzen 7035 Mobile series will be aimed at mainstream laptops, where AMD has historically somewhat struggled. Technically, these chips will ship into "premium thin and light" laptops, and you'll see a decent mix of AMD's latest technologies here: the Zen3+ architecture on a 6nm process, with DDR5/LPDDR5, 12 older RDNA2 GPU cores, and USB4 technology.
"AMD owns battery life and Windows x86 laptops," Woligrowski said as he introduced the new processors. "I don't think anybody would argue against that right now. We have the best, the best longevity and true mobile solutions."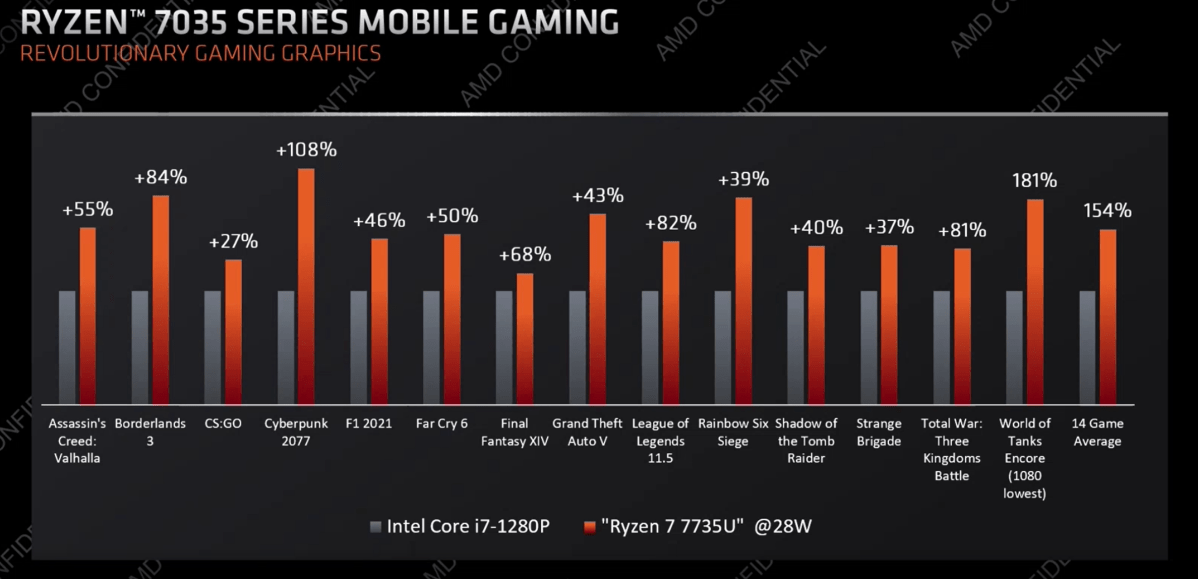 AMD
Here are the details of the Ryzen 7035 Mobile series:
AMD Ryzen 7 7735HS: 8 cores/16 threads, 3.2 base clock/4.75GHz turbo; 20MB cache; 35W TDP
AMD Ryzen 5 7535HS: 6 cores/12 threads, 3.3 base clock/4.55GHz turbo; 19MB cache; 35W TDP
AMD Ryzen 7 7735U: 8 cores/16 threads, 2.7 base clock/4.75GHz turbo; 20MB cache; 15-28W TDP
AMD Ryzen 5 7535U: 6 cores/12 threads, 2.9 base clock/4.55GHz turbo; 19MB cache; 15-28W TDP
AMD Ryzen 3 7335U: 4 cores/8 threads, 3.0 base clock/4.3GHz turbo; 10MB cache; 15-28W TDP
Her are the details of the Ryzen 7030 Mobile series:
AMD Ryzen 7 7730U: 8 cores/16 threads, 2.0 base clock/4.5GHz turbo; 20MB cache; 15W TDP
AMD Ryzen 5 7530U: 6 cores/12 threads, 2.0 base clock/4.5GHz turbo; 19MB cache; 15W TDP
AMD Ryzen 3 7330U: 6 cores/12 threads, 2.3 base clock/4.3GHz turbo; 10MB cache; 15W TDP
We know that the family will offer up to 8 cores and 16 threads, with "battery life the competition can only dream of," according to the company—but without too many specifics. AMD is claiming that the 7035 series will offer 15 percent longer video playback than the 12th-gen Intel mobile Core i7.
The Ryzen 7030 series will launch inside of mainstream thin-and-light laptops. AMD isn't disclosing anything about this family, either, save for one entry—the Ryzen 7 7730U—and the fact that it will use the Zen 3 architecture on a 7nm process, with eight "Vega" integrated graphics cores. (Yes, Vega, which debuted about six years ago in 2017.)
Still, AMD is positioning the Ryzen 7 7730U as one that will clearly outperform the 12th-gen Core i7-1265U, as shown in AMD's own benchmark estimates, below. AMD is also announcing that the company will ship an AMD Ryzen Pro version of the 7030, as well.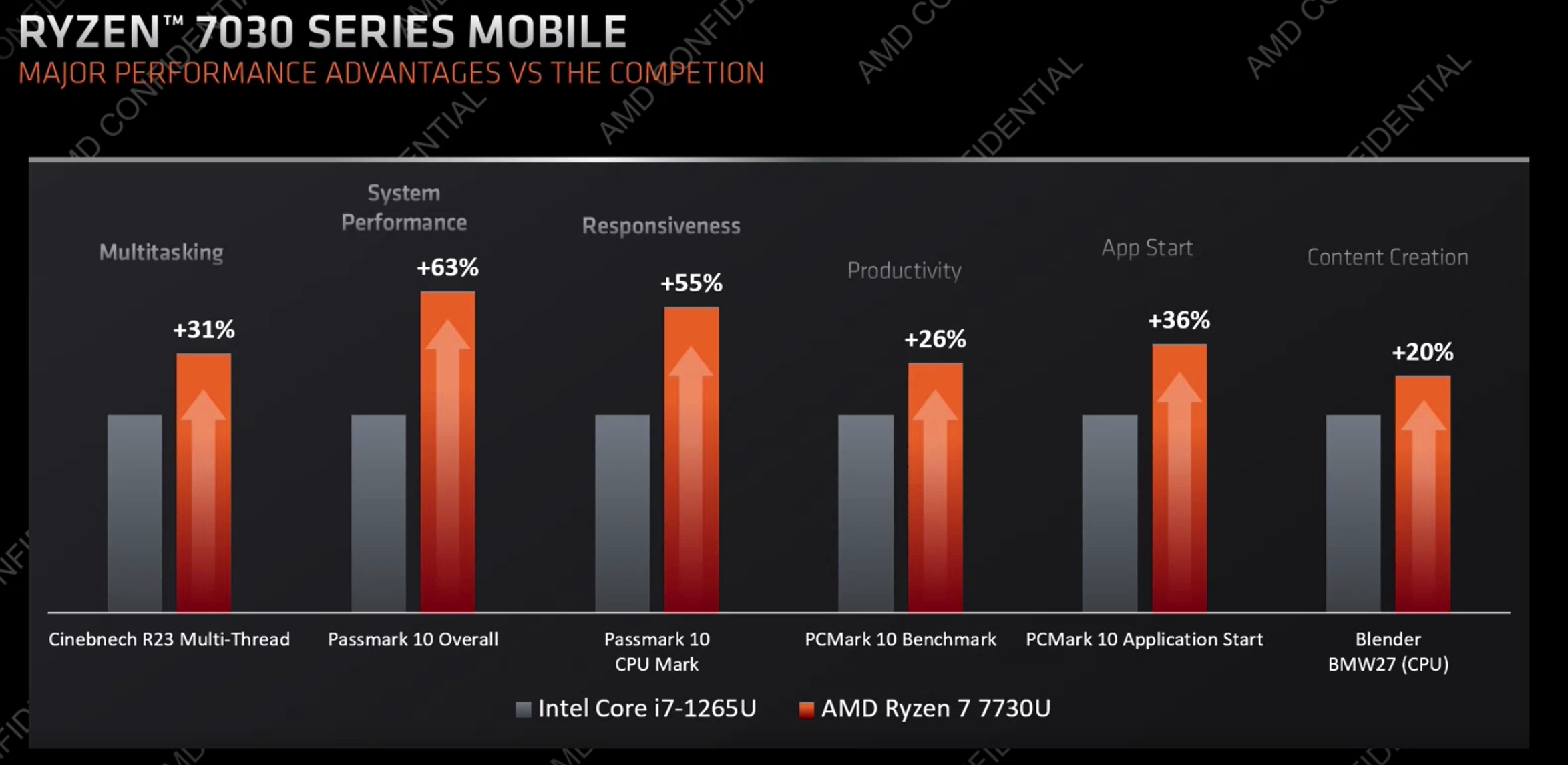 With Intel and now AMD announcing their mobile processors for 2023 laptops, all we need now is the first systems to hit our testing laboratory.
Read about all of AMD's announcements from CES 2023:
Additional reporting by Gordon Mah Ung in Las Vegas. Updated at 8:32 PM on Jan. 4 with additional details.