There's an arms race among PC monitors right now. And as has been its pattern for the last few years, Samsung's brought out the big guns. Its latest Odyssey Neo G95C monitor isn't just its most advanced offering, it's easily the biggest, stretching a massive 57 inches from curved corner to curved corner. The exercise in display excess pumps out a resolution of 7680×2160 — essentially two 4K screens side by side, on one panel.
It's hard to overstate just how ridiculous this design is. While Samsung didn't share physical dimensions for this thing in its pre-CES announcement, the previous largest Neo G9 (CHG9, because Samsung's naming scheme is weird) was 49 inches diagonally, 47.36 inches wide, and 33.1 pounds (including the stand). Extrapolating a little, this bigger model will probably hang off the side of a four-foot-wide desk. With a dramatic 1000R curve factor, it might hang off the front of the desk, too! Good luck trying to find a VESA arm that can support it; you might just have to live with the included stand, which is more than half its width according to the photos.
Samsung
But it's not just your desk and your back that will need to be beefy to handle this thing. Your graphics card will need the latest, greatest DisplayPort 2.1 connection to pump out double-4K resolution at the panel's maximum 240Hz refresh rate—a feature currently only offered by AMD's Radeon RX 7900 series GPUs. Samsung claims it's using Display Stream Compression, a newer VESA standard, in order to get the image across without distortion.
If you're okay with sacrificing a little size for image quality, Samsung also announced a new OLED variant of the Odyssey range. The OLED G9 (G95SC) is "just" 49 inches wide with a less-dramatic 1800R curve rating, and a resolution of 5120×1440 — again, basically two 24-inch 1440p displays side by side. But that OLED panel, a first for Samsung's gaming line, makes this a horse of several million different colors.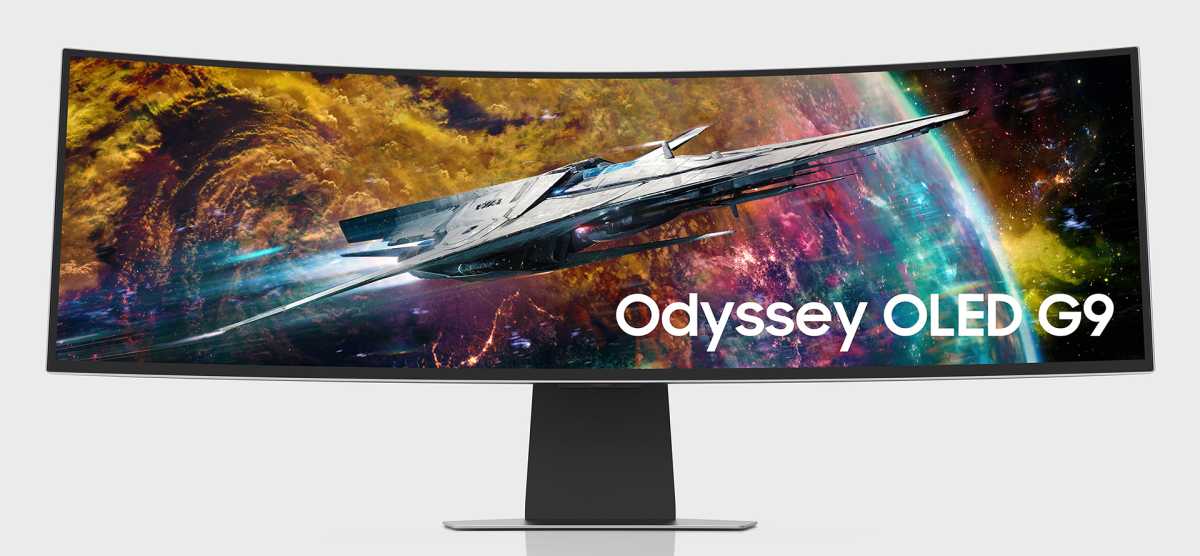 Samsung
Samsung claims a typical OLED 1,000,000:1 contrast ratio, or "perfect blacks" in layman's terms. A 240Hz refresh rate means this will tax your GPU almost as much as the larger screen, though it'll be a bit quicker on the draw with a 0.1ms response time. Samsung is packing in the same onboard software as its smart TVs, letting users access streaming apps like Netflix, YouTube, Xbox Game Pass streaming and GeForce Now without any additional hardware. I wonder how tricky it will be to find something to watch at that 32:9 aspect ratio.
As usual, Samsung didn't divulge launch dates or prices for either new display. Expect them sometime before the middle of 2023, and start saving now — I'll be shocked if either of these ultrawide monitors hits the market for under $2000.