The world's biggest tech show is right around the corner and Nvidia kicked off CES 2023's pregame announcements with some blockbuster GPU reveals. The company's new GeForce RTX 40-series graphics are coming to laptops—including the flagship RTX 4090, for the first time ever—as well as the company's GeForce Now service, and surprise! The GeForce RTX 4070 Ti is real and launching on January 5.
GeForce RTX 4070 Ti
Nvidia
We've seen this graphics card before, though. The presentation didn't call explicit attention to the fact, but Nvidia France accidentally confirmed the RTX 4070 Ti is the new name for Nvidia's controversial "unlaunched" RTX 4080 12GB, which will now cost $799 instead of the $899 originally intended when it was called a 4080. That's still $200 more than the last-gen 3070 Ti and $100 more than the higher-tier RTX 3080 debuted at, so Nvidia's terrible RTX 40-series pricing continues unabated.
Shaving the extra $100 off helps a bit but at first blush, it still seems like very poor value indeed—and its existence makes the RTX 4080's $1,200 sticker price even more egregious. Is the RTX 4080 really worth $400 more than the 4070 Ti and $500 more than the RTX 3080?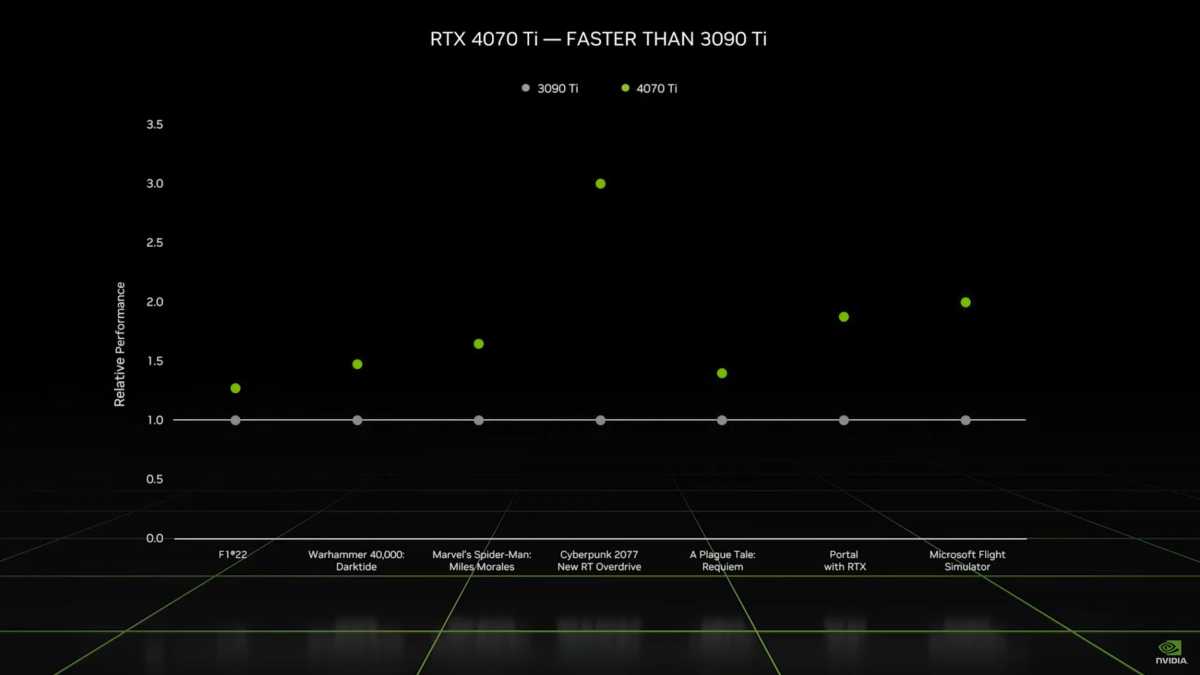 Nvidia
Stay tuned for GeForce RTX 4070 Ti reviews to find out. With a street date of January 5, you shouldn't be waiting long. Nvidia claims the new GPU will outpunch the last-gen RTX 3090 Ti flagship and if that's true, it'll be a beast of a graphics card no matter what its price is. Whether it's worth the cost remains an open question given Nvidia's recent track record.
RTX 40-series laptops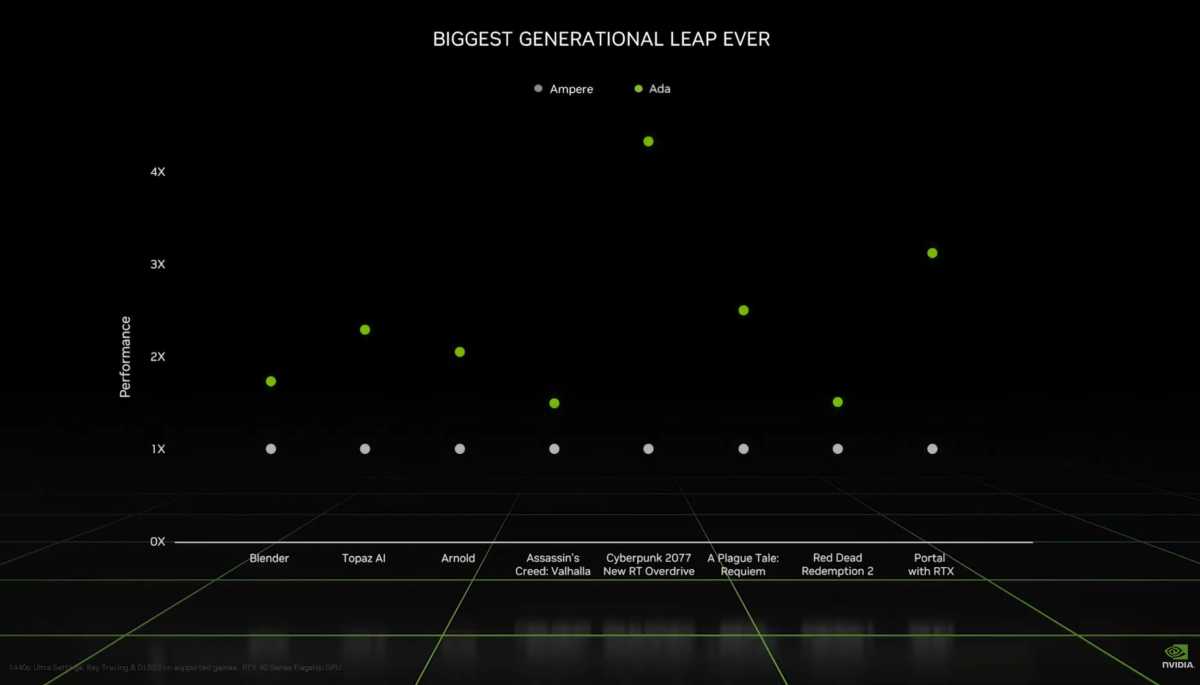 Nvidia
The RTX 40-series is also coming to laptops. This is a very welcome announcement if mobile pricing winds up being less insane than the desktop GPUs. Nvidia claims this is the biggest leap in generational performance ever while running much more efficiently than before. And, for the first time ever, this generation's laptop lineup is spearheaded by Nvidia's ferocious xx90-class—previous flagships drew too much power for consideration in notebooks and topped out with xx80-class GPUs instead.
Nvidia calls these a "new class of laptops." The company also claims "GeForce RTX 40 Series GPUs will be featured in over 170 laptops from all of the major manufacturers."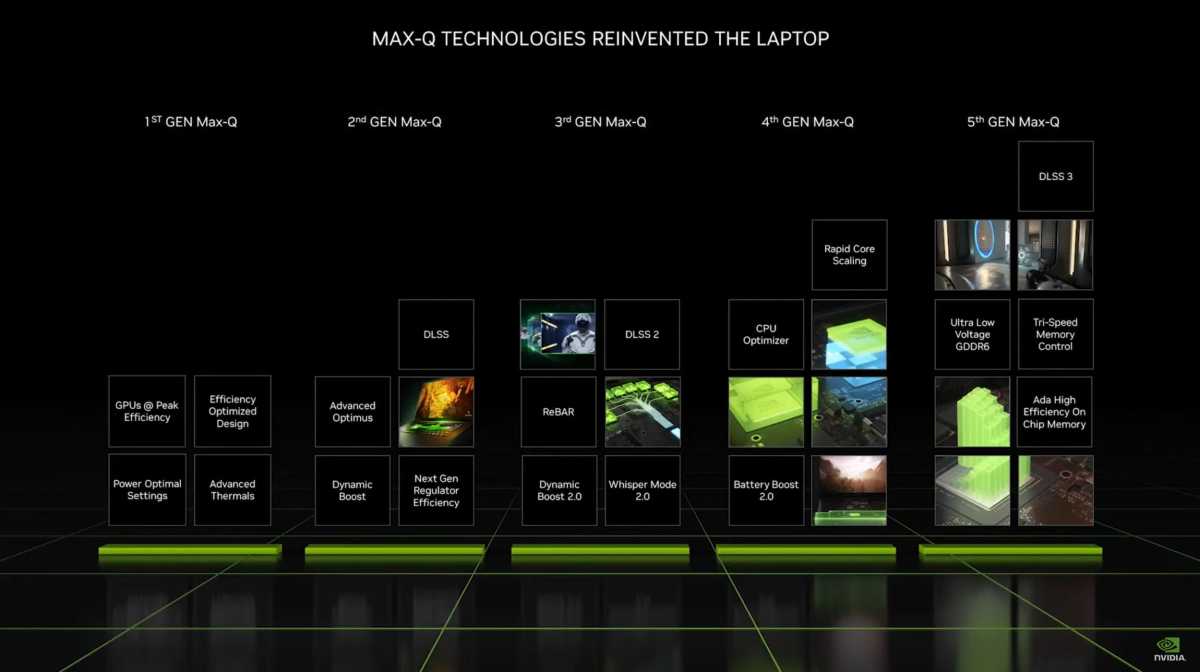 Nvidia
New Max-Q technologies help drive those advances, though they also make direct comparisons to previous Nvidia laptop GPUs difficult. DLSS 3 Frame Gen is now considered a Max-Q technology and while its combination of AI-generated frames and DLSS upscaling can definitely supercharge performance, using that technology (as Nvidia likely did for its performance claims) is definitely different than native rendering. Tri-speed memory and ultra-low power GDDR6 memory in the Max-Q arsenal also helps, but we'll need to see reviews before we can truly understand where performance falls.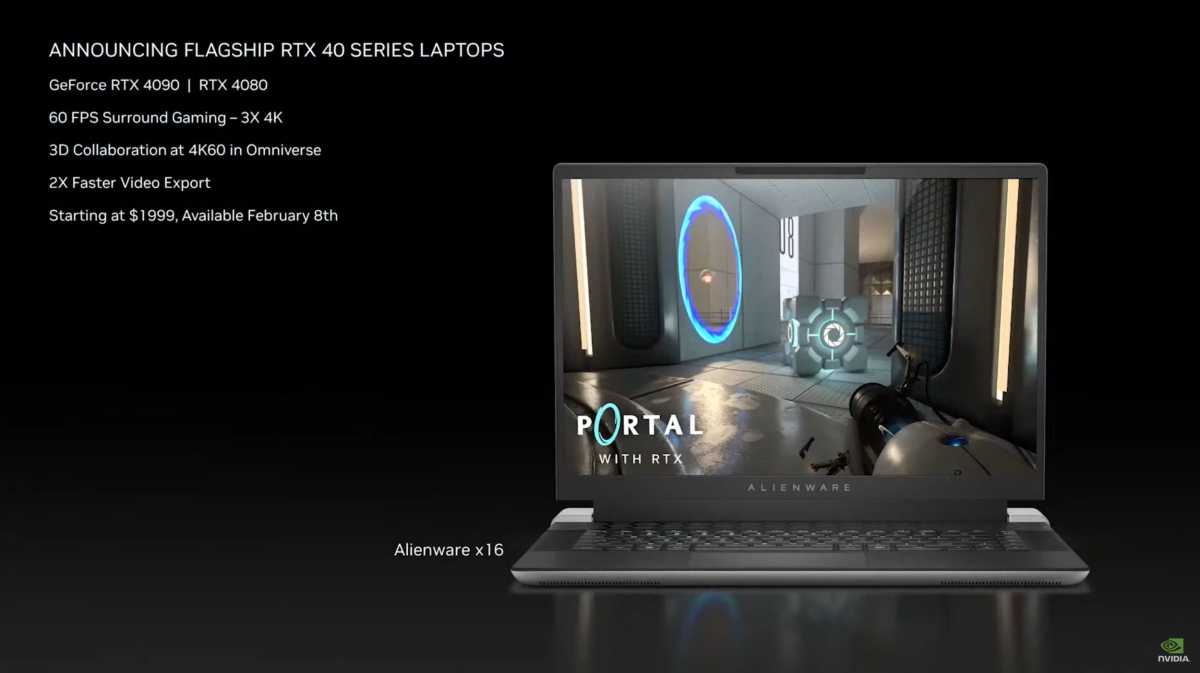 Nvidia
The GeForce RTX 4090 and 4080 for laptops unlock the ability for surround 4K gaming at 60 frames-per-second—gaming with three 4K displays arrayed around you. A bit of a weird flex for laptops, but you love to see the power. Nvidia didn't provide many hard metrics but said creators can also expect to see 2x faster video exports (are Lovelace's dual AV1 encoders also in the mobile version?). Look for RTX 4080 and 4090 laptops to hit the streets on February 8 with prices starting at $1,999.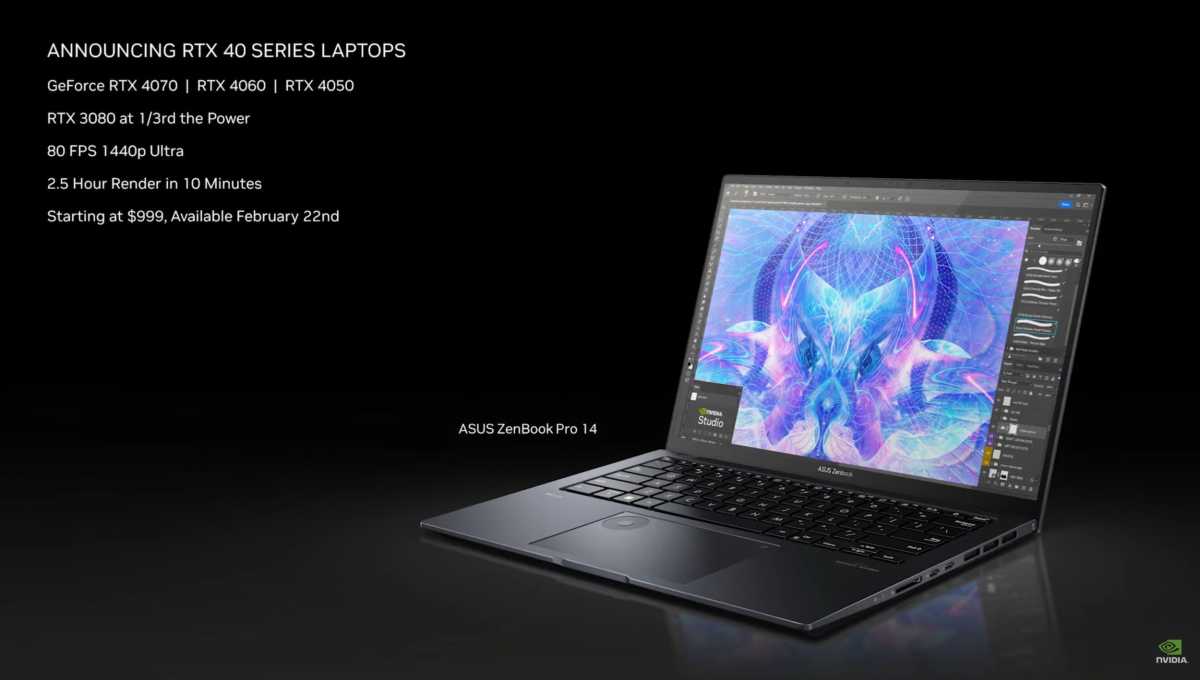 Nvidia
Those are likely to be found exclusively in high-end creator and gaming laptops, though. For the rest of us, there's the RTX 4050, 4060, and 4070 for laptops—yes, even though we've yet to see any of those GPUs in desktop form. Nvidia says that they'll deliver better-than-RTX 3080 mobile performance at a third of the power (given DLSS 3's inclusion, take that with a big grain of salt). Nvidia says at least some of these laptops will target 80fps 1440p gaming and will be available on February 22 starting at $999. That could represent an increase in price, however. The RTX 30-series mobile lineup started at $999 with the RTX 3060, whereas this new lineup starts at $999 with the lower-tier RTX 4050.
RTX 4080 on GeForce Now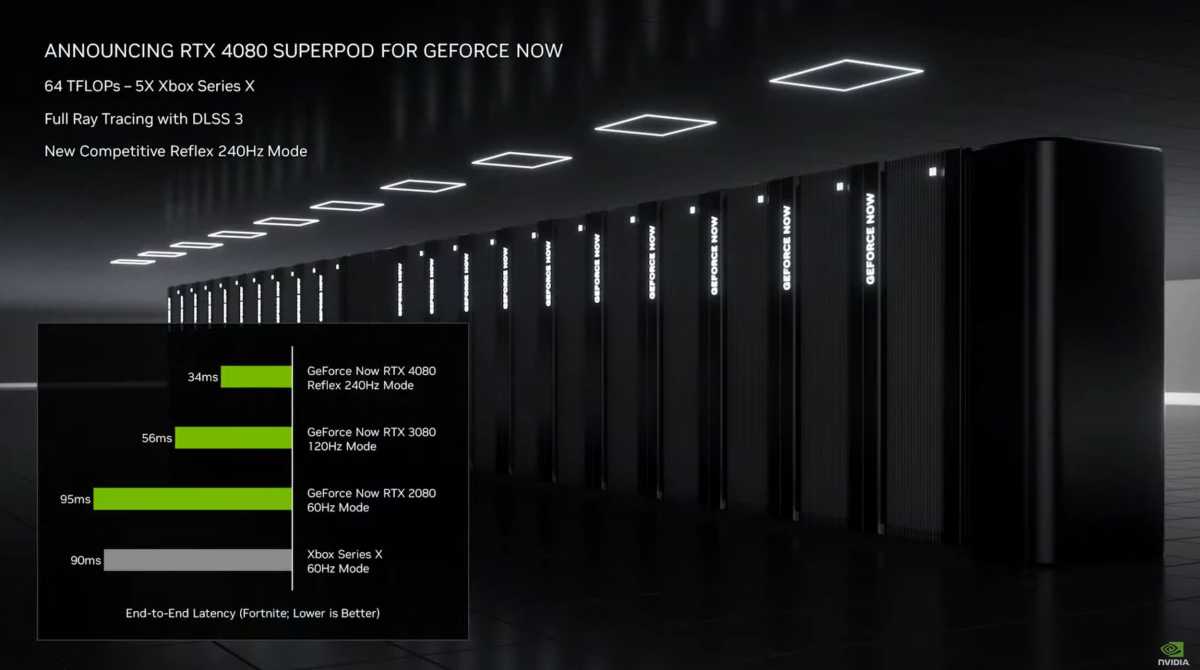 Nvidia
Nvidia also announced that the RTX 4080 is coming to its GeForce Now streaming service via a new "Ultimate" tier that replaces the previous RTX 3080 tier at the same $19.99/mo. price.
Nvidia claims the new RTX 4080 server pods deliver 5x the teraflops of an Xbox Series X and a new competitive 240Hz mode will help deliver ultra-low latency that's roughly twice as responsive as what you get with console gaming. You also get those juicy DLSS 3 capabilities.
GeForce Now's RTX 4080 capabilities will start firing up in select North American and European data centers sometime in January, with a wider release planned for later this quarter. All current RTX 3080 tier subscribers will be automatically switched over to the Ultimate subscription once RTX 4080 servers fire up.