"What should I buy? What's good?" are the two questions our readers ask us and what we try and answer. AMD's new mobile processor naming scheme makes those questions nearly impossible to quickly answer and, frankly, it's ridiculous that consumers should be asked to even try to figure it out on their own.
Five separate mobile processor families. Four different processor architectures. Four different manufacturing processes. A mix of graphics technologies from the last several years. Differing I/O and memory offerings. When it takes several paragraphs just to lead readers into what AMD is announcing in the mobile Ryzen space, something has gone wrong.
For years, AMD, Intel, and others have signaled the "good-better-best" designation through the familiar numerical designations at the beginning of the product description. Most consumers understand that a Core i3 or a Ryzen 3 will underperform a Core i7 or Ryzen 7 and that Core i9 chips and Ryzen 9 processors represent the priciest, most powerful processors available. But manufacturers understand that enthusiasts want additional details, but without the need to consult something like Intel's ARK database, for example. So yes, descriptive model numbers can work.
In 2018 and 2019, Intel began introducing its own model numbers or processor numbers with its 10th-gen Core, Ice Lake. Intel didn't try to do too much. The decoder we published in our Ice Lake intro story showed that the numbers signaled the family name, processor generation, power level, and graphics level. Consumers could still instinctively figure out which technology generation was being referred to and the relative performance of the chip within Intel's lineup.
AMD? It's taken a well-ordered hierarchy, smashed it to bits, swept it all together, smeared glue all over the fragments, and set it upon store shelves for you to figure out. It was right to play it straight when AMD first rolled its new schema in September, but for me at least the verdict is in: this is crap.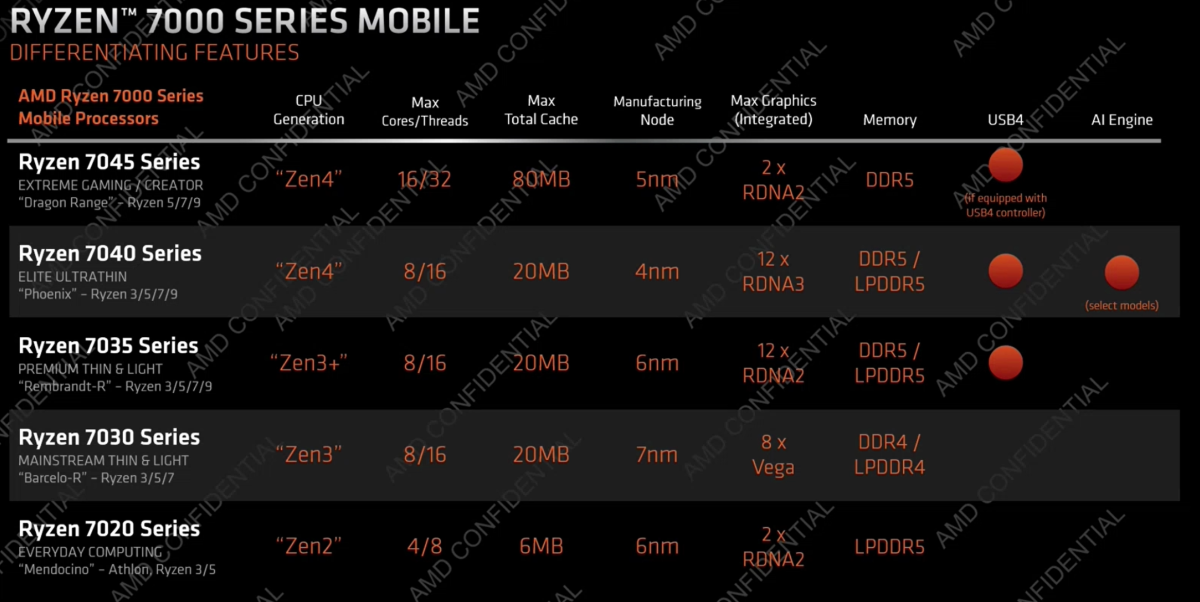 AMD
I'm not going to argue that AMD is being deliberately deceptive, but tell me how you'd feel if you bought a Ryzen 7020 laptop at what you thought was a great price, only to find out that it used processor technologies that were three generations out of date. Or that the Ryzen 7045 (which isn't that different than a Ryzen 7020, right?) was AMD's very best. Would you feel any better knowing that the Ryzen 7030 uses processor technology from the beginning of 2021, a six-year-old graphics core, but that the Ryzen 7040 family uses AMD's very latest CPU technology, its very latest GPU technology, and even a special AI coprocessor as well?
And how would you even find that information out? AMD's top-of-the-line Ryzen 7045 series includes the Ryzen 7945HX, 7845HX, 7745HX, and 7645HX. There's not a "Seven-zero-something-something" chip in the entire processor family, and it's insane that consumers (or even journalists!) would be expected to correlate the two.
AMD did tell us in September that the new processor/model numbers correlate to the processor tech. The 7040 series uses Zen 4 and the 7035 series uses Zen 3+ (Zen 3.5, get it?). But it's not fair to consumers to remember that, then somehow parse the differing core counts and graphics technologies as well as the other technologies. If you need a cheat sheet when buying a laptop, you've failed.
It's not even worth mentioning how AMD attempts to slice up its product segments by suffix, either. Nobody is going to try and understand that a U-series chip traverses the hierarchy of mainstream thin-and-light laptops, premium thin-and-lights, and whatever an "elite ultrathin" is—and the HS family does too, except for…See? Even chip nerds are bored already.
AMD
It's probably too late to fix
What AMD began realizing several years ago is that it could win in two ways. First, delivering performance on par or better than Intel, especially when you factored in the power of its integrated GPUs. Second, by simply delivering those laptops to reviewers like PCWorld, our perception could be passed along to our readers. (There was a time when just simply reviewing a Ryzen-powered laptop was a challenge, however good those laptops might be.)
But AMD is not the dominant player in the laptop space and has never been. Laptop sales have plunged precipitously, in part because consumers bought tons of them during the pandemic. Now? They have quite enough, thank you. Intel also stole share from AMD during the third quarter, so that AMD's share is down around sixteen percent.
Adding complexity to the shopping process is not the answer for anyone. Yes, the Ryzen 3/Ryzen 5/Ryzen 7/Ryzen 9 hierarchy is still in place, but it's been undercut by this new nomenclature. Is a Ryzen 7 7840 HS better than a Ryzen 5 7645HX? If the average consumer's reaction is "How the hell should I know?!," they'll likely move on.
Read about all of AMD's announcements from CES 2023: