At a glance
Expert's Rating
Pros
Good set of features for a hybrid gamer/content creator
Huge M.2 support with up to 6 slots including PCIE Gen 5 Add-in card
Plenty of USB ports, and 10Gbe Lan
Beautiful black and gold aesthetics, Integrated I/O shield, screw-less M.2
Cons
$699 MSRP makes for higher platform costs while not being a flagship
No USB 4
Some unnecessary features for pure gamers that add to the price
Our Verdict
The MSI MEG X670E Ace motherboard offers solid performance and attractive aesthetics. While it markets itself to gamers, it really comes with the feature set for content creators more than anything. Plenty of I/O and M.2 slots give it great options for connectivity and storage. It's a bit pricey and it unfortunately lacks USB4, but overall there is a lot to like here.
Price When Reviewed
$699
Best Prices Today: MSI MEG X670E ACE
If you're looking to get one of AMD's new Ryzen 7000 CPUs and want to maximize it, you may also want a premium motherboard.
Enter the MSI MEG X670E Ace. Underlying its sleek but imposing aesthetics, you'll find a hearty offering of features: 10GbE LAN, PCIe Gen 5, and plenty of M.2 slots. This motherboard is geared towards the enthusiast gamer and content creator. Does this "Ace" truly deliver?
We will comb the specs, and discuss features, performance, and design aesthetics. If you're building a high-end enthusiast-grade desktop with the fastest Ryzen 7000 CPUs, is this the motherboard of choice over its competitors? Let's find out!
MSI MEG X670E Ace: The specs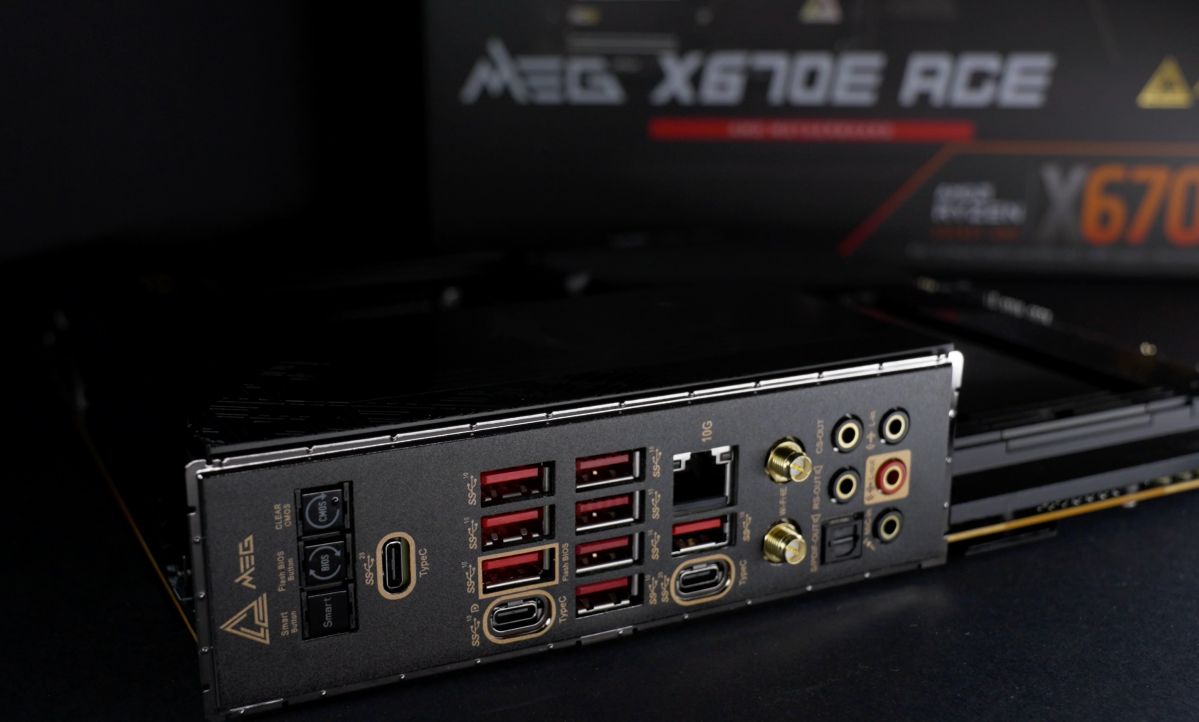 Thiago Trevisan
The MSI MEG X670E Ace is serious business, starting with AM5 support—you'll need a new AMD CPU such as the Ryzen 9 7950X. The good news is that you'll be able to use your old AM4 cooler, if it uses the original AMD backplate—otherwise you'll need a new AM5-specific version.
The board is E-ATX, meaning it will be larger than your typical ATX motherboard, with measurements of 277×304.8mm (10.9×12 inches), so case size will be important.
PCIe Gen 5 and DDR5 are here, not to mention a long list of great I/O, such a 10GbE LAN, and multiple USB ports.
The unboxing experience is good, and for an MSRP of $699, it does come with a few interesting accessories: an M.2 Xpander-Z PCIe Gen 5 card, a USB drive, a few cable stickers, and the usual cables. No fancy box like we saw with the $499 X670E Asrock Taichi, but that's not too relevant. (Sorry, box enthusiasts!)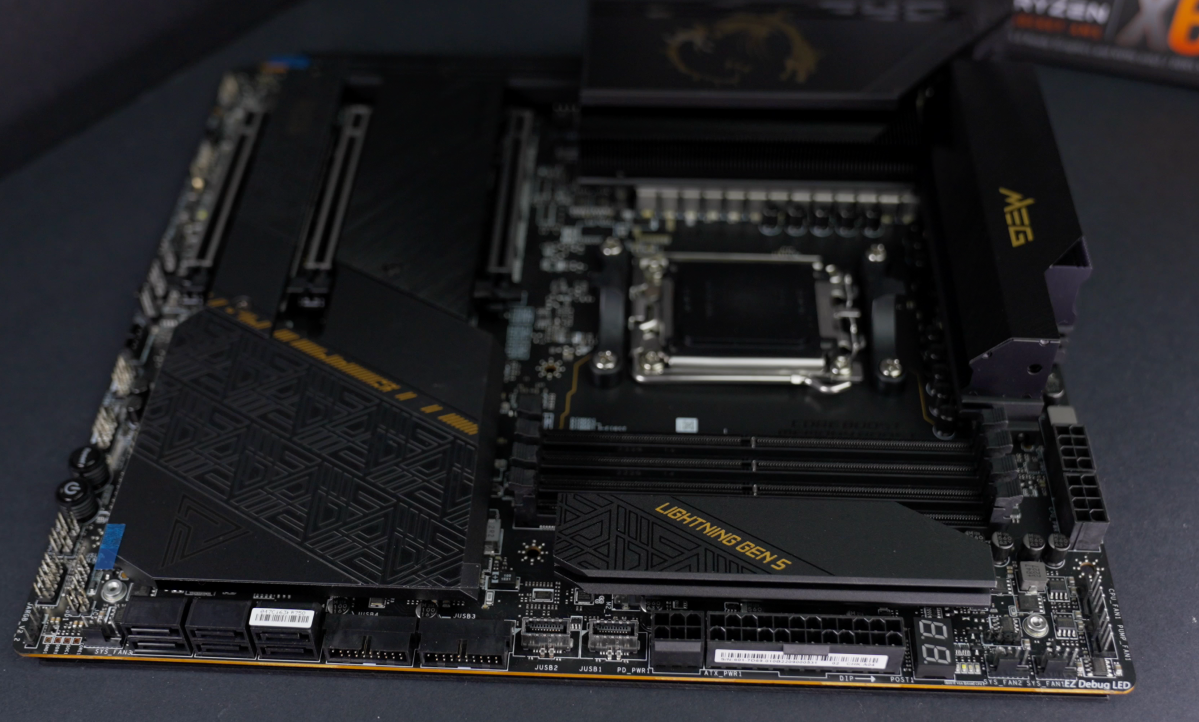 Thiago Trevisan
E-ATX form factor
Supports AMD AM5 Ryzen 7000 CPUs
22+2+1 Phase Design with 8-layer PCB
DDR5 RAM, dual channel up to 4 DIMMs (up to 128GB)
4x onboard M.2 slots (1x PCIe Gen 5)
2x M.2 slots on Xpander-Z PCIe Gen 5 card
3x PCIe 16x Slot (PCIe Gen 5, 8x/8x/4x)
Type-C display out
11 USB ports on back Including 20Gb/s
Marvel 10GbE LAN
AMD Wi-Fi 6E
RGB headers for Mystic Light
6 SATA 6Gb/s ports
8 PWM fan headers
BIOS Flashback, Clear CMOS, and Smart Button
Preinstalled I/O shield
Realtek 7.1 ALC 4082 audio, ESS ES9280AQ combo DAC
MSRP $699
MSI MEG X670E Ace: Features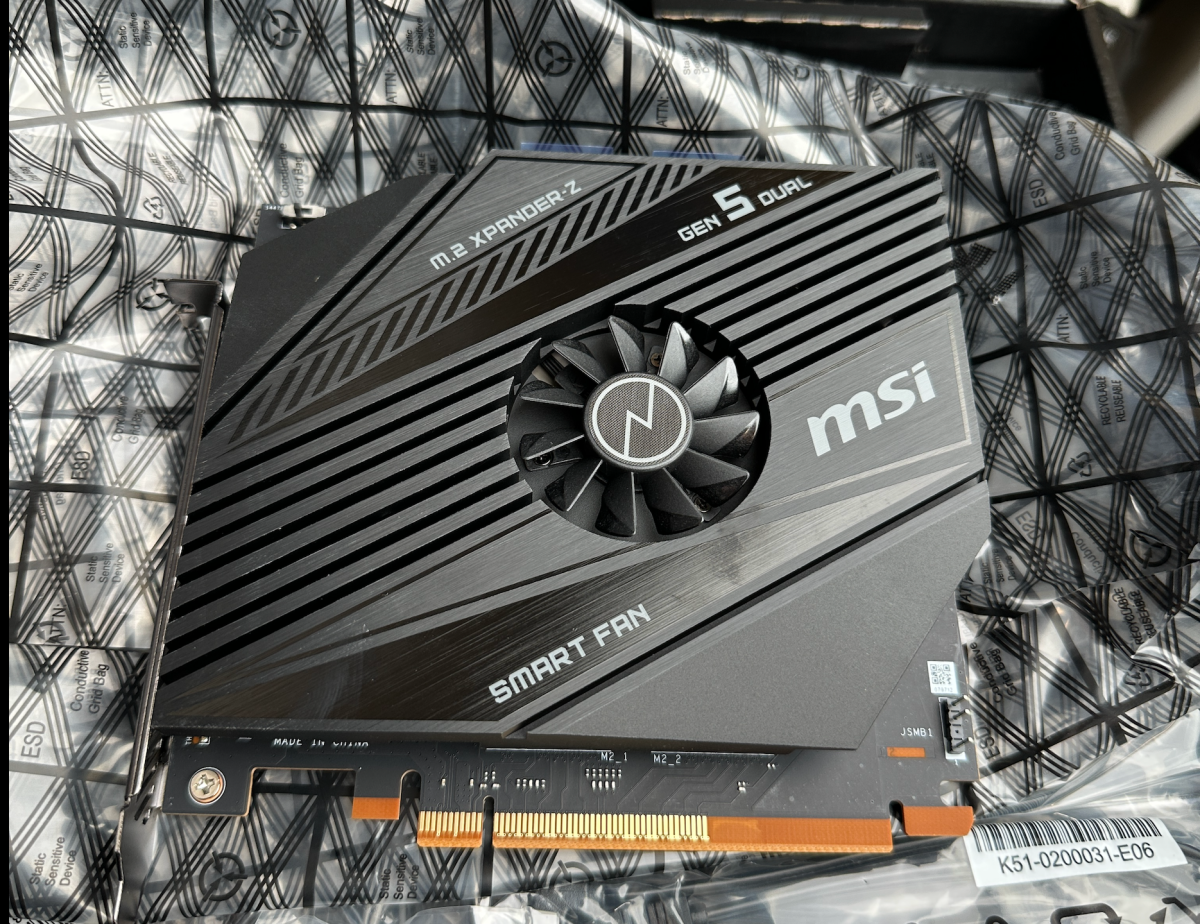 Thiago Trevisan
Coming in at $699, this is an enthusiast-grade, premium motherboard. The X670E chipset means that it will have the most robust PCIe Gen 5 support you'll find for AM5, and that shows: Three 16x PCIe Gen 5 lanes (split 8x/8x/4x if you use all three) means you can add PCIe cards alongside your next-generation GPU.
Lucky for you, MSI includes an Xpander-Z PCIe Gen 5 M.2 card for that very purpose! If the four onboard M.2 slots weren't enough (with one being PCIe Gen 5), you can augment an additional two on the card itself. While most gamers may not need six M.2 drives, heavy-usage content creators will love this (plus six SATA ports, as well).
MSI also makes those M.2 slots "screwless," which is a bonus feature for those who don't like miniscule screws! Along with the integrated I/O shield, this helps make for an enjoyable build experience.
USB ports are plentiful here, with 11 on the rear, including USB 3.2 Gen 2 at 20Gb/s. USB 4 is not included here, which is a shame considering the price point. Other competitors such as the Asus ROG X670E Hero do have USB4.
To compensate, MSI does give you 10GbE LAN, which content creators will appreciate for NAS or other robust networking setups. Still, USB4 would be a nice premium feature here for that same crowd, too. Wi-Fi 6E with an included antenna is an expected—and included—accessory at this price point.
Audio is great, with Realtek's ALC 4082 codec and ESS ES92280AQ combo DAC. You'll also get a headphone amp for running higher-impedance cans. This is fantastic audio for those who don't want additional peripherals and prefer to keep it streamlined within the motherboard itself.
Clear CMOS and BIOS Flash buttons are included, as well as a "smart button." You'll also get a debug LED, which is helpful, but at this price point, we'd like to see a bigger digital readout screen.
A USB Type-C display-out on the back is also included, as the Ryzen 7000 CPUs have built in iGPUs. We'd rather see at least an HDMI port here, as this serves mainly for diagnostics without a discrete GPU, and HDMI has wider compatibility than USB Type C for this use case.
With very few compromises, the MSI MEG X670E Ace is awash with features. For purely gamers, this may even include some overkill—especially things such as the six M.2 slots and 10GbE LAN. (Unless your Steam Library is gigantic, then our apologies!) Hybrid content creators/gamers will love the features though, without needing to step up to even more premium offerings such as the "Godlike" model.
MSI MEG X670E Ace: Design
Thiago Trevisan
The MSI MEG X670E Ace is immediately eye-catching with its blacked-out design and gold accents. It's quite the looker, with RGB on—or off!
This design isn't just here to wow you—it also serves a functional duty. The M.2 "Frozr" slot shield has thermal pads helping to keep them cool—and even the PCIe slots are reinforced. The various heatsinks throughout also look great and have useful utility, too.
Heading down to the lower right, you'll find the PCH area nicely reinforced—with some nice design patterns and gold accents. You'll also get some RGB light effects on the word "ACE" and on a triangle in the lower area. The aesthetics are simple, but highly effective on this motherboard.
Thiago Trevisan
The upper VRM heatsink area is not only beefy, but perfectly joins the MSI "Dragon" on the I/O shield. It lights up in RGB giving it a tasteful pop of color amid the more serious design elements.
We're happy to see the inclusion of a backplate here for this premium offering. While it may not necessarily do much, it does give the motherboard a high-end tactile feel in the hands and adds a bit of protection. It does help cool down MOSFETS as its primary function, so it's not all just in the looks!
The integrated I/O shield continues the dark look with gold accents, and red colored usb ports. This makes for easier reading when installed, and overall looks clean and functional. The top of the I/O shield also looks great, continuing the design theme with the RGB infused dragon.
MSI MEG X670E Ace: Performance, software, and BIOS
How does the MSI MEG X670E Ace deliver on performance for both gamers and content creators? Like a true "Ace," it seems! First, the robust VRM of 22+2+1 will handle the Ryzen 9 7950X with ease. It also adds an eight-layer PCB and beefy cooling components. In fact, you'll be more likely to hit thermal limits on your CPU cooler than on anything motherboard related—it's more than overkill!
Heatsinks, stacked fin arrays, heat pipes, a metal backplate, and "Frozr M.2" solutions are abundant everywhere on this motherboard. This helps keep performance optimal—be it for the CPU, M.2 slots, or with MOSFET cooling. Next-generation hardware is putting out more performance—and even more heat—than ever.
Top-speed DDR5 RAM is here and you'll get top speeds out of your drives, as up to three of them can support PCIe Gen 5, and the others PCIe Gen 4. This is some of the fastest performance you'll find, period. If you plan on adding fast PCIe Gen 5 add-in cards alongside your GPU, having these three 16x slots may prove fruitful for you in the long run—but for users not making use of this, it may be unnecessarily adding to the overall cost. All three 16x slots are linked to the CPU, too.
The only performance area—if you can call it that—that we'd like to see beefed up would be in adding USB4 for those who need it. Otherwise, you still get a very fast 20Gb/s USB.
If you'd like to push performance a bit further, the MSI BIOS is straightforward to use. On this motherboard, you'll get more tweaking options than you'll likely ever use, such as various options for CPU and RAM tinkering. This generation Ryzen 7000 may benefit more from "Eco Mode" type adjustments to maintain performance for less power draw. The typical "overclock to the max" type of tinkering we may be used to isn't always the best route.
For those who just want a "set it and forget it" approach, the MSI BIOS also does that competently—such as setting the Expo RAM profiles for maximum DDR5 performance out of the box. You can also set to automatically overclock your CPU, with AMD's Precision Boost Overdrive (PBO) along with MSI's help, too.
Since AM5 is a new platform that may encounter some growing pains, we'd recommend updating the BIOS as it may lead to more stability improvements than you'd typically need to do on a more mature platform. MSI makes that easy in the BIOS, too!
MSI
If you want to keep some of that customization on the software side, we have MSI's Center software available. Much like Asus Armoury Crate, this aims to be an all-in-one solution for various tasks. Setting RGB Mystic Light profiles, different fan curves, and even some hardware monitoring. You can also get driver updates without having to check the MSI website.
While motherboard software such as this has been greatly improving, we still recommend the BIOS or third-party software for some functions such as fan control, hardware monitoring, etc.
Should you buy the MSI MEG X670E Ace?
Coming in at $699, the MSI MEG X670E Ace is not cheap—and has other competition from motherboards such as the Asus ROG X670E Hero. It falls into a bit of an odd world with its pricing and feature set.
The design is attractive, and functionally integrates well with great cooling solutions on the motherboard itself. The feature set is rich for gamers, but seems to be even more rich for content creators. 10GbE LAN, plenty of I/O, and great audio are all here. We'd like to see USB4, however, especially at this level of motherboard.
The good news continues with an onslaught of M.2 drive support, but we start to see a pattern develop here: There are many features that may be unnecessary for a pure gamer use case, which doesn't call require the content-creator style additions at $699. With platform costs being higher on average with AMD's AM5, it may make some cheaper motherboards just as attractive for pure gamers—such as MSI's own X670E Carbon, Asrock X670E Taichi, or the Asus X670E Strix at under $500.
Overall, it's a premium motherboard offering from MSI that delivers on its execution and aesthetics. It nicely completes a high-end Ryzen 7000 build for gamers—and even more so those who are also content creators.
Best Prices Today: MSI MEG X670E ACE