At a glance
Expert's Rating
Pros
Good set of features for both gamers and content creators
Plenty of I/O, 5 M.2 slots, and 10 USB ports with 20Gb/s USB
Beautiful silver design and aesthetics, plus integrated I/O shield
Cons
$369 MSRP isn't terrible, but DDR4 should be cheaper
No upgrade path after 13th-gen Intel, as Z790 is the last before a chipset change
Our Verdict
Despite only supporting DDR4, the MSI Z790 Edge WiFi DDR4 still supplies most of what gamers or content creators are looking for, such as a decent number of M.2 slots, plenty of 20Gb/s USB, and PCIe Gen 5. The silver design elements are attractive and will work well in most builds, too. Overall, for those who don't want to spend big on DDR5, this is a good, if slightly expensive, motherboard.
Price When Reviewed
$369
Best Prices Today: MSI Z790 Edge Wifi DDR4
Intel's newest 13th-generation CPUs like the i9 13900K bring with them a refreshed set of Z790 motherboards. Intel is looking to flex one big advantage over its AMD competition: DDR4 and lower platform costs overall.
Here comes the MSI Z790 Edge WiFi DDR4, promising to fulfill that very promise. With a unique silver design to differentiate it from the usual "motherboard" aesthetic, it looks pretty good, too. The features are there to back it up such as fast USB ports and plenty of M.2 slots.
We'll go over the specs, features, performance, and design aesthetics. Should it be on your list of motherboards to pair with your freshly acquired CPU? Let's find out!
MSI Z790 Edge WiFi DDR4: The specs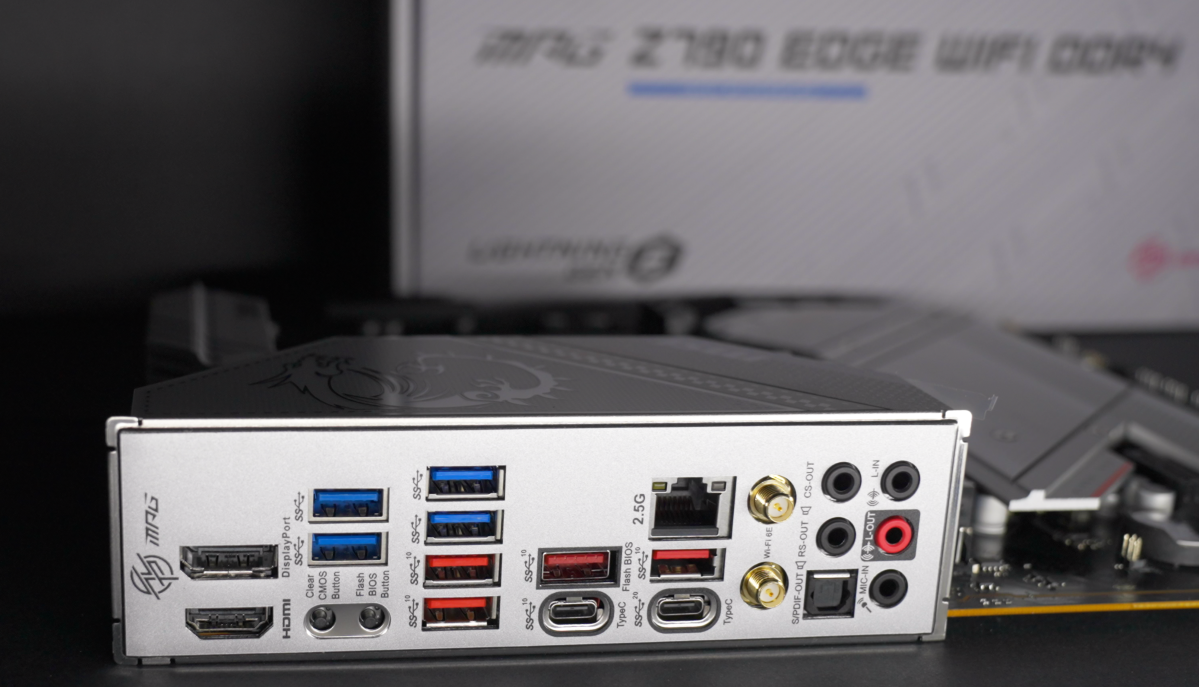 Thiago Trevisan
The MSI Z790 Edge WiFi DDR4 has a few of its specs listed right in its name: WiFi is standard, and DDR4 is the RAM type. The latter is important, because DDR5 has had higher initial costs and diminishing performance returns in many cases—so those looking to save a buck can reuse a DDR4 kit or pick up one cheap.
You'll also be able to use Intel's 12th-generation Alder Lake CPUs such as the 12600K—with equal support for Intel's newer 13th-generation as well.
The unboxing experience is no-frills, but that's to be expected with an MSRP of $369. Most of the fancy packaging comes with a much higher price tag—think MSI Godlike models. You'll get the standard included accessories such as a WiFi antenna, cable stickers, and SATA cables. The I/O shield is pre-installed, just like we love seeing!
ATX form factor
Support for Intel 12th- and 13th-gen CPUs
16+1+1 Phase VRM with 90A Smart Power Stage
DDR4 RAM, dual channel up to 4 DIMMs up to 128GB
5x onboard M.2 slots (PCIe Gen 4)
2x PCIe 16x slot (1x is PCIe Gen 5)
HDMI and DisplayPort out
10 USB ports on back Including 20Gb/s
Intel 2.5GbE LAN
Intel Wi-Fi 6E
RGB headers for Mystic Light
7 SATA 6Gb/s ports
8 PWM fan headers
BIOS Flashback and Clear CMOS
Preinstalled I/O shield
Realtek 7.1 ALC 4080 audio
MSRP $369
MSI Z790 Edge WiFi DDR4: Features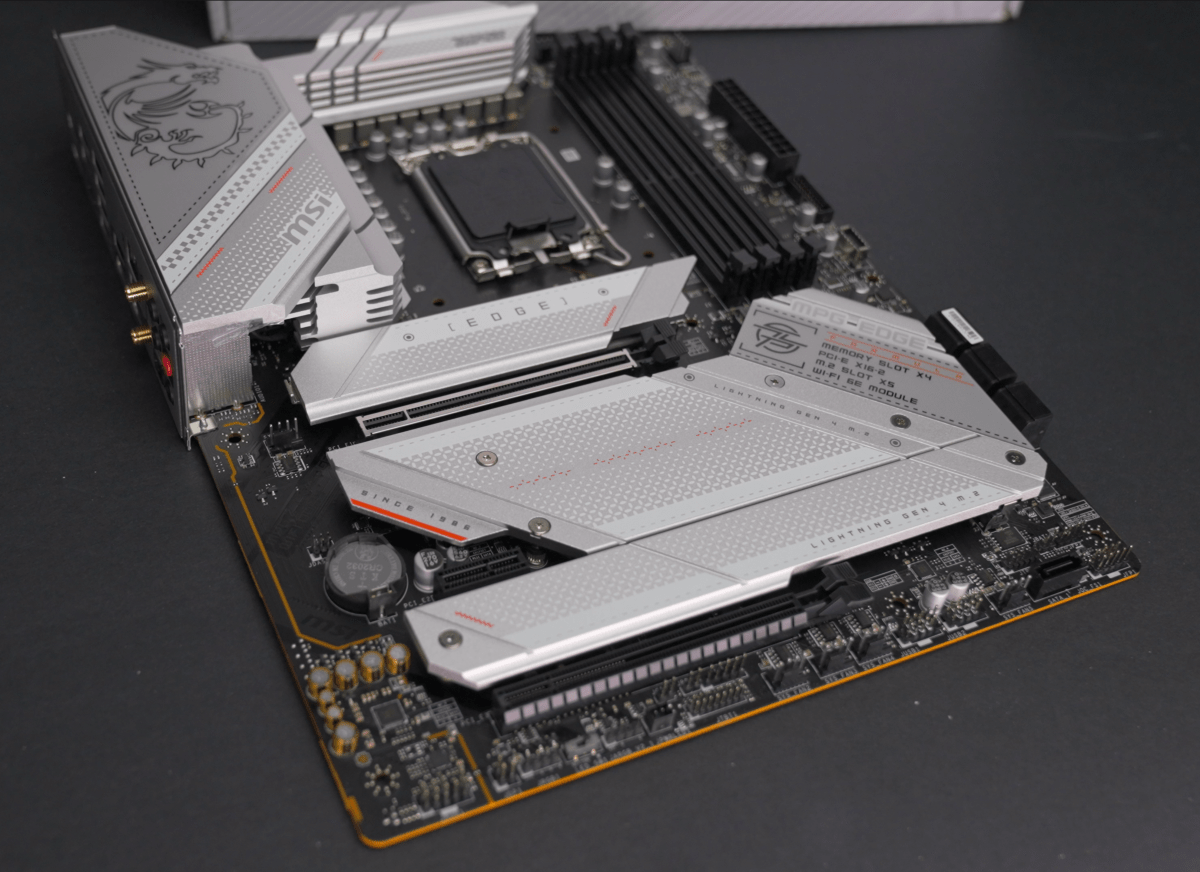 Thiago Trevisan
A $369 MSRP used to get you a lot further back in the day, but in today's ever increasing price landscape, costs are up. That's why the MSI Z790 Edge is an interesting choice—it brings next-generation performance of Intel's 13th-gen CPUs, while allowing some flexibility with DDR4. You can reuse your existing kit or pick up one cheaper than DDR5 on average for minimal performance loss.
You're not skimping on any features here, either. For both content creators and gamers, you're loaded with fast USB ports: 20Gb/s USB is here, and while we'd love to see 40Gb/s USB4 or Thunderbolt 4, as commonly found on high-end units, the I/O is still very fast.
M.2 PCIe Gen 4 support is vast, with up to five available slots. Sure, you're not getting the PCIe Gen 5 theoretical speeds, but there aren't drives that can really take advantage of that currently anyway. SATA hard drive users can have up to seven SATA slots: Storage options are bountiful here.
It's great to see MSI including some "quality-of-life" upgrades with screwless M.2 slots and the integrated I/O shield. Bravo!
On the networking side, Z790 gives you Intel's 2.5GbE LAN and Wi-Fi 6E, nothing to complain about here. If you're after 10GbE networking, you're going to have to step up to a much more expensive motherboard—but that's expected.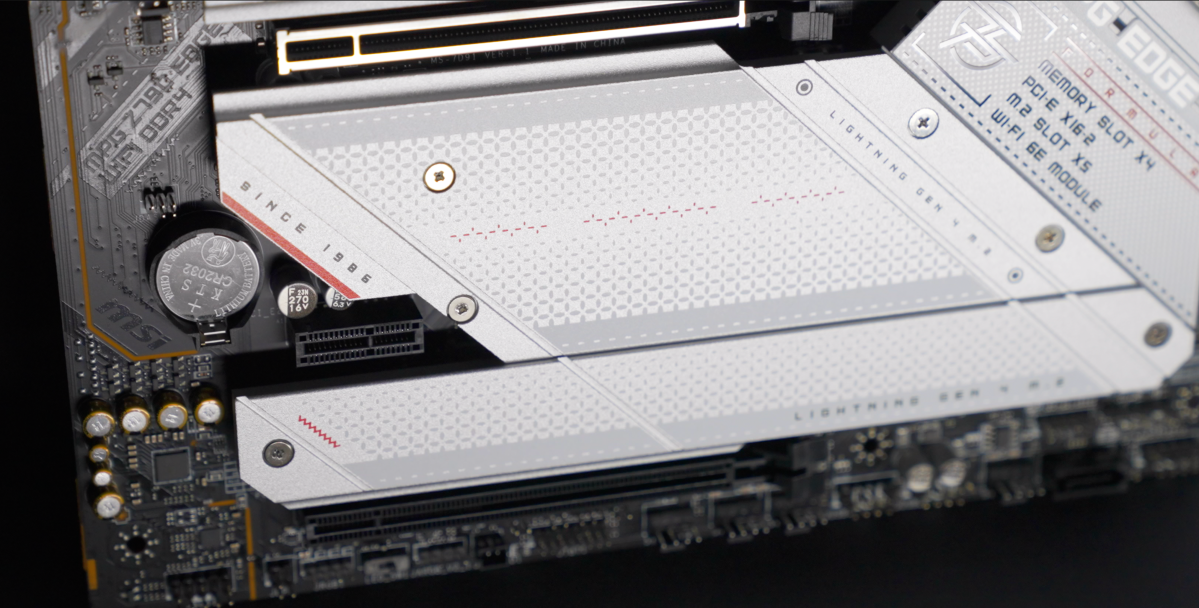 Thiago Trevisan
You do have two 16x PCIe slots for your GPU and other add-on cards, with the top slot being PCIe Gen 5. Be mindful of the slots as they can share PCIe lanes with the M.2 slots, some are from the CPU such as the top 16x, and some from the chipset.
You'll also have good audio connectivity in the back, with Realtek's ALC 4080 codec. Clear CMOS and BIOS Flashback buttons are there too, along with a "Debug" LED to diagnose issues. Overall, great features for the price!
MSI Z790 Edge WiFi DDR4: Design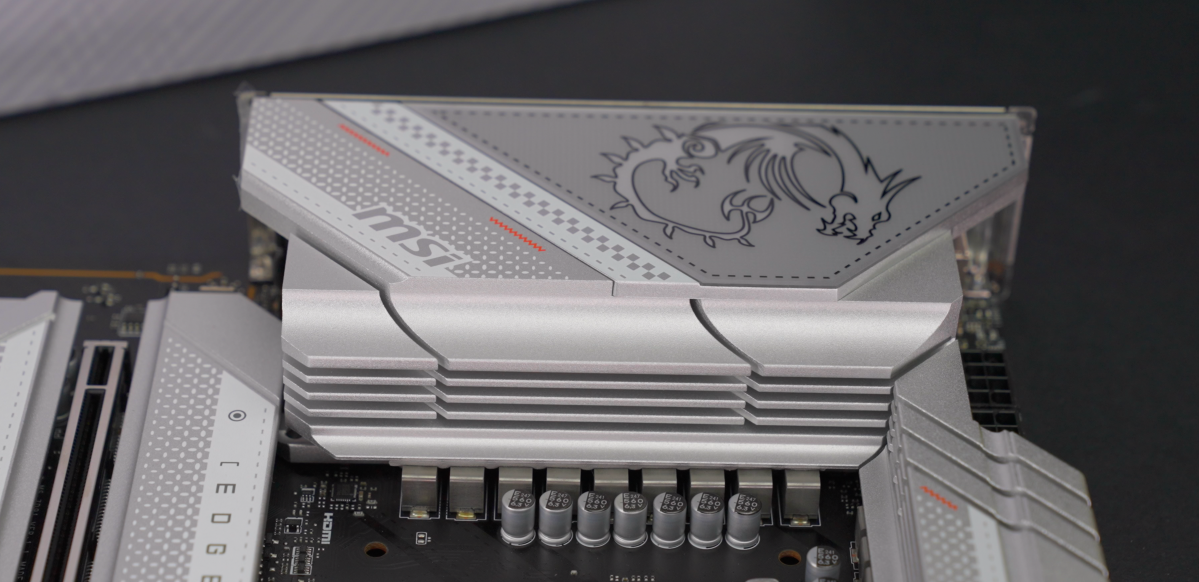 Thiago Trevisan
The MSI Z790 Edge WiFi DDR4's design immediately jumps out at you: silver-ish, almost white looking in some lighting—and it makes for a very attractive motherboard. It's a refreshing change from the more monochrome looks of most designs, and MSI adds some nice inlays and graphics to complete the look. It's a nice option for those looking to escape the typical build aesthetic.
Some of its cool looks also serve a functional purpose. The M.2 "Frozr" slot covers have thermal pads to keep them cool. We also appreciate how the battery is exposed, and not underneath dozens of screws and a cover—makes things easy when you have to swap it out!
You get RGB headers to take advantage of MSI's "Mystic Light" system, and the I/O shroud sports a nicely RGB'ed MSI Dragon. Otherwise, the aesthetics are clean and straightforward.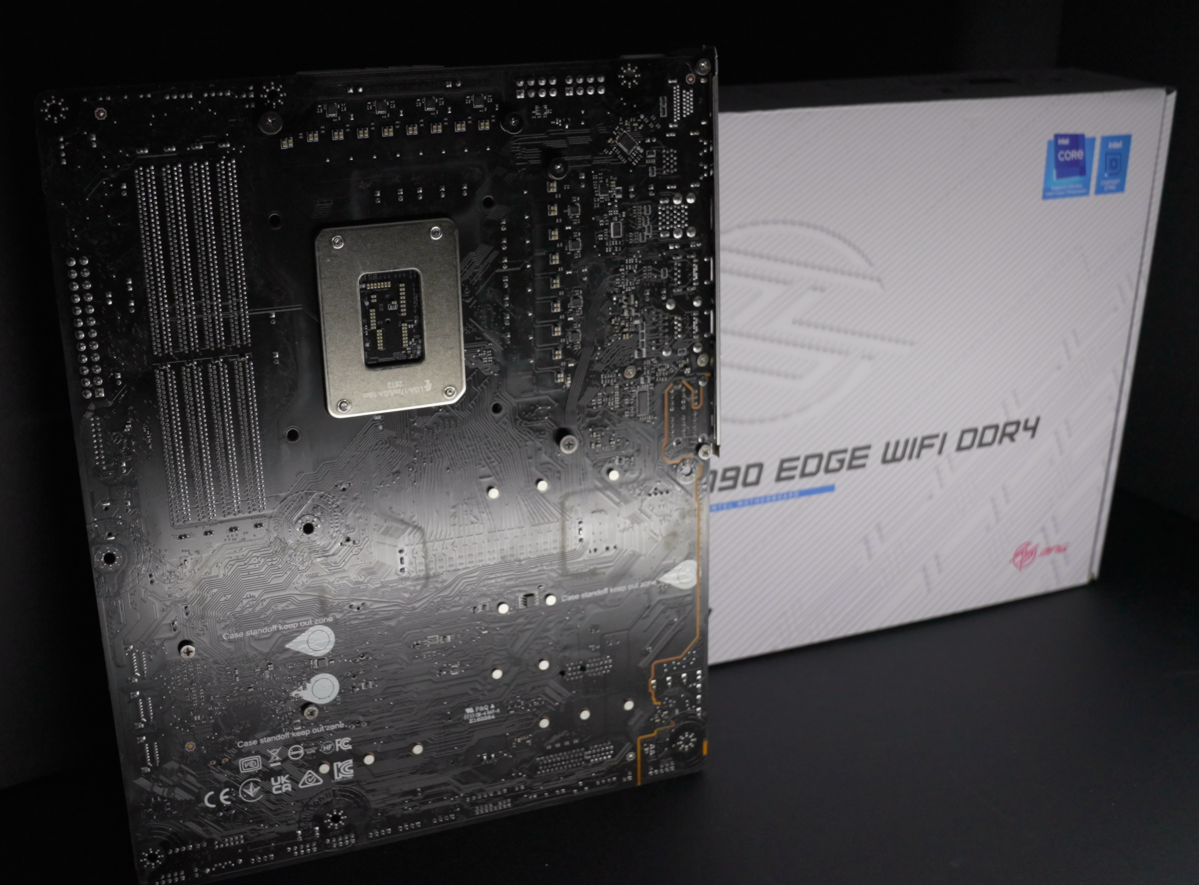 Thiago Trevisan
The board's backside is uneventful, but par for the price—reinforced backplates typically are found on more expensive models. The 16x slots on the front, however, do have what MSI calls "Steel Armor," reinforcing them for heavy modern graphics card support.
The integrated I/O shield is a nice touch too—and makes for a very clean I/O area with clearly labeled USB ports and other connectivity. Overall, a functional and attractive design that differs from the usual options with its more silver-centric color scheme.
MSI Z790 Edge WiFi DDR4: Performance, software, and BIOS
Don't worry, DDR4 does fine! Of course, DDR5 will have the "edge" with its much faster kits available, but it's unlikely you'll ever notice the difference save in benchmarking. DDR4 is typically more than enough, even with the 13900K, and you'll save a buck too.
Speaking of the 13900K, that CPU will pair nicely with this motherboard, and its 16+1+1 VRMs. You'll likely be more limited by the cooling on the CPU itself before anything else, as these new hotrods run especially hot by design. The motherboard itself will be able to handle it, along with any other 12th- or 13th-gen CPU that you throw at it.
PCIe Gen 4 performance on the M.2 slots will also adequately handle even the top-class M.2 drives, as saturating PCIe Gen 4, not to mention Gen 5, is still a ways away. The M.2 "Frozr" slot covers will keep them cool, too. You'll still get a PCIe Gen 5 GPU 16x slot, however—which is superfluous as even the RTX 4090 is still only Gen 4.
If you want to tweak things a bit, the MSI BIOS is nicely organized and gives you access to virtually any nuanced adjustments you'd wish to make. Set XMP profiles for the DDR4, change boot drive order, update your BIOS, and various CPU tweaks. You can also choose to just let the motherboard do the automatic CPU control and simply set XMP—we'd recommend at least that to get the most out of your DDR4.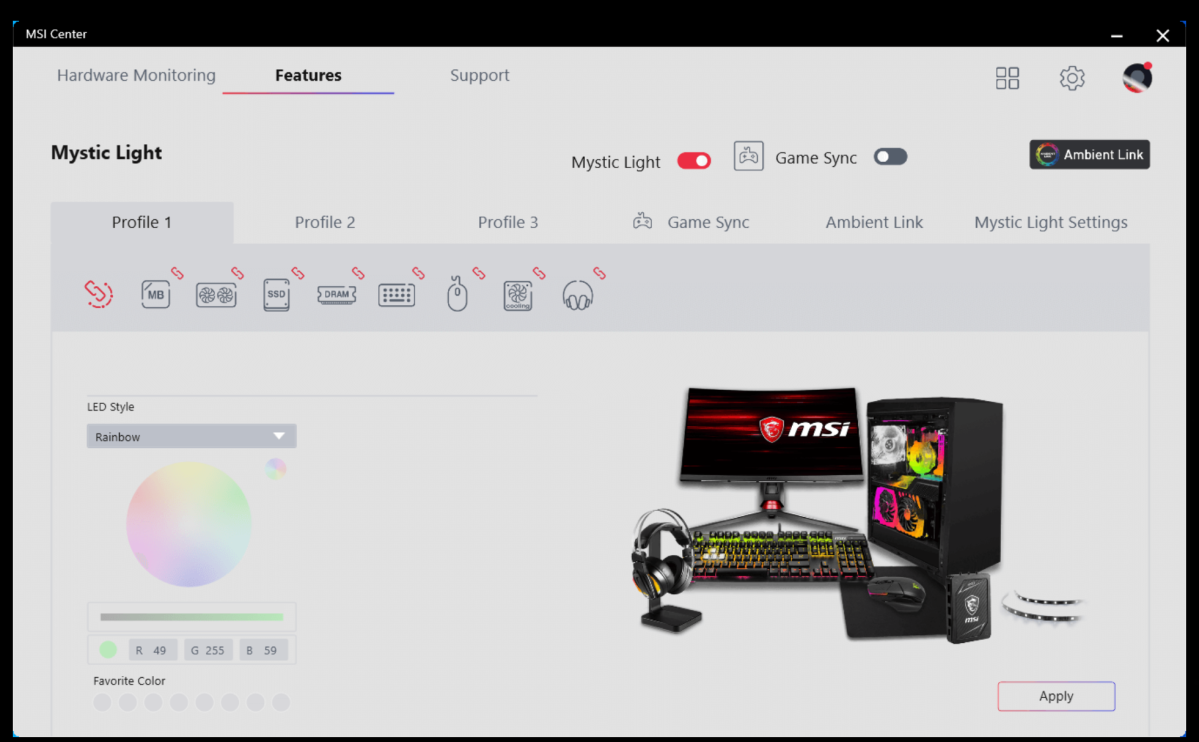 MSI
Leaving the BIOS, we also have the new MSI Center software. It's an integrated approach to control various elements of your PC. You'll get Mystic Light RGB control over the motherboard itself and various peripherals, alongside driver software updates. You can also set fan curves and profiles with "user scenario," and there's some hardware monitoring too.
MSI is taking a similar "all in one" approach as Asus's Armoury Crate software. While motherboard software has always been a bit hit or miss in the past, it seems to be improving recently. For some important functions, we'd still recommend either trusting the BIOS, or using dedicated third-party software such as for hardware monitoring.
Should you buy the MSI Z790 Edge WiFi DDR4?
Coming in at $369, the MSI Z790 Edge WiFi DDR4 packs enough features and performance to please both gamers and content creators, and lacks very little in terms of what's expected at this price class. While we'd like to see the DDR4 version cheaper, it still offers next-gen tech by way of the 13th-gen CPU support and PCIe Gen 5.
You'll appreciate the nice aesthetics, too. The silver design looks great and will appeal to those who want a departure from the usual drab monochromatic look. It can fit in nicely with either white- or silver-centric themed builds!
With plenty of USB ports and other I/O, not to mention a bevy of storage options with M.2 and SATA, it's a well-rounded package. Supporting all the way up to the mighty Intel i9 13900K, you'll be set for performance here.
Best Prices Today: MSI Z790 Edge Wifi DDR4