One of the more interesting products that we've seen at CES 2023 is the Iogear GCMS1922 — a dual-port KVM switch that attempts to convince you to pay $529.95 to connect a pair of 4K DisplayPort computers using a single keyboard and mouse. We'd remind you that you can use an existing no-cost software utility to save yourself that same amount of money.
You can still control a pair of laptops via a docking station by plugging in a Thunderbolt or USB-C cable into either computer. But the 2-Port 4K Dual View DisplayPort Matrix KVMP, as Iogear calls it, is designed to have two PCs on the same desk, with a pair of displays shared between them. The GCMS1922 includes both "extension mode" — spanning your PC's output across two displays — as well as matrix mode, which assigns one monitor to each display. Those are handy features.
The selling point, though, is "crossover switching," which allows you to simply move your mouse between displays. In this mode, the GCMS1922 allows you to control the left-hand PC on the left-hand display, automatically switching to control of the entirely separate right-hand PC by moving your mouse "across" the display. Why do this? In case you have a work laptop on one display, and a personal laptop on the other.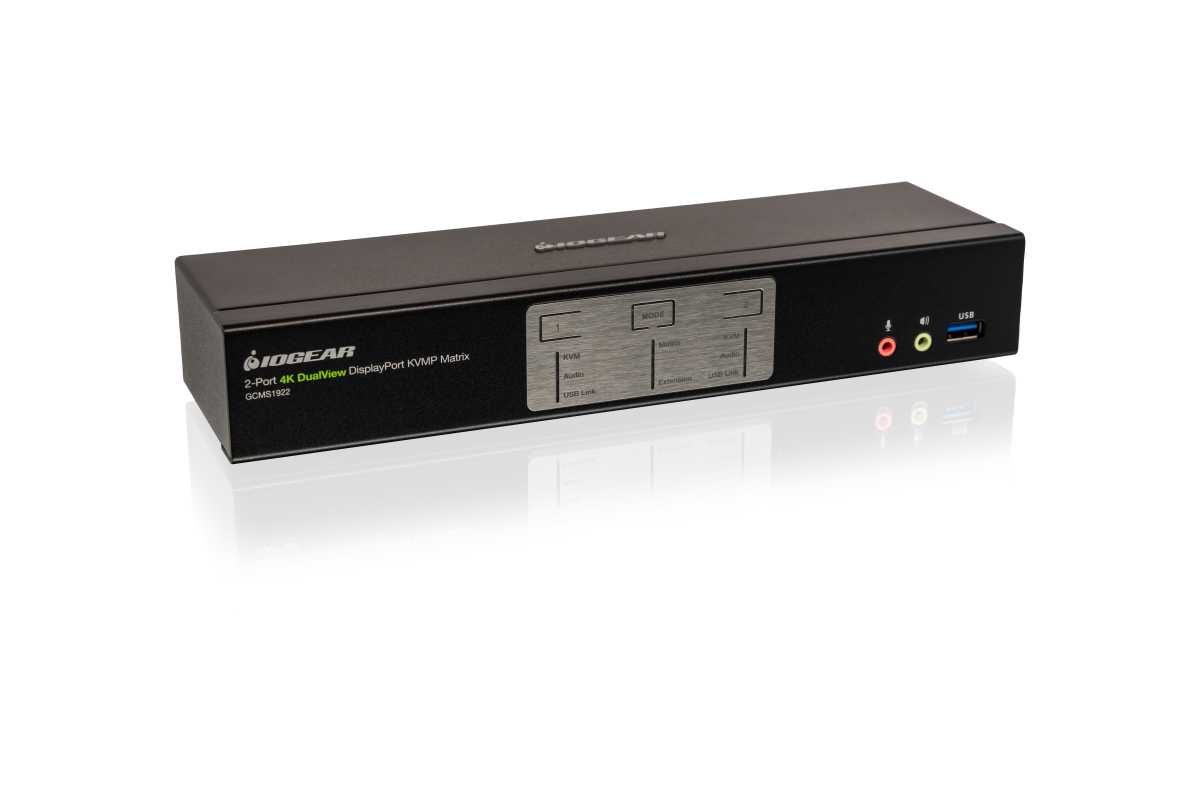 Iogear
We'd remind you, however, that there are a number of solutions already in the market that can save you substantial amounts of money by choosing them instead. In 2018, Microsoft debuted Mouse without Borders, a small utility app that not only allows you to do the same thing (provided both computers can be accessed via Bluetooth or WiFi). Mouse without Borders is now called Microsoft Garage Mouse without Borders, but it's still available directly from Microsoft. We admittedly haven't used the app in some time, but it could do something Iogear's KVM switch couldn't — copy information from one PC to the other. (Iogear executives say that feature is coming.)
Logitech also offers its Flow software that connects the older MX Master hardware as well as the latest MX Master 3 mouse, though you'll pay $100 or so for the privilege of dedicated hardware.
Why buy the Iogear GCMS1922? For one, because your work PC might not allow unauthorized apps to be installed, or it might be hidden behind a VPN. Iogear's KVM can also mix audio from both PCs over the same headphone jack. Otherwise, however, always keep on the lookout for free solutions that can save you from shelling out for dedicated devices.