We're finally getting back to normal. Most major PC players returned to the Las Vegas desert for CES 2023 after sticking to the safety of remote events last year—and they brought some very enticing shiny new tech along with them.
Big names AMD, Intel, and Nvidia all made splashy announcements, and PC manufacturers revealed a barrage of large, in-charge laptops taking advantage of the unprecedented power. Computer monitors witnessed revolution like never before. Heck, we even saw a PC case that breathes.
Yep, CES is back.
No time to sift through all our CES coverage? No problem! Read on for our Best of CES 2023 picks—the most intriguing and innovative products that impressed PCWorld's staff at the show.
AMD Ryzen 9 7950X3D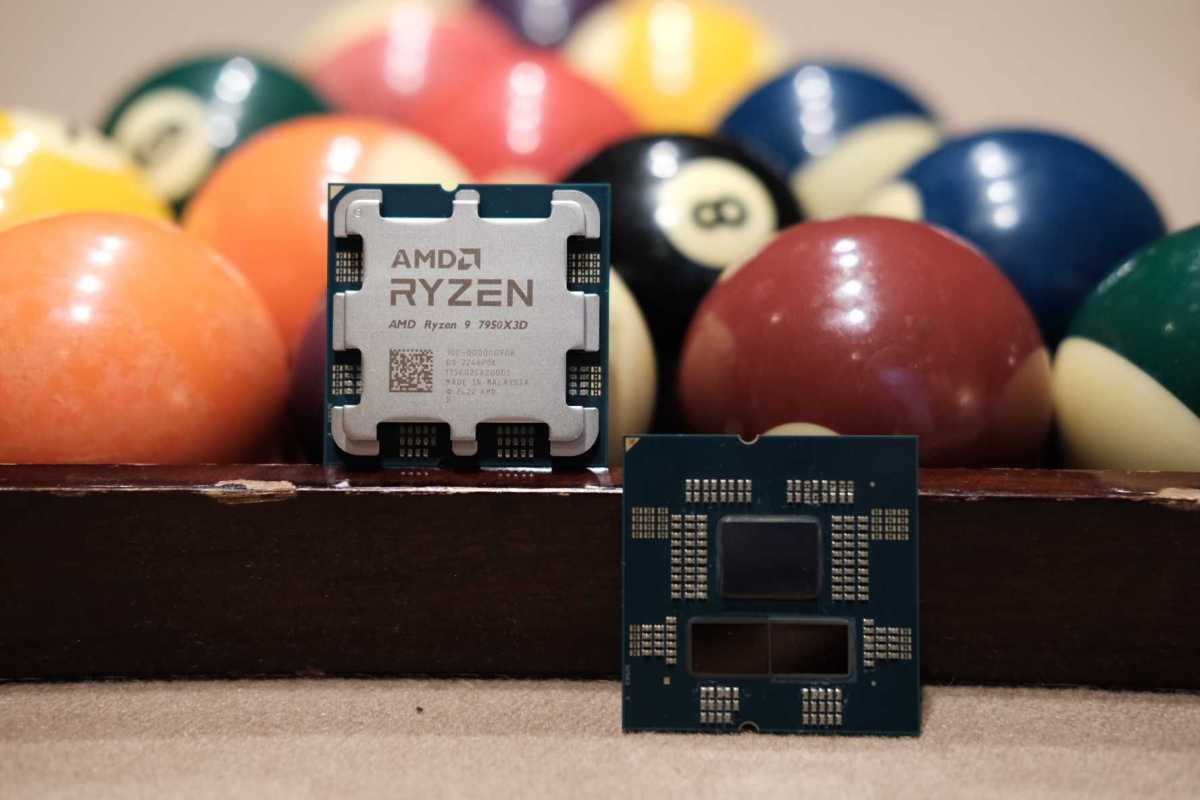 Adam Patrick Murray / IDG
The hotly anticipated Ryzen 9 7950X3D packs 16-cores and a surprising, potentially very smart design: The special sauce V-Cache is only on one of the chip's two 8-core chiplets. That lets games that like the 7950X3D's performance-boosting 128MB of L3 cache run on one die, while games that aren't fond of cache can run on the standard chiplet at higher 5.7GHz frequencies.
This design, AMD says, essentially gives consumers a "best of both worlds" CPU that no longer forces gamers to pick between the higher clocks of a non-X3D part or the fat V-Cache of an X3D part. Simply put, the Ryzen 9 7950X3D looks to be the performance CPU to beat in 2023. —Gordon Mah Ung
Acer eKinekt BD 3 Bike Desk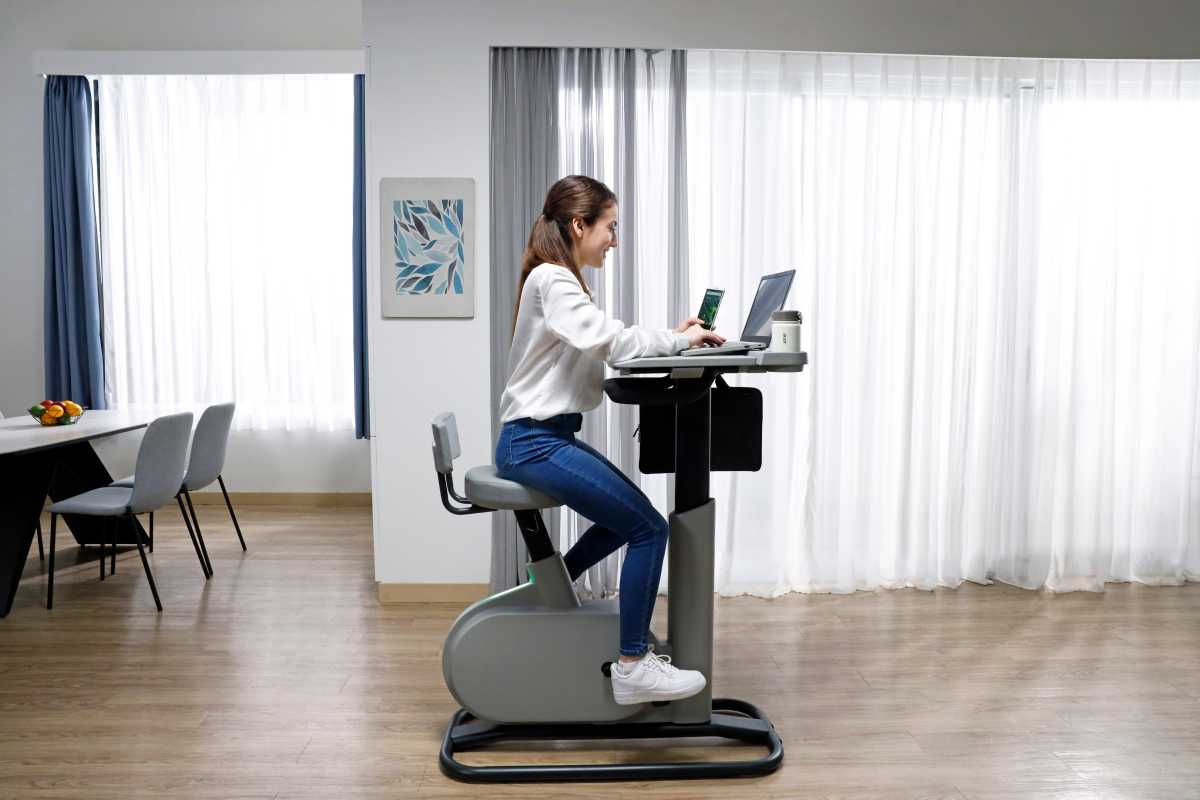 Acer
Acer's new eKinekt BD 3 Bike Desk turns the kinetic energy of your pedaling into electric energy for charging up your devices. As a remote employee who likes to stay active during the day, I was immediately drawn to this product. The companion app tracks information like travel distance, calories burned, and so on. You can even charge multiple devices at once, as the desk features two USB Type-A and one USB Type-C. The desk is also eco-friendly thanks to the PCP plastic in its casing. If you have a desk job, this is a great way to exercise while working. —Ashley Biancuzzo
Asus VivoBook Pro 16X 3D OLED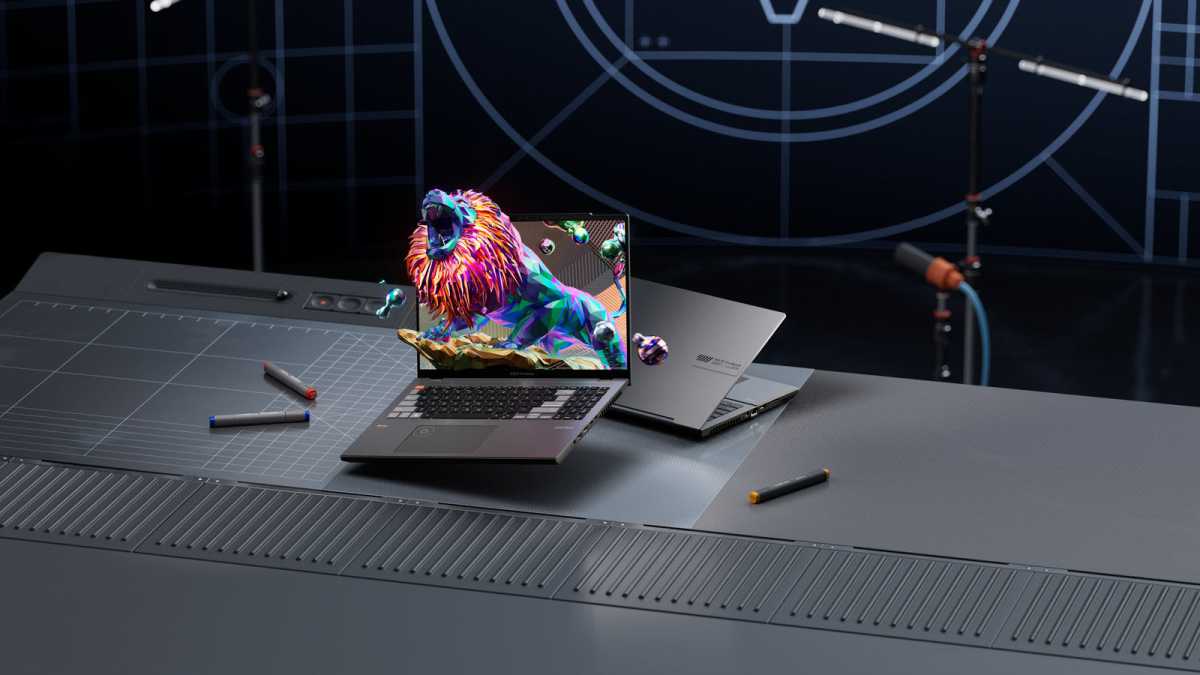 Asus
The combination of a 3,200 x 2,000 OLED screen at 120Hz and with glasses-free 3D technology is something that we're already salivating for: the combination of visual quality (infinite contrast! 100% DCI-P3 color gamut coverage!) and a high-refresh rate really is the Holy Grail of content creation and gaming. Pair that with Nvidia's next-gen RTX 40-series GPU, a 13th-gen Intel Core chip, and up to 2 terabytes of storage, and the Asus VivoBook Pro 16X 3D OLED should be one of the most incredible laptops to ship this year. —Mark Hachman
Acer Predator X45 OLED gaming monitor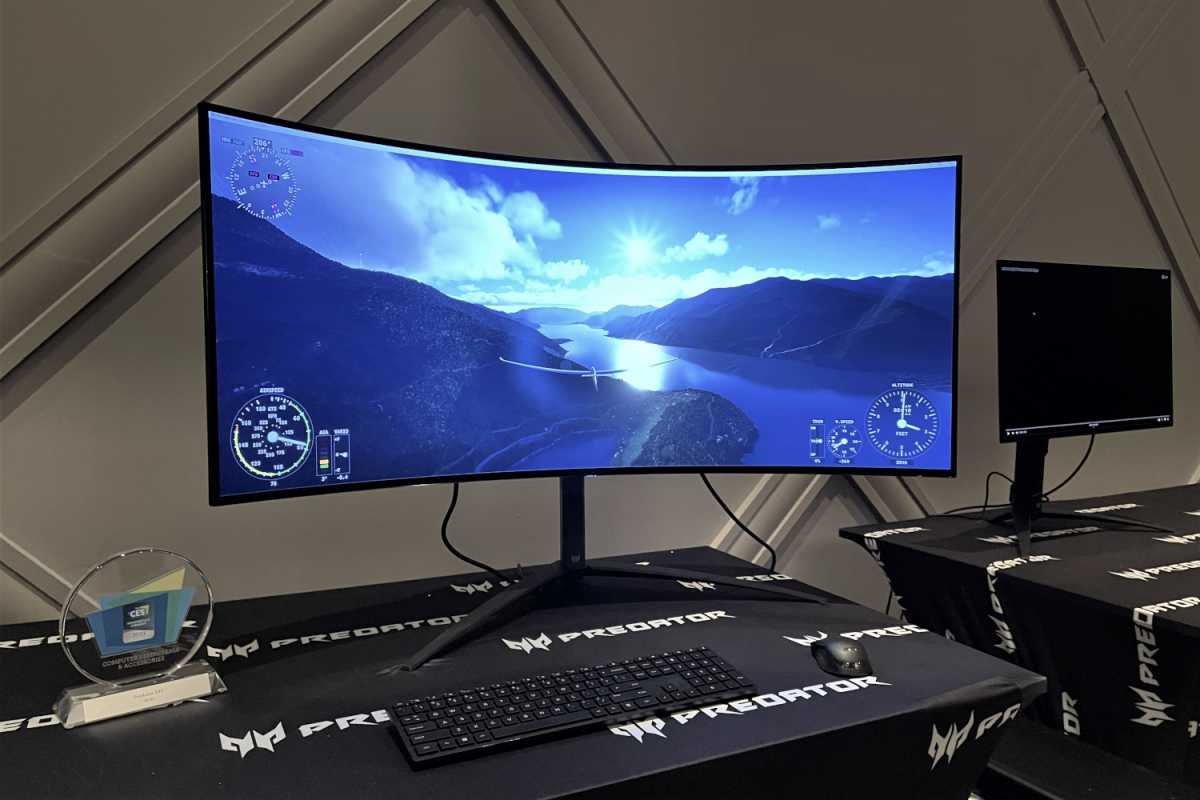 Matt Smith/IDG
There's an arms race of high-end gaming OLED monitors emerging at CES. While Samsung's new OLED G9 takes the crown for the biggest, I think Acer's curvy Predator X45 is the one that might just earn a spot on my desk. Its more practical 1440p resolution means it won't break a GPU in half just to render Fortnite, and 45 inches isn't so gigantic that nothing else can fit in your setup.
Plus, just look at the thing. The dramatic 800R that tries to tickle your ears, the bezel that almost disappears into the frame. It's freakin' gorgeous, and it even includes a KVM switch for handling multiple machines. And at $1700, it's actually surprisingly okay in terms of value. —Michael Crider
Intel Core i9-13980HX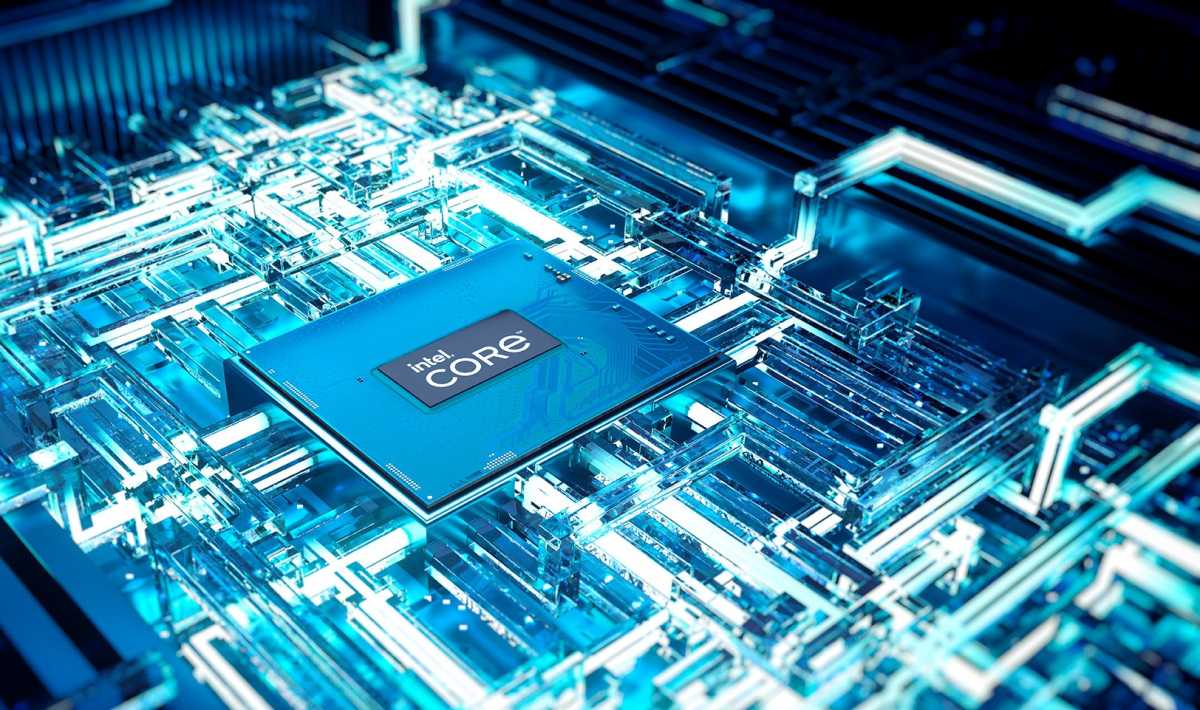 Intel
Just stop Intel. You had us at "24-cores in a laptop CPU." But we admit, we just can't say no to a CPU that cranks out performance 40 percent faster than the already stupidly fast 12th-gen HX-CPUs. And let's not even mention the 164 percent advantage the Core i9-13980HX has over an Apple M1 Max in Cinebench R23. We're pretty hot and bothered by this much performance in a laptop CPU. Did we mention it hits a blistering 5.6GHz? —Gordon Mah Ung
Displace TV
Michael Brown/Foundry
TVs are always a big draw at CES. And often it's the biggest ones that grab the most attention. But I was particularly wowed by this 55-incher, which might be standard size but is brimming with innovations. For starters, the Displace TV is completely wireless, using rechargeable batteries for power and wireless signals for A/V feeds. It also foregoes mounting hardware in favor of an advanced suction solution.
And lest you feel like this 55-inch 4K OLED panel is too confining, the Displace TV is modular, meaning it has retractable joiners on its edges so you can scale up to 8K by joining four panels. You can send multiple feeds from its remote based station to each screen separately or spread a single stream across all panels. That's a lot of technological leaps and bounds in one product, should it actually make it to market. —Katherine Stevenson
CyberPower Kinetic 360V
Is it cheating to pick the same product as last year? Not possible when the item is this cool. Of the PC cases I've seen over my career, few have had the CyberPower Kinetic 360V's wildly futuristic, absolutely mesmerizing take on high airflow. It breathes. At first glance, its geometric design and distinctive copper and white coloring seem merely stylish—then the mechanical wizardry fires up. Watching those small, angular panels on the front automatically open and close to keep your system cool feels like the stuff of sci-fi movies. And CyberPower assures us that we can finally get one of our own this year. Spring 2023 can't come soon enough. —Alaina Yee
Nvidia RTX Video Super Resolution
You know DLSS, the amazing AI-powered game upscaling technology that supercharges performance on Nvidia's RTX graphics cards? Now GeForce is bringing those dedicated tensor cores to bear on crappy web videos. Nvidia RTX Video Super Resolution, which will work on RTX 30- and 40-series at launch and the RTX 20-series at a later date, can intelligently clean and upscale 1080p video to 4K in Chrome and Edge. The proof will be in the pudding but 4K videos remain relatively rare on YouTube, so I'm thrilled by the prospect of having a DLSS-like feature make those HD vids look even better on my pixel-packed screen. —Brad Chacos
Gigabyte Aero 16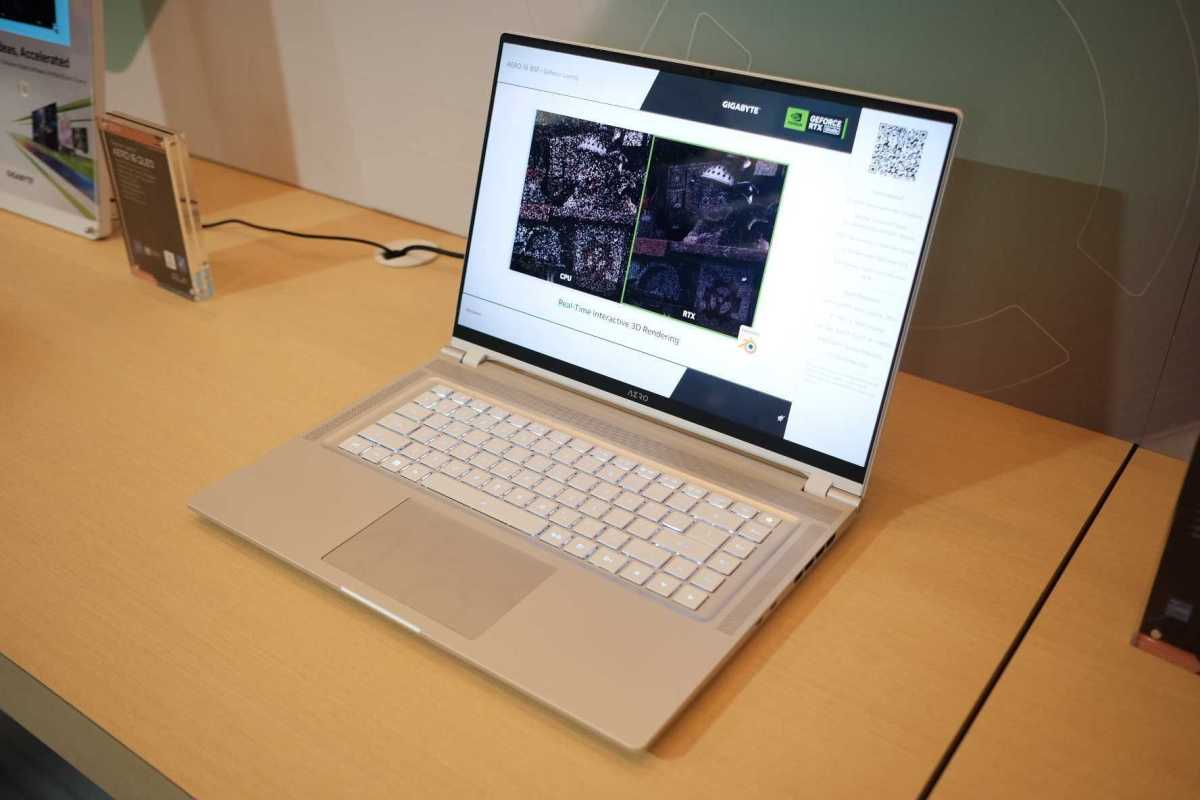 Adam Patrick Murray / IDG
The Gigabyte Aero line is one of my favorites for video editing laptops (I'm actually using one to edit video at the show!) and the updated Aero 16 fixed one of my major problems with previous models. Instead of relying on a USB-C dongle for connectivity in Apple-like fashion, the company brought back a USB Type A port (one is better than none), a full-size HDMI port, and moved the barrel charger to the back. They also added a built in SD card reader, which is certainly welcome, but unfortunately it's only microSD. Maybe next year they'll go full sized.
Of course, the new Gigabyte Aero 16 has been updated with the latest Intel CPUs (up to a Core i7- 13800H) and Nvidia GeForce GPUs up to a RTX 4070. That combination should deliver a huuuuuuge increase in editing performance. Sign me up! —Adam Patrick Murray
Acer eKinekt BD 3 Bike Desk, again
The most notable PC-related announcements at CES, as far as I'm concerned, were a new generation of OLED monitors. But that's less a single product than a trackable trend. If there's one thing that made me go "I'm so gonna buy THAT," it's Acer's new eKinekt workstation exercise bike.
The idea of combining a light elliptical workout machine with a computer desk is nothing new, but the eKinekt BD 3 seems to be making a lot of smart choices. Forget about the device charging gimmick, though it would be kind of satisfying to say I charged up my laptop with my puny human legs. No, look at that solid base, the comfy seat: this thing was meant to let you sit and work for hours while getting in some light cardio.
Ready to step it up a notch? "Sport mode" subtly adjusts the geometry of the desk, allowing you to bear down on the pedals while still catching up on some streaming action. It's a well-thought-out gadget, and at $1K, surprisingly decent in terms of price, too. —Michael Crider
HyperX's personalized keycaps
HP
These 3D-printed custom upgrades from HyperX, HP's gaming peripherals team, make me squeal with delight because they're just so freaking adorable. The limited edition Cozy Cat keycap, which will be available this month, is wonderfully cute and maybe a little necessary. These add-ons may not offer much in terms of function, but they're fun, especially if you're looking to dress up your keyboard or gaming headset. Sometimes you have to go back to the basics and learn to appreciate the little things in life. —Ashley Biancuzzo
Asus ROG and Alienware 500Hz monitors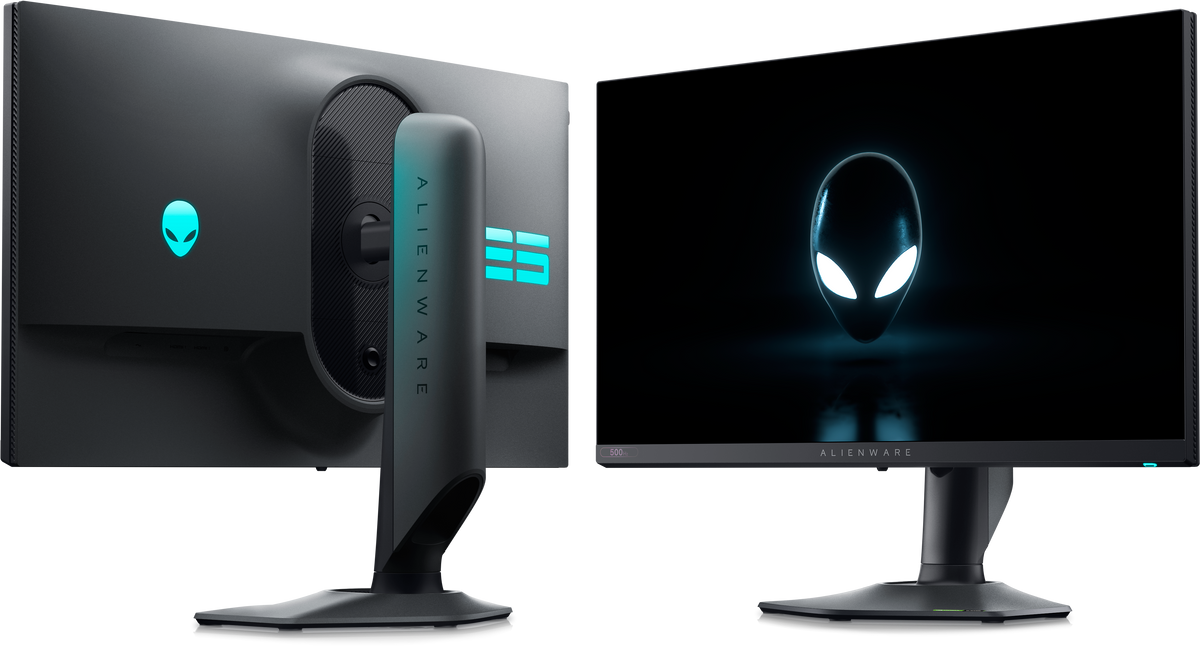 Dell
After first being teased at Computex only to never appear in 2022, face-melting 500Hz monitors are actually a thing at CES 2023. As a self-confessed sweaty tryhard in competitive games, I am extremely here for it.
The Asus ROG Swift Pro PG248QP and aptly named Alienware 500Hz Gaming Monitor (AW2524H) both measure 24.5-inches and rock 1080p resolutions—perfect for esports—as well as Nvidia's fantastic G-Sync and Reflex technologies for even more smoothness. But that 500Hz refresh rate is the real draw. Frames win games in esports, and fast monitors help games handle even more responsively. Some misguided people think you can't feel the responsiveness provided by ultra-fast displays, but as the happy owner of a 360Hz Asus ROG monitor I can report that even mousing around the desktop feels smoother the faster your screen goes.
All the new OLED and mini-LED monitors look damned enticing, sure, but these are the displays I can't wait to get my hands on in 2023. —Brad Chacos
Nvidia GeForce RTX 40-series Laptop GPUs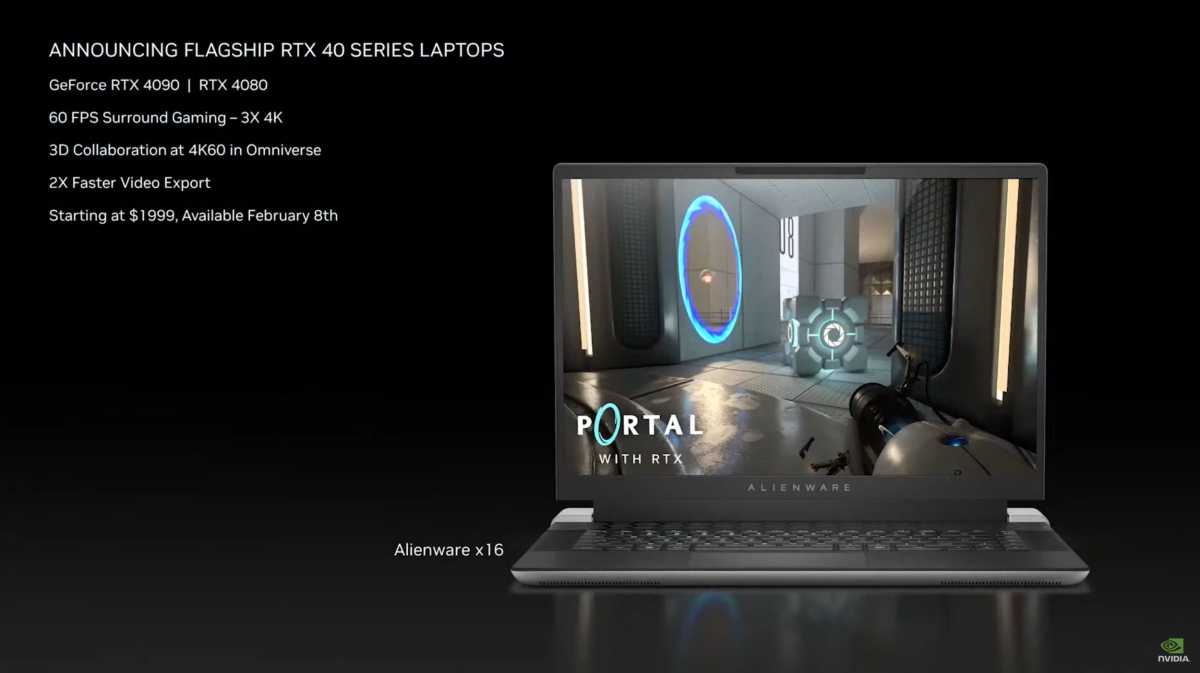 Nvidia
Just how damned impressive are Nvidia's new GeForce 40-series Laptop GPUs? An RTX 4080 Laptop GPU locked at 50 watts in a smaller, lighter, and quieter Razer Blade 16 outperforms the previous GeForce RTX 3080 Ti Laptop GPU in a larger, heavier, and louder Razer Blade 17. Wow. In fact, Nvidia's new RTX 40-series of GPUs appears to be so efficient that we're seeing thinner, lighter and now much faster laptops than ever before to go with all the fire-breathing RTX 4090-powered behemoths. —Gordon Mah Ung
Roborock S8 Pro Ultra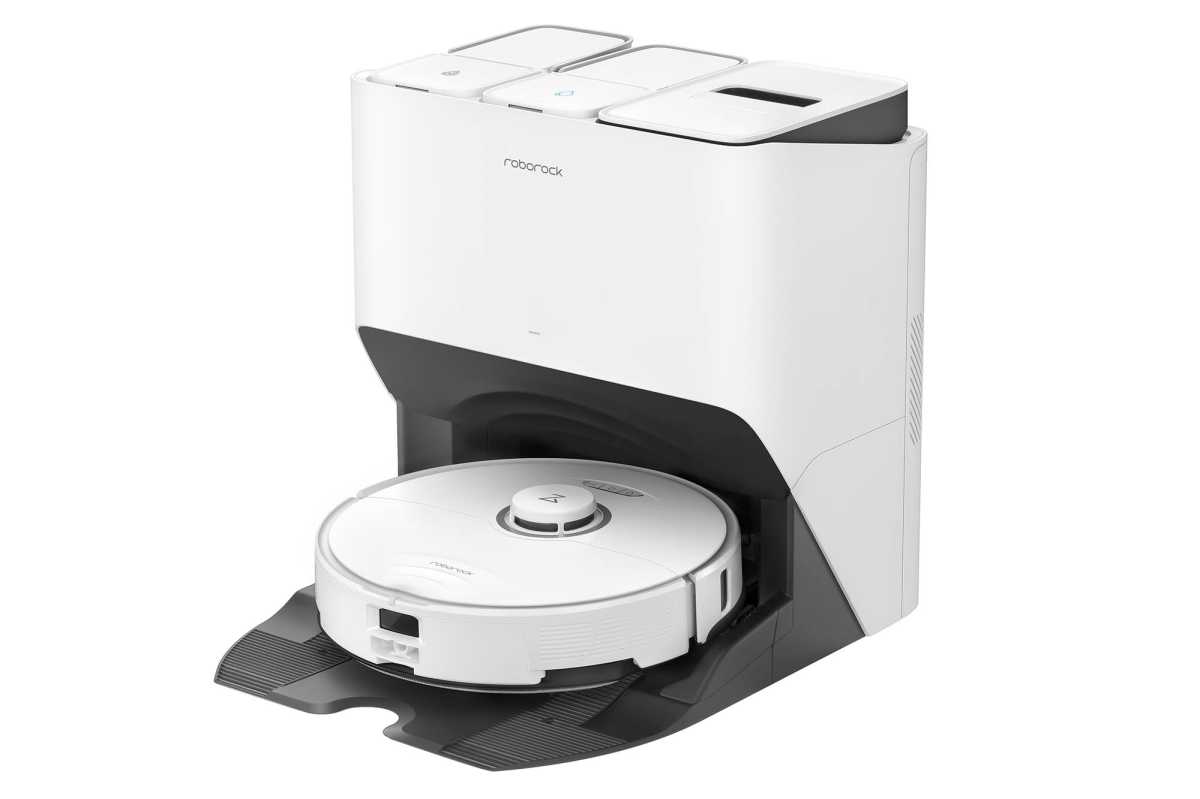 Roborock
I've been slow to jump on the robot vacuum bandwagon after a bad first impression from an early-generation model. Admittedly, that was a loooong time ago. And nothing drives that point home more than seeing the Roborock S8 Pro Ultra. This beast does everything! It vacuums, it mops, it empties its dustbin, it wets its own mop, it cleans itself. And it refines those duties in important ways: Suction power is boosted to 6,000Pa (compared to Roborock's previously high 5,100Pa); a new rubber brush design prevents tangling from pet hair; it's able to lift either dry or wet cleaning element to avoid cross-contact with the wrong the surface; and a drying feature has been added to the self-cleaning process to avoid mold growth. I'm sold! —Katherine Stevenson
Lenovo ThinkPad Twist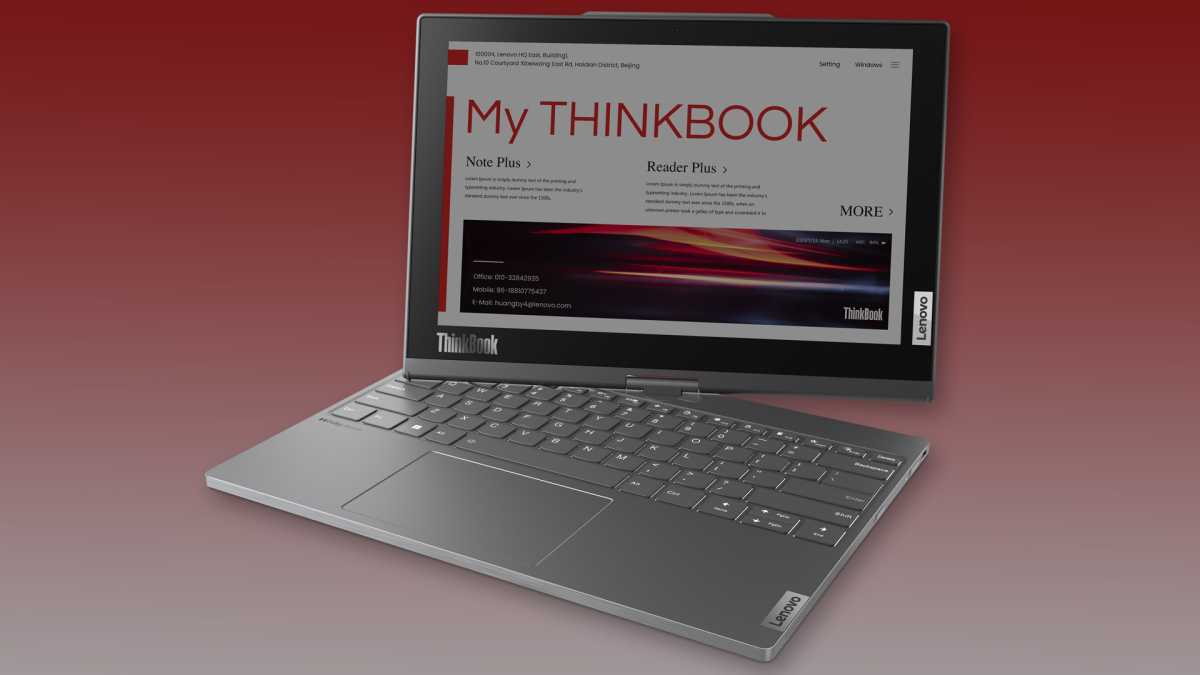 Lenovo
I've been burned before by its style of swivel hinge. I already have an e-ink reader. I'm not even convinced I wouldn't damage one of the screens. (And I generally am gentle with my gear.) But boy do I want Lenovo's ThinkBook Twist. Its top panel sports a 13.3-inch 1440p OLED touch panel on one side and a 12-inch color e-ink display on the other—perfect for working on the go. That OLED display will provide sharp, high-res output for image editing and watching videos, while the e-ink display will go easy on battery life when I'm writing articles, reading books, and taking notes with the included stylus. With less eye strain. In COLOR. I can't wait for a hands-on experience in June. —Alaina Yee
AMD Ryzen 7040 laptop chips with XDNA AI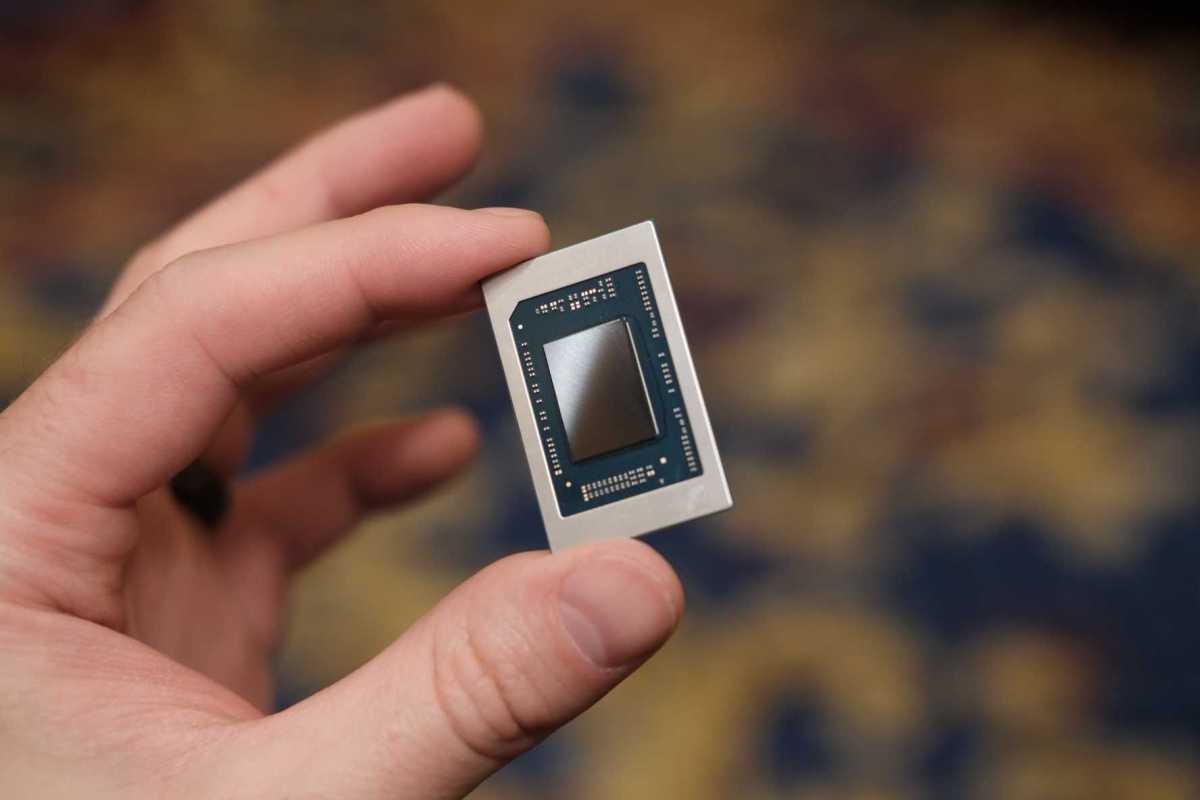 Adam Patrick Murray / IDG
The rise of AI art and ChatGPT points to a future where AI-powered experiences will become commonplace. AMD's Ryzen 7040 Mobile series is the first time we've seen AI built directly into an X86 processor. Ryzen AI, as the company calls it, offers four concurrent AI streams at once, thanks to a programmable core sourced from its 2020 acquisition of Xilinx. We'd expect that the XDNA architecture underlying Ryzen AI will be as pervasive as its RDNA GPUs in a few years. This is just the beginning. —Mark Hachman