Reports say that Microsoft could integrate AI within Bing as early as this year, and Google is also working on AI endeavors. But it you want to see what the future of AI-powered search engines are, right now, you need to try out You.com.
What you need to know about You.com is that it isn't just a search engine. Yes, You.com will search the web, and even deeper within the content of websites like StackOverflow for specialized searches like code snippets. But You.com integrates a ChatGPT-like AI engine called YouChat right into the site, along with a complementary writing tool and even an AI art generator. It's richer search — and much, much more.
You.com still feels a little like a collection of parts, without the absolutely airtight cohesion of its larger competitors. But — and this is important, too — you currently won't find any ads that clutter the top search results of Google and Bing, and the site seems refreshingly free of "gamed" or promoted search results that prioritize terminology over information. You.com makes money via affiliate links, an optional monthly subscription to its writing tool, and a slice of revenue from showing Walmart ads on shopping searches. You.com certainly feels like the early days of Web services before commercialization robbed them of their pristine appeal.
You.com does offer the opportunity to make an account and log in each time you access the site, and provides plugins for Microsoft Edge and for Google to use You.com as the default search engine. With a service like Google, login information controls access to Google Workplace, Gmail, stored third-party passwords, and more. At You.com, the site promises that it will apply AI in the background to better understand what you're looking for, and presumably keep tabs on what you've asked for within YouChat. Registration tells You.com how to apply its AI filters to your ongoing searches, and gates off AI art unless you've signed up. That's basically it.
Here's a look at what You.com has to offer—starting with the basics, then delving deep into the nifty AI-infused areas of the search engine and other differentiators.
You.com basic search: A different way of searching
You.com's basic search engine takes a bit of getting used to. If you search for a result like "best laptops," "best smartphones," or "best used cars," not only are the results different, but the order in which the results appear differs, too.
In a traditional search engine like Bing or Google, the engine returns a list of pages where you can hopefully find the answer to your question. For a query like "best used cars," that's still true. But with the other two searches, You.com returns a mixture of search results and "apps," which are curated collections of content. Some apps are just traditional sites, like CNET.com, for example. Others seem a bit more dubious, like curated reviews of smartphones via a service called Looria, which just curates opinions from Reddit. The layout is a bit confusing, especially as it's not always clear which pages You.com is prioritizing, especially when the search results are arranged vertically but app results are arranged horizontally, scrolling off the page to the right.
You appears to curate its own search results via the YouBot, though it acknowledges that it sources some content via Bing: "YouChat does not use Microsoft Bing web, news, video, or other Microsoft Bing APIs in any manner," the site says at the end of the search results. "Other web links, images, news, and videos on you.com are powered by Microsoft Bing."
You can use the drop-down menu in the upper right-hand corner to switch between "private" and "personal" searches, though you'll still need to be logged in for You.com to supposedly improve your searches over time.
In some cases, however, the apps model makes a great deal of sense. You.com allows you to search via "All," "Images," "Videos," "News," and "Maps" — pretty standard for a search engine. But it's the list of secondary categories — "Write," "Code," "Imagine," and "Chat," where You.com starts to shine. In "Code," for example, it's extremely useful for You.com to surface the StackOverflow "app" where a list of (hopefully) related queries have already been answered by the site's users.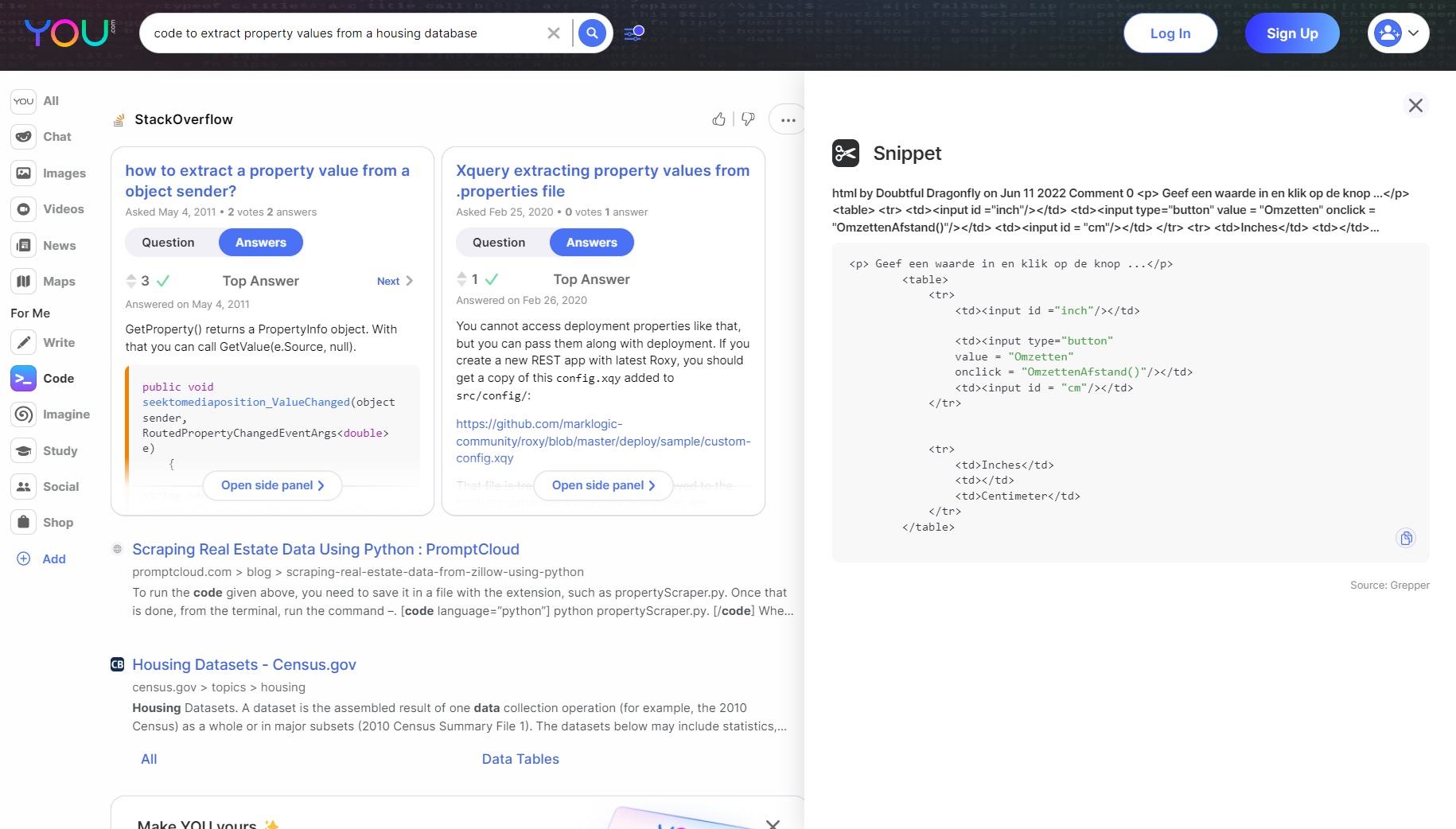 Unfortunately, StackOverflow didn't show up all that frequently in my "Code" searches. You can increase the likelihood that it will by clicking a small "thumbs up" button next to it. But doing so increases how often the site will show up in all searches, according to the tooltext. I don't think I'd want StackOverflow opinions cluttering other, more generic searches. Apps can also be blocked as well, and your preferences will be saved if you log in.
The other hindrance to using You.com as a general search engine? It's slow. For one, results may take a second or two to load. But apps are also sometimes agonizingly slow to load their own results, leaving a slab of gray, pulsing results right in the middle of your screen as they load.
You.com's social search: A genuine strength
On the other hand, You.com includes a Social search engine that's a genuine winner. Perhaps surprisingly, neither Google nor Microsoft Bing offer a search category to scour the world's most popular social sites, and You.com does a surprisingly nice job here. Search for "Katie Porter," for example—the woman who apparently will try to oust California's Dianne Feinstein from her Senate seat—and You.com lists a bang-bang-bang list of Porter's presence on TikTok, Twitter, Facebook, Instagram, Reddit posts, YouTube, Quora, Twitch, and more.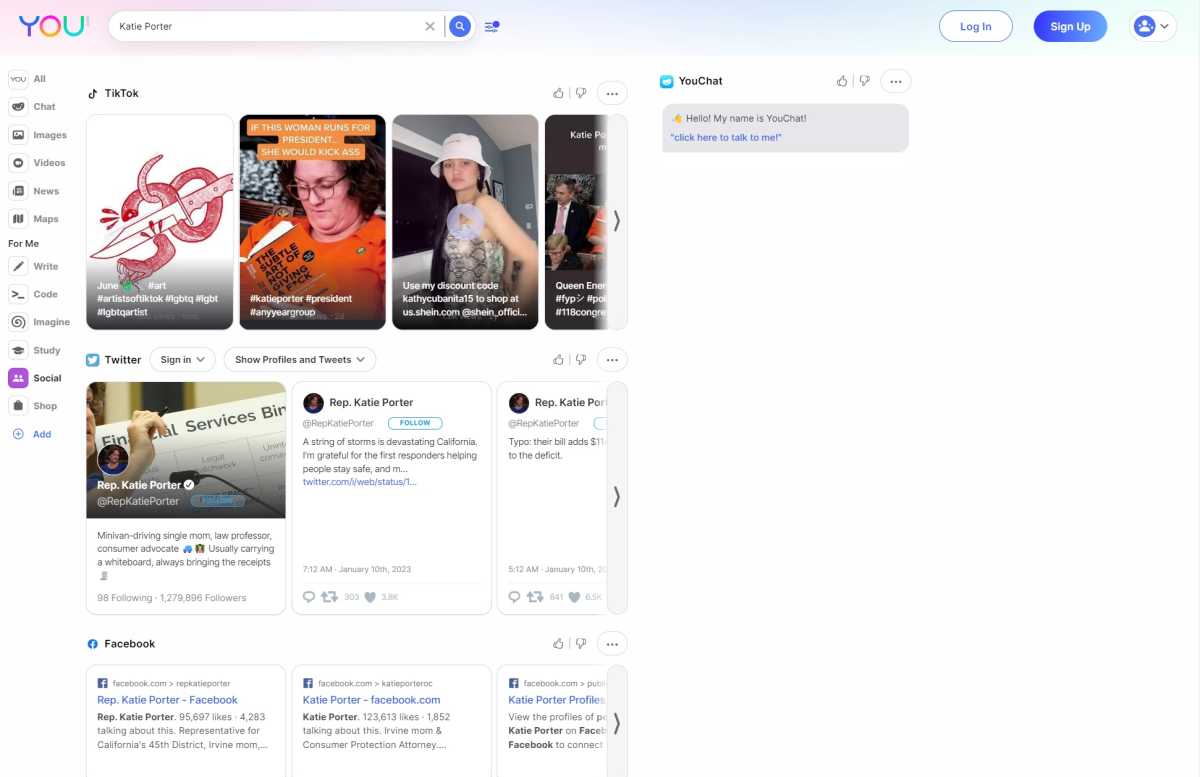 Mark Hachman / IDG
You'll most likely find more up-to-date information on, say, the "Latest" tab on Twitter about any live reactions or news about a particular topic. But here, You.com does an excellent job surfacing a broad swathe of what people are talking about, from the get-go.
YouChat: AI-powered conversational search
From an AI standpoint, Chat is the most important tool that You.com offers, with Imagine and Write close behind. Chat is just another name for YouChat, which appears either to the right of the main search results, or as the main interface if "Chat" is selected.
YouChat may not be explicitly based on ChatGPT, the OpenAI chatbot that quickly went viral for its in-depth responses. (You.com doesn't really say what YouChat is based upon.) But it's pretty clear that its functionality is similar, even if the responses differed in tone and the excuses given for, say, why they were unable to provide Sandra Bullock's telephone number. Both chatbots, for example, can come up with several reasons in response to "tell me why I should go to bed early tonight," and both could "write a poem about peace and sunsets." Both generated code when asked for "code for how to the extract the most populous cities." And both provided a detailed response when asked, "How did the French Revolution affect the English aristocracy?"
The chat functions offered by both ChatGPT and You.com offer a hybrid between a factual snippet that Bing or Google might provide and a lengthier Wikipedia article. But it's worth noting that You.com offers both; typing in the last query via YouChat and You.com's main search engine surfaced a nice British Library article on the effects of the French revolution on the English aristocracy. (ChatGPT used to offer longer essays, if asked, though the service now seems to cut them off at about 500 words or so. YouChat simply stopped midway through a request for a "750-word essay" on the above subject. It also seemed to generate an error message if overused, too: "Oops, I'm still learning and I couldn't generate an answer right now. Please try again."
The point, though, is that You.com is paving the way for other search engines: providing factual answers and links in one context, and more "thought out" responses in another. It's an interesting, effective dichotomy. Still, it's worth noting that neither ChatGPT nor YouChat guarantee the accuracy of their response, and neither provides sources. "This product is in beta and its accuracy may be limited," YouChat says. "You.com is not liable for content generated."
Reports say that Microsoft Bing will eventually implement ChatGPT. If it does, you can look to You.com and YouChat as one example of what it might look like.
YouWrite: Basic AI-powered content creation
YouWrite reminds me very much of Canva's Magic Write — an AI-powered tool to generate copy of various types (blog, essay, paragraph, social media post), tones (professional, neutral, friendly, persuasive), and to specific types of audiences (which you define). Is there a difference between YouChat and YouWrite? In some ways, no: You can ask either YouWrite or YouChat to explain why nihilism should be one's preferred philosophy, for example, and the YouWrite tool simply added 100 or so more words to the question. Remember, YouWrite is a paid tool, but seemed to reset my allowance of AI-authored pieces (10 at any one time) when I simply relaunched the site. (I wasn't logged in.)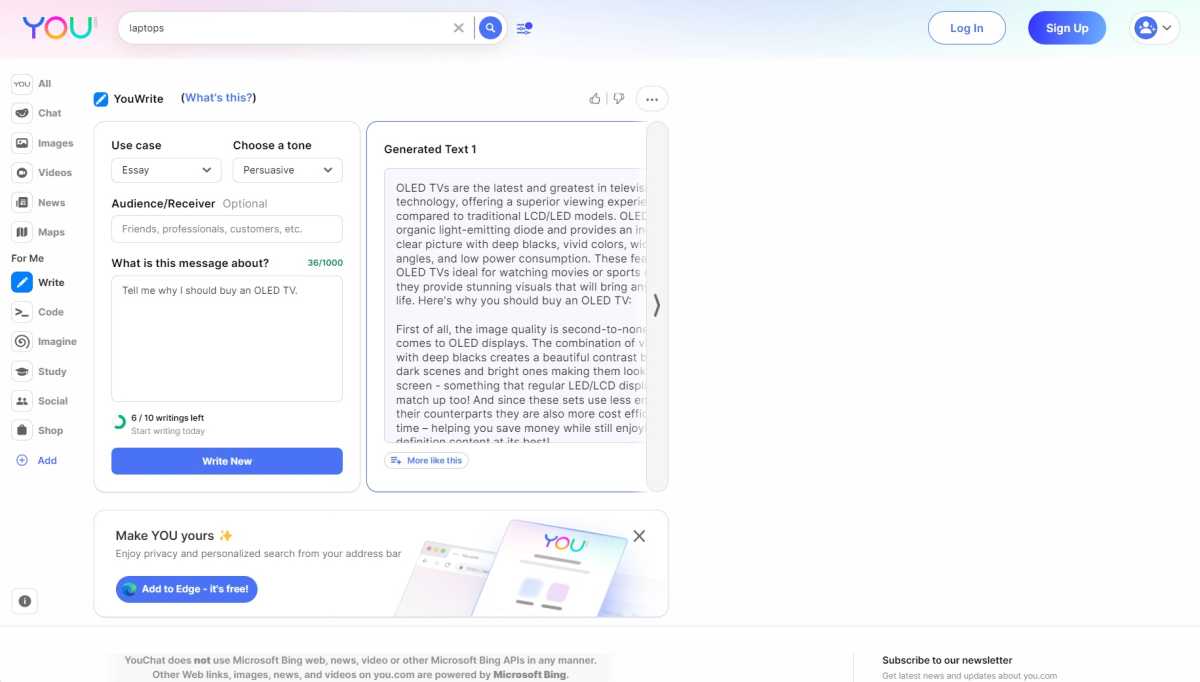 Mark Hachman / IDG
YouWrite could stand to use some improvement, though. Asking it to write the nihilism essay generated 350 words. But they were hardly coherent, and that was true for multiple questions. No one is going to use this:
"Finally, embracing a nihilistic outlook on life allows one appreciate its complexity instead of trying find simple solutions everything. Rather than relying on predetermined answers given by authorities figures like parents teachers , one has opportunity reflect deeply upon situations before coming up with conclusions themselves after taking into account all relevant facts at hand this approach enables people become more independent thinkers better able handle problems arise throughout course daily existence ultimately leading healthier happier lifestyle overall."
If You.com is going to ask users for money (and it is, at $2/week for 1,000 writing samples) they're going to have to make sense. YouWrite is a waste of money at present, even as cheap as it is.
YouImagine: Quick, simple AI art
If there's one reason to sign up for a You.com account, it's the Imagine feature, which absolutely requires you to sign up for an account before it begins generating art. (You can still generate art in "private mode," but you still have to be signed in to do so. Entering incognito mode in your browser, then trying to generate art via Imagine, doesn't work.)
The site doesn't seem to put any limits on how many images it generates, or how frequently it generates them, but the quality varies fairly significantly. Not only does the site only generate 768×768 images, but there are no advanced options like higher resolution, inpainting, adjusting the steps or the CFG scale, or any examples of stylistic output. There's also no indication from where they're sourced. Still, the images are delivered in just a few seconds.
You.com doesn't seem to put any restrictions on the use of celebrity likenesses, though they're not always accurate. Pictures that would be considered NSFW are simply not displayed, with no explanation. Violent images ("a farmer murdering another farmer, lots of blood") were rendered, somewhat surprisingly.
You.com doesn't appear to store any images rendered with Imagine, though you have the option to download them via a small icon in the corner. Once they're gone, though, they're gone.
Is You.com worth a click? Absolutely
Will You.com be the service that sinks Google or Bing? Probably not. But You.com offers so much — with improvements in certain facets of basic search as well as its more advanced features — that it could easily move into the second or even the top tier of search engines. DuckDuckGo offers something unique, an emphasis on privacy, that has helped it gain recognition. But You.com may be able to use its AI capabilities to distinguish itself as well. It's definitely worth trying out.