New 802.11n Routers: The Best Wi-Fi Yet
Gigabit Workhorses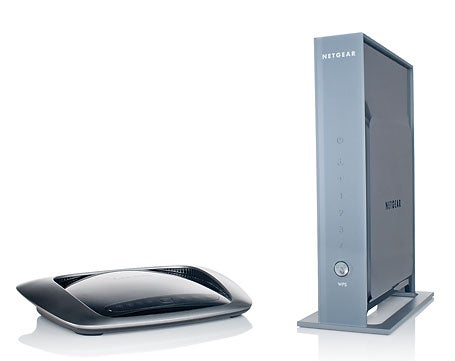 Double your investment to $150 or so, and you step up to routers with gigabit ethernet switches (a huge plus if you have networked-attached storage drives, or share files between wired Clients) and three antennas for better range and performance.
If you back up over your network from a wired desktop to a NAS, gigabit will reduce the time required almost tenfold (assuming your computers and network drives also have gigabit ethernet, as most recent models do). Wireless performance and range also bump up in this class, thanks to the extra antenna, and you'll find more-advanced routing features.
In a close match, we give the nod to the Linksys Wireless-N Gigabit Router WRT310N ($140) over the Netgear RangeMax Next Wireless-N Gigabit Router WNR3500 ($160) for the Linksys' excellent performance, very good setup tools, and deep routing features.
Linksys Wireless-N Gigabit Router WRT310N
The Linksys WRT310N outclassed the Netgear WRT3500 in close-range tests, averaging 61 mbps in the same room as the client, compared with the Netgear's 48 mbps. It also performed well at long range (about 60 feet, through several walls and appliances), although it was not quite as fast as the Netgear.
Both short- and long-range performance were much better than that of the the budget routers, thanks to the extra antenna, which provides more spatial diversity. We experienced good performance in our entire 1400-square-foot house, obviating the need to run a second access point to cover dead spots. This is fortunate, since, unlike the Netgear, the Linksys does not support wireless range extension.
But that's about the only fault we found with this Linksys. Its design is sleek (the antennas are internal, as are those of the Apple and Netgear routers), and its performance proves you don't need rabbit-ear antennas to get good range.
Setup via a desktop application called Linksys EasyLink Advisor (LELA) steps beginners through everything from cable hookups to password creation--though you'll need the Web configuration tool for special settings like port forwarding or DHCP reservation.
The Web utility offers many deep routing features. For example, while all routers in this review offer WMM/QoS (for prioritizing video or VoIP traffic), the Linksys WRT310N lets you customize application priorities: You can set gaming or streaming media to trump all else, or ensure that BitTorrent doesn't muck up your VoIP phone calls.
Web filtering is another area where the Linksys excels. You can stop proxies, Java, ActiveX, and cookies right at the router, which should ward off most Trojan horses and spyware. But we wish you could limit the filtering to certain computers; lack of Java and cookie support will cripple the viewing of many Web sites. On the other hand, you can limit access to specific applications, URLs, and keywords on a PC-by-PC basis, a handy feature for parents.
Netgear RangeMax Next Wireless-N Gigabit Router WNR3500
The Netgear WRT3500's design is the most unusual, and annoying, of the bunch. You can't wall-mount the tall, upright case, and fitting it on a desk was tough too, since you can't stack it and need a reasonably clear area around it. It's cool-looking though, especially when the ring of blue lights around the top flash to show network activity.
Performance was mediocre at close range--about the same as the much-cheaper Belkin--but improved greatly at long range. The Netgear also offers a useful repeater function that can extend your wireless range with additional Netgear access points.
But what really impressed us was the setup software and the intelligence of the router in recognizing our network conditions. It saw that our DSL modem had the same LAN IP address--a network no-no--and promptly changed itself to a different range while telling us exactly what it was doing, and why. Excellent, context-sensitive help also appears right alongside the router configuration pages. It's always on, so you don't have to click a button to see it, unlike with most other routers.
Routing features were very good, although not quite as deep as with the Linksys. It has UPnP, WMM, DDNS, and DHCP reservation, but lacks the WPA/WP2-Enterprise encryption support required by many businesses. This should not be a big issue in a home router, however. If you're looking for a good gigabit router with wireless range extension to cover larger areas or larger houses, the Netgear is a safe choice.
Shop Tech Products at Amazon