New 802.11n Routers: The Best Wi-Fi Yet
Notebook Adapters: Intel's 802.11n Is No Slouch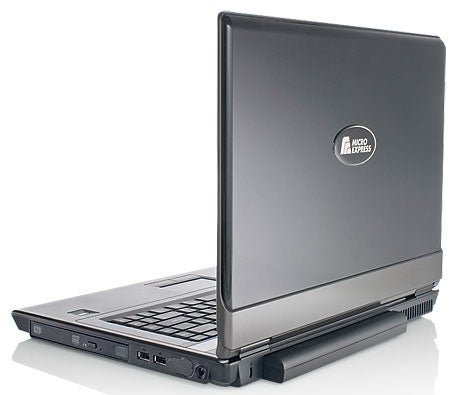 If you buy an 802.11n router, check the built-in Wi-Fi support in your laptop before spending an extra $100 for an adapter: Your notebook may already have 802.11n support. Many recent Intel Centrino models even sport dual-band n support via the Intel Wireless WiFI Link 4965AGN PCI Express mini-adapter.
But will this Intel product perform as well as the router vendor's matching external USB adapter (which we used in our performance tests, where possible)? To answer this question, I informally tested throughput with all six routers using a Micro Express Centrino notebook with the Intel 4965AGN card. Good news: For four of the six routers in these hands-on tests, Intel's chip set outperformed the USB adapter.
The improvement was most noticeable with the Belkin gear, but it was also true of the D-Link. And with the Apple AirPort Express, throughput with the Intel chip set was a full 33 percent higher than with the Linksys Dual-Band USB adapter that we used for testing both the 2.4- and 5-GHz bands. (Apple does not make USB adapters).
On the other hand, the Linksys and Netgear USB adapters performed better with their matching routers than the Intel unit did, suggesting tighter integration.
In my long-range tests, however, the Intel outperformed almost all the USB adapters--perhaps because of better antenna placement. Notebook vendors typically run Wi-Fi antennas up the side of the screen, somewhat like using a pop-up antenna to improve cell phone reception.
Don't, by the way, pay much heed to the "Connect with Centrino" label that's supposed to show good compatibility with Intel's Wi-Fi technology. Neither of the two routers (Apple and Belkin) that experienced the most improved results with the Intel adapter participate in the Intel certification program (although Belkin says it plans to do so via a firmware upgrade). The D-Link, Netgear, and Linksys WRT310N routers are certified, but not the Linksys Dual-Band WRT600N.
Bottom line: If you already have the Intel 4965AGN, don't bother getting a USB 802.11n adapter--and when buying a new notebook, definitely go for Intel's a/g/n chip set if it's offered.
Shop Tech Products at Amazon