At a glance
Expert's Rating
Pros
Competitive introductory pricing
Generous features
Beginner friendly, with customer support services such as website migration and a dedicated team of WordPress experts
30-day refund policy
Cons
Lags behind competitors in support and reliability
Steep price increase after initial purchase period
Documentation isn't easily found on the website
Storage is limited, particularly in the Basic plan, which has been reduced from previous offerings
Our Verdict
Bluehost is a beginner-friendly web hosting platform that offers affordable introductory pricing, generous features, and easy setup for first-time website owners, but has limitations in support and reliability when compared to competitors such as HostGator and InMotion Hosting. The pricing increases significantly after the initial purchase period but still remains competitive with other providers.
Price When Reviewed
Plans range from $2.95/mo to $13.95/mo
Best Prices Today: Bluehost
Bluehost is a WordPress-endorsed web hosting platform that offers a wide array of hosting services. The initial startup price can't be beat, and Bluehost offers generous features and easy on-boarding for first-time website owners. However, support and reliability are subpar, with competitors like HostGator and InMotion Hosting having an edge.
Bluehost: Pricing
One of Bluehost's top advantages is its competitive introductory pricing for its services. The amount you'll save on your first purchase depends on which type of plan you go with and how many months you decide to purchase the plan for during your initial checkout.
The amount you can expect to save, though, ranges anywhere from 20 percent to as much as 76 percent. For example, if you subscribe to Bluehost's Shared Hosting service for 12 months, this is what the initial fee versus the renewal fee looks like.

Marshall Gunnell / Foundry
Or, if you wanted to go with the Dedicated Hosting service for maximum performance and optimization, this is what you'd expect to pay initially versus if you renew.

Marshall Gunnell / Foundry
Bluehost's introductory rates are hard to beat, but be prepared for a steep increase (50 percent or more) once it's time for renewal. However, even when the rate increases to its standard rate, the plans are on par with most competitors, with HostGator having a slight edge.
The plan you go with should depend solely on what you expect out of a website. If you just want to build a site to showcase your portfolio, then hosting on a shared server will suffice. Even if you plan on growing your site, starting off on a shared server is likely your best choice. Once you start getting serious traffic, it may be time to consider switching over to a dedicated server to increase overall performance.
Bluehost offers a full refund if you cancel your subscription within 30 days.
Bluehost: Setup
Another of Bluehost's strong suits is its beginner-centric setup process. Bluehost offers a variety of customer support services, from website migration to completely building your site for you. The company also has a dedicated team of WordPress Experts ready to assist you.
If you want to set up everything yourself, Bluehost has plenty of documentation, but finding that documentation on its site is a different story. While Bluehost offers an intuitive control panel that's easy to navigate for users, they make it quite difficult to locate documentation in the knowledge base. There is a 24/7 support team available via chat online, but if you're not interested in waiting in lines or just like to figure things out for yourself, you'll soon realize the site structure leaves much to be desired.
Bluehost: Features
Bluehost provides many generous features across all of its plans. Each plan includes unmetered bandwidth and unlimited domains, aside from the Basic plan where you get one domain.
The Basic plan also includes 10GB SSD storage, what Bluehost is calling "Website Storage," which is a large decrease compared to its previous 50GB offering. The Plus, Choice Plus, and Pro plans used to offer unlimited storage, but now have been downgraded to 20GB, 40GB, and 100GB, respectively. In addition to the storage capacities, there's also a limit to the number of files you can host, though the maximum is up to a couple hundred thousand, meaning you'll most likely never hit the cap unless you're a file-sharing website.
The Plus, Choice Plus, and Pro plans also offer unlimited databases, whereas the Basic plan allows for 20. However, the max database size for each plan is 5GB.
There are also many other offerings, such as email accounts and storage, dedicated IPs, allowed subdomains, and more. Here's an at-a-glance overview of each plans' offerings.
Marshall Gunnell / Foundry
Bluehost: Backup and security
Bluehost offers decent backup and security features, though what's available to you depends on which plan you sign up for. Bluehost offers free malware scanning via SiteLock across all of its plans, as well as a free Let's Encrypt SSL certificate—though you'll have to pay for it after the first year if you're subscribed to the Basic plan.
Bluehost also offers its Choice Plus and Pro subscribers free daily site backups with CodeGuard, with Choice Plus members having to pay a renewal fee after the first year. You can pay for it separately if it doesn't come with your plan. It's highly recommended you do daily backups of your site (or of any of your data, for that matter), so it's well worth the $4 monthly price tag.
Bluehost: Reliability
Server uptime is extremely important for websites, as any downtime directly impacts revenue. Though you will see claims online that Bluehost has a 99.98 percent server uptime, Bluehost itself only promises 99.9 percent.
Also interesting, Bluehost mentions in a blog post that a good web host should provide backup servers, but then mentions on its FAQ page that it doesn't offer server redundancy on shared hosting plans because it would increase the cost.
So what's the real story? Bluehost does, in general, have good uptime, and provides a way for you to track it yourself (though you have to set it up yourself). Server issues were few and far between when we hosted a gaming guides website on Bluehost—though we did experience one issue where the site was down for many hours, sporadically throughout the course of several days, with no announcements from Bluehost.
The month prior to the server issues, we had 679,916 Pageviews. The month of the server issues, 592,560. Though there are many variables involved, the sporadic server downtime certainly didn't help, and we were left scrambling to figure out what was wrong due to no announcement being delivered by Bluehost. This, along with the poor communication from support during this time, ultimately led to us migrating to a different web hosting platform the following month.
Marshall Gunnell / Foundry
On the other hand, when there's a regularly scheduled maintenance coming up, Bluehost alerts you via email well in advance so you can prepare for it, and these updates are scheduled during times when it will impact the fewest amount of customers. This is good news for U.S.-based customers, as updates generally won't be held during peak hours.
Bluehost: Customer support
If you're not a fan of human interaction, you can browse Bluehost's online knowledge base to see if there is some documentation that helps answer your questions. While the knowledge base is plentiful, as mentioned above, it can be quite difficult to locate the content you need.
If you would rather talk to a real person, Bluehost boasts a 24 hours a day, 7 days a week support system, available via phone or live chat. This is on par with other hosting service providers, such as InMotion Hosting and HostGator.
Unfortunately, the quality of Bluehost's support has been hit or miss for me. If the question is simple, you'll likely have a good experience. During the service interruption mentioned earlier, though, it appeared Support was out of the loop and wasn't able to answer questions, or got periodically disconnected during a support session. Plus there was the days-long delay until an official announcement was made.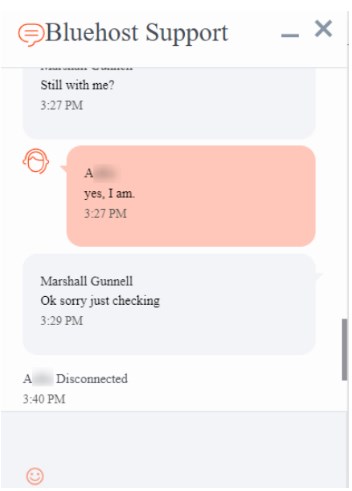 Marshall Gunnell / Foundry
With no word from Bluehost and no help from support during this time, we were left with a less-than-desirable experience.
Bluehost: Final thoughts
Bluehost is a great hosting provider for first-time website owners. It offers easy onboarding and setup, which allows you to get your site up and running quickly with no technical knowledge required.
The initial cost is also the best in the business, making it a desirable choice for users on a budget. However, the renewal fee puts it at par with other services, and even slightly higher, as compared to HostGator. If the subscription cost is a concern, you'll want to think long-term when deciding who to go with.
Finally, if uptime and customer support is critical to your business, there are more reliable hosting providers that would be better suited for you. If you're creating a site as a passion project or online portfolio and downtime isn't a big concern, then you should still strongly consider Bluehost.
Editor's note: Because online services are often iterative, gaining new features and performance improvements over time, this review is subject to change in order to accurately reflect the current state of the service. Any changes to text or our final review verdict will be noted at the top of this article.
Best Prices Today: Bluehost