At a glance
Expert's Rating
Pros
Exceptional 4K and 1440p performance
24GB memory
Nitro+ custom cooler is frigid, silent, and gorgeous
Dual-BIOS switch, fan, and ARGB headers
Cons
Massive four-slot design
Very high power draw
Lags GeForce RTX 40-series GPUs in ray tracing
Steep $200 premium puts Nitro+ near RTX 4080 pricing
Our Verdict
The Sapphire Nitro+ looks gorgeous, runs frigid, can't be heard, and it's the fastest XTX we've tested (albeit by a hair), complete with handy extra features for overclockers. If you're in the market for a four-figure graphics card that chews through high refresh-rate 4K and 1440p gaming without compromise, and your PC can handle its massive size and power draw, the Nitro+ is very highly recommended.
Big, badass graphics cards don't get much bigger or more badass than the Sapphire Nitro+ Radeon RX 7900 XTX Vapor-X—the first Sapphire GPU to sport the premium Vapor-X brand in nearly a decade.
While AMD's reference version of the XTX sticks to a reasonable 2.5-slot design, Sapphire threw restraint out the window with the highly customized Nitro+. This monster swells to a chunk quad-slot height, then adds an extra 8-pin power connector to fuel even loftier performance. It's the fastest 7900 XTX we've tested and it runs cool and quiet while looking superb. This is one of the most impressive custom graphics cards I've ever laid hands on.
If your PC can fit this beast, and your wallet can accept its $1,200 price tag—a $200 premium over the reference model—then you'll love everything about the Sapphire Nitro+ Radeon RX 7900 XTX Vapor-X. Let's dig in.
Further reading: The best graphics cards for PC gaming
Sapphire Nitro+ Radeon RX 7900 XTX Vapor-X: Specs, price, and features
There isn't too much to say about the Nitro+'s technical aspects, as it's running on the same spectacular Radeon RX 7900 XTX chip as the reference model, paired with an ample 24GB of fast GDDR6 memory. Sapphire tweaked and tuned it for even more power, however.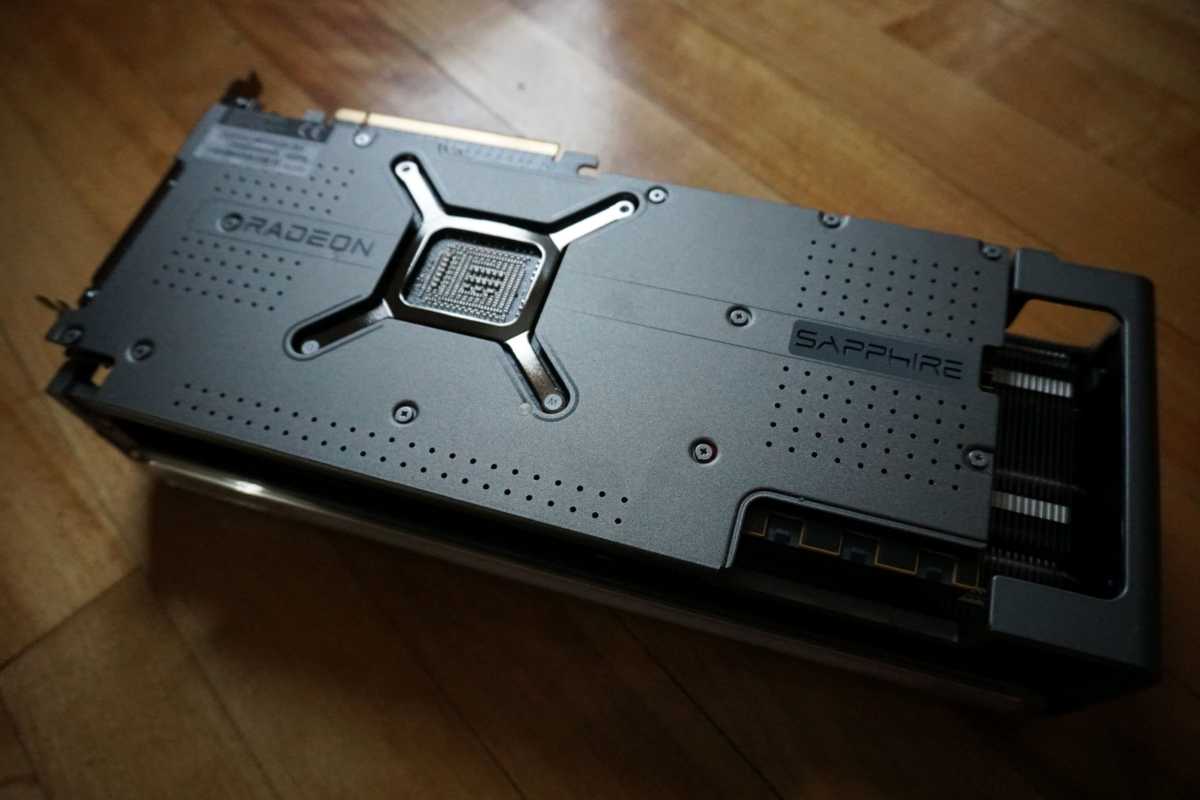 Brad Chacos/IDG
The Nitro+ 7900 Vapor-X screams along with a blistering 2,510MHz Game Clock, a substantial uplift over the reference 2,300MHz speeds. That matches the similarly premium XFX Speedster Merc 7900 XTX, but the Sapphire card's more efficient cooler lets it squeak out clear victories across our gaming test suite, even if only to the tune of a few extra (and practically unnoticeable) frames per second. The baseline 7900 XTX is already the second-most powerful GPU on the planet, trailing only the $1,600 GeForce RTX 4090 in raw might, and the Nitro+ cranks it to 11.
Doing so requires more literal power, however. The Sapphire Nitro+ Radeon RX 7900 XTX Vapor-X demands a trio of 8-pin power connectors, up from the reference version's pair, and it's rated to draw 420 watts of power. The reference XTX draws 355W. In the real world, that means the Nitro+ 7900 XTX consumes more power than even the RTX 4090 during gaming sessions.
Brad Chacos/IDG
The card includes a three-way BIOS switch that changes the card's behavior, however. The default position lets you hop between the Nitro+'s dual BIOS options using Sapphire's Trixx utility, rather than having to manually flip the BIOS switch on the card. If you don't want to install that software, however, the second position sticks to the default high-performance BIOS, while the third position is a lower-power mode that drops to reference speeds in exchange for shaving 50W off the power draw. The default BIOS runs so cool and quiet that there's no reason to recommend the low-power option unless power draw is a major concern—and if it is, you shouldn't be buying a 7900 XTX to begin with.
The Sapphire Nitro+ Radeon RX 7900 XTX Vapor-X's real draw is its custom design. There's so much hardware in here, Sapphire tossed a GPU support bracket into the box to keep your graphics card from potentially sagging in its motherboard slot over time!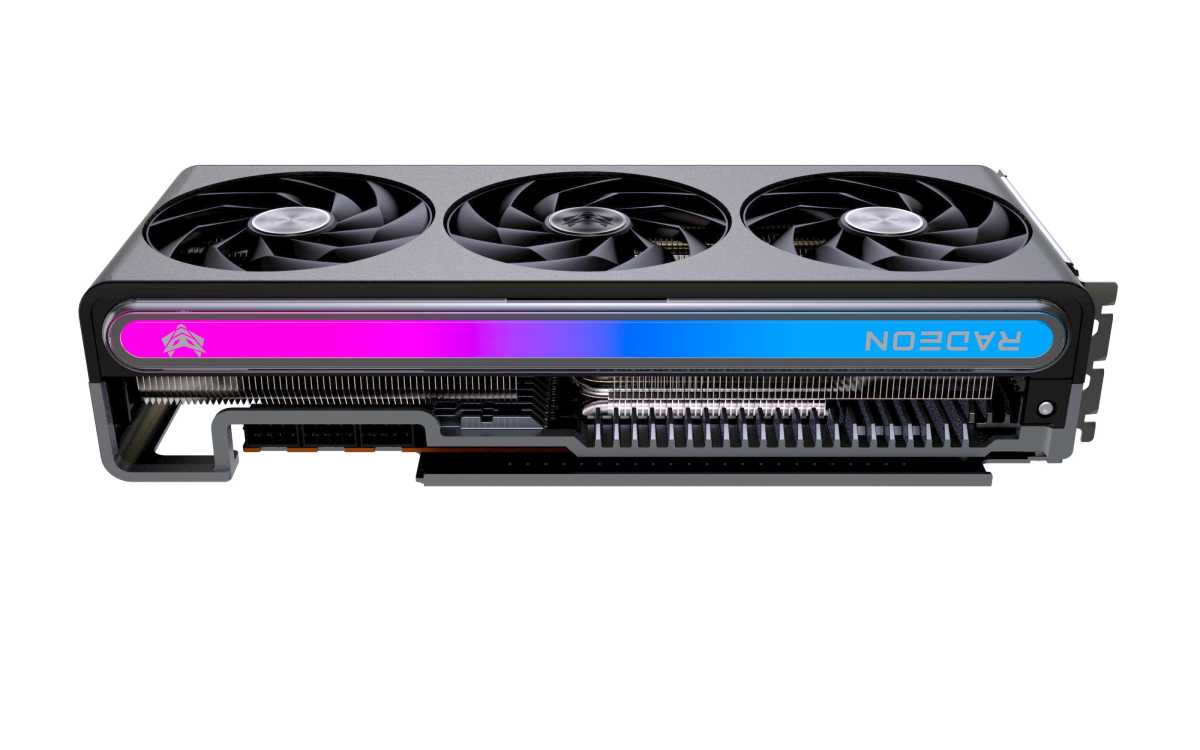 Sapphire
Let's start with aesthetics: The Nitro+ 7900 XTX looks absolutely beautiful, sporting a deliciously clean all-metal design, punctuated by raised, full-length RGB bars on both sides of the heatsink. The bars somehow shine with shocking vibrancy, with rounded edges that add to its visual cohesion. The default sweeping rainbow pattern fills your case with shimmering light since Sapphire slapped the bars on both sides. It's gorgeous, albeit in a totally different way than the also-gorgeous XFX Speedster Merc 7900 XTX, which went in an RGB-less direction instead.
The Nitro+ 7900 XTX's true secret sauce lies underneath the hood though. Sapphire absolutely stuffed this behemoth full of cooling technology. Sapphire's webpage for the Nitro+ goes into far deeper detail, but at a high level, the die-cast aluminum frame holds a trio of axial fans with dual ball-bearing designs. They support Sapphire's rad Quick Connect feature, which lets you quickly and easily disconnect individual fans if they need repair. Better yet, they stop spinning completely when the GPU isn't under high load. That means the Nitro+ 7900 XTX is completely silent when you aren't gaming or performing other GPU-stressing work.
Brad Chacos/IDG
Another key perk: Sapphire slapped a second HDMI 2.1 port on the Nitro+, doubling up on the reference design. VR users, take note! It's joined by a pair of DisplayPort 2.1 connections, though Sapphire eschewed the reference model's USB-C port to include the extra HDMI. It also includes helpful ARGB and fan headers if you want to hook it more deeply into the rest of your system.
Of course, the Sapphire Nitro+ Radeon RX 7900 XTX Vapor-X supports all of AMD's awesome Radeon software features, like FSR, Radeon Anti-Lag, Smart Access Memory, and more. But enough chit-chat. Let's get to the benchmarks!
Our test system
We test graphics cards on an AMD Ryzen 5900X PC used exclusively for benchmarking GPUs. We now test with PCIe Resizable BAR (also known as Smart Access Memory on Ryzen systems) active, as most modern gaming PCs released in the last four years support the performance-boosting feature, either natively or via a motherboard firmware update. Nvidia also recommends turning on the optional "Hardware-accelerated GPU scheduling" option in Windows to let the RTX 40-series stretch its legs to the fullest, so we've made that tweak as well. Most of the hardware was provided by the manufacturers, but we purchased the storage ourselves.
AMD Ryzen 5900X, stock settings
AMD Wraith Max cooler
MSI Godlike X570 motherboard
32GB G.Skill Trident Z Neo DDR4 3800 memory, XMP active
Corsair HX1500i power supply (and optional $20 12VHPWR 600 cable for Nvidia GPUs)
We're comparing the $1,200 Sapphire Nitro+ against the $1,000 reference Radeon RX 7900 XTX as well as XFX's similarly premium $1,100 Speedster Merc custom card, as what we're really looking for here is the Nitro+'s performance as a custom XTX model. We've also included other GPUs that are worth considering when you're looking for excellent 4K and 1440p gaming.
We test a variety of games spanning various engines, genres, vendor sponsorships (Nvidia, AMD, and Intel), and graphics APIs (DirectX 9, 11, DX12, and Vulkan), to try to represent a full range of performance potential. Each game is tested using its in-game benchmark, then sanity checked by Nvidia's FrameView tool, at the highest possible graphics presets unless otherwise noted, with VSync, frame rate caps, real-time ray tracing or DLSS effects, and FreeSync/G-Sync disabled, along with any other vendor-specific technologies like FidelityFX tools or Nvidia Reflex. We've also enabled temporal anti-aliasing (TAA) to push these cards to their limits. We run each benchmark at least three times and list the average result for each test.
Rather than rolling out our full testing suite for this review, we stuck to a simpler lineup that's representative of a variety of APIs (DX9, DX11, DX12, Vulkan), to show the Nitro+'s performance across various scenarios. Be sure to check out our initial Radeon RX 7900 XTX review for a broader, deeper look at the GPU's general performance. (In short, it beats the $1,200 RTX 4080 in traditional games for a much lower price, and matches the RTX 30-series' ray-tracing performance, but lags far behind the RTX 40-series in ray tracing. It also lacks a DLSS 3 Frame gen competitor.)
Sapphire Nitro+ Radeon RX 7900 XTX Vapor-X: Gaming performance benchmarks
Brad Chacos/IDG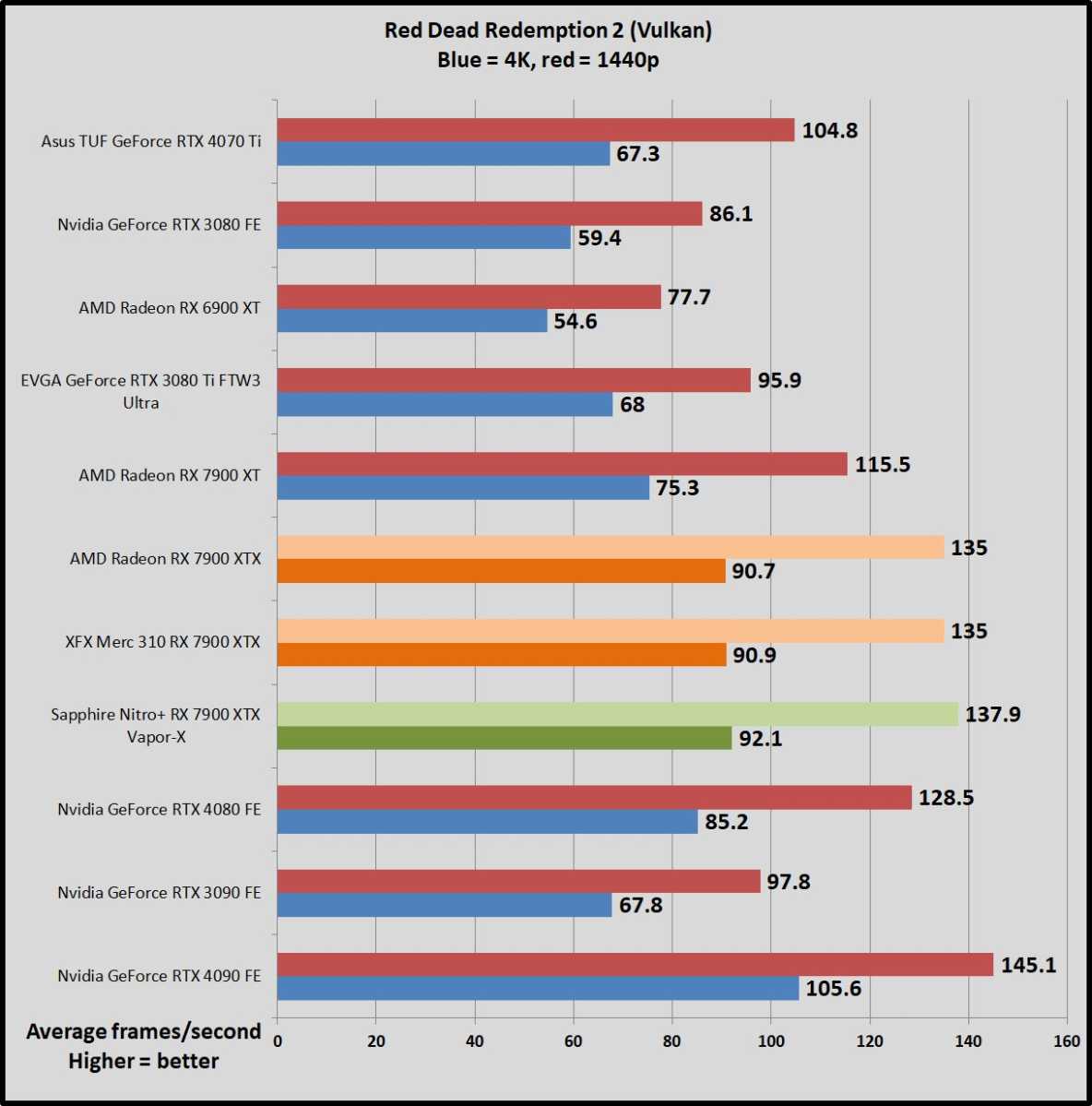 Brad Chacos/IDG
Brad Chacos/IDG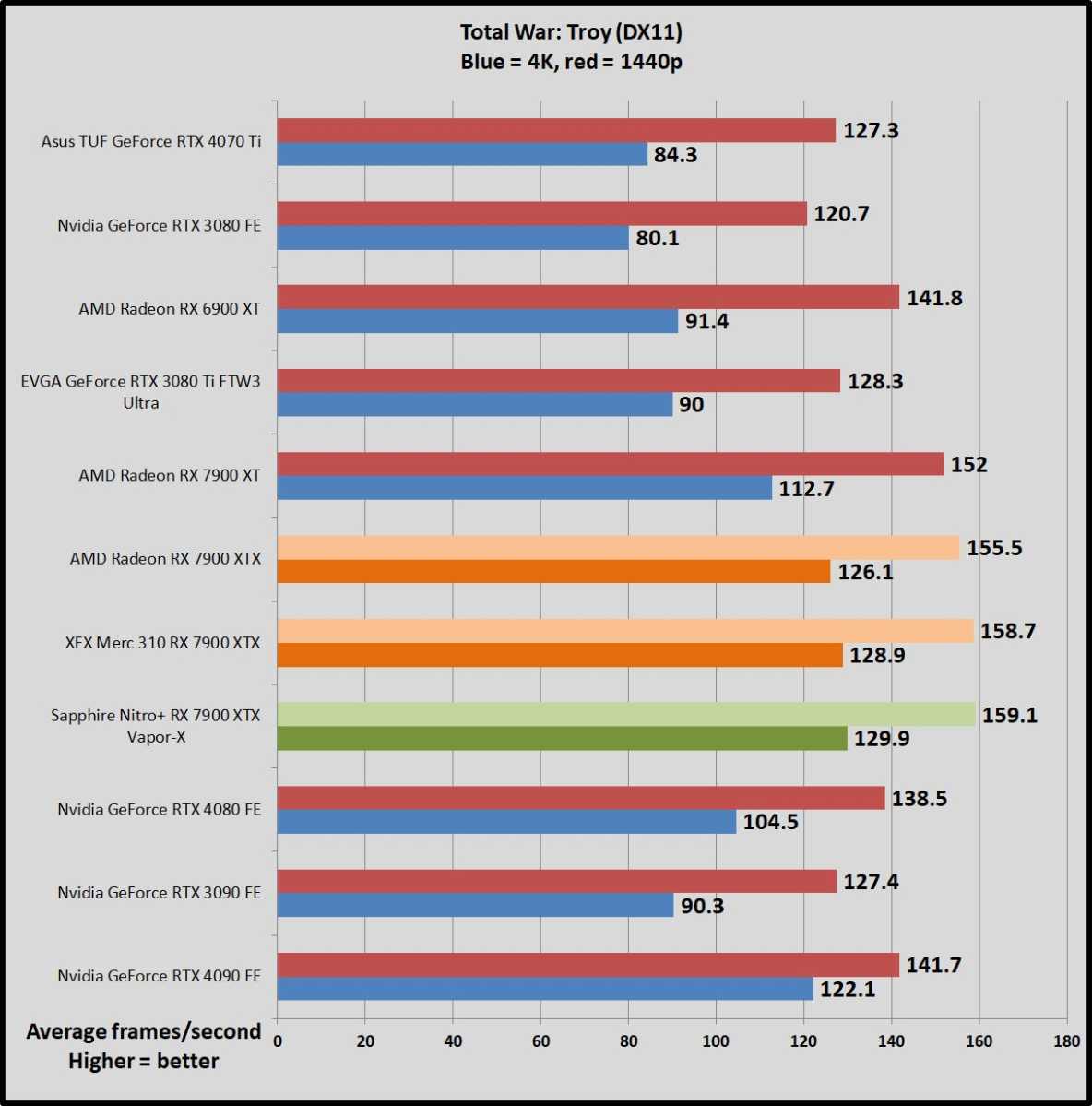 Brad Chacos/IDG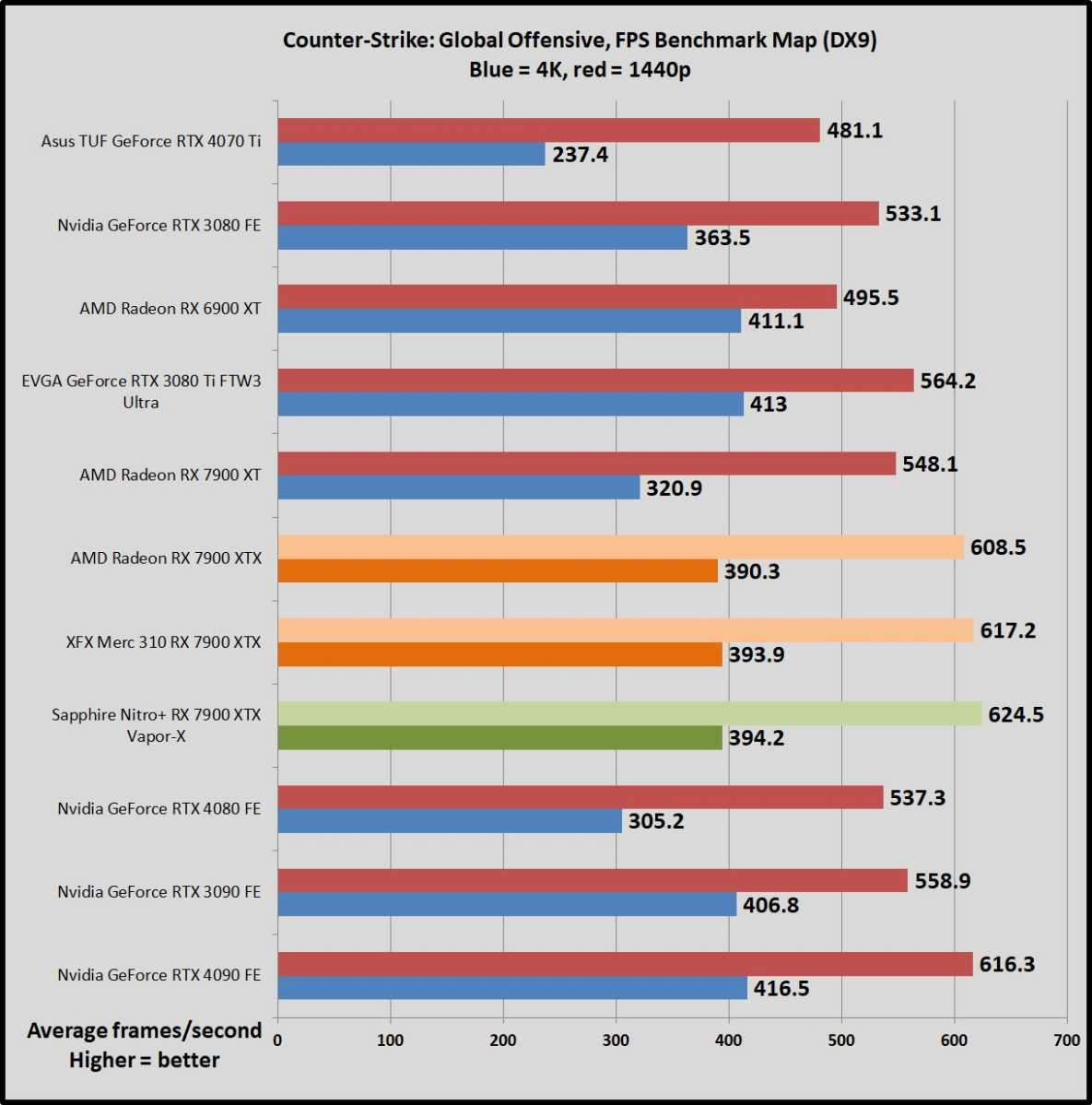 Brad Chacos/IDG
Sapphire Nitro+ Radeon RX 7900 XTX Vapor-X: Power and thermals
We test power draw by looping the F1 22 benchmark at 4K for about 20 minutes after we've benchmarked everything else (to warm up the GPU) and noting the highest reading on our Watts Up Pro meter, which measures the power consumption of our entire test system. The initial part of the race, where all competing cars are onscreen simultaneously, tends to be the most demanding portion.
This isn't a worst-case test; this is a GPU-bound game running at a GPU-bound resolution to gauge performance when the graphics card is sweating hard. If you're playing a game that also hammers the CPU, you could see higher overall system power draws. Consider yourself warned.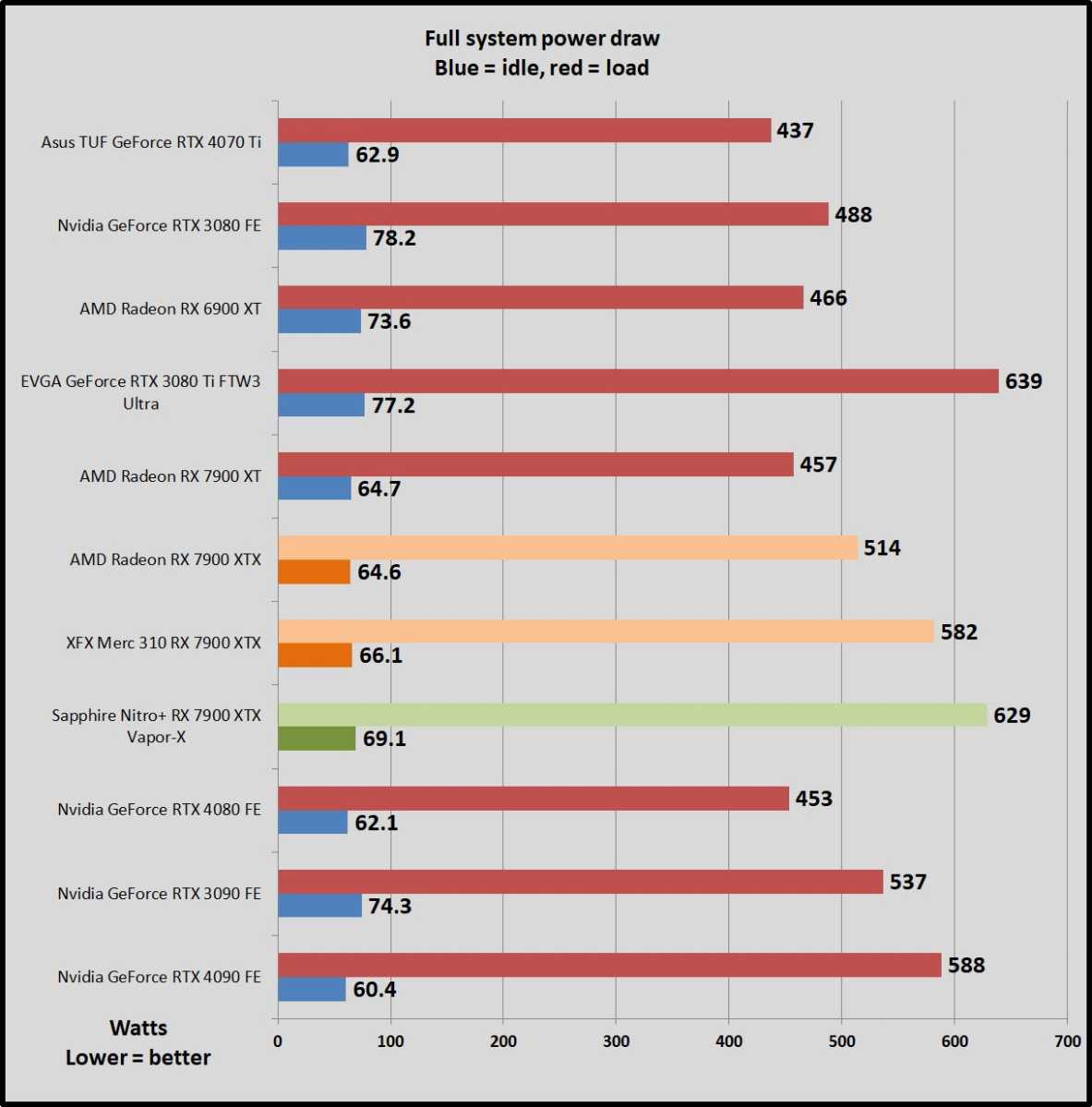 Brad Chacos/IDG
The Sapphire Nitro+ pushes AMD's already-power hungry Radeon 7900 XTX to new heights, but doing so requires even higher peak power draw than the monstrous RTX 4090. That's a bit of a bummer, but you probably aren't buying a fire-breathing 7900 XTX for its efficiency.
We test thermals by leaving GPU-Z open during the F1 22 power draw test, noting the highest maximum temperature at the end.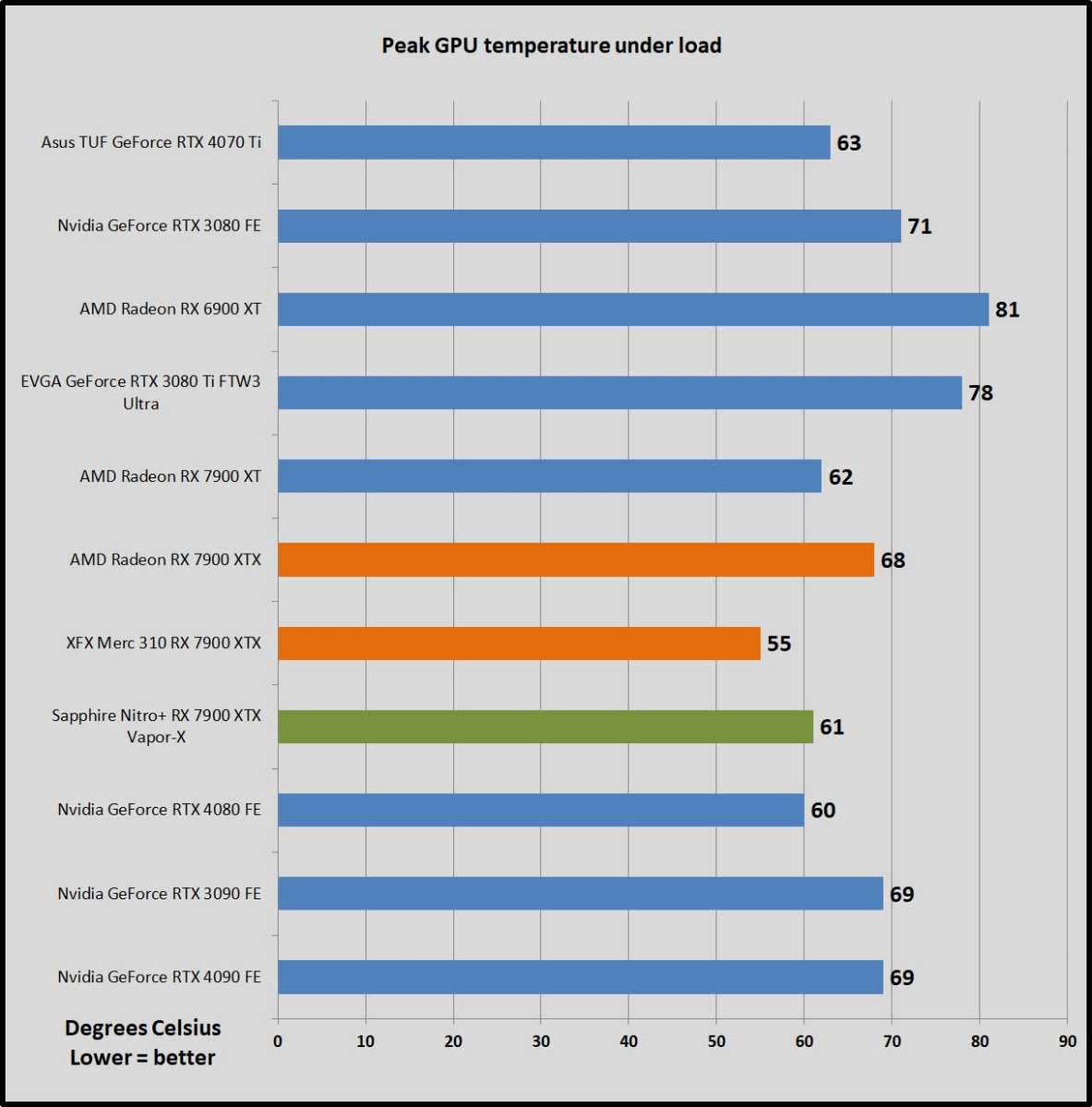 Brad Chacos/IDG
The Sapphire Nitro+ Radeon RX 7900 XTX's awesome Vapor-X cooler does stellar work here. Technically, it runs slightly warmer than the XFX Speedster Merc, but both deliver absolutely frigid results that overclockers will appreciate, and the Nitro+'s gentler fan curve actually sounds even quieter than the already borderline-silent Merc. These are both outstanding custom designs that far outshine the undersized 7900 XTX reference model, though you pay for it in price, power consumption, and sheer size.
Should you buy the Sapphire Nitro+ Radeon RX 7900 XTX Vapor-X?
If you mostly stick to traditional games and want a barn-burner of a graphics card for hundreds of dollars less than the RTX 4080, AMD's Radeon RX 7900 XTX is an excellent choice, as our original review detailed in depth. And if you want to splurge for a high-end, impeccably designed custom version of the XTX, Sapphire's Nitro+ is well worth considering. It's blisteringly fast, cool, quiet, and utterly fantastic.
It won't be for everyone. The Nitro+ is absolutely massive and draws more power than even the RTX 4090—but big, badass, custom cards are what you expect from flagships like this. If that worries you, consider the reference XTX's smaller 2.5-slot, 2x 8-pin design instead. The price might also give you pause. Sapphire's $200 premium feels justifiable for a custom design this magnificent, but it also bumps it right up against the GeForce RTX 4080's (terribly high) starting price. The Nitro+ is faster, and you won't get a RTX 4080 similar to the Nitro+'s spectacular quality without spending closer to $1,400 or $1,500, but if you place a higher premium on ray-tracing performance and DLSS 3 Frame Gen over card design and overall quality of life, you might—might—opt for a "cheap" 4080 over the wonderfully baller Nitro+. (I wouldn't.)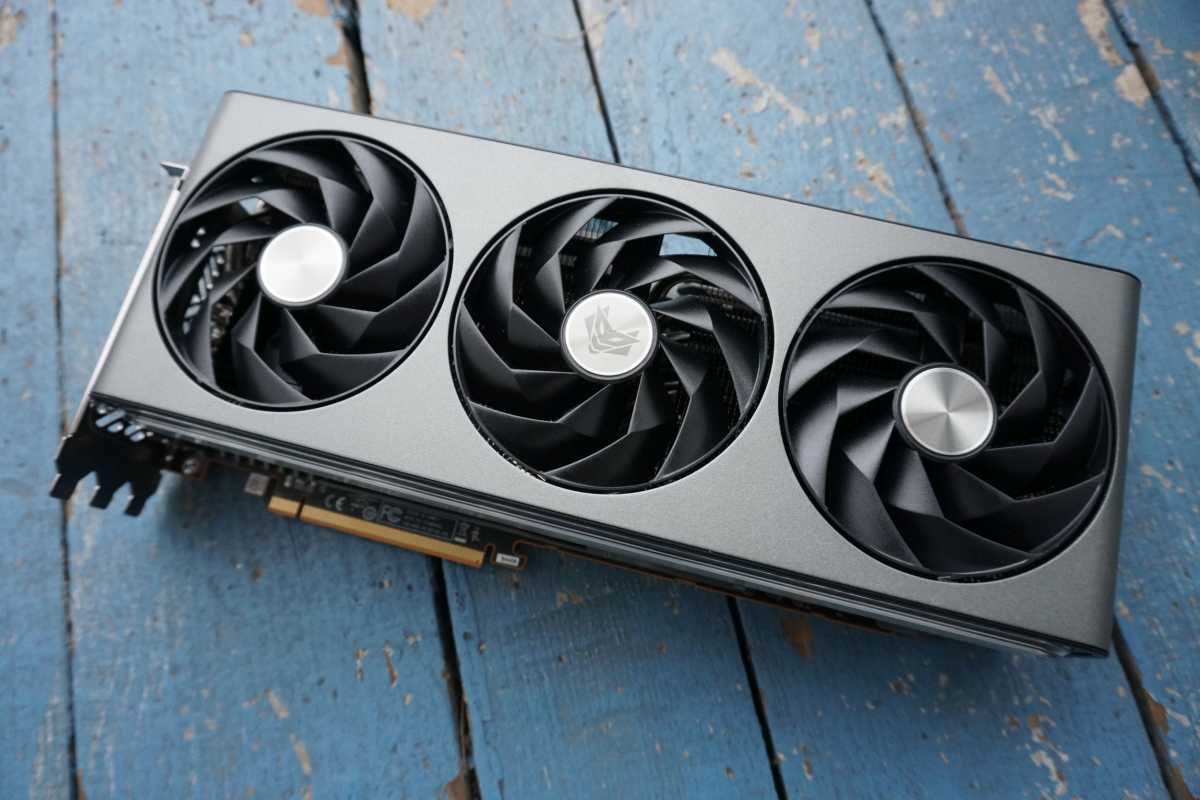 Brad Chacos/IDG
Staying in AMD-land, if you're opting for a high-end 7900 XTX, the aesthetics and street pricing are the biggest differentiators between the $1,200 Nitro+ and the $1,100 XFX Speedster Merc 7900 XTX. They're both face-meltingly fast, attractive, and wonderfully quiet and cool. I personally prefer the Nitro+'s futuristic industrial look and shimmering dual-side RGB bars, but the Merc is a looker of a totally different variety. Go where your eyes (and wallet) guide you.
Bottom line? The Sapphire Nitro+ looks gorgeous, runs frigid and damned-near dead silent, and it's the fastest XTX we've tested (albeit by a hair). If you're in the market for a four-figure graphics card that's actually worth the money (cough unlike the RTX 4080 cough), we highly recommended this option. It's the best Radeon offers.