At a glance
Expert's Rating
Pros
Great processor performance
Sturdy, premium design
Top-notch keyboard and touchpad
Two USB-C ports with Power Delivery
Long battery life
Cons
A bit heavy for a 2-in-1 device
Display could be brighter
Android game performance is unreliable
Expensive compared to Windows alternatives
Our Verdict
Acer's Chromebook Spin 514 is a speedy Chromebook with durable, premium design, but its pricing will limit its appeal to ChromeOS purists.
Price When Reviewed
$699.99
Best Prices Today: Acer Chromebook Spin 514
Want a fast Chromebook? The Acer Chromebook Spin 514 is likely to land near the top of your search. Powered by AMD's six-core Ryzen 5 5625C processor, the Spin 514 offers an alternative to competitors with the Intel Core i5-1240P and delivers big gains over Chromebooks with Qualcomm or MediaTek hardware. However, those seeking budget laptop thrills may find the Windows alternatives more appealing.
Looking for more options? Check out our roundup of the best Chromebooks.
Acer Chromebook Spin 514: Specs and features
The Acer Chromebook Spin 514 is powered by AMD's Ryzen 5 5625C, a six-core, 12-thread processor that includes AMD Radeon Graphics with seven graphics cores. It's beefy hardware for a Chromebook, and the configuration tested represents a premium model. Acer sells several less powerful versions of the Spin 514 with Ryzen 3 processors.
CPU: AMD Ryzen 5 5625C
Memory: 8GB LPDDR4X
Graphics/GPU: AMD Radeon Graphics
Display: 1920 x 1080 IPS Touchscreen
Storage: 128GB
Webcam: 720p
Connectivity: 2x USB-C 3.2 Gen 1 with Power Delivery and DisplayPort Alternate Mode, 1x USB-A 3.2 Gen 1, HDMI, 3.5mm Audio-out
Networking: Wi-Fi 6, Bluetooth 5.2
Biometrics: None
Battery capacity: 39 watt-hour
Dimensions: 11.81 x 9.25 x .64 inches
Weight: 3.31 pounds
MSRP: $699.99
Premium hardware comes at a premium price (for a Chromebook). The Acer Chromebook Spin 514 with AMD Ryzen 5 5625C will set shoppers back almost $700 at MSRP. Less performant models are less expensive, however: versions with the AMD Ryzen 3 3250C and half as much RAM and storage are under $400 at some online retailers.
Acer Chromebook Spin 514: Design and build quality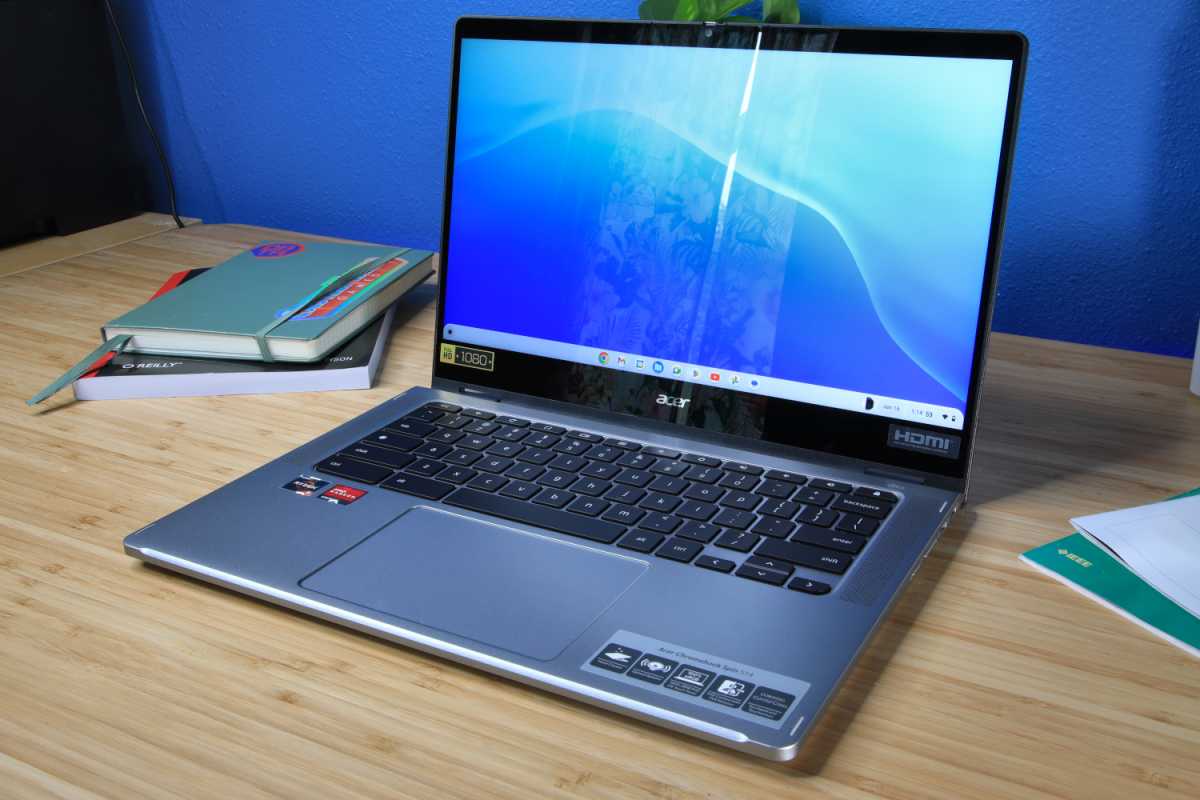 IDG / Matthew Smith
The Acer Chromebook Spin 514 isn't a lavish laptop, and doesn't look unique: if not for a chrome Acer logo on the lid, most people would never know who made it. Yet it's functional, sturdy, and modestly luxurious. Much of the chassis is built from metal, the display bezels are thin, and the interior presents an elegant contrast of silver and black surfaces.
As its name implies, the Chromebook Spin 514 includes a 360-degree hinge and touchscreen. The display folds back for use as a tablet, or to use the keyboard as a kickstand for the display. This versatility is appreciated and genuinely useful. I often use 2-in-1s as a tablet when reclining in a chair and breezing through the day's headlines.
However, the Spin 514 is too large to replace a tablet in many situations. It weighs over three pounds and measures .64 inches thick, making it roughly twice the size and heft of a 12.9-inch iPad Pro, and over three times heavier than an iPad Air. It's awkward to hold with one hand and clumsy to use as an e-reader when lying in bed.
Acer Chromebook Spin 514: Keyboard and trackpad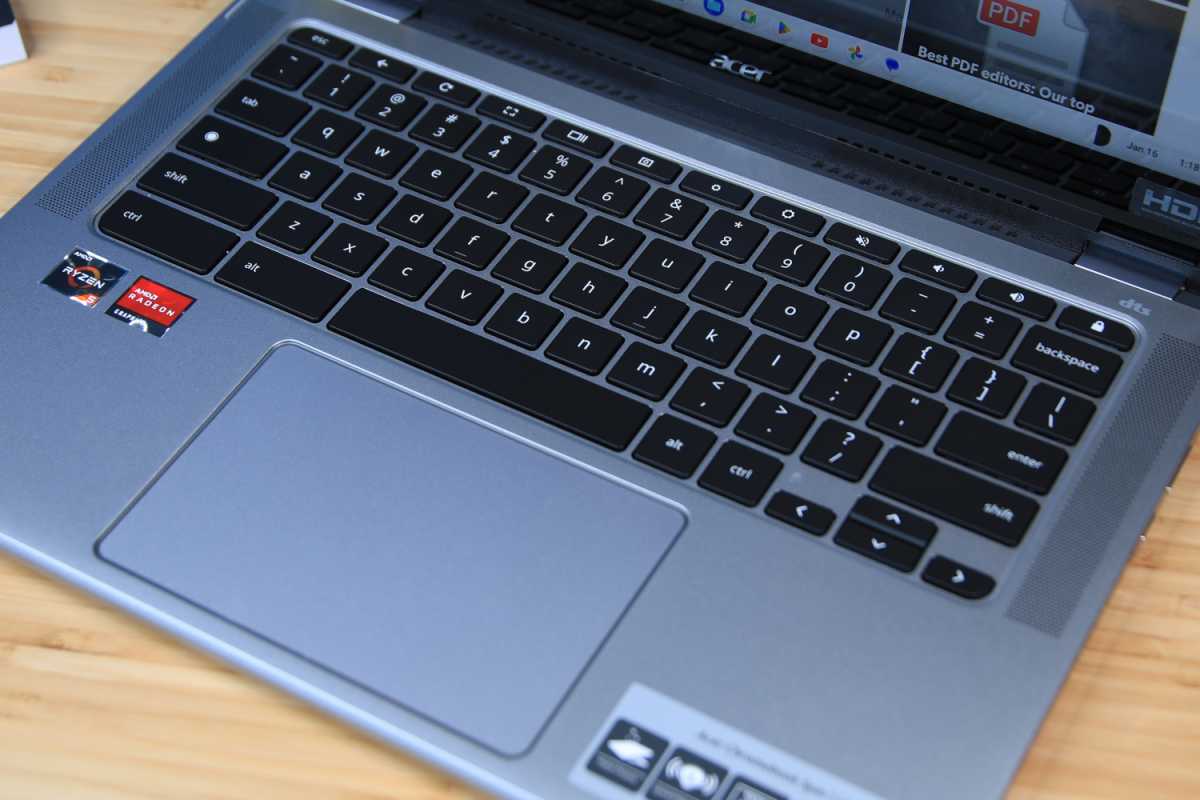 IDG / Matthew Smith
Fortunately, the Chromebook Spin 514 is a much better laptop than it is a tablet. In fact, the Spin 514 is a great laptop for basic, day-to-day use.
Credit the keyboard. The Spin 514's chassis provides ample space for a wide keyboard layout with large, easily located keys. The left-side Shift, Control, and Alt keys are massive, and the function keys (which include support for the usual Chrome OS function row shortcuts) are larger than those found on Windows or Mac alternatives.
Key feel is excellent, too, with deep travel and a firm, tactile bottom action that ends with a light but satisfying click. Touch typists will fly across the keyboard in no-time, while those who take the hunt-and-peck approach will quickly find the correct key. A backlit keyboard is standard, making keys readable in a dark room.
The touchpad is excellent, too. It's spacious, measuring about 4.75 inches wide and 3.25 inches thick, and has a smooth low-friction surface. Multi-touch gestures are easy to use (though Chrome OS supports fewer than Windows or MacOS). And though the touchpad is pleasant, the touchscreen offers an alternative option that can be useful when navigating Android apps or web apps built for mobile devices.
Acer Chromebook Spin 514: Display, audio
IDG / Matthew Smith
Acer ships the Chromebook Spin 514 with an IPS touchscreen that boasts 1920×1080 resolution. This isn't the best display you can find on a Chromebook from Acer: the Spin 513 has a more pixel-dense 13.5-inch 2256×1504 screen, which is as crisp and tasty as a fresh potato chip. Still, the Spin 514's display looks plenty sharp.
Resolution aside, Spin 514's image quality is good but not great. The biggest problem? Brightness. I measured a maximum brightness of only 312 nits, which is plenty for day-to-day use indoors but inadequate when used outdoors or near a sunlit window. The display's glossy coating doesn't help matters and shows clear, bright reflections that distract from what's on-screen. Put simply: the Spin 514 is a laptop best left indoors (and away from windows).
The display's contrast and color performance are adequate for a modern laptop. 1080p video content looks realistic and vivid. However, the IPS display is pressured by new laptops with OLED screens, some of which are priced just one to two hundred dollars higher than the Spin 514. OLED laptops offer an improvement in contrast and color performance that most people will easily notice and prefer. The Spin 514's low brightness remains a concern: LCD laptop screens are often brighter than OLED, but that's not true here.
A pair of upward-firing speakers provide the Spin 514's audio. They're not excellent, but loud enough at maximum volume to fill an office with sound. The speakers work best with podcasts and video content, as loud music can cause unpleasant distortion.
Acer Chromebook Spin 514: Webcam, microphone, biometrics
A 1080p webcam with a physical privacy shutter is squeezed into the laptop's top bezel. It's a nice upgrade over a 720p camera and delivers a clear improvement in sharpness. Color reproduction is also good in a well-lit room. Exposure was often a bit off, though, causing big swings in my skin tone.
The built-in is nothing special, but it does the job. Backup noise will often be picked up, but recordings of my voice offered good volume and seemed easy to understand when played back. It's fine for most video calls.
The laptop doesn't offer biometric login.
Acer Chromebook Spin 514: Connectivity
IDG / Matthew Smith
Acer leans into future-proof connectivity with a pair of USB-C ports, one on each side. The laptop ships with a USB-C charger and both ports support USB Power Delivery, so either can be used to power and charge the Chromebook. The ports also have DisplayPort Alternate Mode and can be used as video output to a USB-C monitor (or other monitors, with appropriate adapter).
The USB-C ports are joined by a single USB-A port, HDMI-out, and 3.5mm audio out. I'd prefer to see a second USB-A port and a MicroSD card reader. Still, the Spin 514's connectivity should be enough for most people.
Wireless options include Wi-Fi 6 and Bluetooth 5.2. Wi-Fi performance was speedy and reliable in my testing, achieving about 250 Mbps two rooms away from my router and up to 80 Mbps in an exterior office 60 feet away from the router.
Acer Chromebook Spin 514: Performance
The Acer Chromebook Spin 514 is available with several AMD Ryzen processors including the six-core, 12-thread AMD Ryzen 5 5625C. It comes paired with 8GB of RAM and 128GB of solid state storage which, again, is top-notch for a Chromebook.
Unsurprisingly, the powerful processor delivered excellent results in benchmarks.
CrXPRT 2 performance score: 199
Speedometer 2.0: 210
Basemark Web 3.0: 1024.38
Kraken Javascript 1.1: 522.6
Jetstream: 222.991
These scores defeat the Acer Chromebook Spin 713 with Intel Core i5-1135G7. In CrXPT 2, the Spin 514's score of 199 easily exceeds the Spin 713, which hit 164, and demolishes the Snapdragon-powered HP Chromebook x2 11's score of just 52. The Lenovo Chromebook Flex 5 with Intel Pentium Gold 7505 also falls behind with a score of 124.
The Spin 514 loses against the Framework Laptop Chromebook with an Intel Core i5-1240P processor, but it's a close contest. The Intel Core i5-1240P in the Framework is about five percent quicker than the Spin 514 overall. That's not a noticeable difference and the two will seem identical in typical use.
Real-world performance feels as snappy as the Spin 514's benchmark scores suggest. Juggling many browser tabs is not a problem. New apps open in a blink. Files transfer quickly. To be honest, the Spin 514's is overkill for the tasks most Chrome OS users are likely to ask of it, but the extra performance headroom will help future-proof the laptop.
While the Spin 514 performs well, the Windows competition must be mentioned. Acer's Aspire 5 with Ryzen 5 5500U, 16GB of RAM, and 512GB of storage can be found for under $700. The same is true of Lenovo IdeaPad and Flex models, HP's entry-level 14-inch and 15-inch laptops, and Dell's Inspiron line. The increased RAM and storage in Windows alternatives will allow them to accomplish tasks the Spin 514 can't handle.
What about games? It's a mix bag. Android games are not reliable, likely due to the Spin 514's x86-based hardware, which differs significantly from that found in most Android devices. Call of Duty: Mobile crashed to the desktop after the launch screen. Pokemon Unite launched, but I couldn't get the game past the login screen. Asphalt 8 was playable, at least, and appeared to run at an acceptable frame rate.
Cloud gaming is a better option and works well over Wi-Fi 6. I launched Nvidia GeForce Now to enjoy an hour of Marvels' Guardians of the Galaxy at 1080p resolution with Ultra settings and ray tracing enabled. It looked as gorgeous as it does locally on a high-end video card. However, GeForce Now works equally well on less capable hardware, so the Spin 514 can't take credit for this result.
Acer Chromebook Spin 514: Battery life
The AMD Ryzen 5625C is mighty, but it has a default thermal design power of just 15 watts and is capable of sipping power when needed. The laptop lasted 13 hours and 13 minutes in the CrXPRT 2 battery life test. That's right on par with the Framework Laptop Chromebook and just slightly short of the older Acer Spin 713.
In real-world use, the laptop can last even longer in light use such as streaming video or working in Google Docs with the display set at a low level of brightness. The laptop can handle an eight-hour workday with at least a couple hours of battery left in the tank.
Acer Chromebook Spin 514: Conclusion
The Acer Chromebook Spin 514 is among the quickest Chromebooks currently available, defeated only by alternatives with Intel's Core i5-1240P processor (and it's a close call). The Spin 514 also benefits from a great keyboard, nice touchpad, attractive display, long battery life, and useful USB-C ports.
Pricing is the obstacle. The Spin 514's price tag of almost $700 feels expensive when compared to Windows laptops. The Acer Aspire 5, Lenovo IdeaPad 5, and HP 14 offer similar processors at similar prices but have more RAM and solid state storage. The Spin 514 is available in less expensive configurations, however. They're a better choice for most people, delivering most of the Spin 514's perks with a modest (and acceptable) reduction in performance.
Best Prices Today: Acer Chromebook Spin 514