At a glance
Expert's Rating
Pros
5GB free account
Browser interface and local apps
Syncs across devices
Vault for non-distributed backup
User definable expiration dates for file and folder shares
Cons
No scheduled backups for Vault
Our Verdict
Sync.com is secure, offers synced storage for distribution across devices, and unsynced storage for pure backup. It's also affordable for end users and business alike.
Price When Reviewed
Plans range from Free (5GB) to $20 per month (6TB)
Best Prices Today: Sync.com
Where online storage services such as Dropbox, iCloud, and others only allow you to sync data across devices, Sync.com adds discrete unsynced storage to the mix via its Vault folder. This makes it particularly well-suited for backup. We like the approach, and we think the company should take it even further.
Note: See our roundup of the best cloud backup services to learn about competing products, what to look for in online backup, and product recommendations.
Sync.com: Features and pricing
Sync.com sports a web interface that you can use to drag and drop files to and from your desktop, as well as apps that provide sync functionality for Windows, macOS, Android, and iOS. There's a free 5GB account available (not to be mistaken for the free trial of the paid tier—see the screenshot below). End-users can upgrade that storage to 200GB for $5 a month, 2TB for $8 a month, and 6TB for $20 a month.
Jon Jacobi / Foundry
The free and $5 upgrade lack some features found in the $8 account: such as document previews for viewing files online—you'll have to download; the ability to selectively choose what files in your Sync folder you just want kept locally or cloud-only (a feature that's currently in beta); and the ability to grant a non-user permission to upload files to your Sync folder and Vault.
The $20 Solo Professional tier goes even further with advanced features for branding (using your own logo, etc.) and priority support.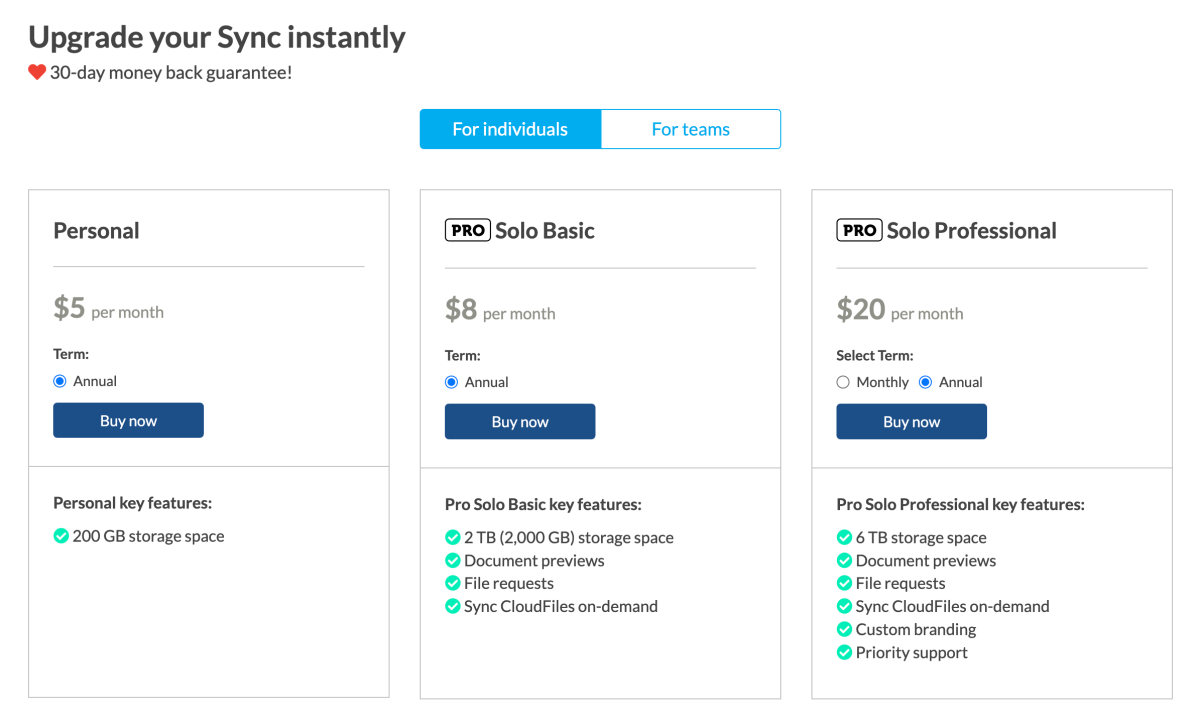 There are also business-oriented Team accounts for multiple users. Entry-level for this type of account is $6 a month per user (a minimum of two users) with 1TB of storage per user, while for $15 monthly per user you get unlimited storage, branding, and phone support.
In my opinion, the additional 800GB of storage and extra features such as upload links (you send a link to a location for a customer to upload a file) make the $6 team plan a better deal than the $5 single-user plan. Assuming of course, you can find a partner in crime.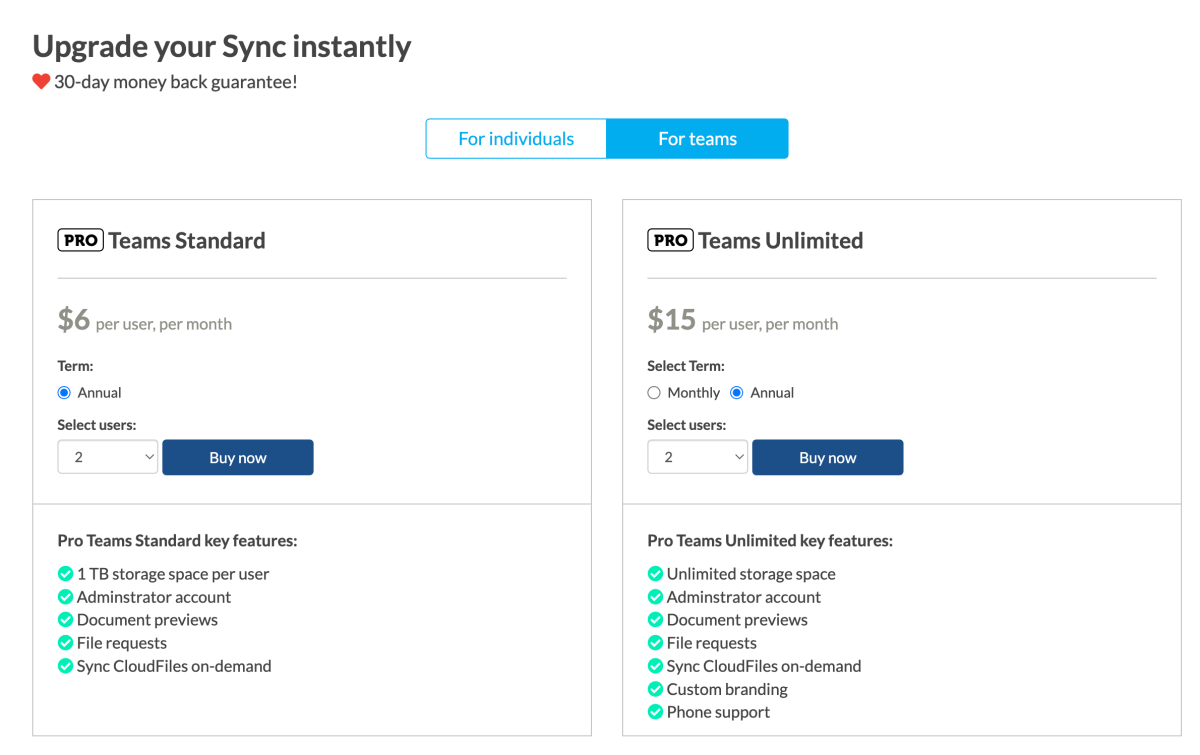 Sync.com's web interface is generally attractive and easy, but I was a little confused when I clicked on Help and was immediately presented with a contact form. There's a small link at the top of the form to the Sync knowledge base, but like the offer for the free 5GB plan, it's rather unobtrusive and easy to miss.
Giving the knowledge base its own menu item would be helpful since that's where most users are inclined to look. Also, as the desktop app creates a Sync folder, it might be nice if the corresponding destination on the website was called that rather than the somewhat cryptic "Files."
The Sync folder
Said Files folder behaves just like any other sync service's. Any files stored there will be subsequently distributed to any devices running the Sync.com app. Drag-and-drop is fully supported by the web browser interface, which is what I used for my first couple of tests.
I then switched to the local Sync folder installed by the Sync app as it supports the previously described Sync CloudFiles on-demand function, which allows you to decide which files are local and which are cloud-only.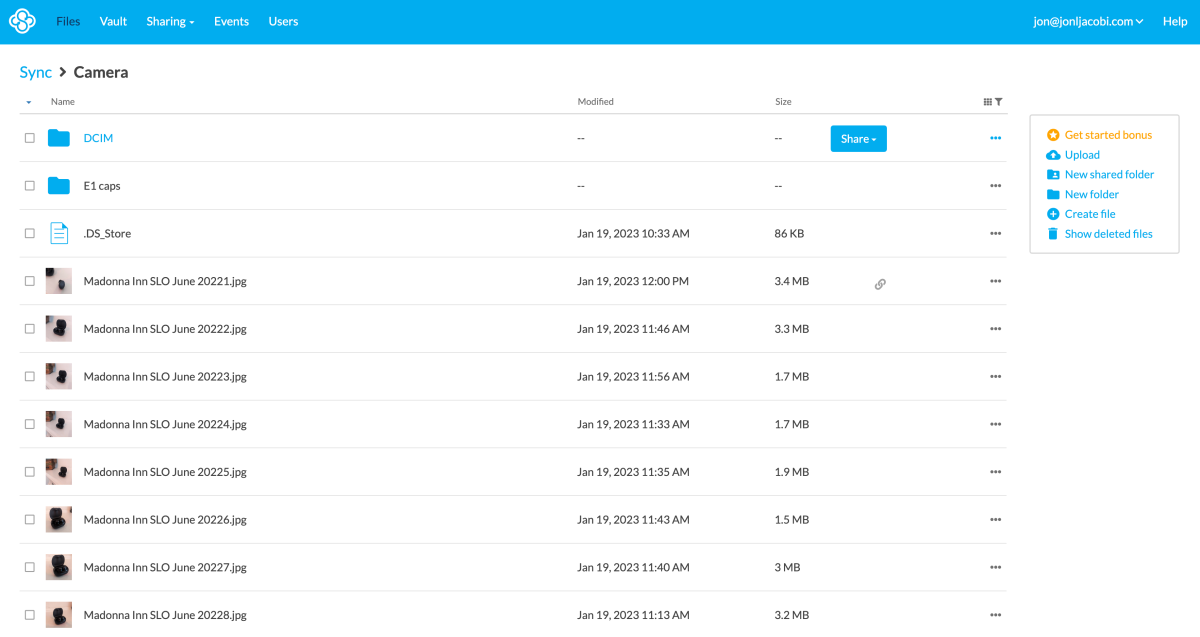 Similar to a feature in OneDrive, Sync CloudFiles lets you set files to on-demand, or "cloud-only," so they don't sync with other devices automatically. They're only copied to the cloud where you may then manually download them onto other devices as needed. It can be a way to save space on devices. The option for this is found in the right-click context menu, on your computer; it didn't appear as an option when I tested Sync from the web portal. Remember, the feature is still in beta. Note that files you delete from the Sync folder are retained until you specifically empty the trash.
The Vault
If you want to back up files without transferring them to the local Sync folder, you use the "Copy to Vault" option that the Sync program integrates into the context menus of your operating system. Files in the Vault remain unchanged until you delete them using the web interface, or they are replaced by newer versions—subsequent copies are compared with new or updated files copied into the vault. Files in the Vault are accessible from the Wweb interface and any of the apps.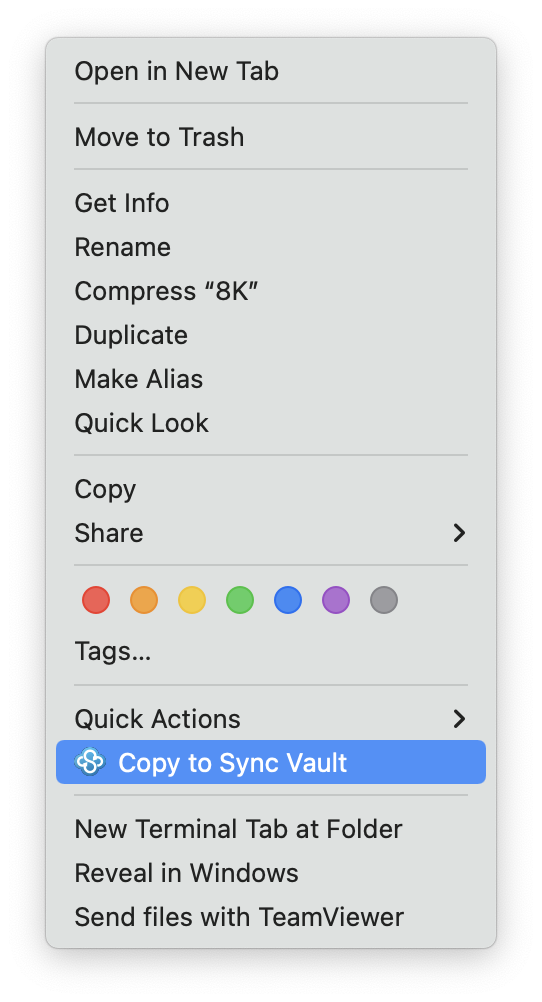 My only issue with the Vault is that, currently, files must be copied manually. I'm not one of those people who always remembers to back up. Data in the Vault is stored online using the same directory structure that the data is copied from (E.g, c:\users\username\documents\copied directory or files). As the program obviously knows where the files are, there's no reason that the Sync app couldn't automatically perform backups. If not in real time or following changes, then at least on a continual schedule. I've lobbied Sync.com to add this feature.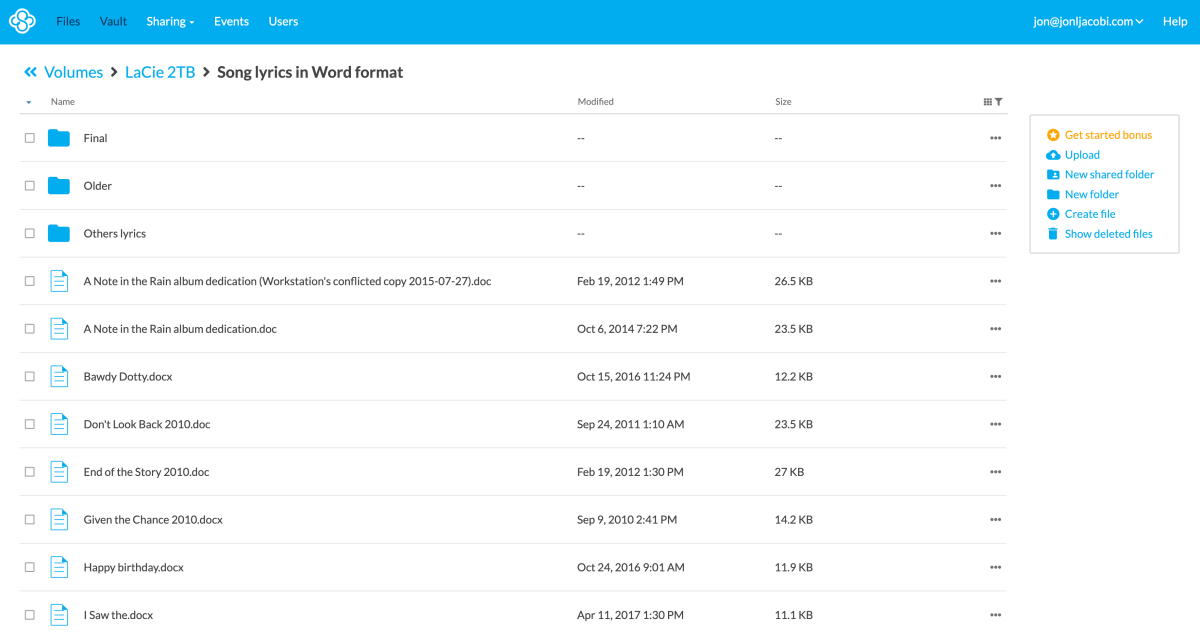 Not everyone wants to sync data across all their devices, especially those working with large data sets such as my 700GB of recordings, which most definitely will not fit on my phone. (Note that cloud-only files will appear in the apps and local folder, they just won't take up any space.)
Performance
Sync.com's performance will obviously vary by the interface you use and, more importantly, the bandwidth of your internet connection. My initial transfers using a web browser and drag-and-drop were reasonably quick and of course started immediately.
Syncing 3.5GB of images with the Sync.com folder was complete within a couple of hours. Copies to the Vault commenced in good order, and my initial upload was available online within an hour. Note that my upstream bandwidth is approximately 500MBps.
I did have one minor issue while booting macOS: Sync.com would throw a message about being disabled. Choosing the Re-enable option from the dialog fixed the issue temporarily and providing Sync.com full disk access in Security eliminated the issue.
Should you use Sync.com?
Sync.com is as easy and secure as any service we've tried, and the dual-role sync/simple storage functionality makes it easy to back up as well as keep pertinent data on all your devices. It would be easier with scheduling and a few language tweaks, but kudos at any rate. To reiterate, we consider the $6 per month Team plan the sweet spot for Sync.com if you can grab another family member or pal to team up with.
Best Prices Today: Sync.com