At a glance
Expert's Rating
Pros
It's very lightweight and effortless to move
The Hero sensor is a dream performer in games and tracks extremely well
You'd be hard pressed to find a wireless gaming mouse that looks more elegant
Cons
There are only five buttons which limits the number of commands you can deploy
It lacks Bluetooth connectivity
It's quite compact and won't suit gamers with large hands
Our Verdict
The Logitech G Pro X Superlight is a superb wireless gaming mouse that's lightweight, precise and very stylish.
Price When Reviewed
159.99
Best Prices Today: Logitech G Pro X Superlight
The Pro X Superlight looks about as straightforward as a pro-grade wireless gaming mouse can get, with an extremely minimalist right-handed design. In fact, it sports just five buttons: two main clicks, two left-side buttons, and a mouse wheel. Yet, its Hero sensor is anything but simple, treating gamers to a maximum resolution of 25,600 DPI and impressively fast tracking.
Although you won't find any RGB lighting here, the Pro X Superlight just oozes sophistication, which makes you feel like you've got something really special. Like a fine leather wallet or designer bow tie, this mouse feels exceptionally well-made, offering pro or casual gamers a premium experience worth savoring.
Note: Go to our ongoing roundup of the best wireless gaming mice to learn more about competing products, what to look for in a wireless gaming mouse, and buying recommendations.
Logitech G Pro X Superlight: Design and build
The most striking thing about the Pro X Superlight, as its name suggests, is its extremely light weight. It weighs less than 63 grams (2.3 oz), which Logitech G has achieved without including any weight-lowering perforations. That puts it on par with some of the lightest pro-grade wireless mice you can get—mice like the Razer DeathAdder V3 Pro. Suffice to say, it's a marvel to wield, feeling barely perceptible in your hand and providing frictionless play all day long.
But despite its weight, the Pro X Superlight is by no means flimsy, and feels both remarkably sturdy and surprisingly tactile. My review unit's black, plastic top and sides provided me plenty of grip right out of the box. But adding the supplied extra grips did give me just that little bit more. These extra coverings also helped prevent the fingerprints that accumulated in my first few games.
The fingerprints that showed up were nothing drastic, but if they do bother you, you'll be pleased to hear the Pro X Superlight also comes in pink, red, and white color options that look equally as stunning and will show fewer prints.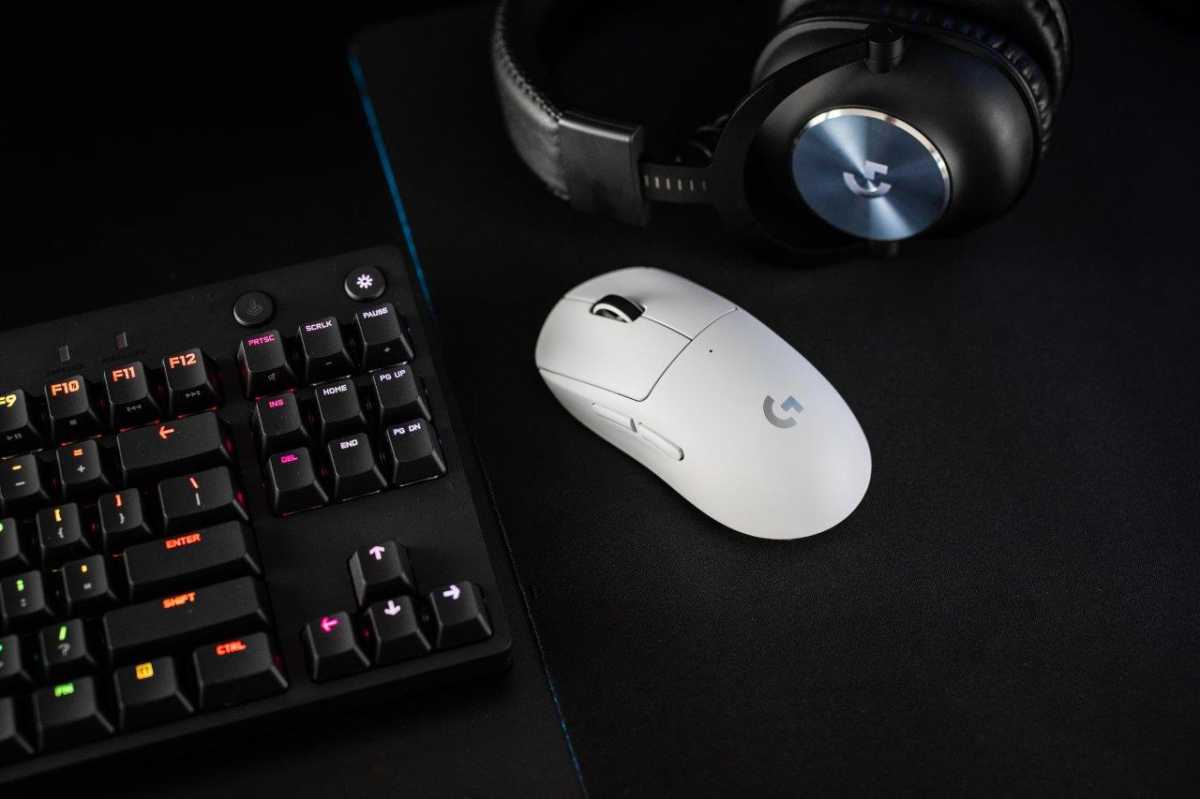 Logitech G
In a market where pro gaming mice are predominantly large it's refreshing to see one as compact as the Pro X Superlight which measures just 4.9 x 2.5 x 1.6 inches. Such a compact size is ideal for gamers that use fingertip or claw grips who will find it easier than some mice to reach the trigger zone.
For connectivity, a 2.4GHz low-latency dongle provides a flawless Wi-Fi experience. There's no Bluetooth connectivity to speak of, but this won't be any big issue for serious gamers who will undoubtedly be happy with the faster and more stable Logitech G Lightspeed Wi-Fi connectivity, anyway.
Logitech G Pro X Superlight: Software
The Pro X Superlight makes use of Logitech's G Hub software app, which is your one-stop shop for DPI calibrations, key assignments, and to set up or tweak the five onboard memory profiles. It's a straightforward program that's well laid out with visual cues and lists for easy navigation.
Dominic Bayley / IDG
One of the best things about G Hub is that it splits up your assignments among five submenus. This makes it a whole lot easier to manage your most useful commands and actions. I have to lift my cap to Logitech G for incorporating support for Discord, OBS, and Overwolf in the Actions submenu, which allowed me to precisely allocate my streaming and audio preferences without any unnecessary time wastage.
Logitech G Pro X Superlight: Performance
The Pro X Superlight's Hero sensor sports impressive specs, offering everything a pro gamer would want. That includes a max resolution of 25,600 DPI, tracking speed of 400 inches per second (IPS), and a polling rate of 1000Hz (ms).
Taking the mouse for a play test yielded excellent results. The sensor tracked really well, precisely keeping pace with my movements in games like Call of Duty: Modern Warfare II. Of course, as impressive as it was, it's just one feature in a panoply of factors that make this mouse a top-notch performer.
The Pro X Superlight's buttery-smooth movement, for one, plays a huge part. This mouse glides across your mouse mat perfectly, which I put down to its well-placed PTFE feet as well as its sheer lightness.
On the underside, there's a big chunk of PTFE up front and another ring of it around the cap over the dongle storage alcove at the back end. If you want even quicker movement, however, you need only swap out that default cap for the one in the box which is entirely covered in PTFE.

Being so lightweight, the Pro X Superlight makes full use of the sensor's capabilities, allowing you to abandon heavy, full-hand movements for lighter, more precise ones. It can at times feel like you're not moving much at all, but surprisingly you're still actually having a big impact in your game. In fact, you can be very precise with hardly any effort.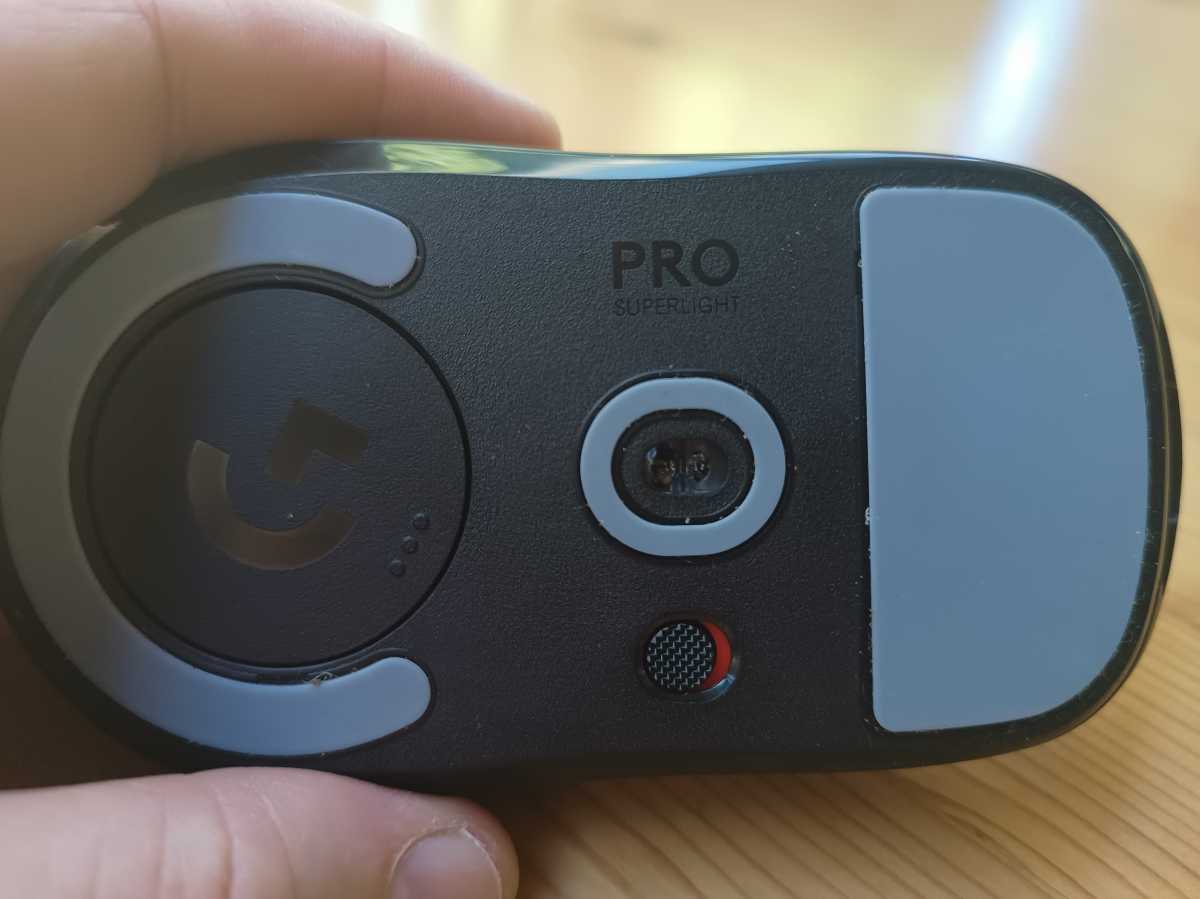 Dominic Bayley / IDG
The Pro X Superlight's precision is enhanced by the mouse's symmetrical design, which allows you to easily predict where your curser is. This made it a cinch to win 'Last Chance' scenarios in the game Middle-earth: Shadow of Mordor, thereby allowing me to keep my character alive for longer. The buttons deserve praise too. They feel very soft and actuate with the lightest pressure.
With my device's buttons up to the task of registering the fastest possible clicks, the emphasis was put back on my fingers to respond in like. And, after a while, I trained myself to make quicker clicks. It's rare to find a mouse that challenges you like that—which is another reason I found this mouse such a pleasure to use.
Should you buy the Logitech G Pro X Superlight?
If you're looking for a refined and attractive pro-grade gaming mouse that lives up to expectations and always delivers consistent performance, then it's hard to look past the Logitech G Pro X Superlight for your next gaming session.
Best Prices Today: Logitech G Pro X Superlight