In the grand scheme of potential privacy concerns, email privacy is perhaps the most personal.
Getting unwanted messages in your inbox can feel like a major breach of trust, and knowing senders can see a record of everything you've opened and clicked can feel downright creepy.
That's why it's worth getting familiar with all the ways you can protect your email privacy. From resistance against email tracking to masked email addresses that hide your identity, here are some of my favorite free tools you can use right now:
Ironvest for all-purpose email masking
Masked email is a way to hide your email address without having to maintain a separate email account for junk. Instead of handing out your actual email address, you can provide an alias that forwards to your regular inbox.
This approach is perfect for retail sites that offer coupons in exchange for your email address, political campaigns that never leave you alone after donating, and any other site you don't fully trust to treat your inbox with respect. It can also help you get extra free trials from services that require a unique email address.

Jared Newman / Foundry
My masked email tool of choice is Ironvest (formerly known as Abine Blur), as it lets you set up an unlimited number of aliases for free from any web browser or mobile device. The sender only sees the masked email (which looks like "gx2bhfw3155w@opayq.com"), and you can disable or delete these addresses on Ironvest's website. Doing so prevents the sender from ever being able to contact you again.
One caveat: Ironvest's browser extension for Chrome or Firefox is great for generating masked addresses directly inside web sign-up forms, but it also includes a lot of superfluous features. After installing it, click on the extension, then click Settings > Settings for All Sites and disable what you don't need. (I only use it for masked email, and rely on other extensions like Bitwarden for passwords and uBlock Origin for ad blocking.)
Anonaddy for on-the-fly email addresses
While Ironvest is a valuable resource, it's not perfect. Generating new email addresses is a pain on phones, where you have to the company's mobile app, and the service is of little help when someone asks for your email address out in the real world.
For those situations, I've started turning to Anonaddy instead. Just like Abine Blur, it can generate masked email addresses that forward to your real address, but it also lets you make up new addresses on the spot without an app or extension.
Let's say you sign up for Anonaddy with the username "joeshmoe." If you're out shoe shopping and the store asks for an email address in exchange for a coupon, you can use an address like "shoes@joeshmoe.anonaddy.com." Or, if you wanted a free trial to Starz that didn't use your regular email, you could sign up with "starz@joeshmoe.anonaddy.com."

Anonaddy
Crucially, you don't have to set these addresses up in advance. Instead, Anonaddy will forward mail from any address that ends with "@joeshmoe.anonaddy.com," so you can invent new masked addresses on the fly with practically no effort—even offline.
The downside to this approach is that anyone who knows your nickname could also generate new email addresses on your behalf, and the only way to stop them would be to delete your account and set up a new one. For that reason, I'd only use Anonaddy with businesses that are unlikely to scrutinize individual addresses.
Stopping email snooping
With marketing emails, newsletters, and even some individual email apps, it's possible for the sender to track whether you've opened their messages. This can sometimes lead to more unwanted email and targeted advertising, and it's also just unnerving to know that someone can look over your personal reading habits.
In my experience, Trocker is the best anti-tracking browser extension for Gmail, Outlook.com, and Yahoo Mail. It works consistently and is regularly updated by the developer, plus its code is open source.
Gmail users might also consider Simplify Gmail, an extension that provides a suite of enhancements for Gmail's desktop site, including tracker blocking. It does, however, require a $24 per year subscription. If you're using Apple Mail on MacOS, MailTrackerBlocker offers the same level of protection, as it uses Simplify's open-source block list.
Just be aware of the limitations with these blockers: None of them work on mobile, so you won't get tracking protection while reading email on your phone. Some third-party mail apps such as Twobird and Edison have tracker blocking built in, but otherwise the only workaround is to turn off images in email by default.
Also, none of these methods will prevent senders from tracking which links you click on. The best you can do to prevent this kind of tracking is hover or long-press on a link and look for signs of tracking in the address—it'll usually include a jumble of random characters—and avoid clicking if you don't trust the source.
What about DuckDuckGo and Apple?
The idea of email privacy is catching on, as larger companies offer their own tools to limit data collection by senders.
Apple, for instance, now registers emails as opened if you enable Mail Privacy Protection in iOS or MacOS, essentially leaving senders with useless data. It also offers a masked email service, called Hide My Mail, that will be included with all paid iCloud storage plans.
DuckDuckGo offers similar combo in its mobile apps and browser extension. With DuckDuckGo Email Protection, you get a permanent duck.com email address that forwards messages to your real address, stripping out trackers along the way. You can also create masked duck.com emails so that the sender never learns your true address.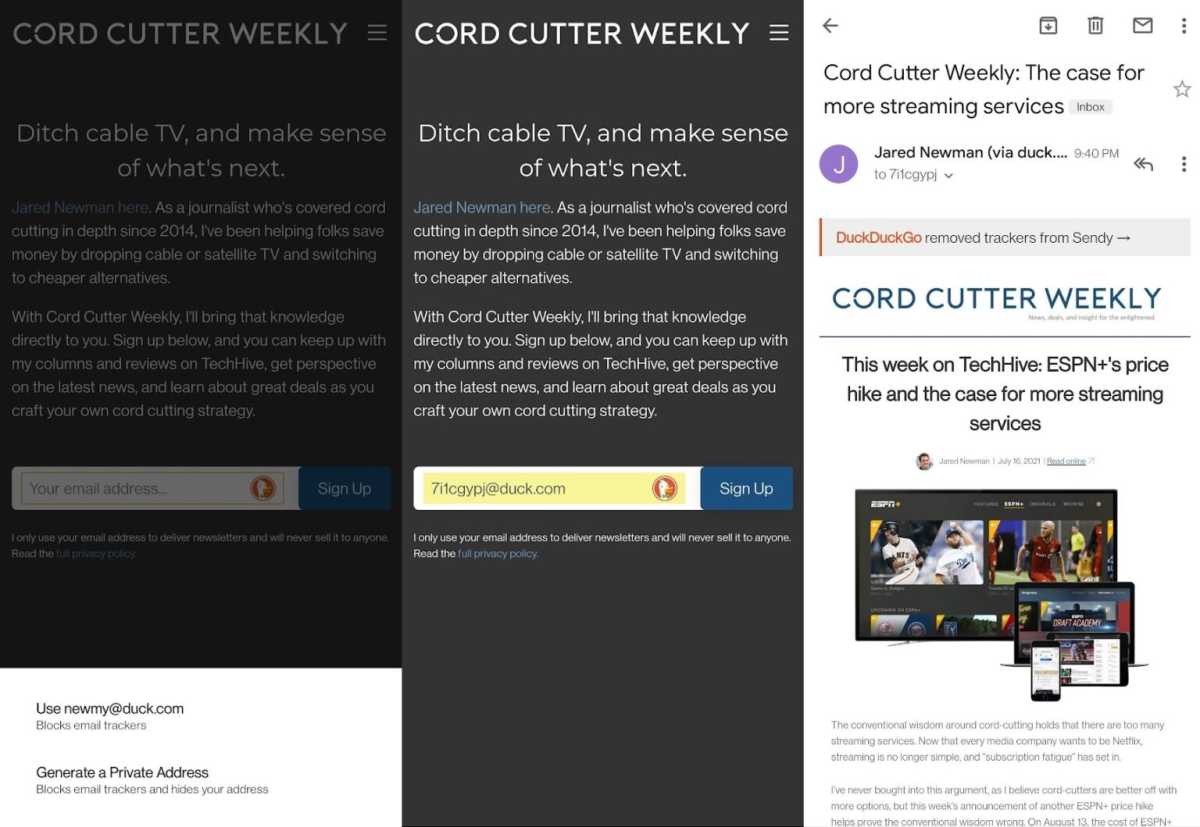 Jared Newman / Foundry
Both solutions have their downsides, though. Apple's anti-tracking tool requires you to use its own Mail app, and its masked email service requires an Apple device to manage.
Similarly, DuckDuckGo's mobile app and browser extension require you to use the company's search engine. If you'd rather use another search engine such as Google or Brave, DuckDuckGo's email features may be more trouble than they're worth.
Good thing there are plenty of alternatives you can use instead.
This column first appeared in Jared's Advisorator newsletter. Sign up to get a tech tip in your inbox every Tuesday.