Many of us are simply accustomed to using the Photos app within Windows 10 and 11 to review images captured by our phones. But the Photos app is actually the new Photos app — and, arguably, the old version is still better.
Fortunately, Microsoft seems to have recognized this. What's known as Microsoft Photos Legacy still resides within the Windows Store, and there's one good reason that you might still prefer it over the latest version: its superior content search capabilities.
One of the problems with snapping photos we take is that we tend to take the photo, save it or post it on social media, and then forget about it. But not always. Sometimes you want to pore through old photos — either to see how your kids have grown up, reminisce about a favorite vacation or event, or simply search for photos that you've taken of a particular scene. This is where Photos Legacy… well, not excels, but is far better than the modern Photos app.
The tipoff is in the search box. In the Legacy Photos app, you can search "people, places, or things." In the modern Photos app, you can search "file names, types, and dates." That's just dumb. Who actually knows the filename of the photo you just took, let alone remember it? And unless it's a holiday or an anniversary, it's completely unlikely that you'll remember when you took the photo, either.
Photos Legacy applies some amount of AI to actually recognize and catalog photos that you've taken. In Photos Legacy, I can type "beach" in the search box, and unearth photos of the nearby California coastline. I can search for mountains, and Photos will return photos I've taken of hills and mountains. It's not perfect; I took a photo of Lake Tahoe (which is surrounded by mountains) which it couldn't find, but it did recognize that the place existed in its archive. Both Photos apps will create "Memories" of a given day, but only the Legacy app suggests its own categories, such as "Sport" to organize shots of my son's high-school athletics. I can't do any of this in what is now the default Photos app.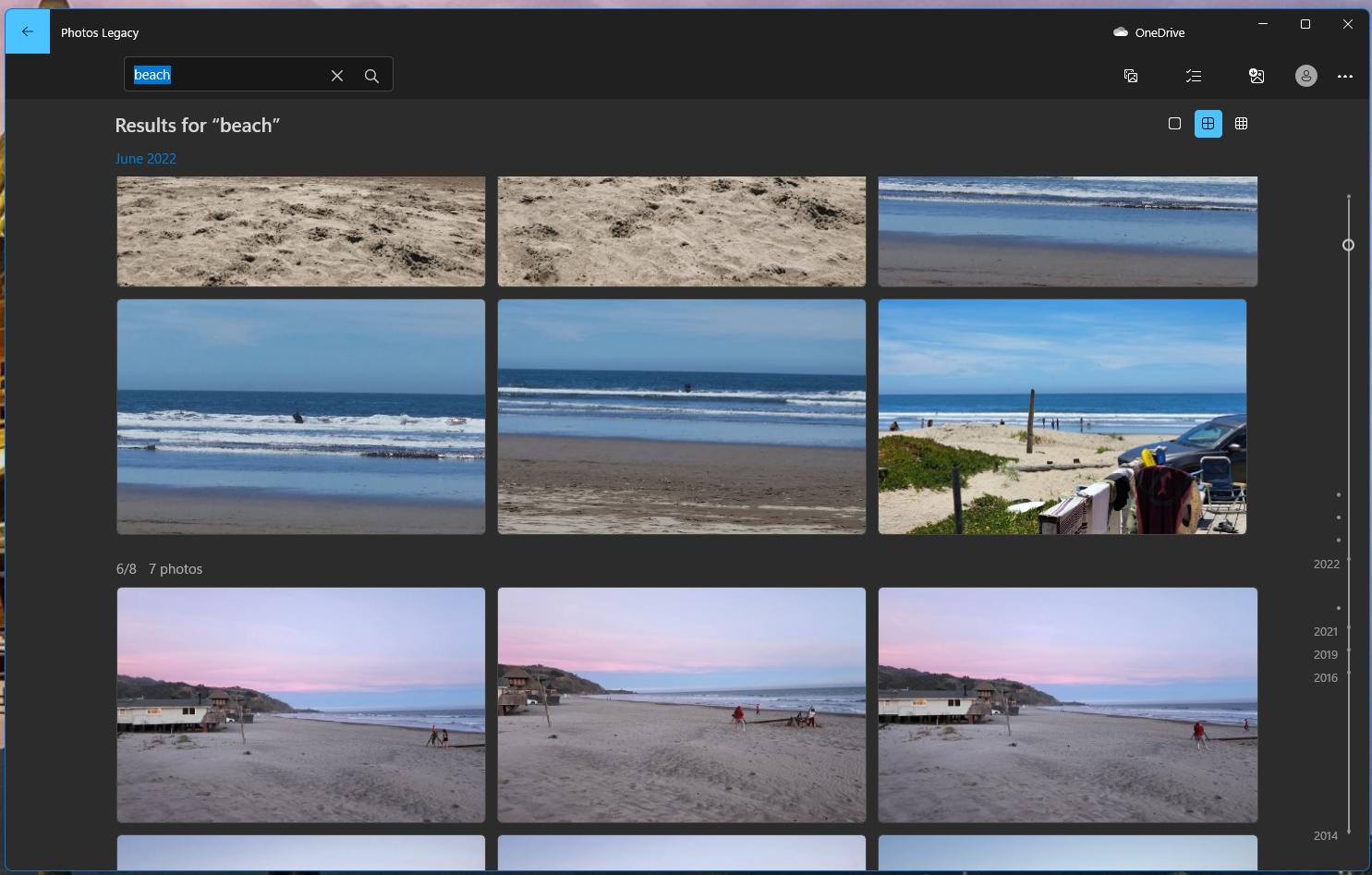 Furthermore, Photos Legacy allows you to turn on and search by face — including your own, and others. It's possible that Microsoft leans much more heavily towards privacy than the competition, since this feature is minimal at best. Of all the photos I've shot of family and friends, it recognized just two: my own, and the face of a statue downtown that I had used to test some outdoor camera shots.
Both Photos apps are otherwise almost identical, though the newer app feels somewhat more organized and now can access Apple's iCloud too. Both Photos apps now include the thumbnails capability that once stunk and then has since improved, with speed which has now improved dramatically. Both apps allow you to crop, adjust, and even auto-adjust an image based upon the Auto Enhance capability found under the "Filter" tab. Auto Enhance isn't as necessary as it once was, as cameras now shoot with nearly perfect lighting and exposure under most conditions. It's still a handy feature to have, nevertheless.
About the only thing that I don't like about Photos Legacy is that indexing (not searching) photos you've saved to the cloud can take a while, and uses a bit of network bandwidth and data. If you want to use Photos Legacy to index photos, leave it running in the background for a while.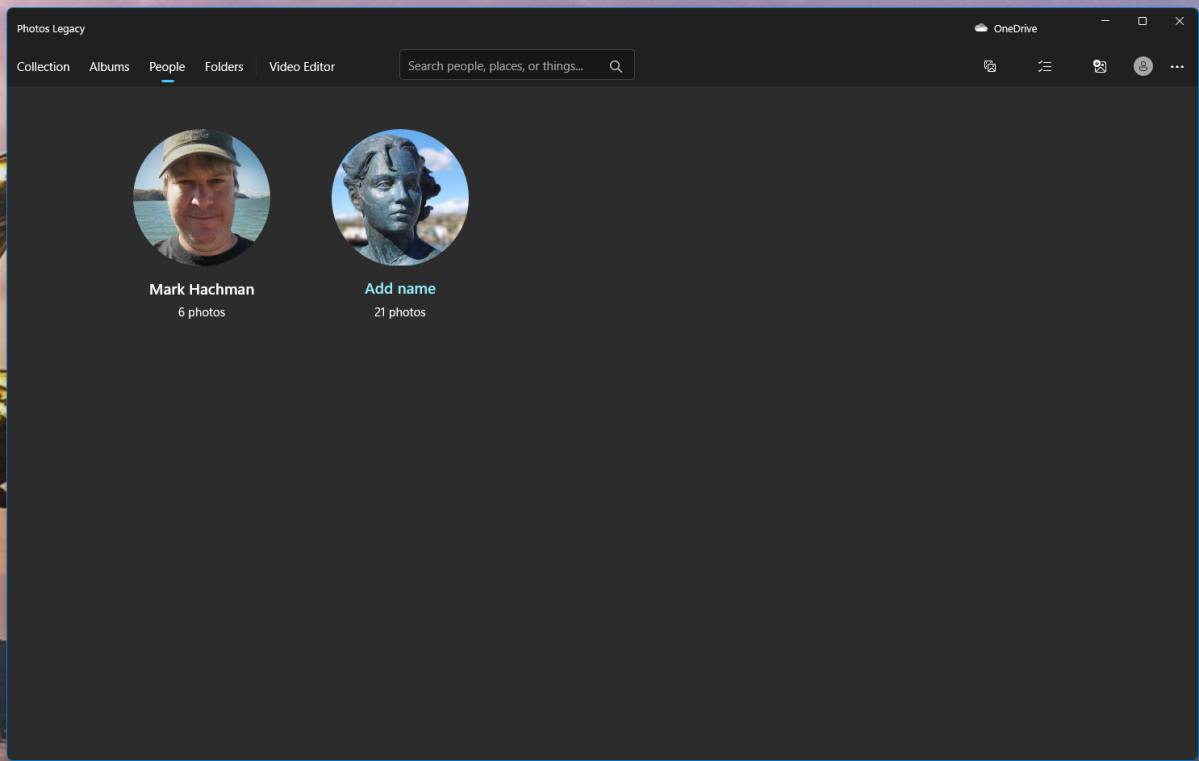 Mark Hachman / IDG
Photo recognition and search, then, is what justifies downloading the Photos Legacy app. To be fair, Microsoft still pales in comparison to Google Photos here. Allowing Google Photos to recognize and separate photos by who's in them creates numerous categories — even multiple categories for my kids, as they've aged and become teenagers. Since my wife pays Google for an account for her small business, I can upload my photos to both the Google and Microsoft clouds to compare. Google wins, every time.
Nevertheless, Microsoft's Photos app does offer some of these automated recognition features — but it's not the current Photos app you should be using. Download and launch the Microsoft Photos Legacy app instead.