There's something quietly happening to Windows apps and services: They're being assimilated into existing Microsoft subscriptions, adding value but also introducing a paid tier of content into Windows apps that have traditionally been entirely free.
Clicking through Microsoft's Clipchamp video editor this week, I discovered that its ongoing pricing odyssey has evolved, again: if you've previously signed up for Microsoft 365 and have logged in, you'll receive hidden additional benefits that aren't available to other users. Microsoft also has merged its Solitaire subscription (yes, a Solitaire subscription) into Xbox Game Pass, as well.
Clipchamp's updated pricing structure is indicative of how Microsoft has struggled to integrate what was once a standalone subscription premium video editing solution, but under Microsoft is just part of its Windows app suite. Last March, Clipchamp updated its pricing model to include a free tier that was actually usable, but left in place three other pricing tiers that soared up to $39 per month. Last August, just before we published our how to use Clipchamp feature, Microsoft eliminated all of the other paid tiers in place of an "Essentials" pricing tier that offers premium content, such as stock audio, video, and backgrounds, for $11.99 per month. The free tier remained in place.
Now, Microsoft has tweaked the pricing model once again — and it doesn't even show it on Clipchamp's pricing page. There, Microsoft reserves its free tier of audio, image, video stock and filters for users who sign up for its free plan. However, if you log in to Clipchamp with a Microsoft 365 account active, you're upgraded to premium filters and effects, a benefit explicitly called out as being part of a Microsoft 365 subscription. (You can see this by clicking the "Upgrade" button in the upper right-hand corner of the main page.)
Unfortunately, Microsoft still reserves its premium audio and video for the $11.99 Essentials tier, though there's an in-app discount of $7.99 for the first month.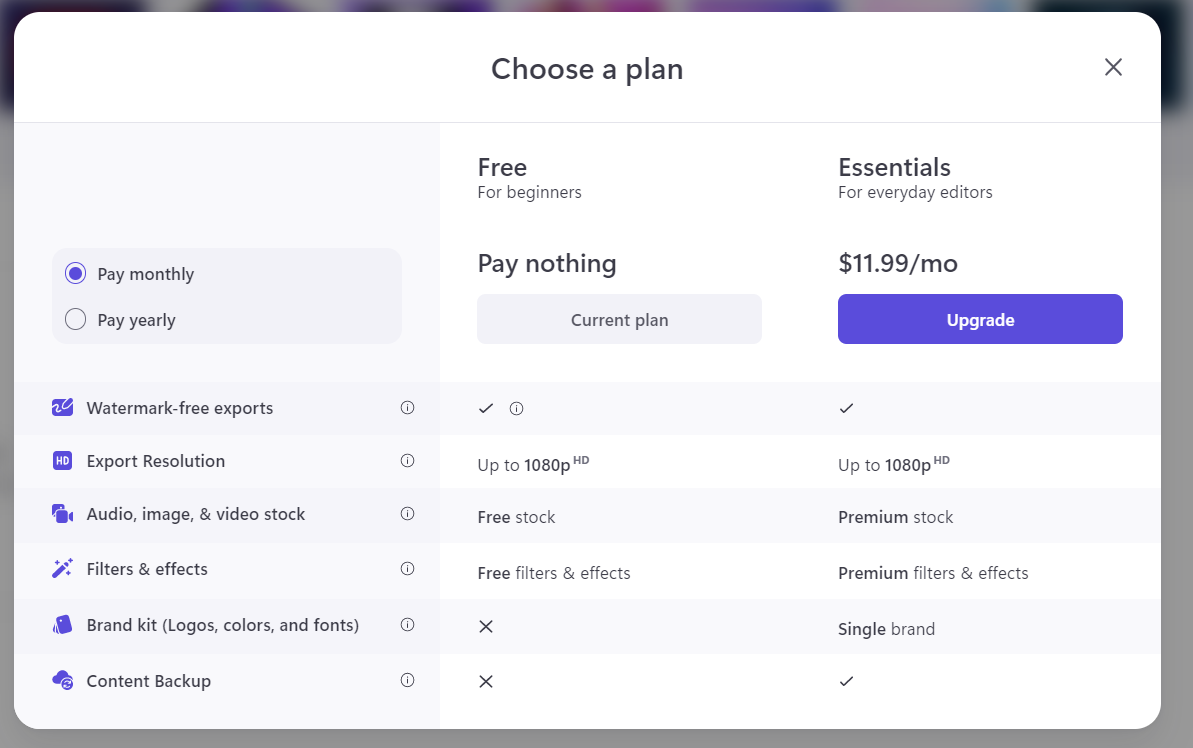 There's one other small change: you can now sign up for Clipchamp on Windows without a Microsoft subscription and use a Google account instead. That's a bit of a surprise, given that installing Windows now requires a Microsoft account. Remember, however, that Clipchamp is a Web app running locally.
Likewise, you may not know that Microsoft's venerable Solitaire application now has a subscription that goes along with it — and has for years. The Solitaire subscription, originally $1.50 per month, eliminated all the ads that Microsoft published alongside its Solitaire games. That subscription is essentially still available, but on my PC, which has an Xbox Game Pass Ultimate subscription attached to it, the ads have been removed thanks to my subscription.
Is the future of Windows per-app subscriptions?
On one hand, it's great to see Windows itself being enhanced with new apps and services. But what will it mean when a service like Clipchamp appears to be a traditional app, but its front door leads into a pitch for you to pay additional fees? This is a model that mobile gamers have used for years — and that PC gamers have traditionally rejected.
Remember, though, that Microsoft has regarded Windows as a "socket for subscriptions" since at least the spring of 2022. The problem with subscriptions, however, is that they have to demonstrate value, or else users will cancel them and move to free solutions instead. It's possible that Microsoft is still fiddling with how it aligns its subscription models with some of its more high-profile applications. We'd expect Microsoft Designer, Microsoft's gorgeous AI art generator, will receive similar treatment when it formally launches. And, of course, a number of what we consider to be Microsoft apps — Word, PowerPoint, Excel, and others — are part of the Microsoft 365 subscription rather than Windows itself.
Microsoft's agreement to place ChatGPT on its Azure service probably means that the amazing AI chatbot will eventually appear as a Windows service. But with the computing resources ChatGPT requires, does anyone really believe that users won't be asked to pay for it somehow?
The Clipchamp and Solitaire changes may be small in scope. The question they suggest, however, is far larger and somewhat unsettling: With more and more Windows "apps" revealing their true selves as potential subscription services, however, what will that mean for the future of Windows?