Enthusiasts may balk at my opinion and deem it heresy, which is fine—but I'm going to say it anyway: There's nothing wrong with buying an inexpensive mechanical keyboard for regular use. Most gamers don't even need all the bells and whistles of a luxury keyboard like a bazillion programmable keys and RBG lighting that syncs with your music. Often all you need is a simple set of clicky keys and an ergonomic design. A quick to trip to Amazon, for example, reveals a 60% mechanical board with hot-swappable Red switches and a lightweight design for only $30. Still not convinced? Don't worry, I aim to persuade!
Looking for more options? Check out our roundup of the best wireless gaming keyboards.
1. You can get a full-sized mechanical keyboard at an affordable price
Full-sized mechanical keyboards typically have 104 keys, including a number pad on the right side of the layout. But you don't have to pay out the nose for this option. If you've got the desk space to accommodate it, then the AK50 full-sized keyboard is worth considering. It has blue switches, white backlighting, and an aluminum frame. The best part about this keyboard is that it currently costs $50. Make sure you apply the 5 percent coupon at checkout.
2. Some mechanical switches aren't all that expensive
When it comes to mechanical switches, Cherry MX typically reigns supreme. Cherry switches are durable and have high actuation points, which helps prevent inaccurate key presses. That said, they can be expensive. Luckily for you, there are more affordable options out there in the universe, so I encourage you to explore. Outemu switches, for example, are a fantastic option for budget mechanical keyboards. Essentially, they're Cherry clones made in China.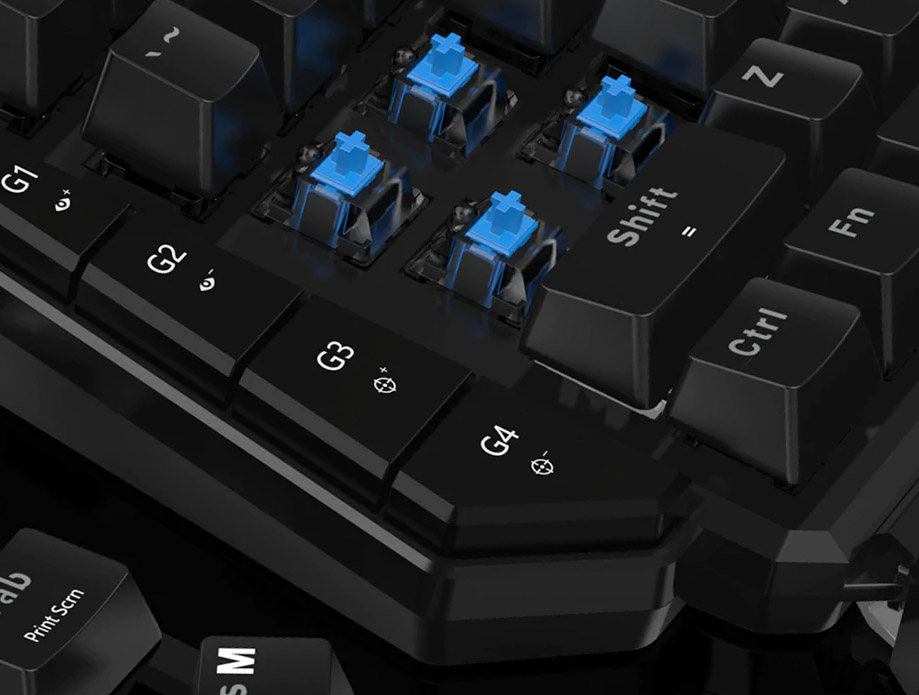 GameSir
3. Most people don't need the extra bits
Premium mechanical keyboards like the Razer Deathstalker V2 Pro often feature per-key RGB lighting, a scroll wheel, dedicated device buttons, and so on. Most folks don't need all the extras. My recommendation is to spring for an affordable keyboard with the most important functions, namely the sound and feel. This is determined by the type of mechanical switch you use. Red switches (aka linear switches) require less effort to press down and don't provide much tactile feedback. They're also quieter than blue switches, which produce those pleasant click-clack sounds. For additional information on mechanical switches, check out this guide.
Michael Crider/IDG
4. You need not sacrifice ergonomics
Just because a mechanical keyboard is inexpensive doesn't mean it can't also be ergonomic, with many options including a wrist rest can meet that need. That's a good thing, since long gaming stretches require comfort. Nothing kills the mood faster than hand cramps. The AULA F2088, for example, comes with a magnetic wrist rest. This helps prevent hand fatigue during those marathon gaming sessions. Plus, the matte finish should provide a relatively smooth surface for your hands. As of this writing, the typewriter-style keyboard is currently on sale for just $45.99. Make sure you add the 5% coupon at checkout, too.
5. It's a low-cost way to test drive a mechanical board
If you've never owned or used a mechanical keyboard before, they're quite different from their membrane counterparts. The difference is really in the feel. Mechanical keyboards have keys that spring back when you press down on them. If you're just dipping your toes in the mechanical keyboard world, then I'd suggest test driving a more inexpensive one first and work your way up. If you end up disliking how a mechanical keyboard feels, then at least you haven't put a ton of money into it. Premium mechanical keyboards are a more costly, albeit feature-rich, way to try one out.