OK, so, hear me out. I purchased a pre-built gaming desktop tower instead of building a PC from scratch and I don't regret it one bit. Certain PC building enthusiasts will balk at my decision, but the entire process from purchasing the desktop to setting it up in my home office was incredibly easy. I had just moved into a new house at the time, and the convenience of a pre-built tower was just too good to pass up.
When you're living out of boxes and everything is out of order, the last thing you want to do is deal with a bunch of loose hardware parts. If you're still not convinced, hold onto your seats. I'm still going to convert you! Cue villainous laughter…
Pre-built gaming PCs are (relatively) affordable and easy to set up
Buying a PC is serious business. Building one from the ground up is even more serious. Although there's a bunch of useful how-to guides available on the Internet, there's a lot that can go wrong. You could accidentally warp the pins on your CPU, or you could assemble the parts incorrectly. Personally, I'm not willing to take the risk. I enjoy tinkering with hardware to a certain extent, but I'm not entirely confident in my assembly skills and I'm fine with that. I'd rather leave it to professionals.
Pre-built gaming towers offer peace of mind. The parts inside these PCs have been assembled and tested by professional builders. I purchased a pre-built rig from NXZT and it was quick to ship. It also worked beautifully the moment I turned it on. Aside from plugging in my peripherals and moving my files over, I didn't have to do much else. Pre-built prices aren't too bad, either.
I ended up getting the NZXT Starter PC Pro, which was $1,149. The Starter PC series comes in three configurations, with the lowest tier model costing $949. Those prices are reasonable, especially for starter machines. NXZT's Streaming Series line of PCs are much more powerful and heavier on the wallet.
Pre-built PC warranties and service support are worth it
When it comes to pre-built PCs, you're paying for the warranty and service support as well as the hardware. NXZT includes a warranty period of two years, which begins the day you receive your machine. It covers any defects with labor or components. So, if you wind up with a wonky machine, NXZT will repair, replace, or refund at their discretion.
As for service support, I was pleased with the live chat function and found that my questions were answered in a timely and thorough manner. My PC works just fine, so I never had to reach out by phone, but I did find the Frequently Asked Questions page to be extremely helpful. The company also offers free lifetime technical support.
Why I chose NZXT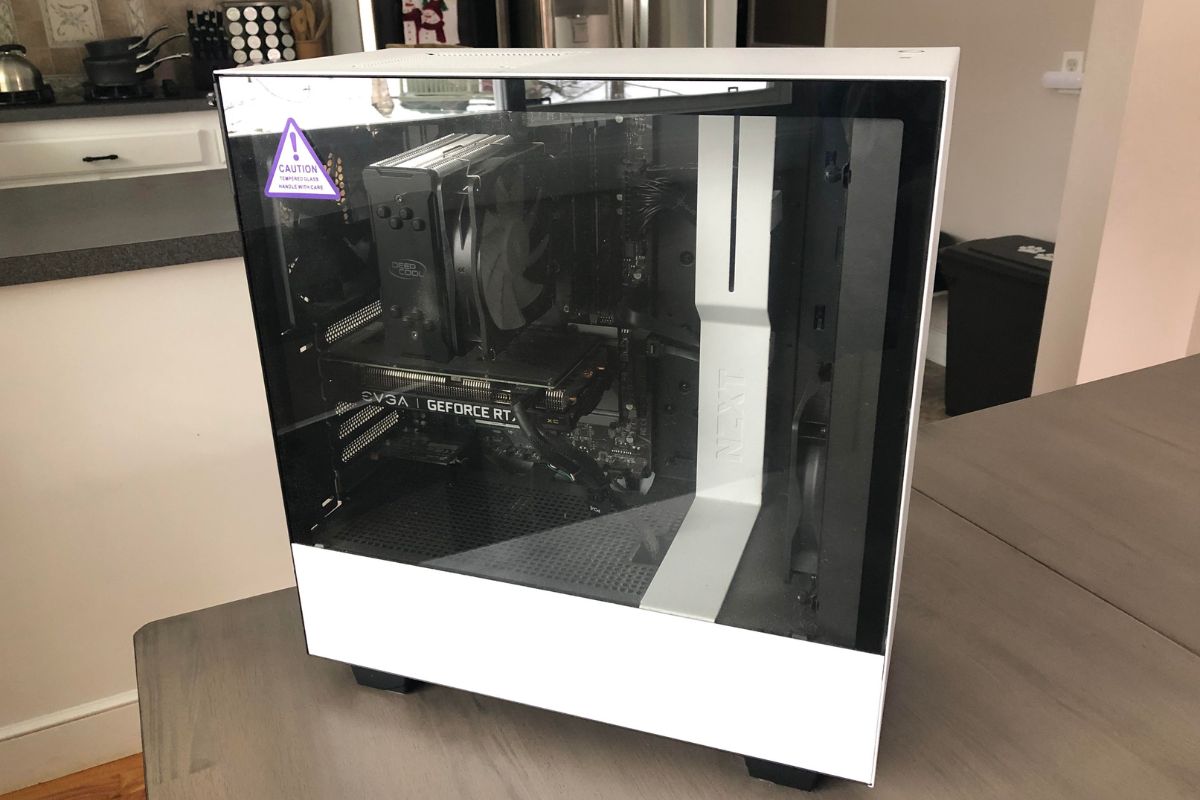 IDG / Ashley Biancuzzo
When I was browsing for a prebuilt desktop tower, I knew I wanted a rig that could handle games like Final Fantasy XIV Online, Phasmaphobia, and Warhammer: Vermintide 2. In terms of graphics power, those aren't the most demanding games in the world, but I play all three on a regular basis and I'm more of a casual gamer anyway. Like I mentioned earlier, I purchased the Starter PC Pro model, which is the highest tier configuration in this particular series.
The Starter PC Pro comes equipped with an Intel Core i5-11400F CPU, an Nvidia GeForce RTX 3060 Ti, 16GB of RAM, and 1TB of NVMe SSD storage. That's more than enough power for my needs, which include casual gaming and productivity work. I decided to go with a NZXT machine after having read a handful of positive reviews. Plus, the website is clean and super easy to navigate. Trust me, you don't want to be in a state of confusion when you're trying to pick out a gaming PC.
OK, but what are the downsides or pre-builts?
Pre-built machines aren't the easiest to upgrade. Unfortunately, with NXZT's Starter PC series, you can't mix and match the components, either. You get what you get and you don't get upset (or maybe you do). Building your own machine can be cheaper in the long run, which is super rad… as long as you know what you're doing. If you've never assembled a PC before, better to play it safe, as mistakes will cost you hundreds of dollars down the road.
So, do you go for it?
Hell yeah, you go for it! If you're short on time and don't feel confident enough in your assembly skills, a pre-configured machine is the way to go. The plug-and-play aspect is awesome and they're generally more affordable up front. I absolutely adore my pre-built rig and wouldn't trade it for anything. That said, buying a pre-built means you're stuck with limited configurations. At the end of the day, there's no wrong decision here. It really boils down to your lifestyle and comfort level. Happy gaming, folks.
Want more insights? My colleague Gordon discusses pre-builts with one of YouTube's strongest prebuilt advocates, Braethorn. His channel is packed with helpful insights on buying gaming desktops.