If you're trying to save money on prescription drug refills, Amazon has some interesting news today: the launch of RxPass, a $5-per-month add-on to Amazon Prime that will cover the costs of prescription drugs and shipping for prescription drug refills — but excludes some key states.
Amazon's RxPass is part of Amazon Pharmacy, which already offers lower-priced prescription drugs. Amazon Pharmacy will remain, but RxPass will also be available in 42 states. Unfortunately, residents of California, Louisiana, Maryland, Minnesota, New Hampshire, Pennsylvania, Texas, and Washington aren't eligible, Amazon said.
For those who live elsewhere, though, Amazon's RxPass sounds like it could offer substantial savings, whether or not you have insurance. "RxPass is a benefit for Prime members that gives subscribers access to the most common generic medications for a flat fee of $5 a month," according to Amazon. "Subscribers can get all their prescribed medications on the RxPass list filled as often as they need for one flat monthly fee. RxPass also works with auto-refill so that you get all your eligible prescriptions automatically for no more than $5 a month."
Over 50 medications are covered by RxPass, including medications for diabetes, gout, high blood pressure, high cholesterol, and more.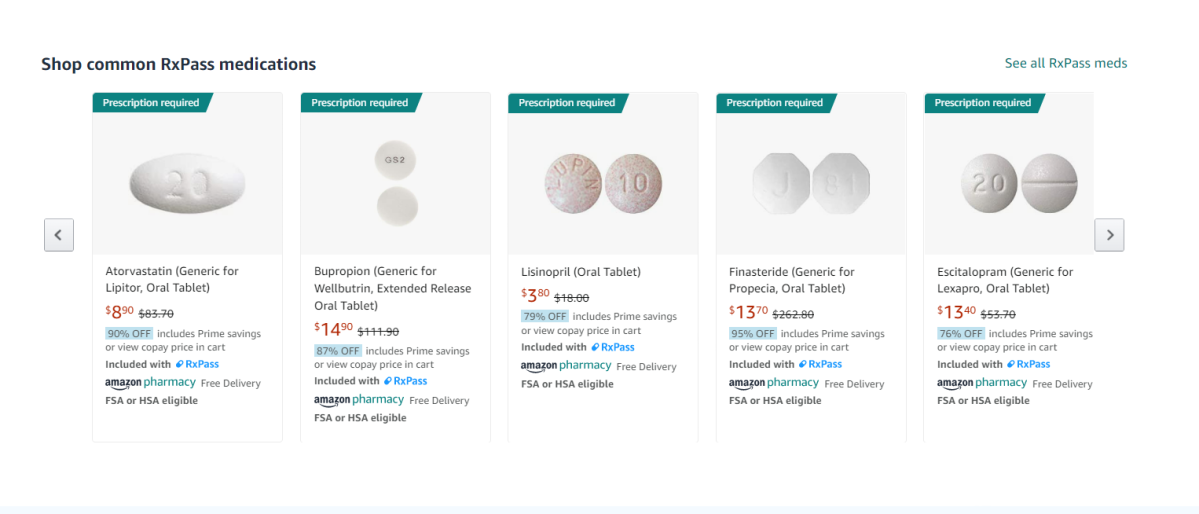 Mark Hachman / IDG
Amazon's RxPass does come with some restrictions, however. Medicare and Medicaid recipients aren't eligible, and you can't pay for an RxPass via an FSA or HSA plan. Instead, you'll have to use the Amazon Pharmacy plan instead. And, of course, you have to be an existing Amazon Prime member, which costs $14.99 per month or $139 per year.
Alternatively, customers searching for low-cost prescription drugs online can turn to CostPlus Drugs, founded by entrepreneur Mark Cuban. Cuban (and his partner, TruePill) charge a markup of 15 percent on the supplier price of the pill, and supply them to all 50 states. CostPlus accepts prescription insurance for Capital Blue Cross, Rightway, and other "select prescription plans," according to the site. CostPlus will supply as much medicine as a doctor prescribes.