Gateway
The Official Word: Short and sweet. Gateway says that it officially no longer offers XP on any of its machines, since it "sells only to consumers now." Even Gateway's systems to be sold in retail channels (such as Wal-Mart) are now Vista-only.
The Real Deal: I was stonewalled when I called. A flabbergasted rep told me that Gateway didn't sell XP ("that was done on June 30"), and he couldn't understand why I'd want it, either. "You have to upgrade to Vista Ultimate and then you can do the downgrade," he said--but I'd have to perform the installation myself, and I'd have to buy the software from another source. "It ends up costing you more to downgrade," he summarized. Retail stores don't offer new Gateway machines with XP, either. If you want a new Gateway laptop that runs XP, you'll have to bring the components together yourself or you'll have to purchase an older model that's still lingering in the retail channel.
Toshiba
The Official Word: The official policy on XP downgrades at Toshiba is shrouded in legalese. A spokesperson told me: "Toshiba continues to see demand for Windows XP from our business partners. Toshiba will follow Microsoft's Windows XP Product End of Life Policy while fully supporting customers who continue to require Windows XP through End User Downgrade Rights and Provisions. For more details about Microsoft's programs, please contact Microsoft." Huh?
The Real Deal: Visit Toshiba's Web site and you'll understand Toshiba's reluctance to provide a clear explanation of its XP strategy: It's selling loads of models with an XP CD included in the box, as well as a number of systems with XP as the only operating system option. But if you want an XP machine from Toshiba, don't rely on the main Toshiba.com Web site; instead, visit the company's toshibadirect.com site, which has a greater number of product choices and more-timely information. I called a sales rep who referred me to numerous XP-capable systems (most of these come with Vista preinstalled but carry an XP restore disc in the box), including the bulk of the Tecra and Portege lines. Toshiba even offers a few consumer notebooks--among them, Satellite M300 and Satellite Pro L-series laptops--with XP preinstalled. Collectively that covers quite a bit of Toshiba's laptop lineup. All you have to do is call and ask.
Acer
The Official Word: Acer doesn't sell machines directly to consumers, only to resellers. According to Acer, the company no longer sells machines with XP installed, nor does it offer a standard XP downgrade program. Nevertheless, Acer says, resellers can request a downgrade on any machine, and Acer will continue to offer such services through January 31, 2009.
The Real Deal: Visit Acer's Web site and you'll find at least one system, the Ferrari 5000, listed as being available with Windows XP (though that configuration option may be an oversight). Visit a few resellers, and you'll find some Acer machines loaded with XP and some loaded with Vista, though systems of the latter type are more commonplace. Various Aspire laptops continue to be offered for sale with XP preinstalled, but many of these are older models. In my hunt for new gear, I checked with a major Acer reseller, Tiger Direct, which verified that all of its Acers were now configured with Vista. A sales rep told me that the only way I could downgrade to XP was by doing it myself (he quoted me a price of $129 for a CD copy of Windows XP), adding that if I were to "change the software configuration of the laptop," it would void the warranty on the laptop. The rep didn't even hint at Acer's downgrade program, though he did offer a copious array of alternative PCs running XP, including a multitude of refurbished and off-lease machines, a Lenovo, and a large selection of Systemax machines that he said were still shipping with XP standard (and with a Vista upgrade as an option).
Fujitsu
The Official Word: Fujitsu offers a wide selection of machines for which XP downgrades are available. The company will preinstall XP, if you wish, on any Fujitsu model that has either Vista Business or Vista Ultimate listed as an OS option. (Machines with Vista Home are not eligible for downgrade.) If you prefer, you can buy an XP CD instead, along with all of the required drivers, and perform the installation yourself. There is no charge for either option. Fujitsu has a special paged dedicated to buyers who may be "not ready to transition to Windows Vista"; the vendor takes care to point out that, officially, if you wish to downgrade from Vista to XP, you must meet Microsoft's definition of a business customer--that is, you must "agree to the intent to purchase 25 units [computers] or more over the next year." Fujitsu notes that this is not a binding agreement; you simply have to say (or pretend) that you need a whole bunch of PCs.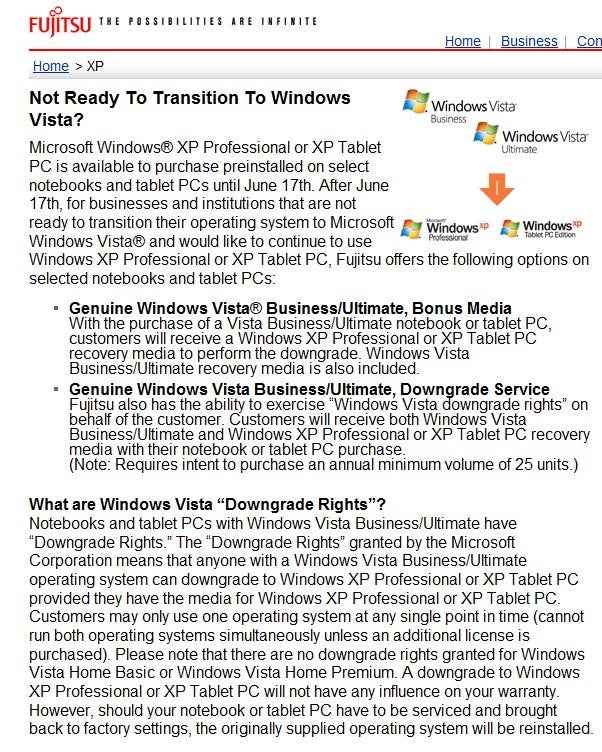 The Real Deal: I called Fujitsu's consumer sales line to inquire about one of the few models that Fujitsu sells only with Vista Home Premium preinstalled, and was told that it was not available with XP. My rep enthusiastically pointed to a number of alternative models that the company would ship with XP for no extra charge, accurately noting that only Vista Business and Ultimate machines were eligible for the program. At no time did the rep ask me whether I was a business customer, offer to transfer me to a business sales rep, or seek confirmation that I intended to buy 24 more computers within the next 12 months.