Lenovo
The Official Word: Lenovo offers a helpful Web page that outlines its downgrade policies in detail. Specifically, it notes that anyone who purchases a machine that has Vista Business or Vista Ultimate installed on it may also purchase a bootable Windows XP recovery CD until January 31, 2009. "Fees may vary."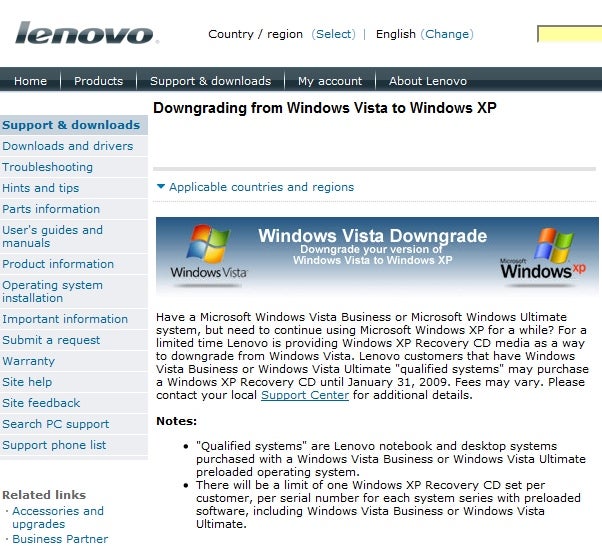 The Real Deal: In reality there is no fee. When configuring the laptop you plan to buy online (the entire ThinkPad line is covered, but not IdeaPad or Lenovo 3000 models), you may select an option under 'Operating System' for "Genuine Windows Vista Business downgrade to Windows XP Professional." Lenovo will then ship you the PC with XP preinstalled for the same price it charges for the Vista Business option. Strangely, there is no similar option for Vista Ultimate; and when I called a rep to ask about this inconsistency, he didn't know much about the plan other than what was stated on the configuration page. If you select the XP option online, you'll receive an ominous red pop-up message worded similarly to Fujitsu's warning: "Note: The downgrade from Genuine Windows Vista Business is intended for business, educational and public sector customers requiring Windows XP Professional that expect to order at least 25 PCs annually." But the warning is toothless: In completing your purchase, you never have to agree to order more PCs or even indicate a willingness to do so.
Sony
The Official Word: Initially, Sony told me that it offered no XP downgrade options on its current crop of computer models. Just as we were going to press, however, the company confirmed that two new laptop series--the VAIO BZ and VAIO SR--will come with an XP downgrade option, with XP preinstalled by Sony at the customer's request.
The Real Deal: I called Sony before the company had announced the loopholes in its "No XP" policy, so I didn't expect much. Surprise: A rep told me that if I ordered either the VAIO TZ or the VAIO SZ laptop configured with Vista Business, Sony would ship it with a driver CD in the box that included everything needed to make the laptop work with XP. The rep said that Sony wouldn't provide or sell the XP disc itself, so I would be responsible for supplying the OS myself.  
Asus
The Official Word: Officially, Asus says that it offers only "select Eee PC models" with XP preinstalled--specifically, the Eee PC 900, the Eee PC 901, and the Eee PC 1000, each of which enjoys special status under Microsoft's "ultra low-cost personal computer" exemption (for PCs in this category, Microsoft has promised to extend the availability of XP Home Edition all the way through June 30, 2010). The upcoming Eee Box "net top" box will run XP as well, according to Asus.
The Real Deal: When I asked an Asus sales rep whether I could purchase the company's high-end Lamborghini machine loaded with Windows XP, he replied that Asus sold all of its machines as ensembles," meaning that they were configured at the factory and couldn't be changed once they were shipped to Asus. The rep told me that no XP drivers were available for the Lamborghini--but when pushed, he added that a reseller might be able to make something "custom" for me. Resellers writing drivers? No thanks. But the sales rep also said that, beyond the Eee series, he could offer two other models running XP: the W7S and R1F Tablet laptops. Though both are primarily available in Vista configurations, you can indeed find both configured with XP at numerous resellers.