At a glance
Expert's Rating
Pros
Terrific value for office workers
Great display flexibility
Plenty of USB-A ports
SD/microSD card slots, too
100W of charging power
Cons
No USB-C ports
No dedicated charging ports
DisplayLink doesn't allow for full Thunderbolt bandwidth
Our Verdict
Plugable's USB-C DisplayLink dock, the UD-6950H, offers excellent value at a relatively low price. Just be aware that it lacks USB-C ports and smartphone charging.
Price When Reviewed
$199.00
Best Prices Today: Plugable USB-C Dual 4K Display Horizontal Docking Station (UD-6950PDH)
Plugable's USB-C Dual 4K HDMI and DisplayPort Display Horizontal Docking Station with 100W Charging (or the UD-6950PDH for short) falls into the category of a USB-C docking station, a DisplayLink dock that can be used with either a Thunderbolt or generic USB-C port. It's a superb value, with a wide range of features for a reasonable price that's in line with most budget Thunderbolt docks.
Plugable's UD-6950PDH doesn't allow the bandwidth for the latest HDMI or DisplayPort interfaces. But the dock preserves what we like about Plugable's docks: two pairs of optional DisplayPort and HDMI connections to choose from, as well as 100W of charging power to your laptop. One omission, however, is a dedicated charging port for powering a smartphone, or any USB-C port at all.
Note: To learn about competing products, what to look for in a Thunderbolt or DisplayLink dock, and get buying recommendations, see our roundup of the best Thunderbolt docks.
A DisplayLink USB-C docking station uses data compression to push data across the USB-C interface, approximating the experience of a much more expensive Thunderbolt dock. As such, it's not plug-and-play, but requires a software driver that can be easily downloaded from Plugable, after which your computer will need to be restarted. The driver isn't specific to Plugable, so it will work with other USB-C docks, too.
You probably won't need to explore many more options. The DisplayLink docks we've tested generally provide solid connections for office work, though the massive amounts of data PC gaming requires can impact the dock's performance. Specifically, the UD-6950PDH includes two groups of a DisplayPort 1.2 and an HDMI 1.4 port, one group per display. Plugable also includes five 5Gbps USB-A ports (three on the front, two on the back) and both a microSD (supporting up to MicroSDXC) and an SD slot (supporting up to SDXC, RSMMC, or MMCPlus). There's gigabit ethernet, a mic and a headphone jack, as well as a small blue LED power indicator.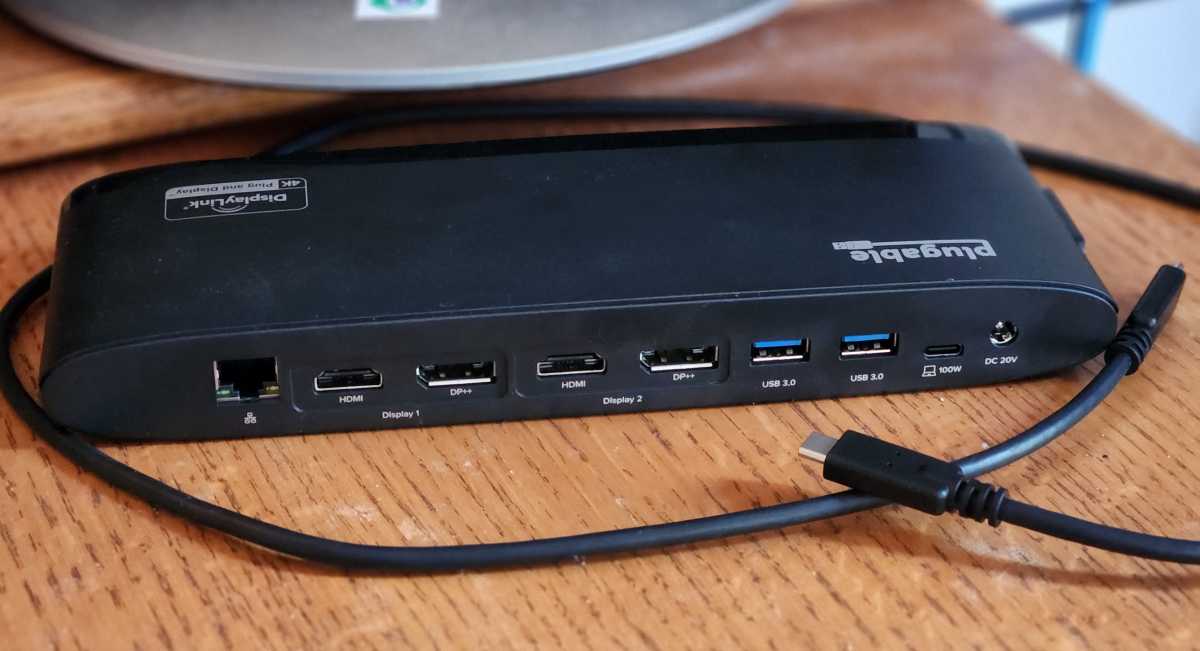 Mark Hachman / IDG
Note that Plugable doesn't specify a speed rating for the SD cards, possibly because the transfer speed between your PC will be affected by how much data is being transferred over the 5Gbps, 3-foot USB-C cable at any one time. However, using AJA System Test's storage benchmark on an SDXC UHS-II VP90 card, we found that the performance on the card mounted inside the dock (259MB/s read, 240MB/s write) was comparable or slightly better than inserting the card into a dedicated slot on our laptop.
A dearth of power
The problem here is the external power that the Plugable UD-6950PDH provides—or rather, doesn't provide—to individual devices. The dock powered connected USB mice, keyboards, USB keys, and a pair of 4K displays absolutely acceptably for day-to-day office work, but Windows refused to recognize a 10Gbps USB 3.2 external SSD when connected to Plugable's dock because it didn't supply enough power. It worked just fine when powered by its own, dedicated laptop port, however. Given what we saw in SD transfer rates, we conclude that you'll be best served transferring and editing photos and video directly on the SD card, or transferring them first to your PC's SSD or hard drive for editing.
Put another way, the USB-A ports supply just 2.5W, fine for powering some peripherals and some basic (not fast-) charging of smartphones, but that's all.
You may also see some reduced frame rates in games, as the dock struggles to push enough data across the bus. (Plugable doesn't recommend this dock for gaming, either.) Plugable also notes that the HDMI 1.4 interface should only be capable of powering a 4K30 display, but ours reported a 60Hz connection.
In our video tests, though, the UD-6950PDH dock performed well. We stream a 4K60 YouTube video and check to see if it drops frames while playing back. The dock didn't, either by itself or when pushing a gigabyte of data across the bus. The same held true for playing the video over Wi-Fi or the dock's ethernet. (Technically, it dropped 52 frames out of 10,000 over Wi-Fi, which we consider acceptable, and didn't produce any noticeable video stuttering.) Netflix played without issue.
The $199 (MSRP) price tag, though, makes this Plugable dock especially appealing. Many USB-C docking stations that use DisplayLink have been priced in the range of Thunderbolt docks, and the UD-6950PDH fits within the niche we'd expect it to be: about the price of a budget Thunderbolt dock.
The bottom line: if you're buying Plugable's USB-C Dual 4K HDMI and DisplayPort Display Horizontal Docking Station with 100W Charging (UD-6950PDH) for office use, we think you'll be pleased. Just don't forget your smartphone charger.
Best Prices Today: Plugable USB-C Dual 4K Display Horizontal Docking Station (UD-6950PDH)