At a glance
Expert's Rating
Pros
Stunning OLED upgrade in resolution, performance, more
One of the first 13th-gen Core laptops
Top-notch battery life
Solid inking
1080p webcam and very good audio
Cons
Good, not great, performance
Webcam effects are iffy
Our Verdict
Samsung's Galaxy Book3 Pro 360 offers significant value across a variety of fronts: video, audio, the webcam, and battery life. Only as a laptop is it somewhat ordinary.
Price When Reviewed
$1699.99
Best Prices Today: Samsung Galaxy Book3 Pro 360
Samsung's Galaxy Book3 Pro 360 laptop packs in a self-contained movie theater, a sketchpad for digital artists, and an all-day productivity machine that can digitally connect to other Galaxy devices inside a single, 16-inch, 360-degree convertible laptop. Capping it all off is a gorgeous, powerful new OLED display that puts almost all of its rivals and predecessor to shame.
Consider this $1,699 (MSRP) laptop for what it can do after hours as well as your workday. While its 13th-gen Intel Core processor doesn't outperform everything in its class, you'll find a ton under its hood that few rivals offer. So buckle up—there's a lot to talk about.
Samsung Galaxy Book3 Pro 360: What it offers and where it fits
Samsung's Galaxy Book3 Pro 360 is one of a small family of new Book3 laptops that consists of the Book3 Ultra, the Book3 Pro, the Book3 Pro 360, and the Book3 360. The Book3 Ultra is a new addition to the family, sporting an Nvidia RTX GeForce 4xxx GPU inside a thicker frame. The Book3 Pro is Samsung's traditional clamshell, shipping in either a 14-inch or 16-inch size, with a pound of weight's worth of a difference between the two.
The Book3 Pro 360, which we test here, is a single 16-inch 360-degree convertible laptop that can be folded back into tablet mode, but is otherwise similar to the Pro. Since it is designed for inking, the Book3 Pro 360 also includes an integrated S Pen inside the box. The cheaper Book3 360 does not and uses the more traditional 1080p display resolution instead. We were also told that the Book3 Pro 360 includes a 5G option. Our review unit doesn't offer that feature, however, and it wasn't listed on the index of Galaxy Book3 laptops Samsung has published.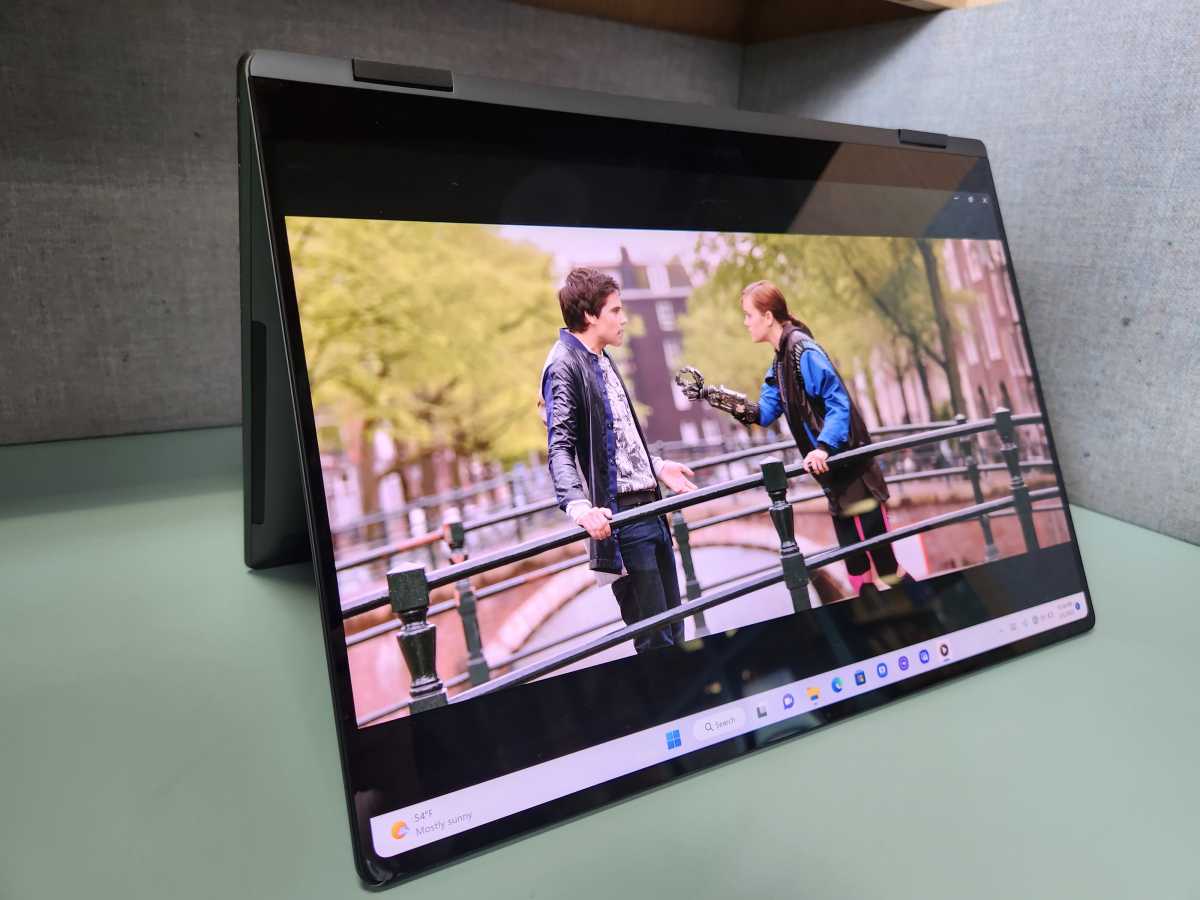 Mark Hachman / IDG
We reviewed Samsung's Galaxy Book2 Pro 360 last year. This year, Samsung offers substantial upgrades from top to bottom. Save for the Book3 360, all members of the Book3 family—the Pro, Pro 360 and Ultra—now ship with a significantly improved AMOLED 2X display, which we'll discuss below.
If you're buying the Book3 Pro 360, you have only the option of 16GB of RAM and either 512GB or 1TB of SSD storage. But Samsung is also offering a free upgrade to the 1TB tier, which means that there's essentially just one, upgraded model of the Pro 360 available.
Samsung Galaxy Book3 Pro 360: Specifications and features
Processor: Intel Core i7-1360P
Display: 16-inch (2,880×1,800) touch, 120Hz AMOLED 2X, 400 nits, 120 percent DCI-P3 color volume
Memory: 16GB LPDDR5
Storage: 512GB/1TB SSD (512TB as tested)
Graphics: Iris Xe
Ports: 2 Thunderbolt 4, USB Type-A, HDMI 1.4, microSD, headphone/mic
Security: Fingerprint reader
Camera: 1080p (user-facing)
Battery: 73Wh (design) / 76Wh (actual)
Wireless: Wi-Fi 6E (Gig+), 802.11 ax 2×2, Bluetooth 5.1
Audio: AKG Quad Speaker (two 5W woofers, two 2W tweeters), Smart Amp, Dolby Atmos
Operating system: Windows 11 Pro
Dimensions: 13.99 x 9.93 x 0.50in. (12.7mm)
Weight: 3.66lbs (rated)
Colors: Graphite, Beige (Graphite as tested)
Price: $1,699 from Samsung
The Pro 360 is the premium option of the two 360-degree convertibles Samsung ships within the Book3 family, which allows it to fold back on itself in either laptop, tent, or tablet modes.
Laptops have typically shipped with either 15-inch or 17-inch options, so this 16-inch model with a 16:10 display feels rather spacious. Normally, Samsung Galaxy Book laptops are known for being thin and light, but the extra room adds weight. 3.66 pounds isn't that heavy, but it's noticeable in your bag. The upside is that these notebooks charge with the same tiny gallium nitrate (GaN) charger that accompanies its Galaxy phones, so packing the Book3 Pro 360 and its charger for a work trip will probably feel lighter than a rival notebook and its traditional power brick. The new Book3 convertible is still surprisingly thin, though—not as absolutely thin as the 0.44 inches Apple cites for its MacBook Air (M2), but at 0.50 inches, close enough.
Samsung Galaxy Book3 Pro 360: An improved OLED display worth talking about
Samsung's Galaxy Book Pro 360 emerges from its box as a svelte, slick slab of aluminum that looks bigger than its actual 14 inches or so of width. Open it up with a finger, and the laptop's gorgeous OLED reveals itself. Just do be careful with that finger, though. Our Graphite (black) review unit the company provided attracts smudges very easily, especially oils from fingers. Keep a cloth handy.
As the boot cycle begins, you'll see why we think it's worth talking first about why the Book3 series represents such a significant upgrade over the Book2: the updated AMOLED screen. You won't see the faint glow of an LED-lit screen, since OLEDs emit light on a per-pixel basis. Instead, while you briefly wait for the white "Samsung Galaxy" font to be displayed on the jet-black background, don't be surprised if your first thought is, is this thing actually on?
Put simply, Samsung's latest AMOLED 2X display claims improvements in both visual performance and visual quality. First, there's simply the dramatic improvement in resolution. The Galaxy Book2 Pro 360 defaulted to 1080p displays, but now the Book3 Pro 360 includes a 16-inch 2,880×1,800 display, which the manufacturer characterizes as a "3K" (versus a 4K) display.
If you're using the Book3 Pro 360 for productivity, there's something here for you, too: A new 120Hz display refresh rate. This may be less noticeable in terms of moving your mouse around, but inking with the integrated S Pen is markedly smoother when using a high-refresh display. Gamers also favor 120Hz refresh rates and above, as higher refresh rate results in smoother gameplay. That's less important here, as the Pro 360 simply uses Intel's integrated GPU for graphics.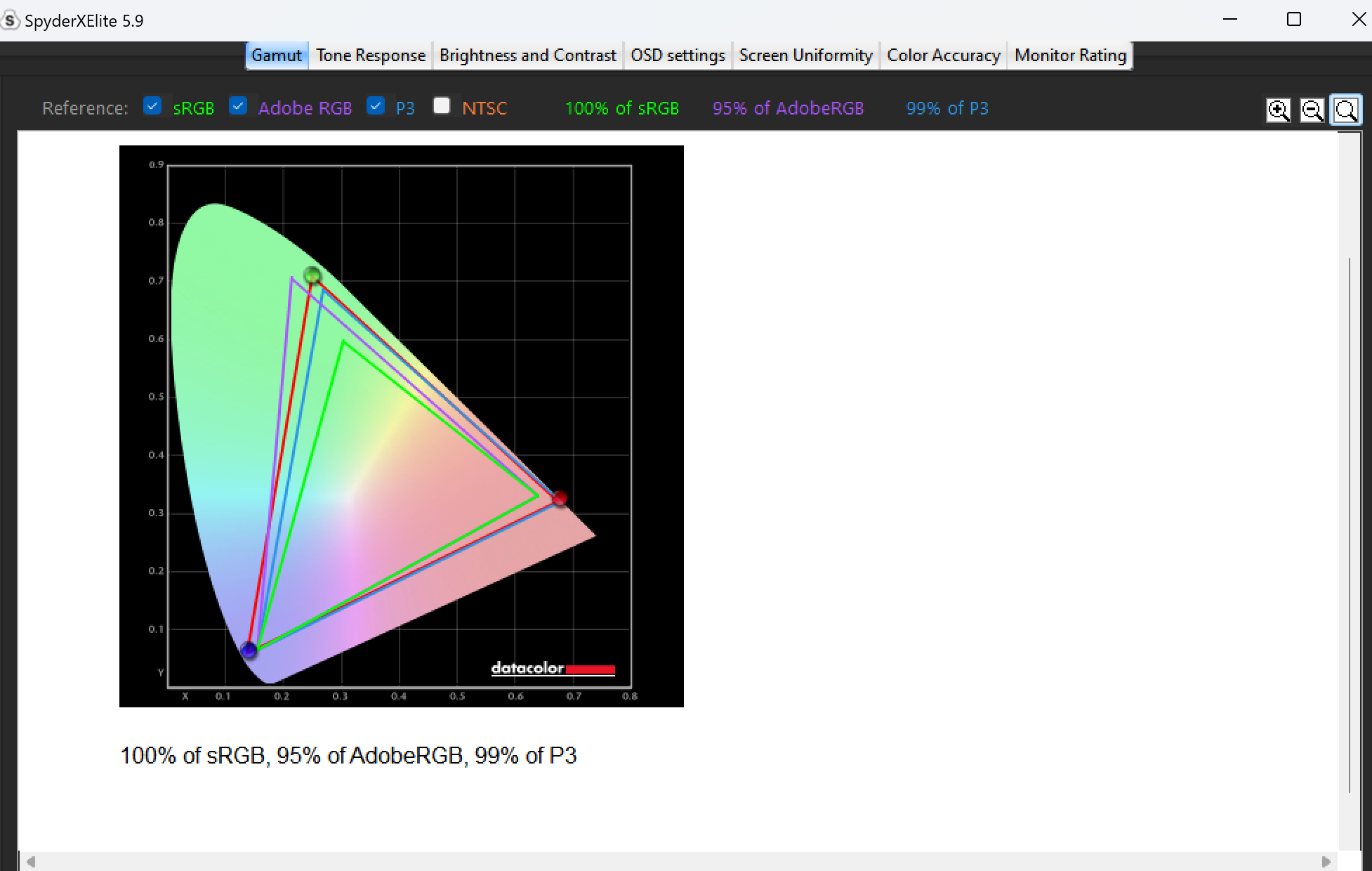 OLED displays' inky blacks already provide a marked visual upgrade compared to the glowy backgrounds of dark scenes lit by LED-backed display. The Book3 Pro 360 is now VESA ClearMR and DisplayHDR TRUE BLACK 500 certified, though that isn't quite as impressive as it sounds. While its display can produce some decent HDR effects just like premium TVs, they won't be quite as profound.
Samsung claims that the laptop produces 120 percent of the DCI-P3 color gamut, which simply translates into brighter, more vivid colors than a different display. Our colorimeter tests simply reported the color gamut as close to 100 percent, though that could be a fault of the testing hardware. The Pro 360 OLED display does feature dedicated modes for DCI-P3, AdobeRGB and sRGB, as well as an "Auto" mode that presumably optimizes itself for the application. We tested without using an adaptive color feature that can also adjust colors depending upon what the laptop detects about your environment. That feature can be enabled within the Windows settings.
We also can't yet test Samsung's claim that the AMOLED 2X display reduces blue light by 78 percent while in dark mode, a noteworthy selling point if true. Blue light can trigger migraines and affect sleep. Dark mode doesn't appear to skew the display toward warm colors, which is normally the way Windows users can filter out blue light.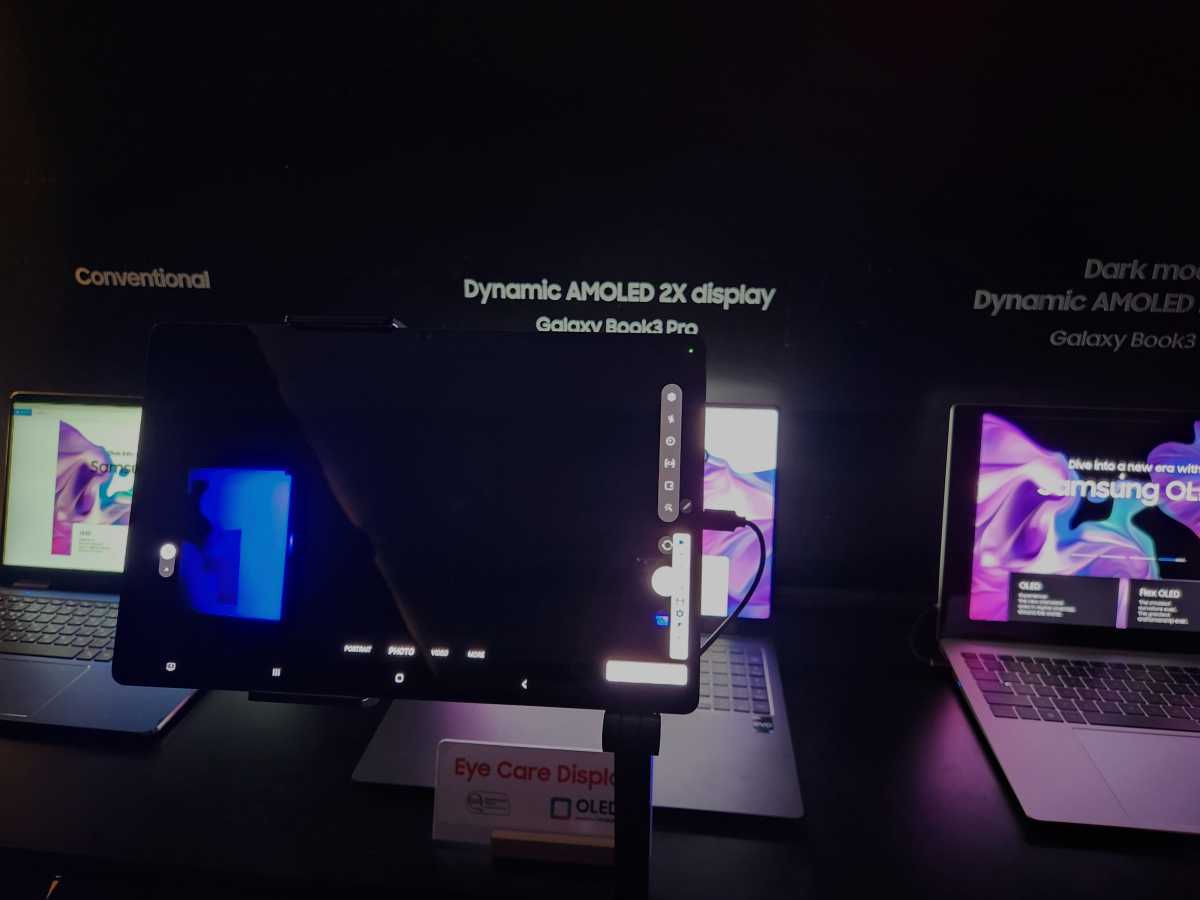 Mark Hachman / IDG
In all, the Pro 360's display emits 392 nits of luminance, according to our tests, enough for the laptop to be used in a bright room. Be aware, though, that the screen is quite glossy, and reflects your background easily.
Samsung Galaxy Book3 Pro 360: Chassis and ports
Structurally, the Pro 360 feels much more like a standard convertible. Flipping the keyboard back works well for watching movies or an impromptu business presentation. As expected, the laptop's hinge was strong enough to support it in either context.
The setup process encourages you to integrate your Galaxy Book3 with other members of the Samsung Galaxy ecosystem, specifically your phone. We weren't provided with the latest Galaxy S23 smartphone for review, but you can connect older phones. There are some benefits to that, which we'll mention below. Otherwise, setting up the Book3 Pro 360 is similar to setting up any other Windows notebook.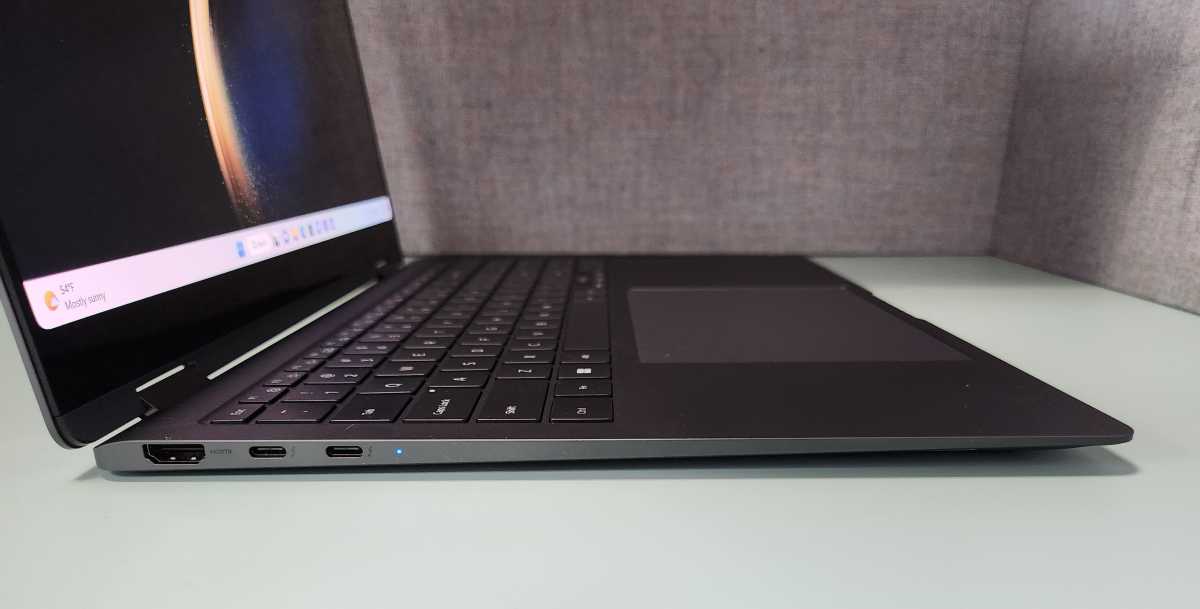 Mark Hachman / IDG
Thin, light laptops can bring tradeoffs, and the Book3 Pro 360 does produce a moderately loud though neutral hiss as air is sucked in through a fine grille at the bottom and is pushed out through the back. Fortunately, the laptop's fans only kick in under substantial load, which doesn't include movie playback. That's important, given content consumption is an important reason to this laptop. We couldn't detect any of the distracting high-pitched whine that some fans produce, though, so you should be able to tune it out or adjust the performance mode in the Samsung Settings app. There are High Performance, Quiet, and Silent modes to choose from in addition to the default Optimized mode.
The Pro 360 includes two Thunderbolt 4 ports with a USB-C interface, plus a USB-A port for legacy devices like a wired mouse. Samsung also includes a microSD slot of an undisclosed nature and an HDMI port, which a Samsung representative told us is an HDMI 1.4 port. That's sufficient for playing back 4K video at 24 frames per second—fine for watching movies, but not really for high-bit-rate digital video. For that, you'll need the Galaxy Book3 Ultra, its HDMI 2.0 port, and its focus on content creation.
Mark Hachman / IDG
Samsung's USB-C charger claims that it can charge the laptop about 35 percent in 30 minutes, a claim which bears out in idle mode but not under load. While using the laptop, the Pro 360 charged 18 percent in 35 minutes.
Samsung Galaxy Book3 Pro 360: Once again, a surprisingly good keyboard
I've always preferred deep laptop keyboards with roomy travel, and Samsung keeps confounding me. I want to dislike their shallow keyboards as uncomfortable, but they're simply not. The wide 16:10, 16-inch form factor display allows Samsung to spread its keys out, including a narrow island keypad to the right. I certainly felt comfortable typing on it for a length of time, though I would generally prefer a different keyboard for long-term use.
Since the Book3 Pro 360 is a thin-and-light convertible, it's not that surprising that Samsung continued to forego the use of a depth camera. Instead, the power button hides a fingerprint reader, which is sensitive to smudges and requires repeated taps to set up. On the other hand, your finger doesn't change over time, so that you won't need to "reset" your finger as some depth cameras do. You can power up and log into the Book3 Pro 360 with a single tap.
Mark Hachman / IDG
The Book3 Pro 360 does have some quirks, including an absolutely massive touchpad at the bottom of the screen that's 24 percent bigger than the Book2. Some laptops simply refuse to fill this space, but Samsung's touchpad sprawls all over and still gives you a decent palm rest on either side. The touchpad placement skews towards the left, however, so that you right palm will have much more space to rest. Unfortunately, while the entire touchpad is tappable, you can only click on the bottom two thirds.
Samsung Galaxy Book3 Pro 360: A surprising webcam complements solid audio
The Book3 Pro 360 includes a 1080p webcam with a standard 87-degree viewing angle, with a 60fps option hidden in the Windows Camera app's settings.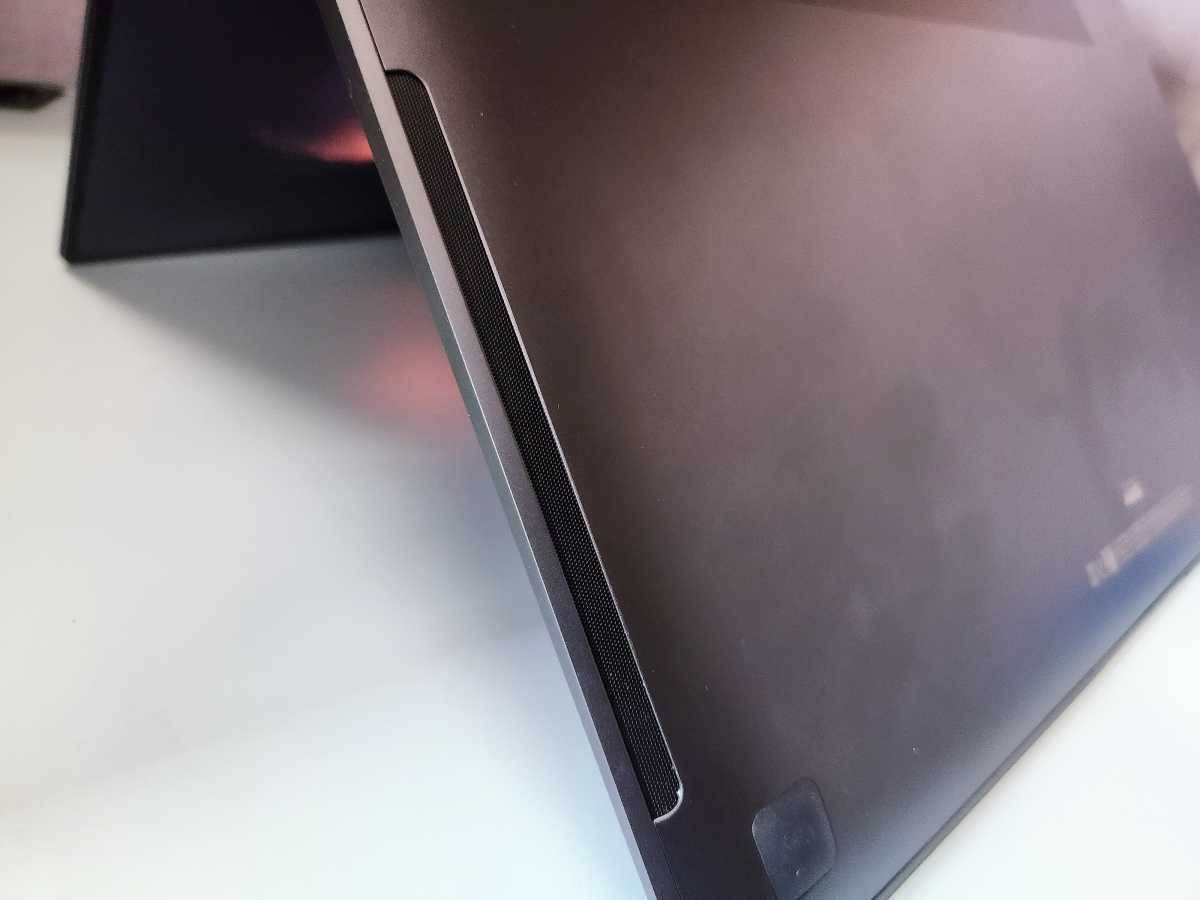 Mark Hachman / IDG
What we were surprised to see, however, were "Studio Mode" effects applied to the webcam such as face effects, HDR, auto framing, background blur, and eye contact. It's not clear how these effects—which mirror the Windows Studio Effects normally found on AI-capable devices like the Surface Pro 9 (5G) —made their way onto the Book3 Pro 360, or if they're enabled by the Movidius AI card Intel said it would add to "select" 13th-gen Core PCs.
Our tests showed that Eye Contact worked, rarely, to alter the webcam image in a way that made it appear as if your eyes were focused directly on the camera. Apps like Zoom do a better job of blurring or replacing the background than these algorithms do, but auto framing works marvelously, panning and zooming in and out to frame your face in the camera's vision. Samsung has historically included "beauty" settings to redden your cheeks or slim your face. These aren't present any longer, and the built-in "face effects" make little difference.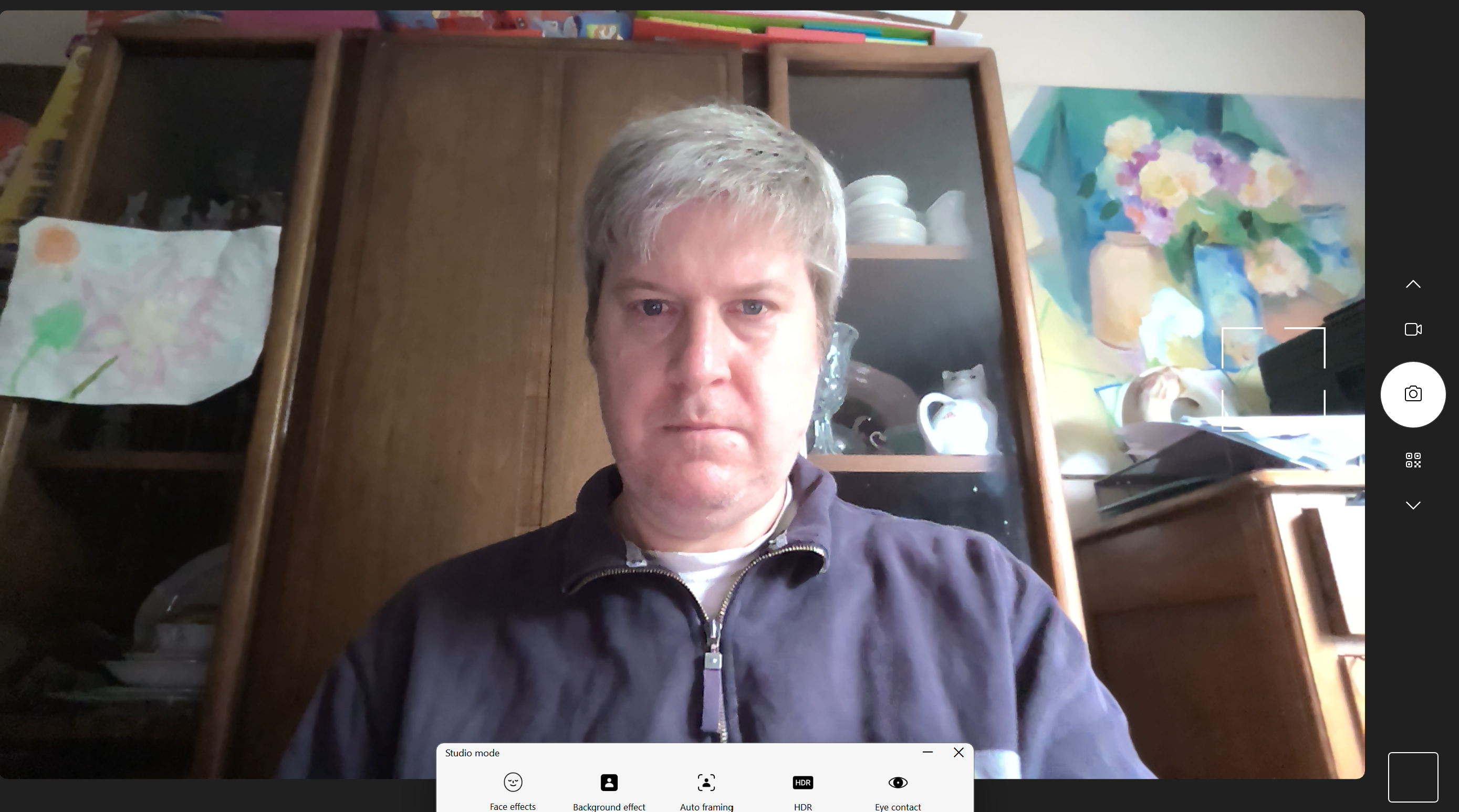 Samsung does use AI to help cancel noise in video calls, however, and does so very well. A pair of studio mics capture your voice.
Samsung's speakers, meanwhile, are usually excellent, and the Pro 360's are no exception. AKG tuned the Book3 Pro 360's audio system, with a pair of 5W woofers and two 2W tweeters. The former elevate the Pro 360's audio into something you'll want to listen to, with substantial volume that can decently fill a small room.
You may be less enthusiastic about the integrated Dolby Atmos stereo expansion system, which usually is the only thing that makes laptop audio aurally palatable. Here, leaving Atmos off, which is the default setting, is a smart choice. Otherwise, Atmos produced a sort of cacophonous effect until I went into the Atmos app and adjusted its settings to "Dynamic," instead. At least there's still a headphone jack!
Samsung Galaxy Book3 Pro 360: Finicky inking is otherwise good
The Galaxy Book3 Pro 360 includes an S Pen in the box, and the first question you may have is, now where do I put it? Samsung doesn't really have an answer, so you'll have to come up with your own solution.
The S Pen inks with 4,096 levels of pressure, and the Book3 Pro 360 translates varying levels of pressure into ink width as well as any laptop we've seen. The large screen area on the Pro 360 means that I often carelessly draped or dragged both hands across the screen to try and keep things steady, however, and the laptop was simply too sensitive in trying to translate my taps into what it thought were attempts to access a menu or other option. Sometimes, when I thought I was inking… I wasn't. I'm also not a fan of how the S Pen's single button is located far down, where your fingers naturally grip the pen.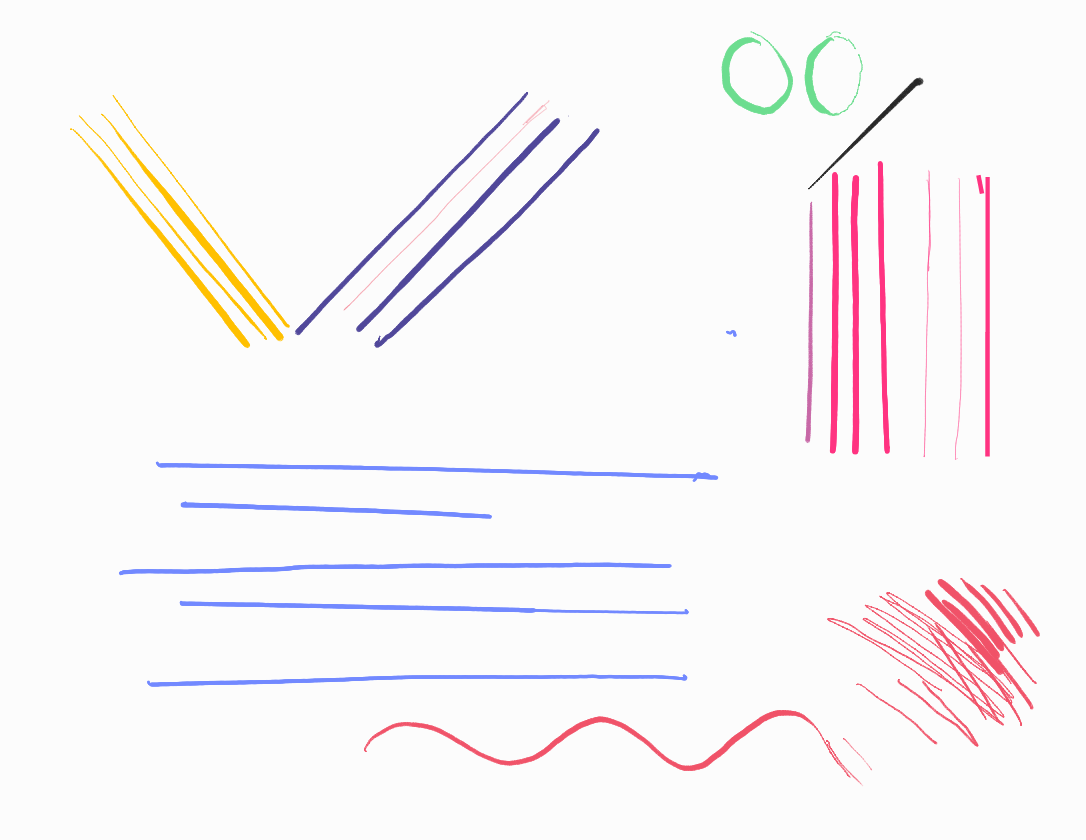 Mark Hachman / IDG
Ink flowed smoothly from the tip of the pen, as it was supposed to. There was also very little to imperceptible levels of ink judder, the sinuous line that can be produced while trying to ink slowly with a straight edge. Incidentally, the Pro 360 ships with Noteshelf, an Android note-taking app.
Samsung Galaxy Book3 Pro 360: Integration ties across the Galaxy ecosystem
Whether or not you set out to buy a Samsung Galaxy phone, tablet, and laptop, the manufacturer offers you a bonus if you do. Several apps that tie the various devices together. They include Samsung Multi Control and Second Screen plus the existing Quick Share and Private Share apps.
Samsung has also offered the Link to Windows / Phone Link apps on its phones and Books, respectively, which allow the Book to control a Galaxy Phone a bit better than the Phone Link app connects to other Android phones. Ironically, since the Book3 Pro 360 is an Evo device, Intel included its Unison app on board, which does pretty much the exact same thing.
We weren't given a Galaxy S23 phone to test a new capability: How Samsung Flow can connect a Samsung Galaxy Tab tablet, S23 phone, and Book3 together by using the mouse to mouse between and transfer files between all three devices. The manufacturer also has a new "Expert Raw Auto Share" app that can take uncompressed raw files from the phone and transfer them to the Book3 for editing. The company also provides a two-month trial of Adobe Lightroom.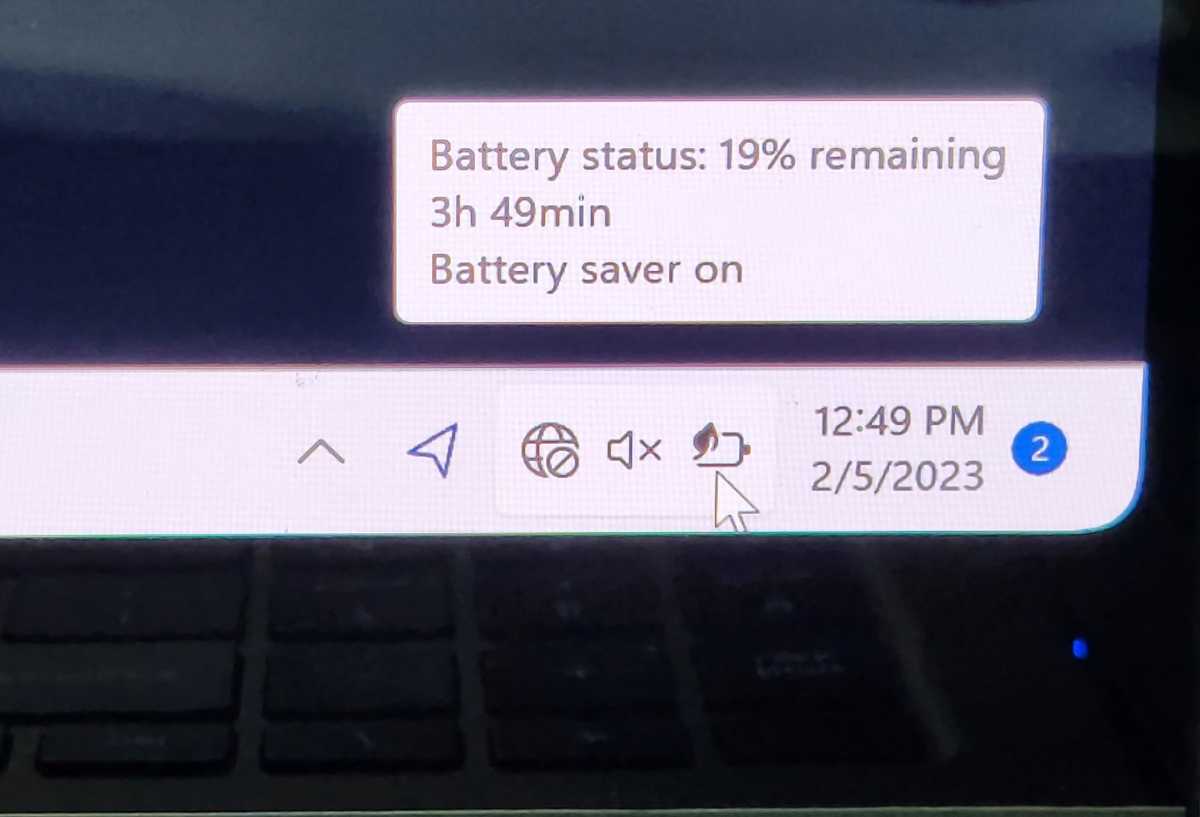 Mark Hachman / IDG
Otherwise, Samsung provides a ton of preloaded apps you probably won't use. Just make sure to check out the Samsung Galaxy Experience, Samsung Update, and the Samsung Settings app for controls that will help you manage specialized functions like supplying power to the USB ports when the Pro 360 is sleeping.
Finally, Samsung (or Windows itself) offers a OneDrive configuration where files stored on the Windows desktop, Documents, or Pictures are always synced with the cloud. This was a little confusing, as we ran into an error message early on that said it was impossible to turn off this feature, something that Windows doesn't normally do. Then, later on, the objections disappeared.
Samsung Galaxy Book3 Pro 360: Performance
We're concluding from our experience with the Book3 Pro that it's a content-consumption machine first, though not especially for gaming. Anecdotally, the laptop occasionally hiccupped, pausing activity for a second while switching on its Dolby audio, for example. There was also a bit of lag when opening a 4K60 YouTube video, an informal check on how the laptop performs streaming video.
The latter test is useful, since there's a hidden control that reveals in what resolution YouTube is delivering the video, and how many frames are dropped. In our tests, that translated into 164 dropped frames out of 10,000, which generated just a tiny bit of shaky video when playing it back. (The Book2 Pro 360 dropped about half that when rendering the same video, though at 1080p.) Otherwise, however, we noticed no other glitches.
Finally, keep in mind that the Book3 Pro 360 is one of the first 13th-gen Core laptops out of the gate, which helps its placement in performance standings.
We use four key tests to determine a laptop's performance: PCMark 10, which measures day-to-day performance in office applications, video calls, CAD work, and light gaming, Cinebench, a pure CPU benchmark, 3DMark, which does the same for the laptop's GPU, and Handbrake, a tool which we use to measure prolonged performance. Two more stress tests in Cinebench and 3DMark can help us further determine if the Pro 360's performance will drop if you're using it intensively for more than a minute or two.
Thin-and-light notebooks tend to run on the smaller side, and OLED displays wander between content creation and consumption. So we're comparing the Samsung Galaxy Book3 Pro 360 with a wide swathe of competitors. The chunkier though cheaper Asus VivoBook Pro 16X OLED, the 14-inch, high-resolution Lenovo Slim 7 Pro X, and the Lenovo Yoga 9i 14 as well as the gorgeous HP Spectre x360 16. We also compared it against a pair of smaller convertibles, the HP Elite Dragonfly Max and the Folio G3. We close with another light laptop, the Lenovo ThinkpadX1 Nano and the Microsoft Surface Laptop 5. (We considered the Microsoft Surface Laptop Studio, but that seems aimed at content creation.) We've also noted the Samsung Galaxy Book Pro2 360 in orange, to show off any generation-to-generation differences.
PCMark 10 puts a laptop through a battery of tests such as word processing, Web browsing, some CAD work, videoconferencing, and more. It's a good indicator of overall performance across a variety of tasks.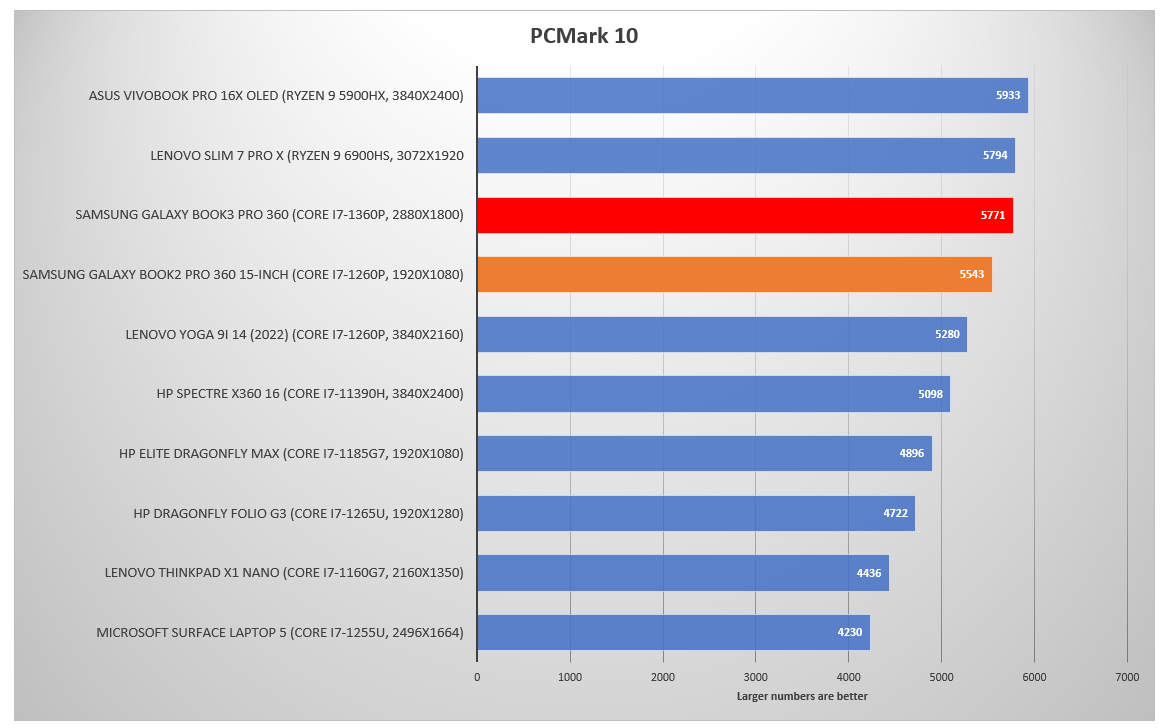 Mark Hachman / IDG
Cinebench R15 is an older test, pushing all of the cores and threads in the laptop's CPU to their maximum. Later revisions of this benchmark use more complex scenes, but this test is a good representation of how a laptop handles quick tasks. The downside? Modern CPUs handle this task quickly, so prolonged tests measure how the laptop performs over time.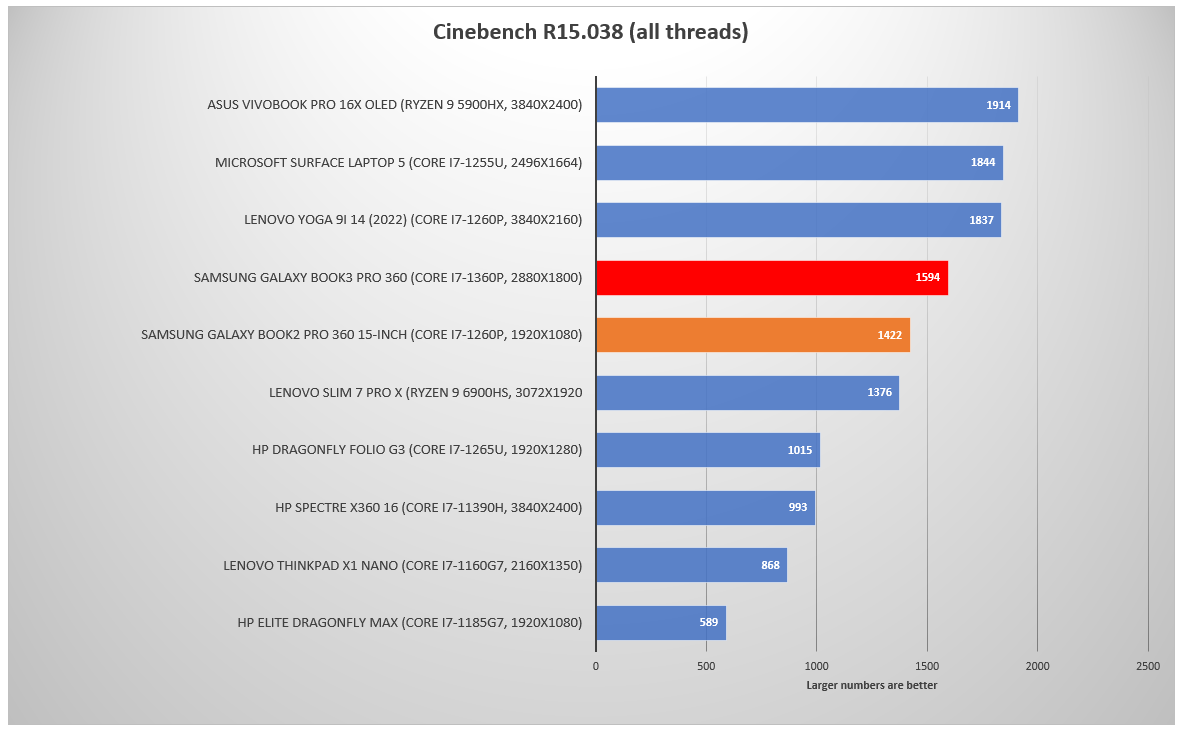 Mark Hachman / IDG
We use the Handbrake application to transcode a Hollywood movie into a format appropriate for storing on a tablet. The conversion process pushes all of the cores to the limit for a prolonged period — anywhere from half an hour to 90 minutes. This is a measurement of how well the laptop can perform under prolonged thermal load.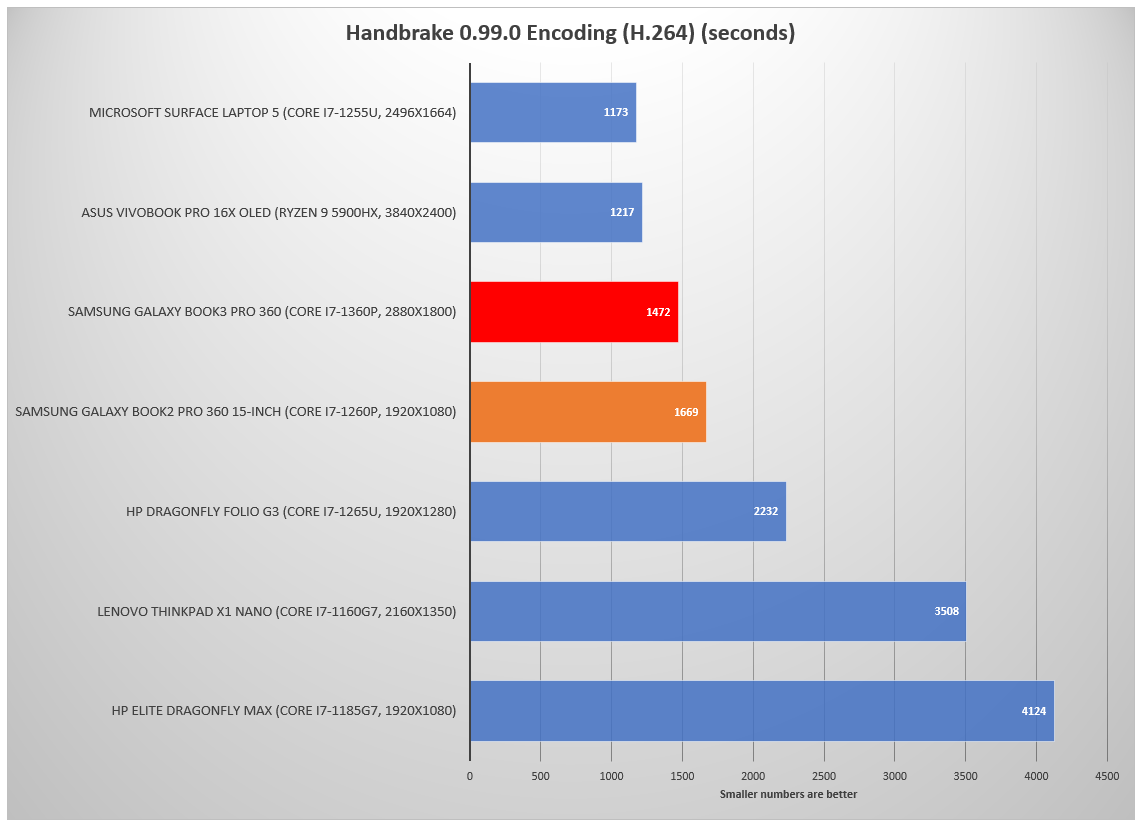 Mark Hachman / IDG
We also tested prolonged performance using Cinebench R23's thermal stress test and 3DMark's looped Time Spy benchmark, separately benchmarked just below. Here, there was a 7.5 percent drop in CPU performance over the life of the Cinebench benchmark, which ran for several minutes. In prolonged 3D performance, the laptop fared better. It wasn't able to hold its framerate over repeated loops of the benchmark, but did so 95 percent of the time. (In this, 96 percent is considered a passing grade.) Put simply, strenuous workloads that turn on the laptop's fan will slightly diminish in performance if run for long periods.
Our final performance benchmark is the 3DMark Time Spy benchmark, which is probably less significant given that this laptop isn't designed for gaming. Still, as our recent tests showed, even integrated GPUs can deliver low-end "gaming-class" performance.
Mark Hachman / IDG
We measure battery life by looping a 4K video over and over until the laptop shuts down for want of power. Video playback may not be the only way to measure battery life, but it mimics a common scenario such as bringing a store of downloaded movies from Netflix or other services on to your laptop for a long airplane flight.
This is a real strength of the Book3 360 Pro, though not quite as strong as its predecessor. (That may be because of the increased display resolution—lighting more pixels takes more power.) Still, 812 minutes is just over 13.5 hours of battery life, on average, which is excellent.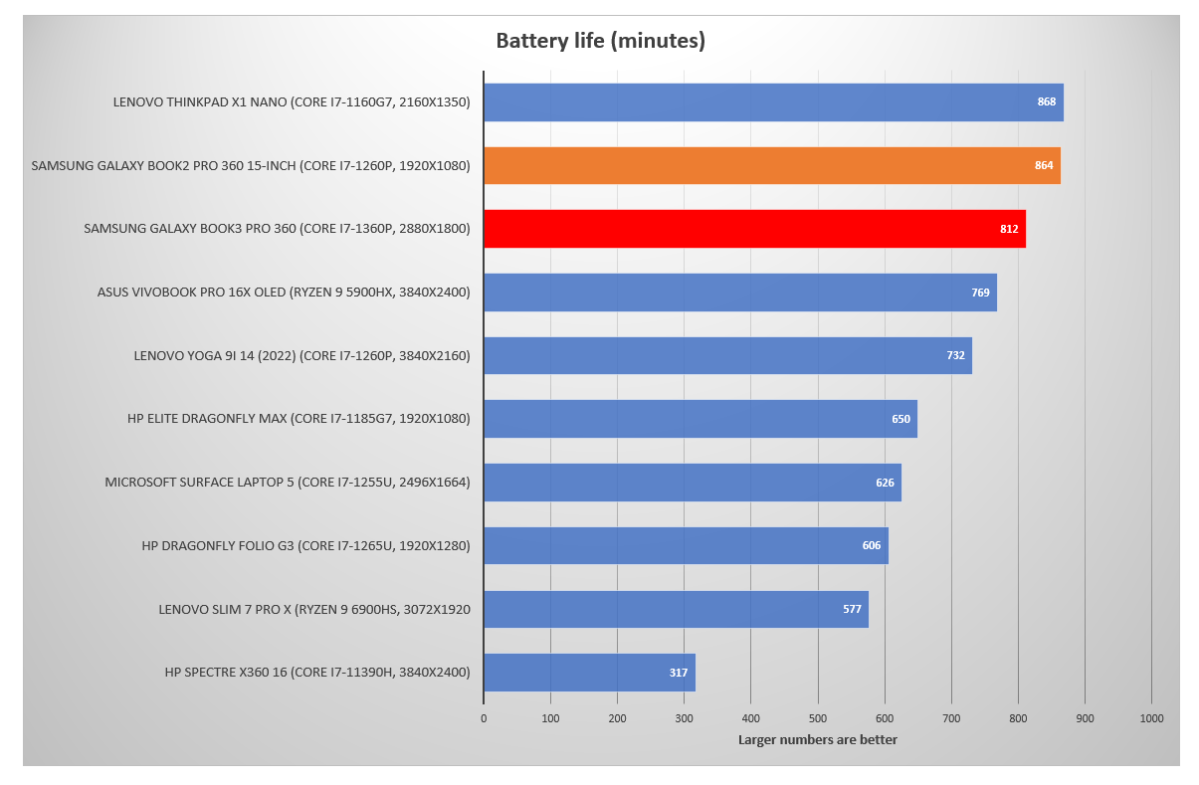 Mark Hachman / IDG
Samsung Galaxy Book3 Pro 360: So much to offer
We see a lot of laptops which easily push north of $2,000 just by banking on a few new features. Here, Samsung's Galaxy Book3 Pro 360 justifies its value with many more, on top of a somewhat reasonable price tag. For what you're paying, the Book3 Pro 360 offers substantial upgrades over the Book2 Pro 360 as well as some best-of-class features, period.
Even if you aren't as in love with OLEDs as we are, the higher resolution OLED and refresh rate certainly help sell this laptop. Inking, the convertible form factor, its solid audio and webcam experience, and its presence as a 13th-gen Core Evo laptop do too. Buying a Samsung laptop to accompany a Samsung Galaxy phone is an ultimately less compelling need.
We do think that the Book3 series offers something unique that maybe only the Asus Vivobook and Zenbook series seem to be consciously addressing: laptops focused on showing off content first and foremost. (Consider the Vivobook Pro 16 OLED as an alternative until we manage to test the latest offerings.) For all it brings to the table, Samsung's Galaxy Book3 Pro 360 earns one of our first Editor's Choice awards of 2023.
Correction: The Samsung Galaxy Book3 Pro runs Windows 11 Pro, not Home.
Best Prices Today: Samsung Galaxy Book3 Pro 360