At a glance
Expert's Rating
Pros
Versatile, useful stands
Good connectivity, cables included
Numerous image quality customization options
Top-tier image quality even at default settings
Cons
Speakers are included, but weak
Pricey for a portable monitor
No HDR
Our Verdict
Viewsonic's VP16-OLED has a predictably excellent OLED panel, but a versatile stand and great connectivity features are what set it apart from the pack.
Price When Reviewed
$399.99
Best Prices Today: Viewsonic ColorPro VP16-OLED
Portable monitors are a popular option for travelers and anyone with limited desk space. However, most portable monitors suffer with a simple kickstand that offers limited adjustment. Viewsonic's VP16-OLED improves on this with a more versatile stand that can sit on a desk or rise above it. The monitor's top-notch OLED panel is icing on this ergonomic cake.
Note: See our roundup of the best monitors for information on competing products, what to look for in a monitor, and buying recommendations.
Viewsonic ColorPro VP16-OLED: The specs
The Viewsonic ColorPro VP16-OLED may seem expensive at a glance. Priced at $399.99 MSRP, and currently retailing for that online, this monitor is much more expensive than the $150 portable monitors popular on Amazon.com. It's also priced above budget OLED monitors, such as the INNOCN 15.6-inch OLED portable monitor.
Display size: 15.6-inch
Native resolution: 1,920 x 1,080
Panel type: OLED
Refresh rate: 60Hz
Adaptive-sync: None
HDR: None
Ports: Micro-HDMI 1.4, 2x USB-C with DisplayPort Alternate Mode, 3.5mm audio out
Stand adjustment: Height, tent, flat
VESA mount: None (tripod mount available)
Speakers: Yes
Price: $399.99 MSRP
However, the Viewsonic is competitive with the Asus Zenscreen MQ16AH, a very similar monitor also priced at $399.99. The Viewsonic and Asus monitors go toe-to-toe in most metrics, including resolution and refresh rate, but Viewsonic offers practical features that will appeal to professional users.
Viewsonic ColorPro VP16-OLED: Design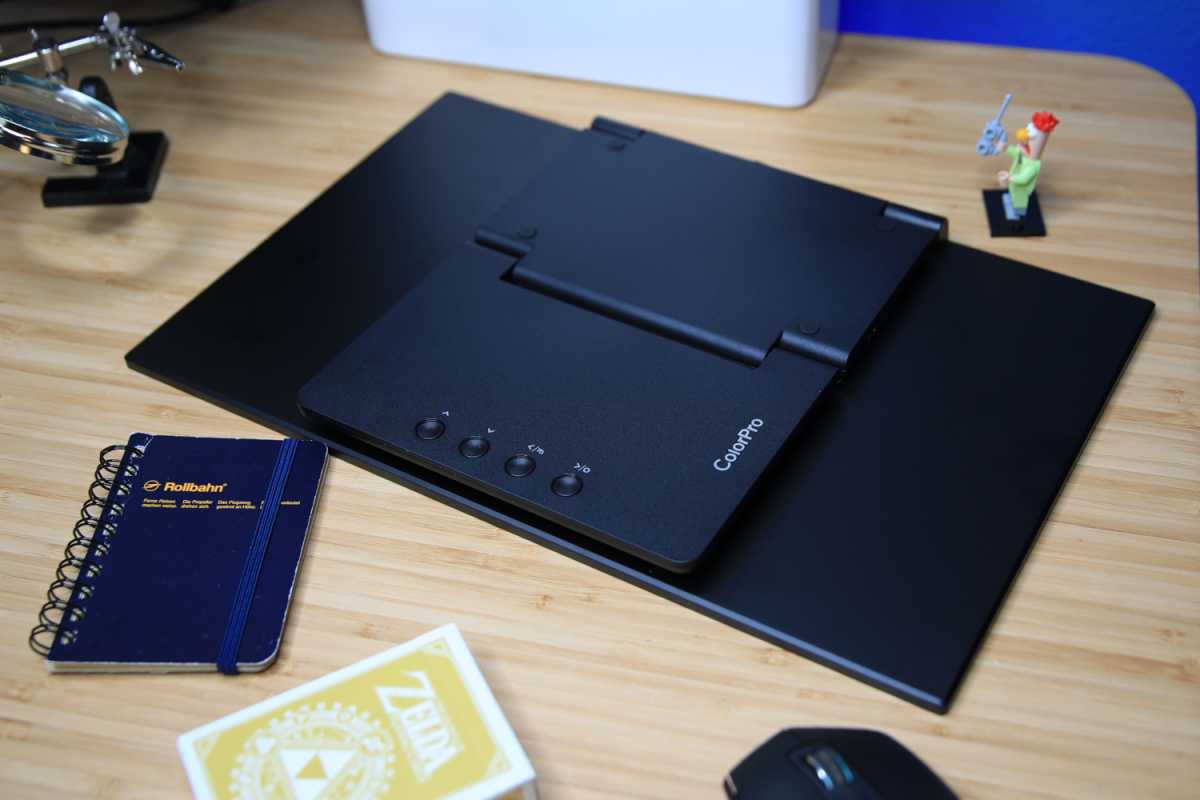 Matt Smith
Viewsonic opts for a simple, professional look for the ColorPro VP16-OLED. It has a notable lip around the display, which can help provide some protection, and rigid bezels that don't opt for an edge-to-edge glass look. That said, Viewsonic includes a note that the OLED panel is fragile. It should be handled with care and protected by a sturdy case when traveling.
The VP16-OLED has a built-in stand that folds behind the display. It can function as a kickstand or expand into a base that holds the monitor four inches above your desk. This is a major advantage over portable monitors with a basic kickstand. The VP16-OLED is more ergonomic and takes up less desk space, as the base of the stand is much smaller than the width of the monitor.
The versatile stand does come with a trade-off in heft. The monitor's combined weight of 4.8 pounds is on the heavy side for a portable monitor: most weigh less than three pounds, and some are less than two pounds.
You won't find a VESA mount for using third-party VESA stands (the same is true of most portable monitors), but the VP16-OLED does offer a tripod mount tucked away on the stand's rear. The monitor also ships with a hood that can be used to reduce glare from the display's glossy panel.
Viewsonic ColorPro VP16-OLED: Features and menus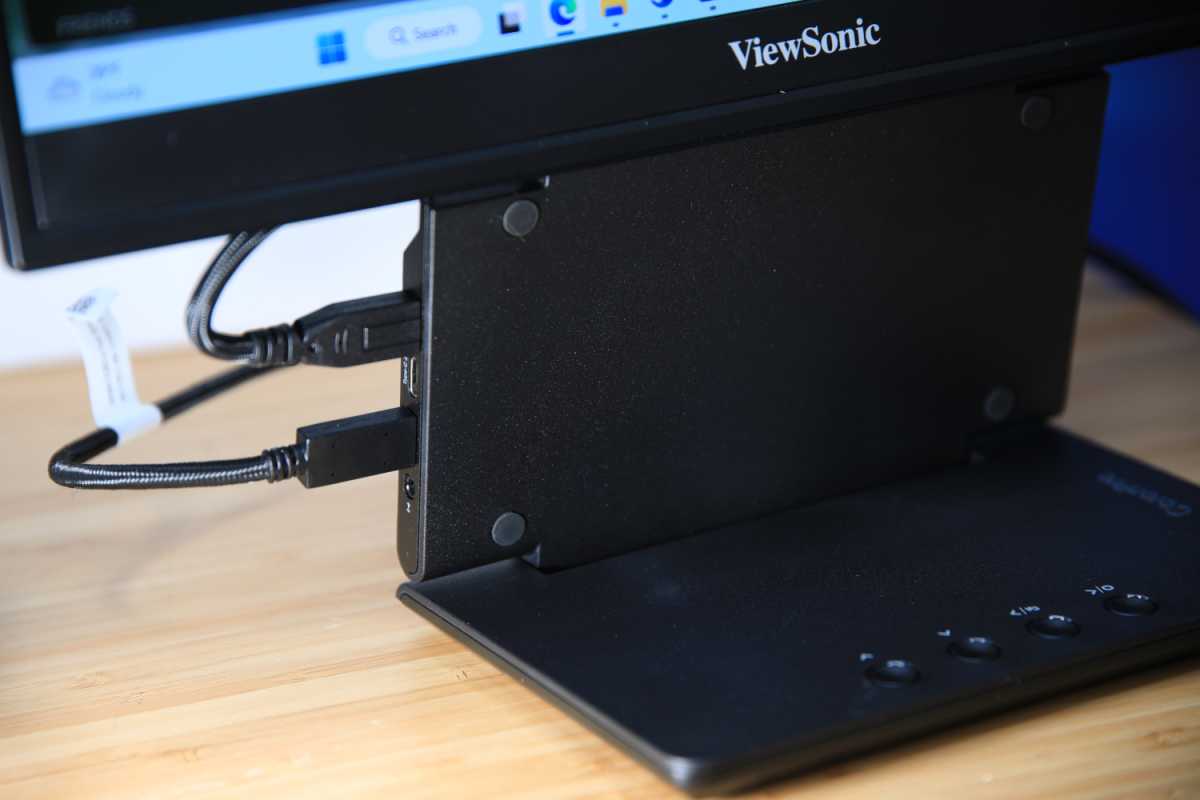 Matt Smith
The VP16-OLED's stand also houses its ports, providing another advantage over the more typical kickstand approach. Ports are easier to find and connect to, as they can be reached without moving the entire display.
Connectivity includes two USB-C ports, each of which support DisplayPort Alternate Mode and up to 40 watts of power delivery. The monitor has a maximum power consumption of 15 watts, so most USB-C power sources will be adequate.
The monitor also offers a Micro-HDMI 1.4 port and a 3.5mm audio-out jack. Remember that the Micro-HDMI 1.4 port doesn't deliver power, so an additional USB-C power source is required when using that video input.
Viewsonic ships the monitor with a USB-C power brick and three cables: USB-C to USB-C, USB-A to USB-C, and HDMI to Micro-HDMI 1.4. Everything needed to use the monitor is in the box.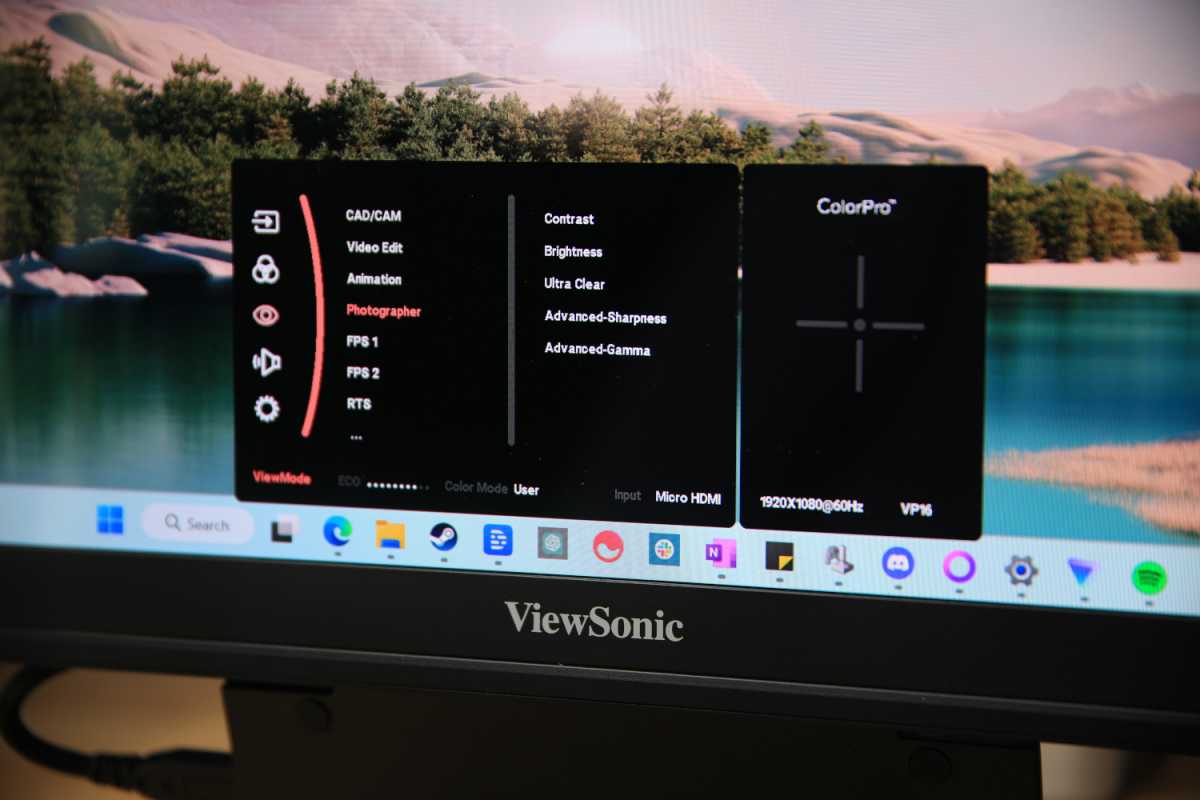 Matt Smith
On-screen menu controls are included on the stand. They work well enough, though I found the menu a bit awkward to navigate due to how the arrow buttons are arranged. The monitor includes DCI-P3, sRGB, REC709, DICOM-SIM presets. Deeper in the menus lurks additional controls for gamma and color temperature adjustments. These are handled per-preset, so it's easy to customize different presets to meet your preferences or needs.
The monitor has speakers. They're weak in volume but clear enough to be useful for a quick check of audio levels when editing video or audio content. Podcasts and YouTube videos sound fine, too.
Viewsonic ColorPro VP16-OLED: SDR image quality
Most portable monitors can get away with image quality good enough for Word documents and web browsing, but the price and target audience of the ColorPro VP16-OLED holds it to a higher standard—one it's able to meet and exceed.
But first, a quick note about the results: PC World hasn't conducted a complete review for a portable monitor recently. The monitors used for comparison below are not direct competitors to the VP16-OLED, but do represent a range of panel technology which may be found in competing monitors.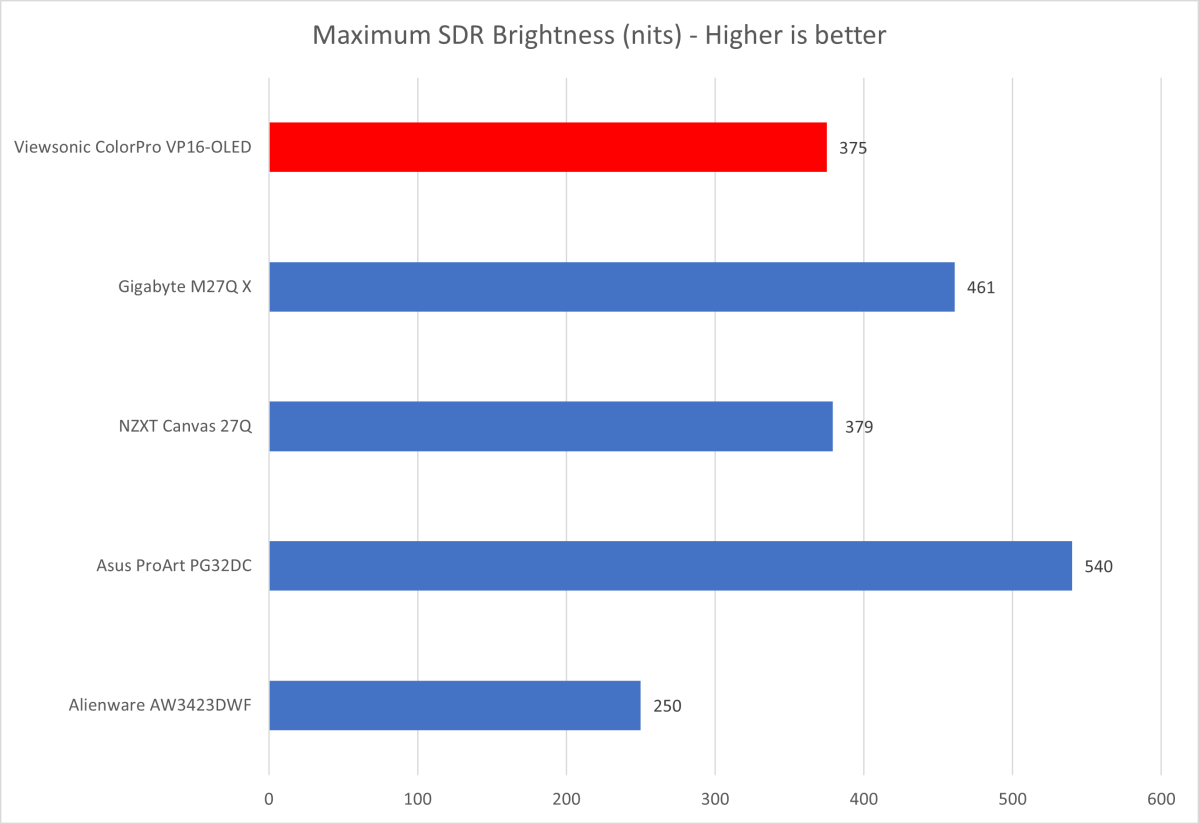 Matt Smith
mentioned in this article
Asus ProArt OLED PA32DC
Price When Reviewed:
3,499
The Viewsonic VP16-OLED gets off to a strong start in brightness, delivering up to 375 nits. That's great for a standalone OLED monitor, easily beating the Alienware AW3423DWF's QD-OLED panel and ranking alongside conventional IPS displays such as the Gigabyte M27Q X and NZXT Canvas 27Q. The Asus ProArt PG32DC, a high-end OLED monitor that retails for $3,499, takes the win with 540 nits.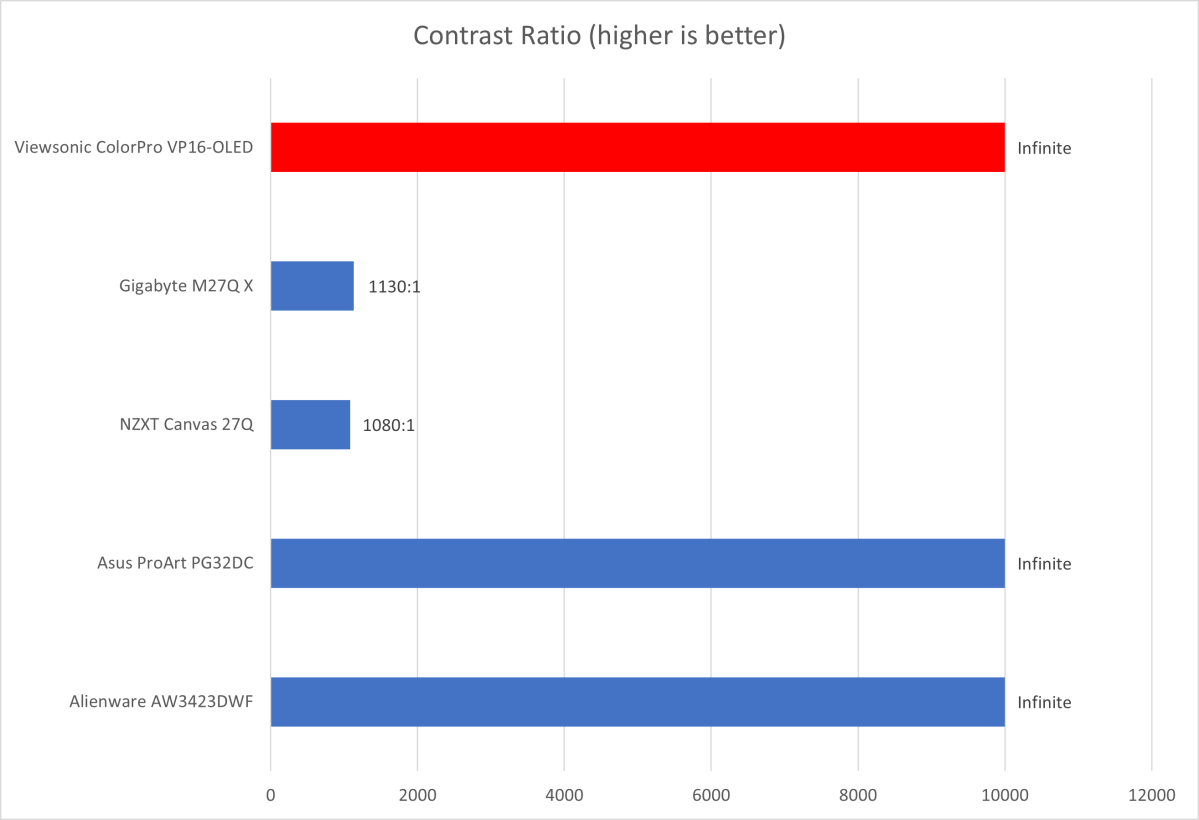 Matt Smith
Unsurprisingly, the VP16-OLED has an excellent contrast ratio that exceeds the sensitivity of the colorimeter we use for testing. While there are technical differences in contrast among OLED monitors, they are exceptionally difficult to notice.
You will notice the VP16-OLED's huge advantage over an IPS display such as the Gigabyte and NZXT monitors. OLED appears darker and richer in dim scenes, yet has more depth in bright content. It's a recipe for excellent results in games, movies, and professional apps.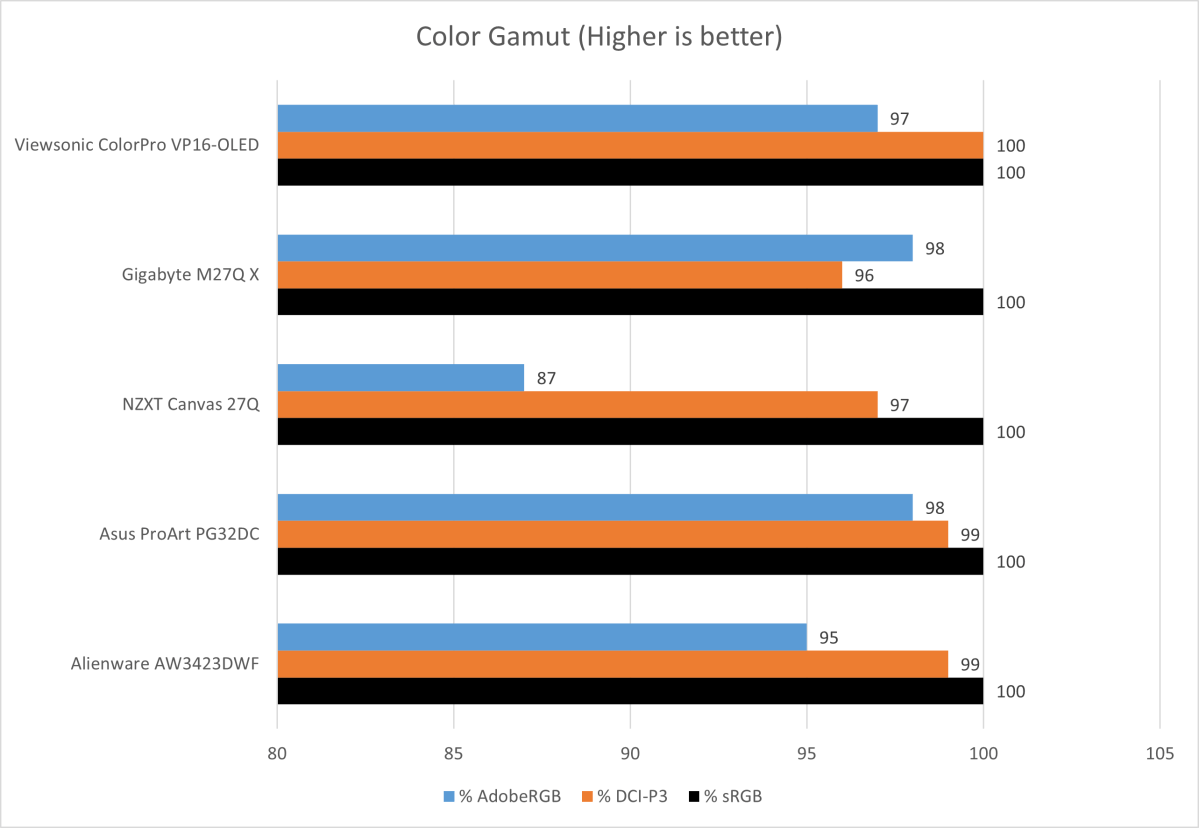 Matt Smith
The VP16-OLED goes above and beyond in its color gamut, which spans the entire sRGB and DCI-P3 color spaces, and 97 percent of AdobeRGB. This defeats both the Alienware AW3423DWF, which has a QD-OLED panel from Samsung, and the Gigabyte M27Q X, which has an IPS display with Quantum Dots.
A color gamut this wide is suitable for just about anything you'd throw at it including photo and video editing, digital art, and animation. And, as mentioned, the monitor includes several preset modes that more precisely restrain the color gamut to meet particular standards. These are handy if you want to work within a smaller color space, such as sRGB, and ensure that colors appear accurate.
Matt Smith
Speaking of accuracy, the VP16-OLED does well enough, though this is one area where it falls short of the competitive set at its default settings. Other portable monitors may deliver better results out of the box. To be fair, though, this level of color accuracy is enough to provide a realistic, lifelike image.
The VP16-OLED's default settings offer a color temperature of 6200K, a bit warmer than the target of 6500K. This means the image looks rather red and rosy. The default gamma came in at 2.3, a bit above the target of 2.2, which means content may seem a bit darker than it should.
However, the monitor's menus offer an impressive range of gamma and color temperature modes that, in my testing, were accurate to their targets. That means you can adjust the image to any color temperature or gamma settings you work requires, or that your eyes prefer.
Sharpness is excellent. The monitor's 1080p resolution may not seem high on paper, but it works out to a pixel density of 141 pixels per inch. That falls between the pixel density of a 27-inch 1440p monitor and a 27-inch 4K monitor. Content looks crisp and small fonts appear smooth.
The Viewsonic ColorPro VP16-OLED's overall image quality is superb. It scores extremely well by most metrics. Color gamut is its strongest trait, delivering results that are difficult to find in any monitor. The VP16-OLED's vivid, punchy presentation will please prosumers, and its color performance and numerous image quality options will meet the standards of content creators.
Viewsonic ColorPro VP16-OLED: HDR image quality
Viewsonic doesn't offer HDR support with the ColorPro VP16-OLED. This may come as a shock given that many less expensive portable monitors claim HDR support. However, the HDR performance of most monitors in this category is lackluster, so its absence is less surprising than it may seem.
Still, some professional users will be disappointed by this omission. Those who want HDR should look towards the Asus Zenscreen MQ16AH, another portable OLED monitor sold at the same $399.99 MSRP.
Viewsonic ColorPro VP16-OLED: Motion performance
The Viewsonic ColorPro VP16-OLED doesn't offer features that enhance its motion performance. It has a 60Hz refresh rate and lacks Adaptive Sync.
OLED does offer some advantage in motion clarity though, thanks to the excellent pixel response times. The ColorPro VP16-OLED quotes a gray-to-gray response time of one millisecond, which is similar to many monitors marketed to gamers. This helps reduce motion blur. Motion clarity is worse than a 120Hz or 144Hz monitor, but it's superior to most (if not all) 60Hz IPS monitors.
Should you buy a Viewsonic ColorPro VP16-OLED?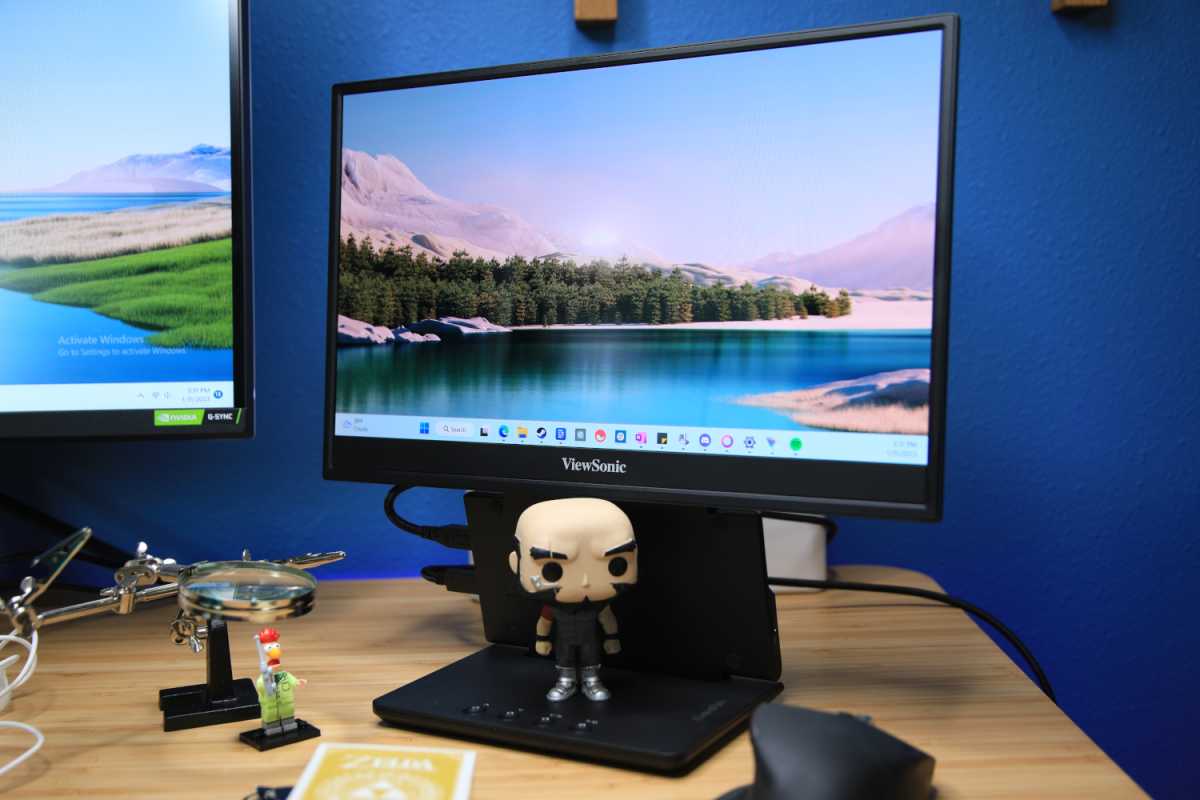 Matt Smith
Viewsonic's ColorPro VP16-OLED is a great portable monitor. It delivers stunning image quality with solid brightness, superb contrast, and an extremely wide color gamut. What really sets the VP16-OLED apart, though, are the extras. The monitor has a versatile stand, a hood that can be used to reduce screen glare, and a tripod mount for use on-the-go. It also ships with all the cables and power adapters needed to use the display with any USB-C, USB-A, or HDMI output.
The ColorPro VP16-OLED is a bit pricey at $399.99, but no more so than other portable OLED monitors, and its many perks make it easy to recommend.
Best Prices Today: Viewsonic ColorPro VP16-OLED