As fun as building your own PC can be, it's not always the right call. A pre-built can end up the more fitting choice—as my colleague Ashley Biancuzzo rightly pointed out. Pre-built computers have their advantages too. You don't have to devote as many hours to their purchase nor maintenance, for starters. Sometimes they win on price as well.
So how do you know if rolling your own PC is right for you? With no universally correct answer, you'll have to ask yourself the following five questions…and then decide the order of priority for your responses. For example, even if the scales tip in favor of a pre-built, a single "yes" for the DIY camp could trump all.
What's your budget?
Building your own PC can be cheaper than pre-builts, but DIY isn't a guarantee of savings. Depending on how much you have to spend and your desired specs, a pre-built computer sometimes wins the financial battle.
For example, take a basic productivity PC—a machine you'll only use for browsing the web, document editing, simple photo editing, and other lightweight tasks. You might think that assembling such a modest PC would cost less than an equivalent pre-built, but the opposite is true. In this scenario, the pre-built will often undercut the DIY alternative on price.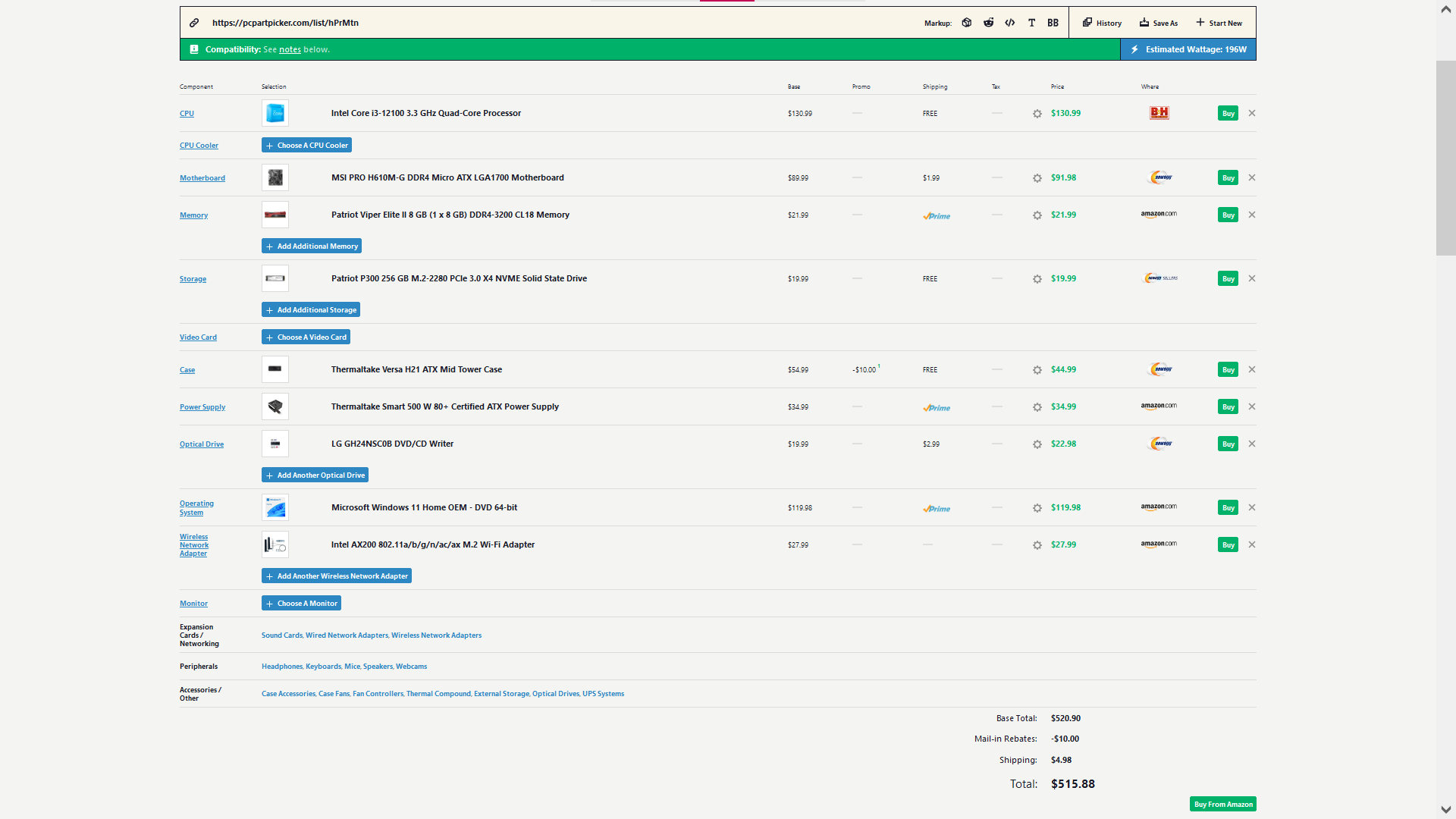 On the flip side, the more generous your budget, the greater your opportunities for shopping smart (especially if you can buy parts on a slower schedule). Websites like PCPartPicker will help with forming your components list and comparison shopping, and retailers like Newegg, Amazon, B&H, and Best Buy often discount parts. With smart shopping, you can end up shaving hundreds off the most expensive PC builds.
As for mid-range DIY projects (say, $800 to $1,200), whether you'll come in under or over a similar pre-built PC can be a toss-up. It's the range most affected by market conditions, since you have less cushion for cost-cutting while targeting parts above budget range. Generally, you can save a hundred bucks or more if you shop smart (particularly if you play your cards right during big sale periods), but fairly priced pre-builts are pretty competitive.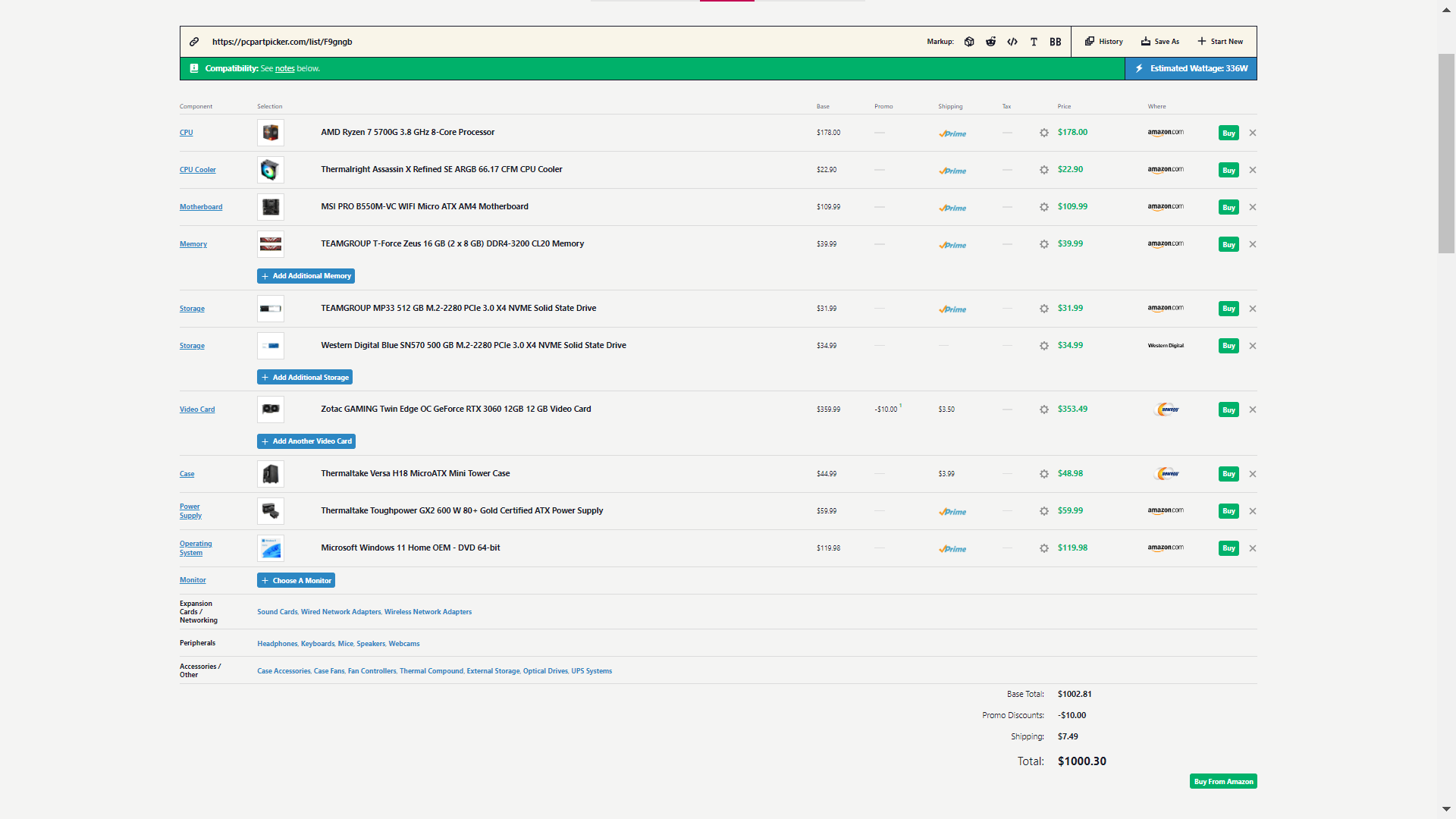 The outcome for your particular scenario will entirely depend on when you choose to build. Right now at the start of 2023, things are more normal again—at least, relative to the painful experience of 2020, 2021, and much of 2022. But only time will tell if this fragile calm will last, what with CPU price increases, fierce but fragile competition between AMD, Intel, and Nvidia, and a continuing lack of budget-friendly parts.
What's your plan for upgrades?
HP
With a DIY PC, you have complete freedom to replace anything and everything. You can also build in leeway for future changes—like buying a higher-wattage power supply in anticipation of later upgrades to more powerful (and power-hungry) parts.
In contrast, if you buy a pre-built PC from a big vendor like Dell, HP, or Lenovo, you often can't swap out its components. Occasionally you'll run into specific models compatible with off-the-shelf parts, but proprietary parts are generally the norm. And so with this kind of pre-built, you're more stuck with what you buy; you have to content yourself with small upgrades like adding more memory, replacing your boot drive, and maybe installing an extra storage drive. In gaming PCs, you can also exchange the graphics card for a newer model, but the power supply's specs will limit your options.
The middle-ground option is one many PC buyers aren't aware of—pre-built PCs from system integrators like CyberPowerPC and iBuyPower, or PC component vendors like NZXT. Computers purchased from these kinds of companies use off-the-shelf parts compatible with DIY upgrades down the road. The main drawback here is that available configurations are more limited than DIY building—especially if cost is a factor.
How much time do you have?
PCWorld
DIY can save you cash, but you'll pay the difference with your time. Expect to invest extra hours into researching and planning your list of components—not just specs, but component compatibility and what will set you up best for any planned future upgrades. Also account for looking up known quirks or issues for parts you're considering if you're a diligent researcher, as well as advice on how to build a PC if you're a first-timer or returning after a long hiatus.
Then there's the build itself, which can be fun but still eats into your schedule. For every person in YouTube comments boasting they assembled their PC in 15 minutes, most people treat a PC build more like gardening—you don't aim to finish as fast as possible, but instead enjoy the process as you get everything just right. On average, a simple build with just a few non-RGB fans takes between 45 to 90 minutes with no interruptions and no mistakes. Seasoned builders will fall on the faster side of that range, while newer folks and those meticulous about cable management will be on the slower side. (If you take longer, don't sweat it; PC building can feel meditative. Enjoy it.)
You'll also spend more time on maintenance as well. Pre-builts often come with software that handles driver and other updates, but not so with a DIY build. Keeping on top of all those issues is your job alone. Also, if a part starts acting funny or needs replacement, you must deal with each retailer or manufacturer separately—there's no all-in-one customer support line to contact. Basically, if you build it yourself, you're also your own IT department. Which brings us to…
What's your tolerance for troubleshooting?
PCWorld
Assembling your own PC can be a source of pride and entertainment. It can also be a royal pain in the rear when the computer doesn't behave—whether that's at first boot or months into use. You can't call a tech support line for help; Google and Reddit are all you got for insight into what's gone wrong. And sometimes that advice doesn't always pan out, even after trying multiple fixes.
You can spend anywhere from minutes to hours (or even days, sigh) trying to resolve an issue. Sometimes the process is satisfying and teaches you a lot. Other times you'll want to bash your head against a wall because the problem won't respond to anything you throw at it.
If you can't stomach the ups and downs of servicing your own PC, a pre-built will be more compatible with your lifestyle—you can pawn off the thinking part of troubleshooting on to the company that sold you the machine. Or at least a lot of it.
How good is your organization?
Willis Lai / Foundry
PC building is a heck of a lot easier when you buy tools suited for the job. You'll also need to store the accessories that come with your components, like the CPU socket cover for LGA processors, spare SATA cables, extra screws, modular power supply cables you're not using, thermal paste, cooler brackets, and the like.
You should have a good place to these bits and bobbles after the initial build, since you'll need them again for maintenance or troubleshooting—and a good system for remembering what piece goes with which part. Sure, you can toss them all into a single bag and then shove that into the back of a drawer, but trust me, that strategy is a headache in the making.
If you lose things easily, having to catalog (and remember) these important leftovers could beyond your tolerance levels for such things. You can't always assume you'll be able to freely find and swap in replacements, either—for example, modular power supplies aren't interchangeable between different models, not just manufacturers. Plug in a different set and you could fry a key component in your PC. And that CPU socket cover? If you need it, that means your motherboard is unresponsive. Having to delay to find a replacement is going to keep your computer out of commission even longer.
Overall, staying organized isn't hard—it's just more work. But a specific, more tedious form that can feel like physical pain for some of us. (Don't ask me why I still like to build PCs.)
We can help
Now that you know the pros and cons of DIY and prebuilts, hopefully you feel better equipped to invest in a new PC. No matter which route you prefer, PCWorld can help. We maintain an updated list of the best desktop computer deals available, so you don't spend more than you need to, while our roundups of the best CPUs, graphics cards, SSDs, monitors, and other hardware can point you towards the DIY components that are worth your money if you decide to roll your own. Happy computing!