While Valve's awesome $399 Steam Deck is a capable enough gaming system out of the box, some of its best features are easy to miss.
If you know where to look, you can customize the Steam Deck to your liking, minimize annoyances, and even expand your game catalog well beyond the built-in Steam storefront.
Here, then, is a lengthy list of tips and tricks for the Steam Deck, loosely arranged from simple to more advanced:
Know your quick commands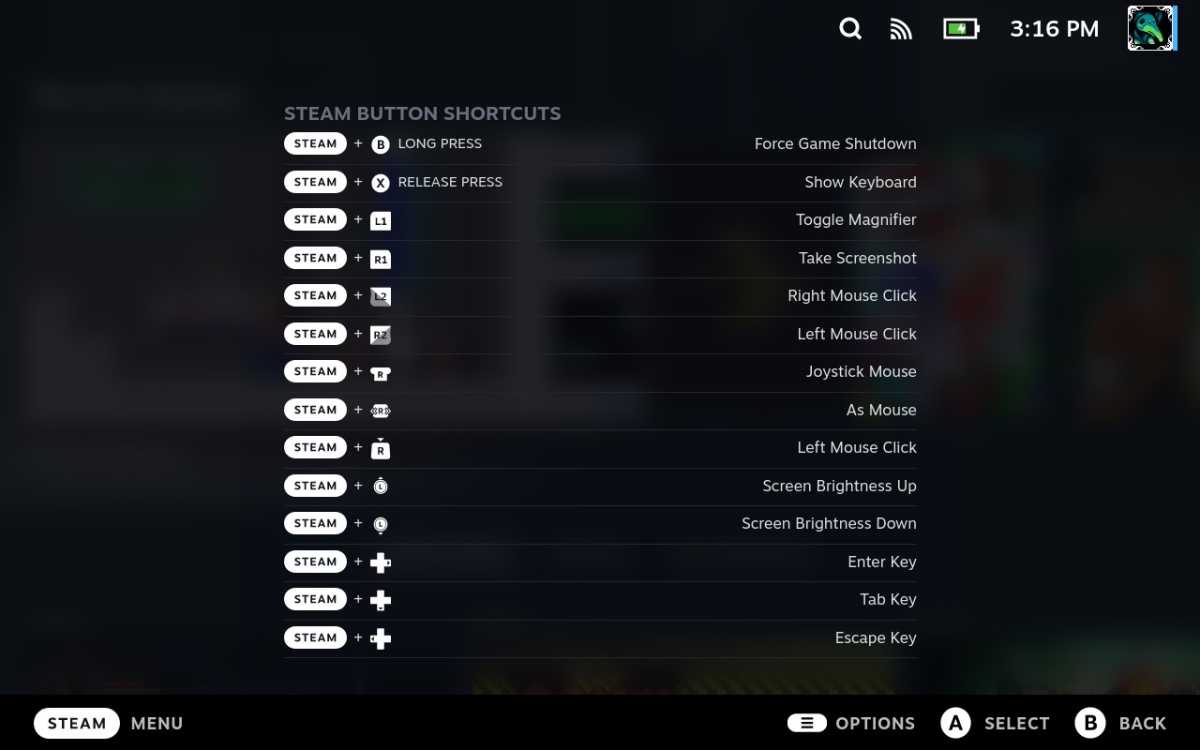 Jared Newman / Foundry
Long-press the Steam button, and you'll see a list of quick commands you can invoke from anywhere. A full list appears in the above screenshot, but here are a few that you should try committing to memory:
Adjust brightness: Steam + Left Stick Up/Down
Force game shutdown: Steam + Long-press B
Take a screenshot: Steam + R1
On-screen keyboard: Steam + X.
Temporary cursor: Steam + Right Stick or Trackpad. Use R2 to click.
Get game suggestions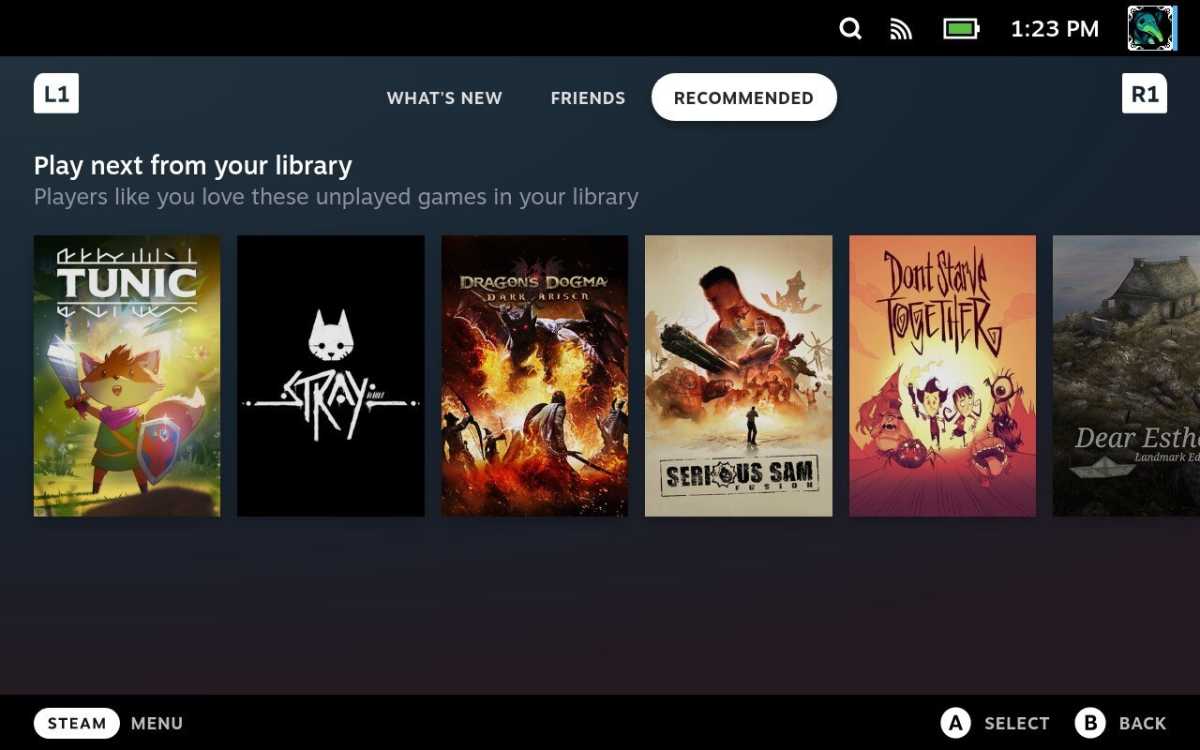 Jared Newman / Foundry
Not sure what to play on your Steam Deck? A couple suggestions:
From the home screen, scroll down, then over to the "Recommended" tab. Steam will helpfully suggest untouched games from your backlog.
Hit the Steam button and select "Library." The first tab ("Great on Deck") suggests games that are fully-optimized for the portable.
Try playing some of the smaller-scale, indie games you've been neglecting. Chances are they'll be easier to pick up and put down than, say, Elden Ring, and they may burn through less battery life as well.
Check your battery life
Jared Newman / Foundry
Tap the battery icon at the top of the screen to quickly bring up the Performance tab. You'll see a measure of projected battery life at the top.
Suspend and resume
With the Steam Deck, there's no need to quit your game between play sessions. Just press the power button, and the Deck will enter sleep mode. Press it again to quickly pick up where you left off, even a day or two later.
(It's still a good idea to save your game between sessions if possible, and of course putting the Steam Deck to sleep during multiplayer will probably get you booted.)
Don't miss Night mode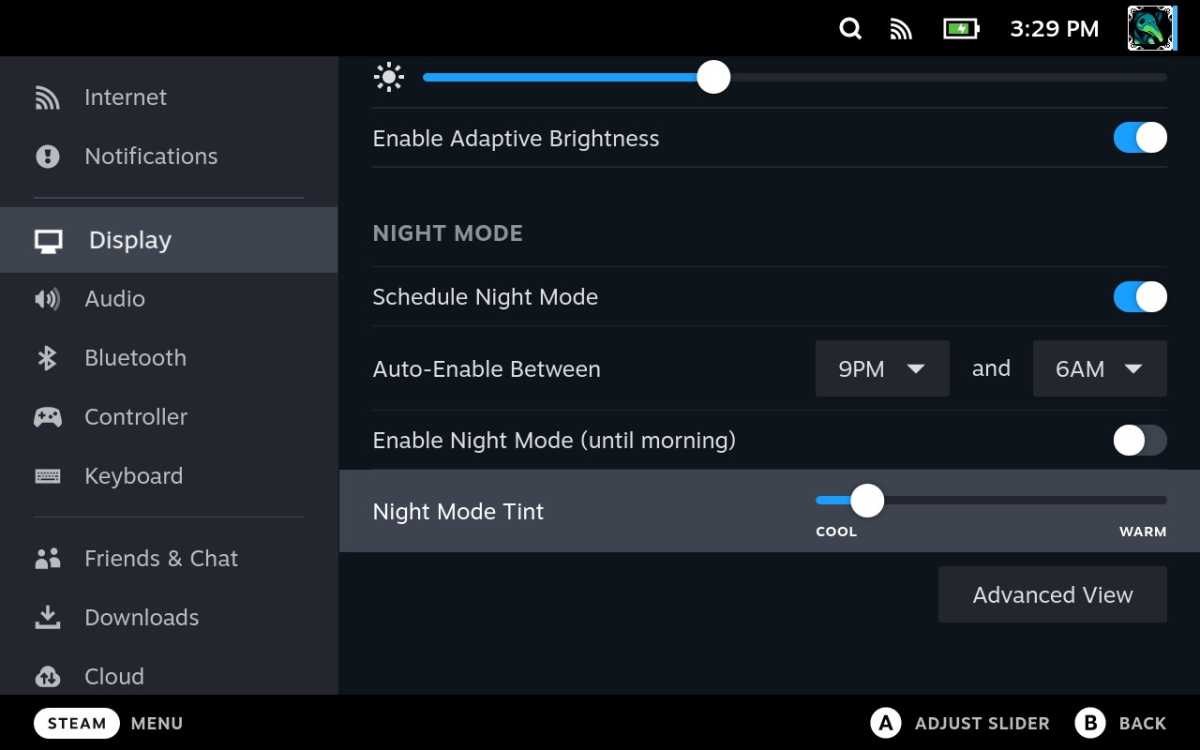 Jared Newman / Foundry
If you're gaming on the Steam Deck before bed, consider turning on Night mode to cut down on blue light from the screen:
In Quick Settings: Head to the ⚙ settings section and toggle Night mode under the "Other" heading.
In Settings: Look under the Display tab to schedule Night mode and adjust the tint level.
Minimize distractions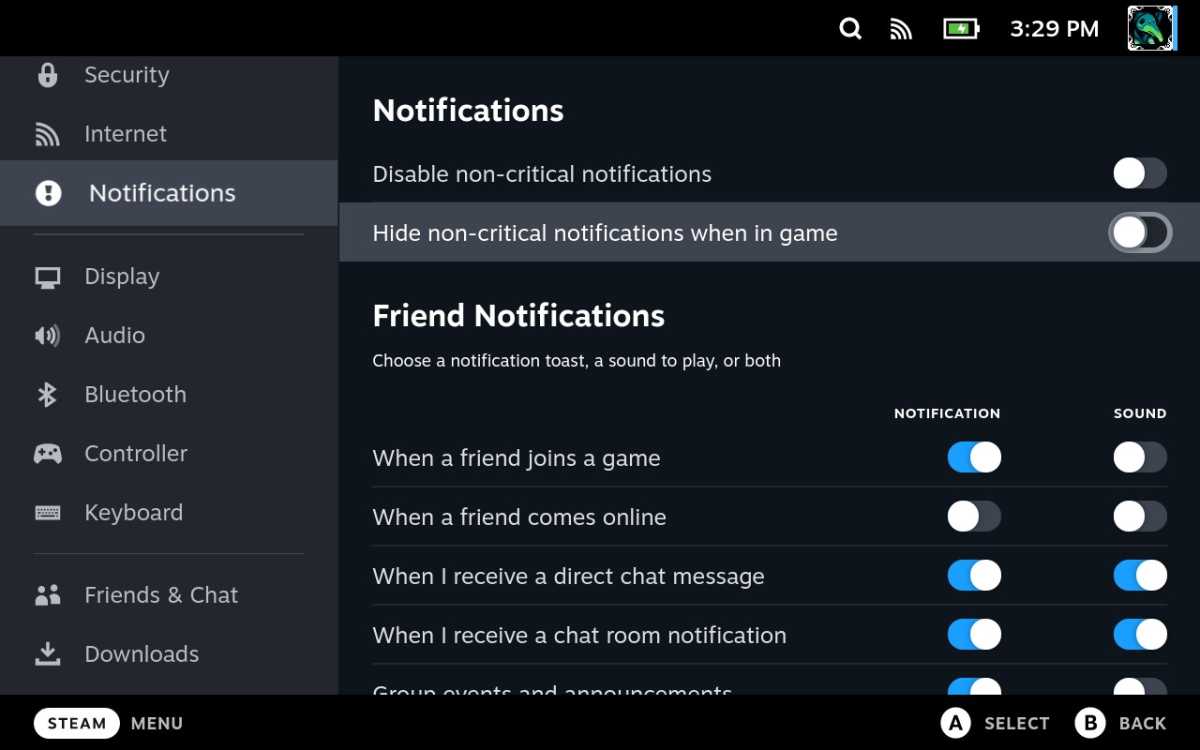 Jared Newman / Foundry
Getting notified about friend activity during a game is annoying enough on the desktop, but it's even worse on the Steam Deck, where screen real estate is limited. Turn off these alerts under Settings > Notifications.
Browse in-game guides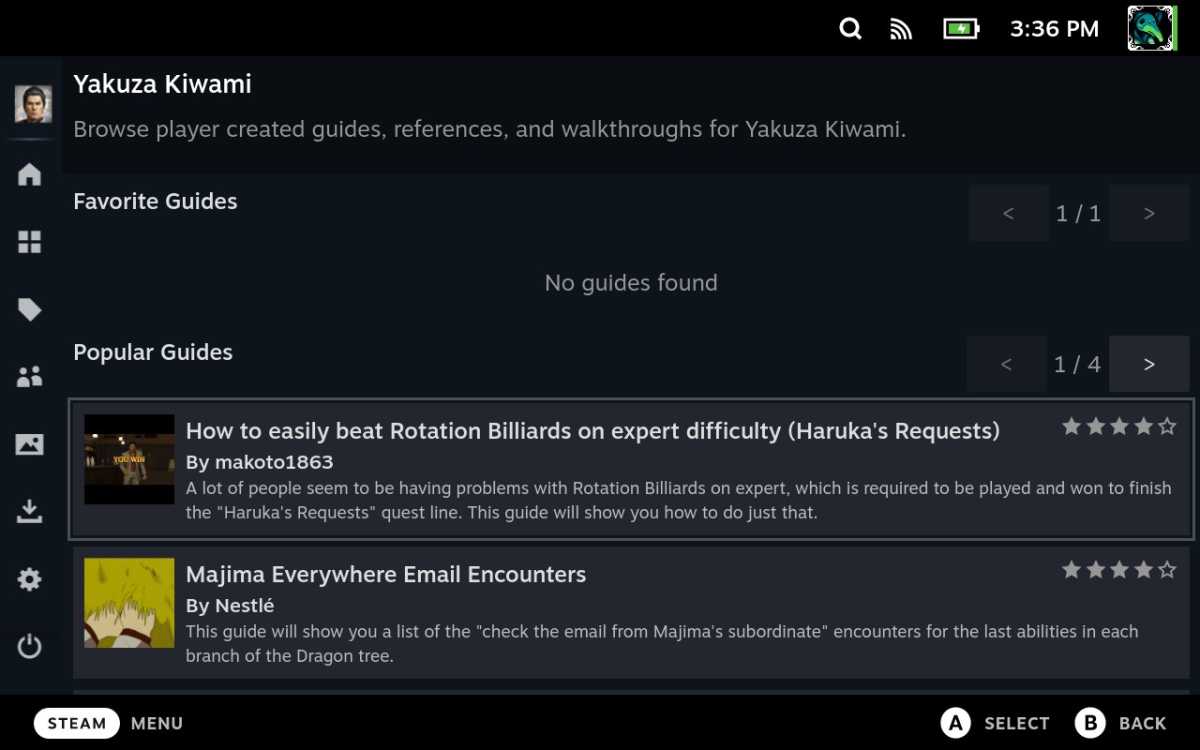 Jared Newman / Foundry
Need help with the game you're playing? Instead of reaching for your phone, hit the Steam button, then select "Guides" to bring up Steam's player-contributed tutorials. Use the arrow buttons at the top to scroll through each page. (Hey Valve, a search function would be nice.)
Tweak your performance profiles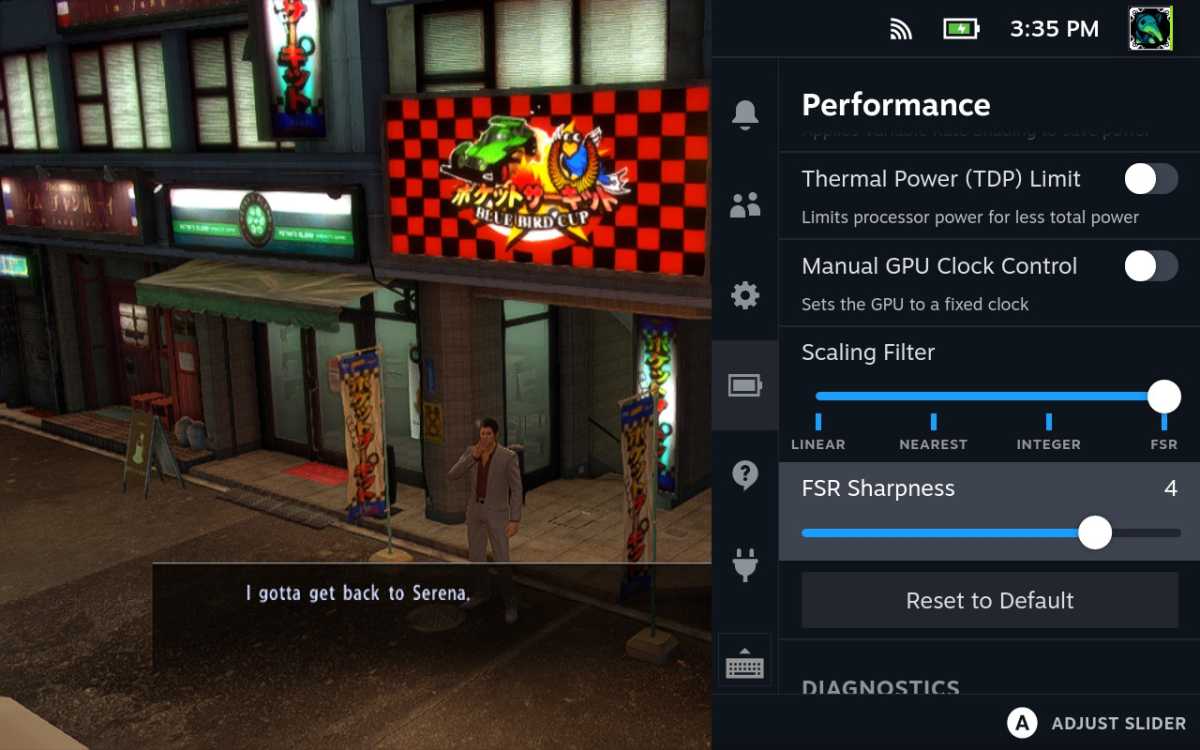 Jared Newman / Foundry
The Steam Deck's Performance menu has lots of tweakable knobs to fine-tune performance, visual fidelity, and battery life, separate from in-game settings. Access this menu by hitting the … button, then selecting the 🔋battery icon.
A few options to consider:
Enable "Use per-game profile" before making any changes here. That way you can adjust settings on a game-by-game basis instead of across the board.
To maximize the Steam Deck's battery life without major visual compromises, drop the Refresh Rate slider down to 40 Hz, which will also cap the framerate at 40 frames per second.
If you prefer smoother framerates over higher resolution, set the Scaling Filter to "FSR" and set FSR Sharpness to 4 or 5. Then, use in-game settings to choose a resolution lower than 1280×800, such as 1152×720 or 960×600. The FSR upscaling will restore some of the sharpness without affecting framerates.
Choose a default storage location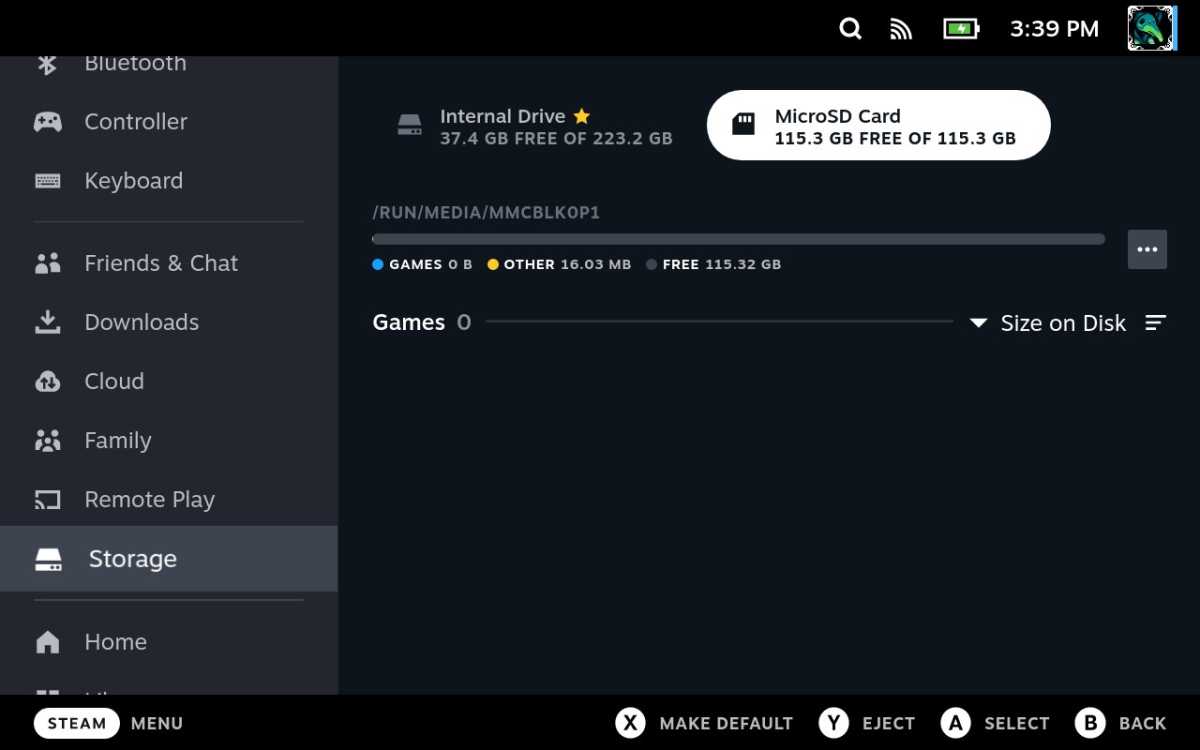 Jared Newman / Foundry
If you're expanding Steam Deck storage with a MicroSD card, set your default storage location under. Settings > Storage. Highlight either the internal drive or the MicroSD card, then press X.
You can also easily move games between storage devices from this same menu. Just highlight the game, then press Y.
Learn to touchpad type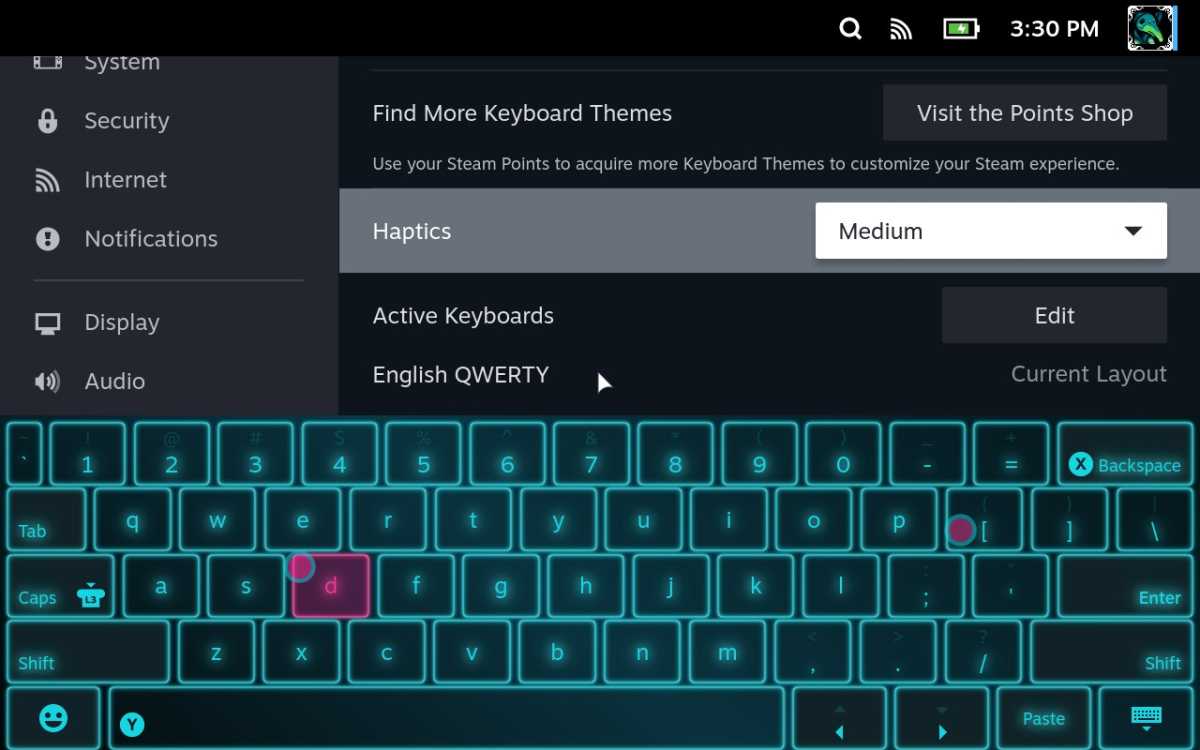 Jared Newman / Foundry
While using the Steam Deck's on-screen keyboard, put your thumbs on each trackpad and slide them around. You'll see a circular cursor for each thumb over the left- and right-hand sides of the keyboard, and you can either click the trackpads or use the triggers to type. There's a learning curve, but eventually it feels more convenient and accurate than using the touchscreen.
Change your keyboard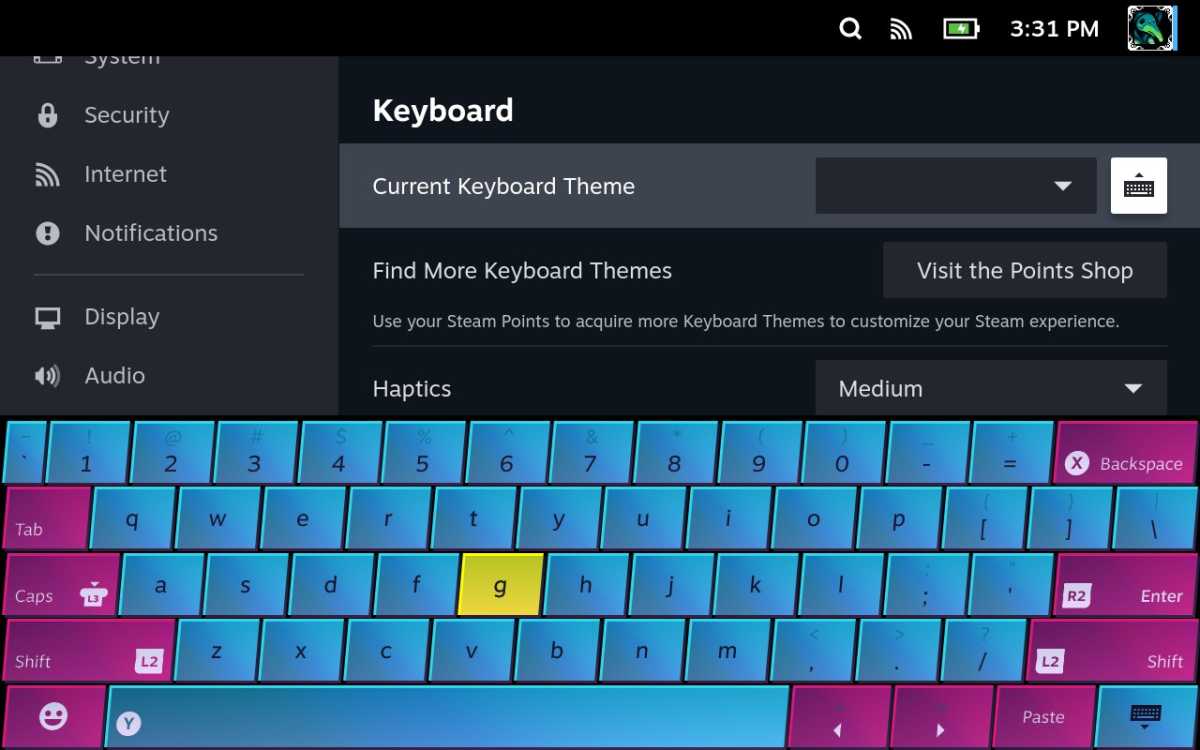 Jared Newman / Foundry
Head to Settings > Keyboard to choose between alternate styles for the on-screen keyboard. You can also visit the Points Shop to acquire additional styles at 5,000 points apiece.
Check Steam Deck compatibility
While Steam has an official "Deck Verified" program that checks for game compatibility, don't neglect ProtonDB either. This community-built site can provide additional insights for games that don't have an official stamp of approval, along with tweaks that might get them into a playable state.
Use the button remapper
Jared Newman / Foundry
If you have a lot of old PC games that weren't made with controllers in mind, the Steam Deck's button remapper is a killer feature. To use it, press the Steam button while playing a game, select "Controller Settings," then hit the "A" button.
The possibilities are too extensive to cover in a short blurb—seriously, you can even create your own radial weapon wheels—so we've created a separate guide using the remapper to its full potential.
Stream from your PC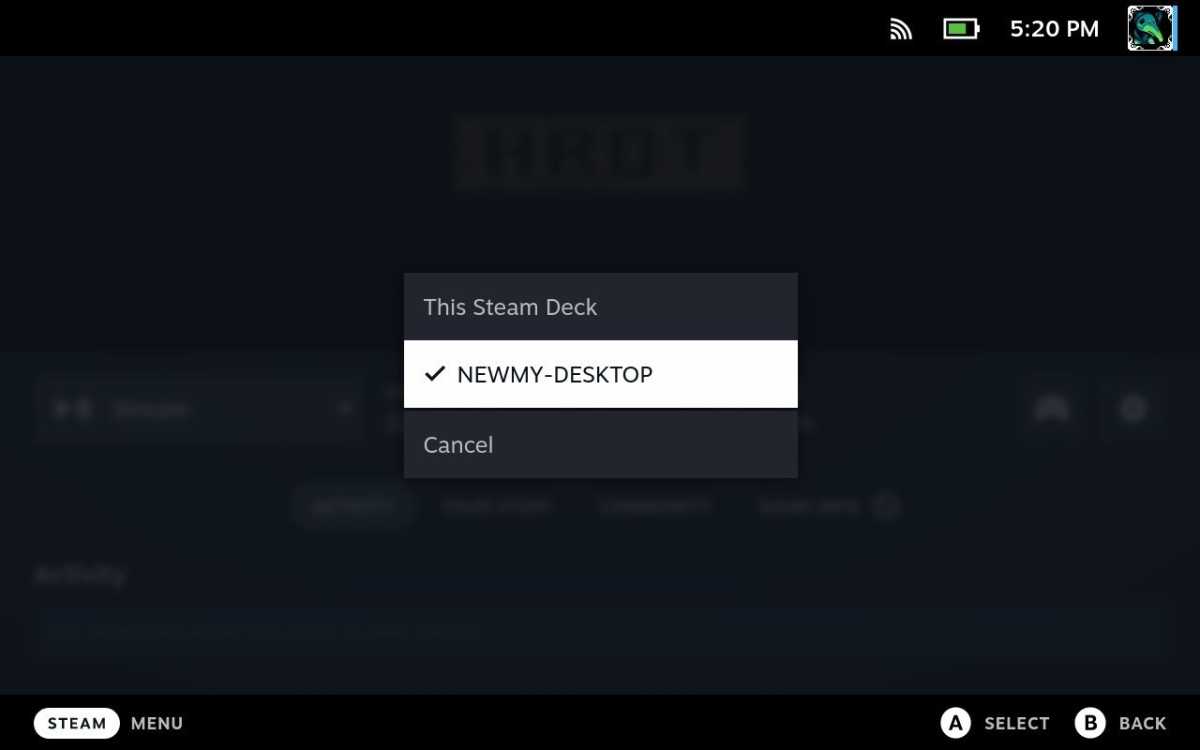 Jared Newman / Foundry
Don't scoff at the Steam Deck's Remote Play feature, which lets you stream games from your desktop computer. It can come in handy for several reasons:
You've got limited time or scarce storage space to download more games.
You want to conserve battery life while maximizing visual fidelity.
You want to play a game that doesn't natively support the Steam Deck yet.
To stream from your PC, hit down arrow next to the "Install" or "Play" button for any game, then select your computer from the list. Hit the "Stream" button to launch a remote play session.
Add a lock screen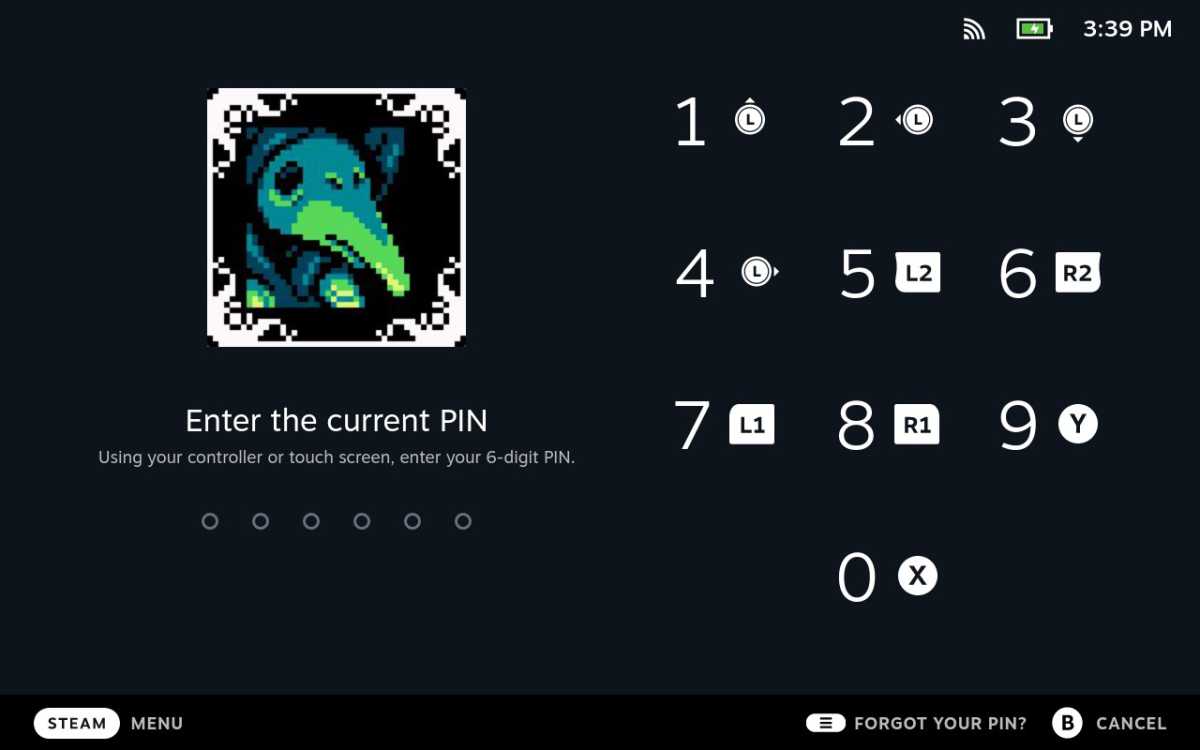 Jared Newman / Foundry
To enable a PIN on the Steam Deck, head to Settings > Security. You can add lock screen when waking up the console, or just when switching to desktop mode. The latter's especially important if you're logged into email or other sensitive accounts while using the Steam Deck desktop.
Enter Desktop mode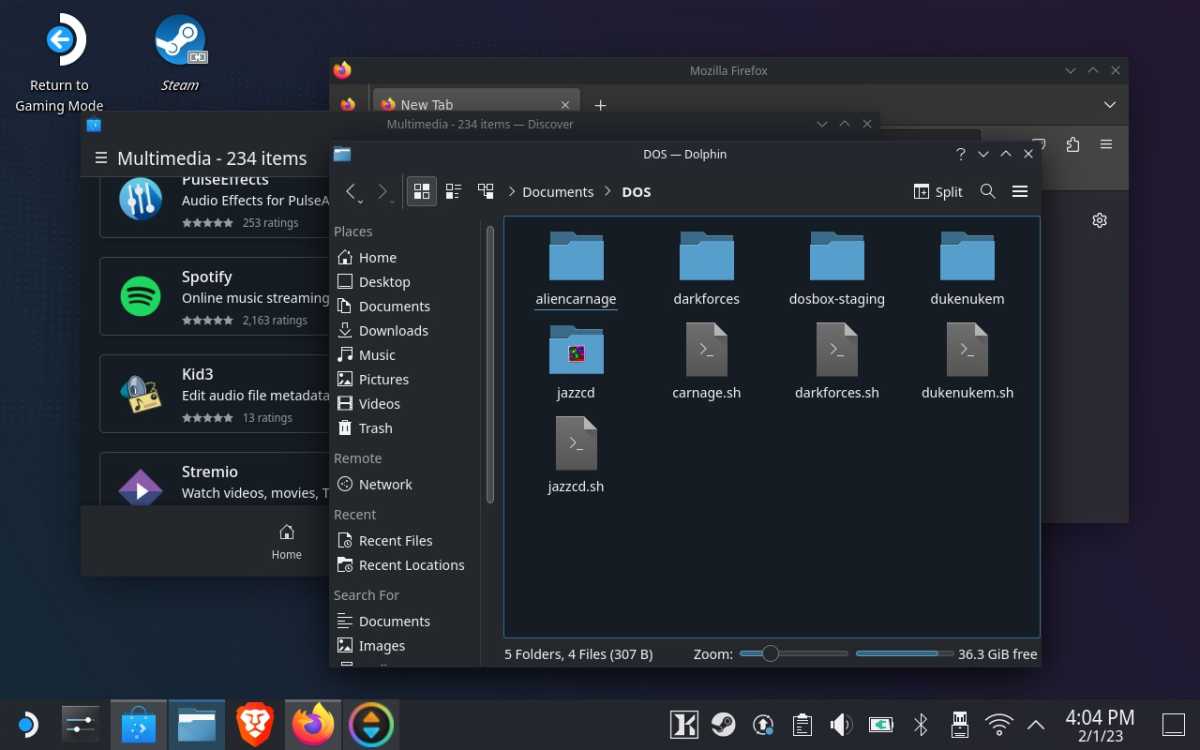 Jared Newman / Foundry
The Steam Deck's true potential comes from entering Desktop mode, which provides a full Linux-based environment for installing more software—even from competing digital storefronts.
To enter the Steam Deck's Desktop mode, hit the Steam button, scroll down to Power, and select "Switch to Desktop." Then, navigate with these controls:
Right trackpad for cursor control.
R2 and L2 for left and right click, respectively, or click the right trackpad for a left click.
Steam + X for the on-screen keyboard.
Note that if you shut down the Steam desktop app, the touchpad click and on-screen keyboard will stop working.
Install more software
The easiest way to install non-Steam software on your Steam Deck is through the Desktop mode's Discover store. Click the icon that looks like a shopping bag, and you'll see a wide range of programs to install, from Spotify and Discord to DOSBox and GZDoom.
Once installed, you'll find these programs in the application launcher by clicking the Steam Deck logo at the bottom-left.
Add non-Steam apps to Gaming mode
Jared Newman / Foundry
You don't need to be in Desktop mode to launch desktop apps. Instead, you can add them to Game mode for easy access.
To do so, launch the Steam app while in Desktop mode. Then, hit the "Games" tab in the top menu and select Add a non-Steam Game to My Library. If the app or game doesn't appear in the list that pops up, use the "Browse…" button to find it, then hit "Add Selected Programs."
When you return to Game mode, you'll find these games in the "Non-Steam" section of your library.
Install alternative game sources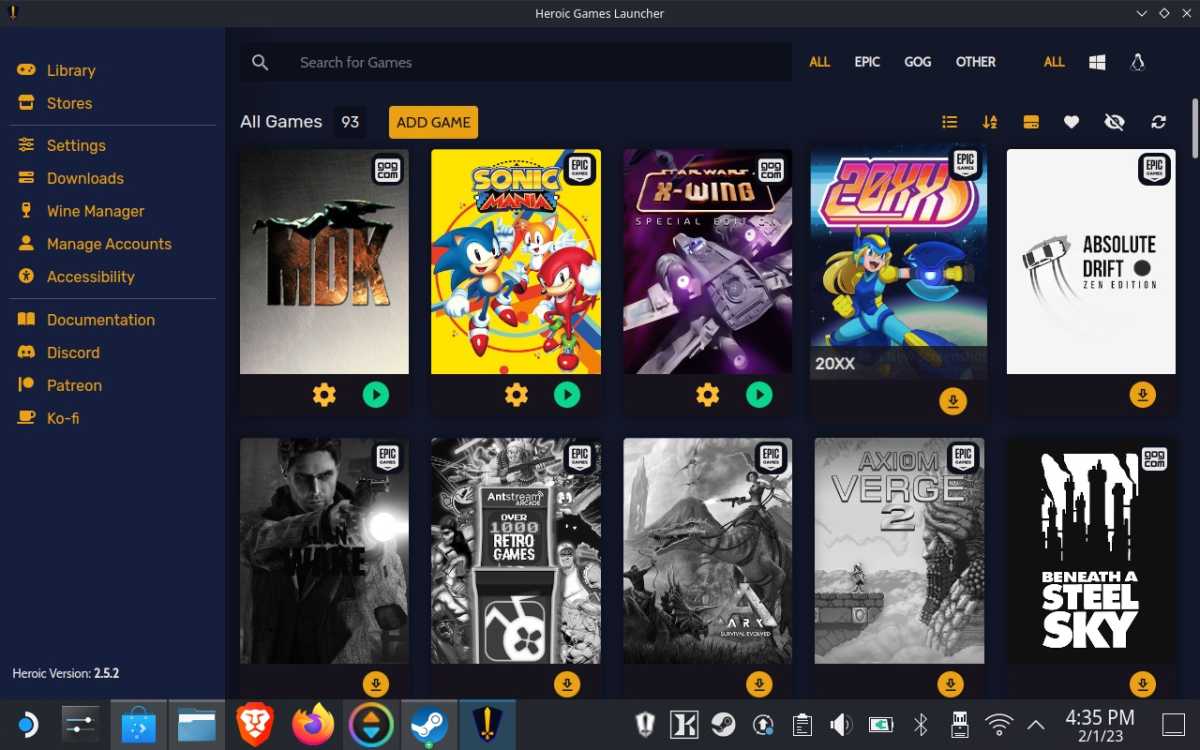 Jared Newman / Foundry
After getting comfortable with Desktop mode, the next step is to bring in games from storefronts other than Steam. Some options to consider:
Transfer files with ease
Need to move some files to your Steam Deck from another computer? Instead of swapping thumb drives back and forth, check out Payload. Install this free app on both your computer and the Steam Deck (in desktop mode), and you can transfer files over your Wi-Fi network just by dragging and dropping.
Consider a USB hub
For serious Steam Deck desktop users, a cheap USB hub with HDMI output can be an invaluable addition. Plug it into the Deck's USB-C port, and you can add an external mouse and keyboard while outputting video to a monitor or TV. (A proper Steam Deck dock may also be worth considering, official or otherwise.)
Deck out your Steam Deck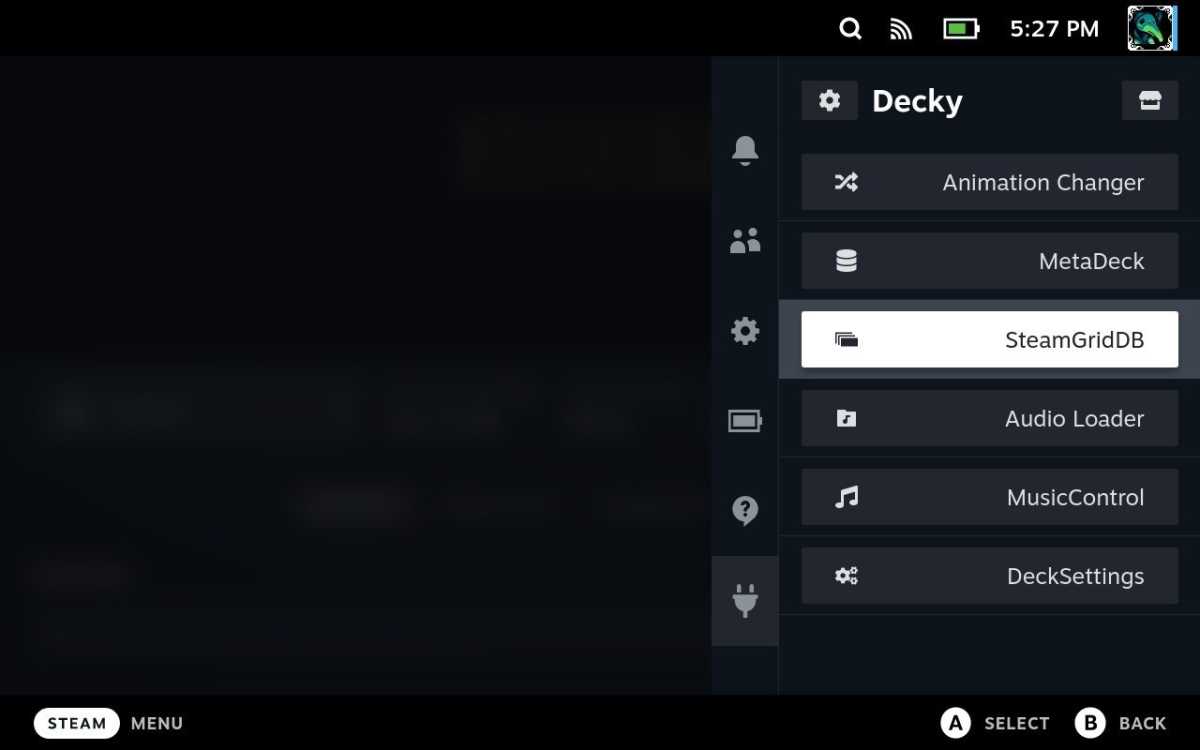 Jared Newman / Foundry
To take Steam Deck customization to the next level, install Decky Loader, which extends the Deck with a wide range of user-made plugins. Want to swap out the Deck's menu sounds or add control your music through the sidebar menu? Decky Loader makes it easy to do so. It's also the best way to add cover art for non-Steam games, using the SteamGridDB plugin.
To install Decky Loader, visit the project's GitHub page from Desktop mode and click the Download button at the top, then run the installer from your Downloads folder. After installation, return to Game mode, and you'll see a new 🔌 plug icon in the … sidebar menu. Hit the store icon at the top of the menu to browse for plugins from there.