At a glance
Expert's Rating
Pros
Great hardware
Excellent wireless performance
Unbeatable value
Our Verdict
The Q1 Pro seamlessly adds Bluetooth to one of the best premium keyboards on the market. It's absolutely without equal in this product category.
Price When Reviewed
$199
Best Prices Today: Keychron Q1 Pro Keyboard
Keychron started out making wireless, Mac-focused mechanical keyboards that were, at least for me, pretty underwhelming. Then the company shifted into high-end, enthusiast-focused keyboards, such as the Keychron Q5, which has all the trappings of a small-batch boutique build, but at about half the price. This is the company's sweet spot, and it's been improving on that ever since. Now we've come full circle: The Q1 Pro is Keychron's first high-end, all-metal board to add Bluetooth.
Note: See our roundup of the best wireless gaming keyboards to learn about competing products, what to look for in a wireless gaming keyboard, and buying recommendations.
Michael Crider/IDG
And damn it if it isn't just about perfect. The Q1 Pro combines the ultra-popular 75% layout, high-end materials like an all-aluminum case and a rotary dial, and boutique features like gasket mounting and VIA/QMK programming. And it's wireless. It's everything you want in a high-end build, with almost no sacrifices. And as usual, the value is beating the absolute pants off of the competition.
There are only two reasons I can think of to not recommend the Q1 Pro to a mechanical keyboard fan. One, you demand 2.4GHz, gaming-grade wireless. Or two, you simply want to wait for Keychron to bring Bluetooth to one of its other, many Q-series keyboard layouts. For everyone else: go buy one.
A familiar look
If you've read any of our previous Keychron reviews here on PCWorld, you know what to expect. The Q1 Pro features a compact 75% layout with full arrow keys and function row, plus an optional rotary dial upgrade. It's clad in an aluminum case that feels like it could stand in for any of the murder weapons in a game of Clue. (Read: It's really heavy and tough.) And typing on it, especially with the included high-profile PBT keycaps, is heavenly.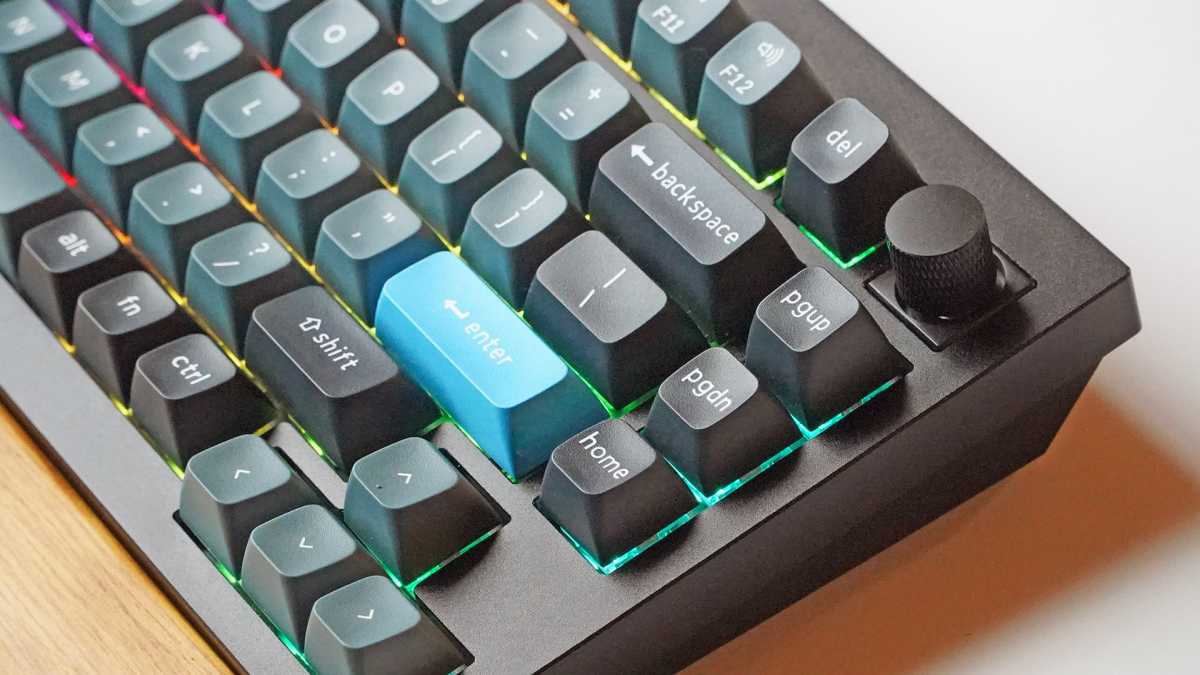 Michael Crider/IDG
There are only two major departures from the main Q series. One, there's a very clear antenna section on the upper part of the case. This is basically just a hole in the aluminum to hold the Bluetooth antenna—you can see the cable going to the wireless chip if you crack it open. And two, Keychron replaced the metal support plate underneath the switches with a plastic one, presumably to boost wireless range yet again.
The change makes the keys flex much more noticeably under heavy typing. That might be a plus if you really like the squishy give of a gasket mount, the little bits of foam that "suspend" the plate in between the metal parts of the board. If not, that might be the one change from the older Q1 that you really don't like in the Pro.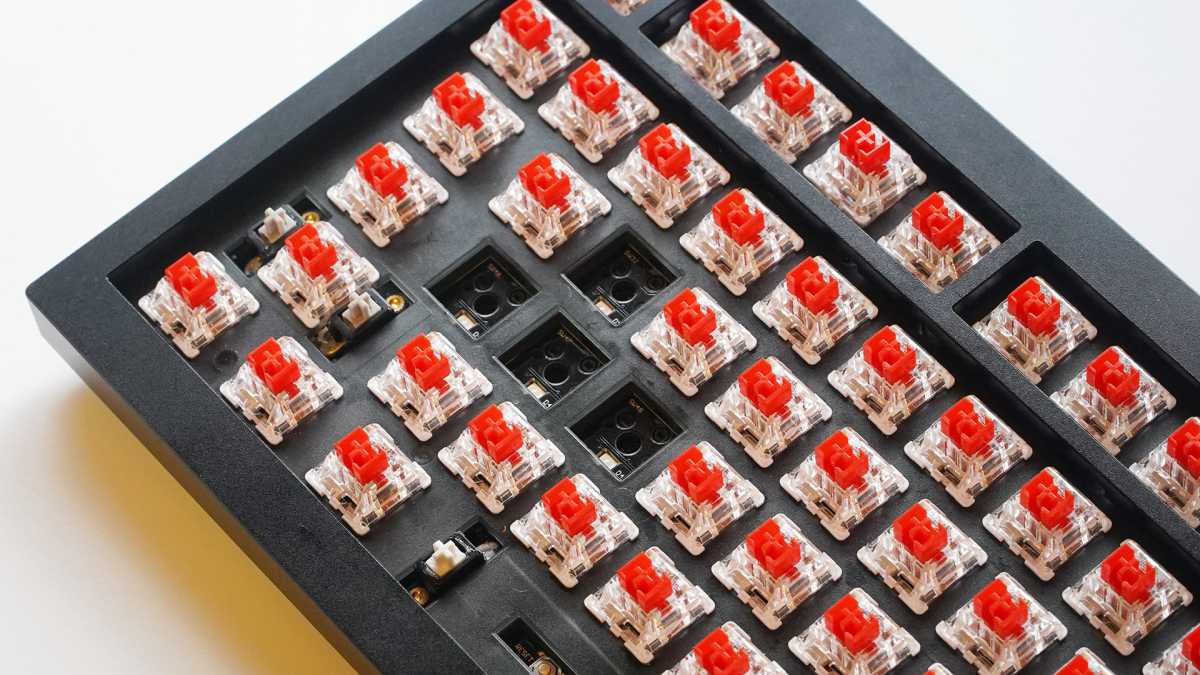 Michael Crider/IDG
Other changes from the standard Q1 are harder to spot. There's a massive 4,000mAh battery hidden underneath everything, which you won't notice unless you disassemble everything. And Keychron removed the option for Gateron Pro switches, instead offering K Pro switches in linear Red (as in our review unit), tactile Brown, or stiffer tactile Banana (which also removes the stabilizing hall effect). The new switches feel a little less smooth than the Gaterons, but since Keychron offers the keyboard in a barebones kit without any switches at all, I'm loath to complain about it.
Dedicated antenna for Bluetooth
Let's take a look at the work Keychron did to facilitate Bluetooth in that massive metal case. Unlike similar all-metal wireless keyboards that just sort of deal with the lowered range, Keychron's dedicated antenna makes this a keyboard designed from the ground up for wireless. The Q1 Pro maintained its Bluetooth connection to my desktop two rooms away, and even when I stepped out on my front porch, a solid 40 feet and three walls from the computer. Keychron took the wireless upgrade seriously.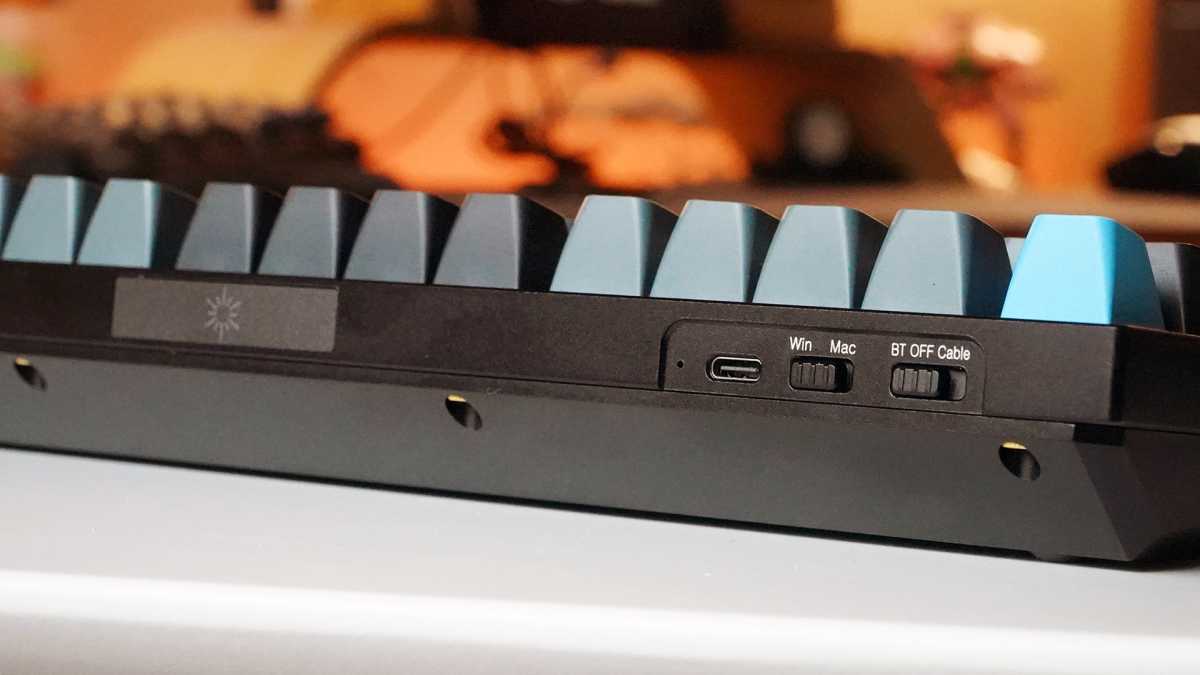 Michael Crider/IDG
The other component in a wireless build is the battery, and Keychron didn't skimp there, either. The 4,000mAh unit hidden beneath the keys can handle a solid couple of weeks with the RGB lighting on, and with them off…I have no idea, because my review period doesn't last that long. Months, at the very least, if my experience building wireless boards is anything to go by. When you need to charge up, the package includes a handsome braided USB-C cord, along with alternate keycaps, extra gaskets, disassembly tools, and keycap and key switch puller.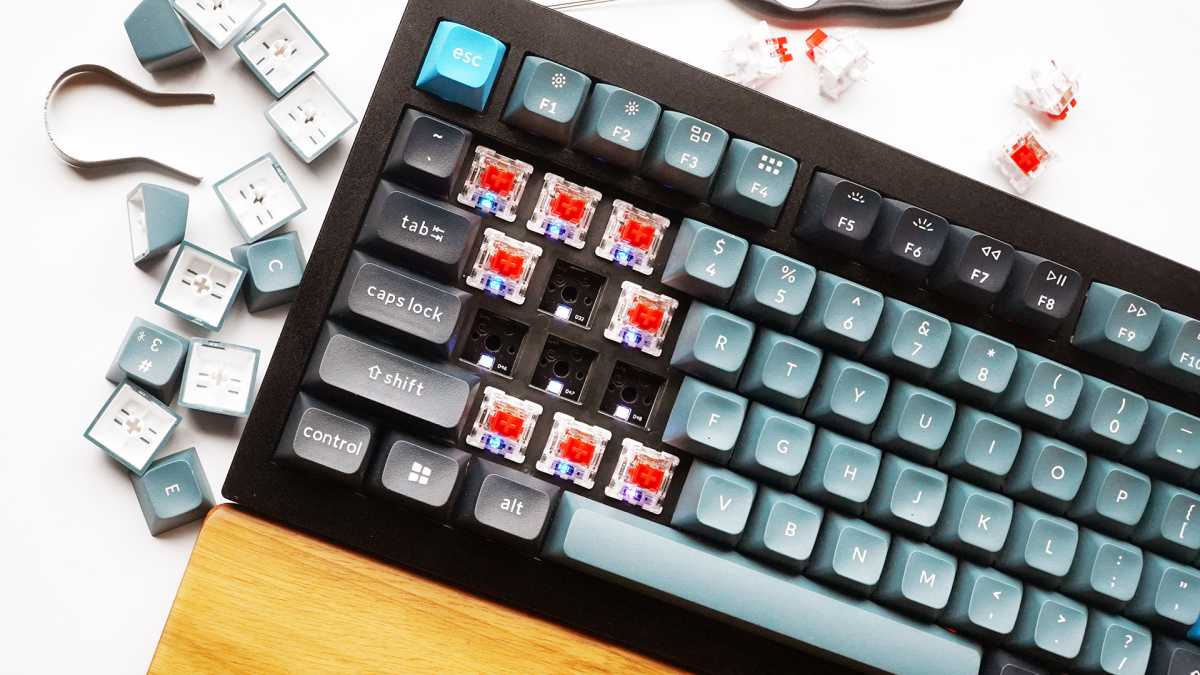 Michael Crider/IDG
You might want to plug in if you're using the Q1 for gaming, by the way. While its wireless powers are perfectly fine, even for switching between multiple machines, they're not particularly fast. A typical lag and occasional stutter is noticeable, and entirely typical for Bluetooth. Plugged in, the keyboard operates at 1,000Hz, good enough for everyone except a "pro" gamer. A dedicate 2.4GHz dongle would have alleviated this…but to be fair, Keychron has never marketed its wireless boards as meant for gaming.
Incredible features, incredible value
There are just too many features in the Q1 Pro to describe in prose. Here's the bullet-point version:
All-aluminum chassis
Double gasket mount—this gives the keys a little flex and "bounce"
Doubleshot PBT KSA-profile keycaps—tall, old-fashioned keycaps that will never wear the legends down
Two layers of sound-absorbing foam
Hot-swappable switches—swap out the key switches for anything in the Cherry MX format
QMK and VIA programming—easy custom programming for all keys and lighting, no proprietary software necessary
Most of this stuff is standard in the premium keyboard space at this point, minus the wireless option. For example, the GMMK Pro has pretty much all of these features, plus RGB side-lighting. But that board lacks wireless, and its barebones version is almost the same price as the non-tricked out Q1 Pro. With switches and keycaps, it's more than $100 more expensive, more in line with the boutique boards these designs are based on. Ditto for the Drop Sense75. Other alternatives in this form factor, like the Keydous NJ80 or the Epomaker TH80, use far cheaper materials, and programming is a chore if it's possible at all.
Michael Crider/IDG
In short, Keychron once again has the most features in a premium keyboard for the lowest price. There aren't a lot of keyboards on the market that directly compete with the Q1 Pro, but even so, it stands head and shoulders above other options.
Simply unbeatable
I'm a self-confessed keyboard snob. I've put hundreds of hours and an embarrassing amount of money into the hobby, including more than $500 on my primary, self-built board. And saying all that, the Q1 Pro is probably better than what I can build for myself.
Michael Crider/IDG
It's solid as can be, filled with high-quality hardware from top to bottom, stuffed full of premium features, and yet somehow is still cheaper than every comparable option. The barebones version starts at $179, if you want to use your own key switches and caps. The fully assembled version is $200, and just about untouchable (figuratively—you can touch it all you want!) for a high-end wireless board.
Gamers who demand high-speed wireless will lament the lack of a dedicated dongle, and those who want a larger or smaller form factor might want to wait for new entries in the Q Pro series. But for everyone else, the Q1 Pro is simply the best premium Bluetooth keyboard on the market.
Best Prices Today: Keychron Q1 Pro Keyboard