Everything about Nvidia's new GeForce RTX 40-series graphics cards are big: the size, the performance gains, and especially the price. With some versions of the GeForce RTX 4090 retailing for almost $2,000, gamers were anxious for a more reasonably priced modern Nvidia GPU, but is the $800 GeForce RTX 4070 Ti the solution?
In the PCWorld review, we called it "painfully overpriced" without enough power for 4K gaming, and other reviews agree. And yet, the 4070 Ti is perfect for people like me who refuse to give up on 1440p gaming. In that niche, there's really no better choice.
The price is right(ish)
Video card prices have finally, mercifully fallen after years of scarcity thanks to the crypto boom and pandemic supply chain difficulties. But they haven't come down to Earth yet. It is absolutely true that the $800 GeForce RTX 4070 Ti is "overpriced," especially when many vendors are selling their customized versions for even more. But it's also true that all current-gen video cards are too expensive.
Part of the blame rests with Nvidia and AMD, which probably got comfortable with obscenely high GPU prices over the past several years. On the other hand, we're letting them get away with it. We consumers also became so accustomed to seeing top-of-the-line video cards selling for thousands of dollars that, perhaps, the $1,600 starting price for the RTX 4090 didn't set off the alarm bells it should have—people still lined up to buy them.
GeForce RTX 4070 Ti
Price When Reviewed:
$799 MSRP | $849 (specific model tested)
All the latest GPUs could stand to be a few hundred dollars cheaper. While Nvidia's new Ada Lovelace-based RTX 40-series GPUs offer a substantial performance uplift over older cards, the prices of the GeForce RTX 4080 and 4090 are bonkers when you can get a 4K-capable PS5 or Xbox Series X for a third of the price.
Sure, when you compare the RTX 4070 Ti to previous GeForce XX70 cards, the price looks ridiculous—but it's still a blazing-fast GPU. The 4070 Ti is faster than the fastest RTX 30-series cards, some of which came with MSRPs well over $1,500. By that measure, the RTX 4070 Ti isn't terribly overpriced, and it's just right for 1440p gamers.
An imperfect champion
Before the much-maligned RTX 4070 Ti, Nvidia released the GeForce RTX 4090 and the RTX 4080, both of which are monstrously powerful GPUs. The card we now know as the GeForce RTX 4070 Ti was initially intended to be a 12GB variant of the 4080, but Nvidia un-launched that card to rebrand it. That makes sense, given its narrower memory bandwidth and a big drop in CUDA cores compared to the 4080.
Even with those limitations, it's faster than last-gen $2,000 RTX 3090 Ti in many games. And if you've committed to 1440p gaming, the 4070 Ti will run almost anything you can throw at it with maximum settings. It's always best to play games at your monitor's native resolution, and going 4K is a major commitment. You always need to be on the bleeding edge of graphical technology to keep up with the latest games. If you can't justify the expense of constant GPU upgrades, then you're not getting the most from your fancy ultra-high-resolution display.
The best 1440p monitor and the best 240hz monitor
Gigabyte M27Q X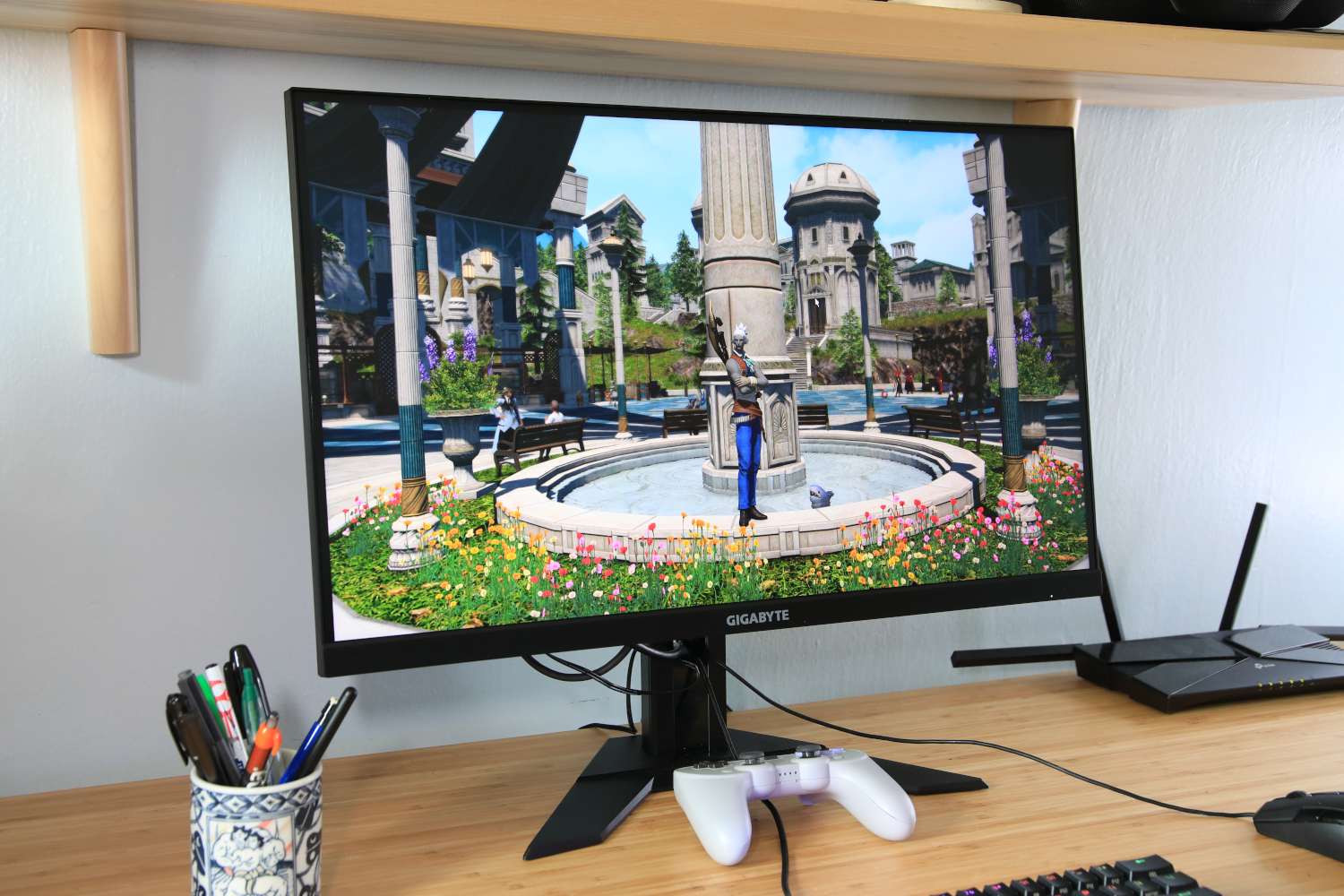 Price When Reviewed:
$499.99
For my money, 1440p just makes more sense. It looks much sharper than Full HD, and you don't need to double the cost of your build to render games at native resolution. When I was looking at GPUs for my new workstation/gaming rig, the GeForce RTX 4070 Ti was the clear winner, and I'm not alone—this card is reportedly topping sales charts. At 1440p, it's fast enough to run games with the bells and whistles and higher frame rates, which is more important to my gaming experience than 4K. I can't imagine spending 50 percent more to get a 4080 when I'd experience almost no benefit.
But where is AMD in all of this? The new Radeon RX 7900 cards are certainly no slouches, putting up numbers at least in the same ballpark as Nvidia for a little less cash. However, AMD is running at least a full generation behind on ray tracing performance, and I don't see the point in buying a high-end GPU with sub-standard ray tracing in 2023. I'll admit, I was a ray tracing skeptic at first, but game developers have been doing some amazing things. It's worth prioritizing, and for me, it sealed the deal for the GeForce RTX 4070 Ti.