In general, Samsung's new Galaxy Book3 Pro 360 offers a fascinating mix of stunning hardware and software experiences that try to elevate both work and play. But deep down we found two hidden features—one which we'd love to see more of and another which we'd be happy to never see again.
Samsung Galaxy Book3 Pro 360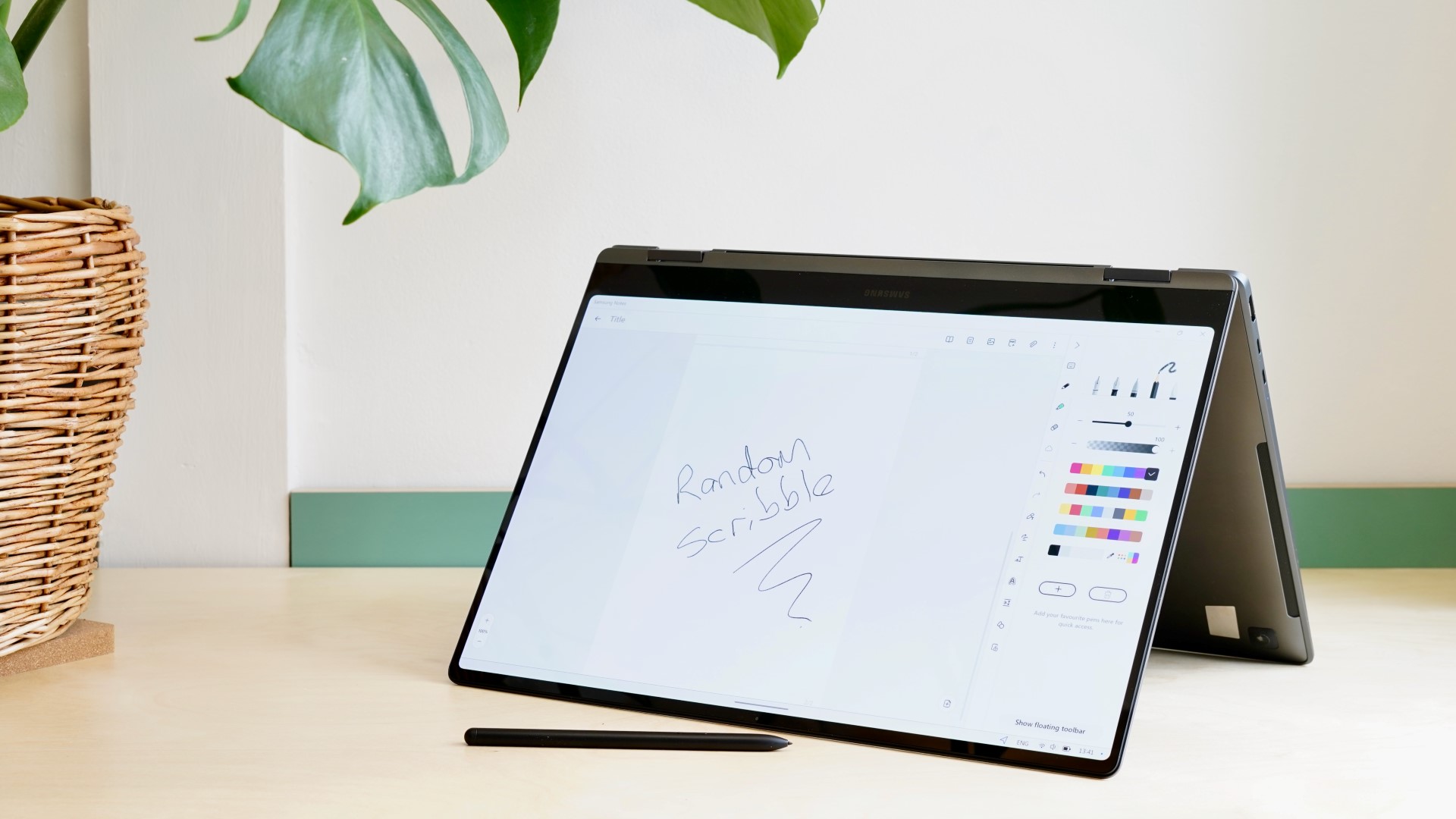 Price When Reviewed:
From $1,699.99
To be fair, it's not clear whether either of these features are ones that Samsung enabled or if they're simply a quiet tweak by Microsoft to push out new features we haven't seen before. Our Book3 Pro 360 review unit includes Windows 11 Home 22H2 build 22621.1194 and the default configuration of my personal PC is Windows 11 Home 22H2 22621.1105.
The feature I like most is the "time to empty" gauge that accompanies the actual battery percentage on the taskbar. Knowing how much battery you have left is handy, of course, but an estimate of exactly how long you have before you need to plug in is handier still.
This particular feature used to be more common in older versions of Windows with certain utilities dating way back to Windows 7. Windows 10 added it, then subtracted it, and it hasn't really appeared since. Certain laptop makers—Lenovo comes to mind—have made this part of their standard utility configuration.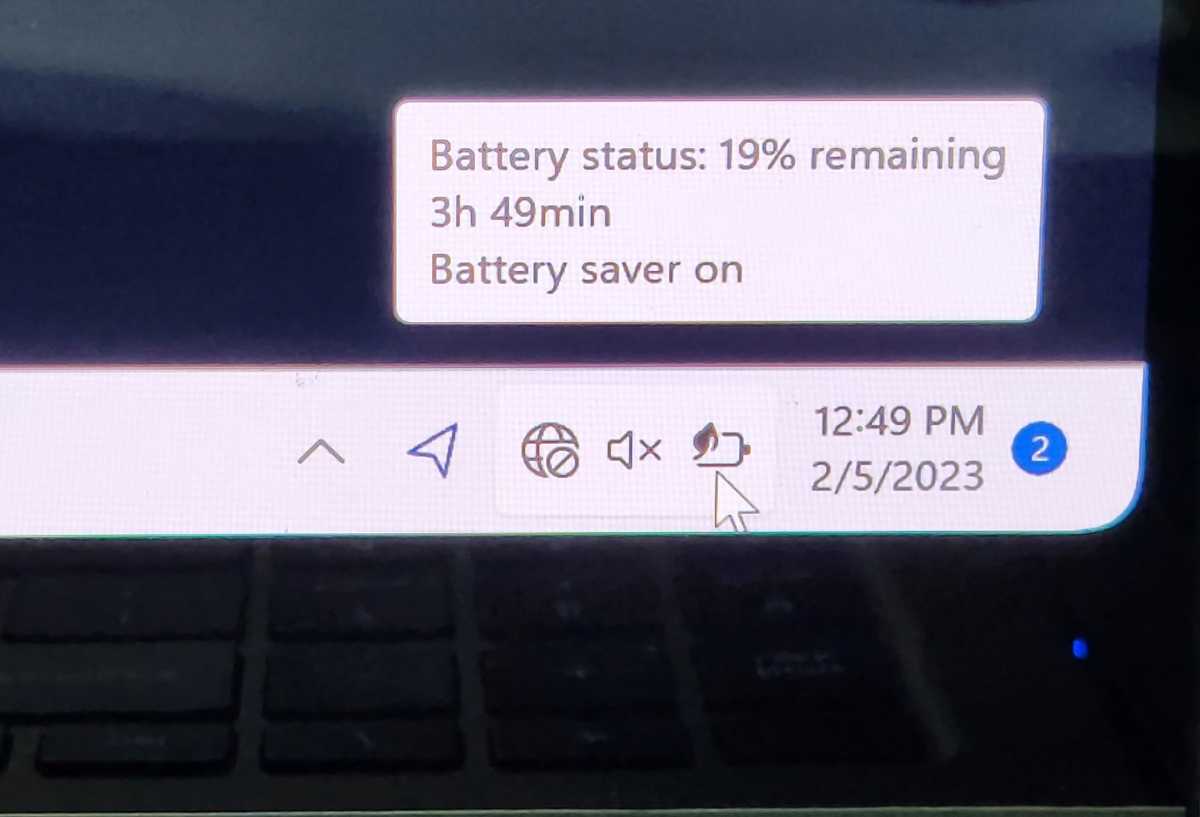 Mark Hachman / IDG
Yes, there's the question of whether the gauge itself is accurate. We didn't set out to specifically test this feature, but even if it's not accurate to the minute, it does give you some idea as to how long you'll have. Fortunately, our tests show the Book3 Pro 360 provides well over 12 hours of battery life, so you won't have to worry too much.
…and one we hated
We're a little less enthusiastic about a feature that showed up early in our review… and then somehow vanished later on.
When you configure a new PC, Windows assumes you want to migrate from an older PC by offering to reproduce your old setup. It does so because Windows and OneDrive attempt to back up files from three key locations—the Desktop, Photos, and Documents. It's also aware of whether or not you have a Microsoft 365 account keyed to your Windows account.
When we review PCs, we opt for a "clean" PC instead—just the default apps that the laptop maker provides. Otherwise, we'd risk clogging up the laptop with a bunch of additional data that could slow down performance. To do so, we turn down Microsoft's request to set up the PC as an existing configuration and ask OneDrive to stop syncing with the cloud. The latter allows OneDrive to back up the laptop in question, but it also prevents OneDrive from sending down placeholder files from all of the documents and photos we've previously backed up. Normally, this isn't a problem.
Initially, however, we were dismayed to find that this wasn't possible. OneDrive insisted on syncing all three locations, which happened to include a folder of storage-intensive applications that I had copied onto the desktop and immediately started backing up. When I tried to stop this behavior, Windows informed me that those folders were necessary and that I couldn't prevent syncing them. My only option was to prevent OneDrive from syncing, which it only agreed to do until I rebooted my PC—when syncing would begin again.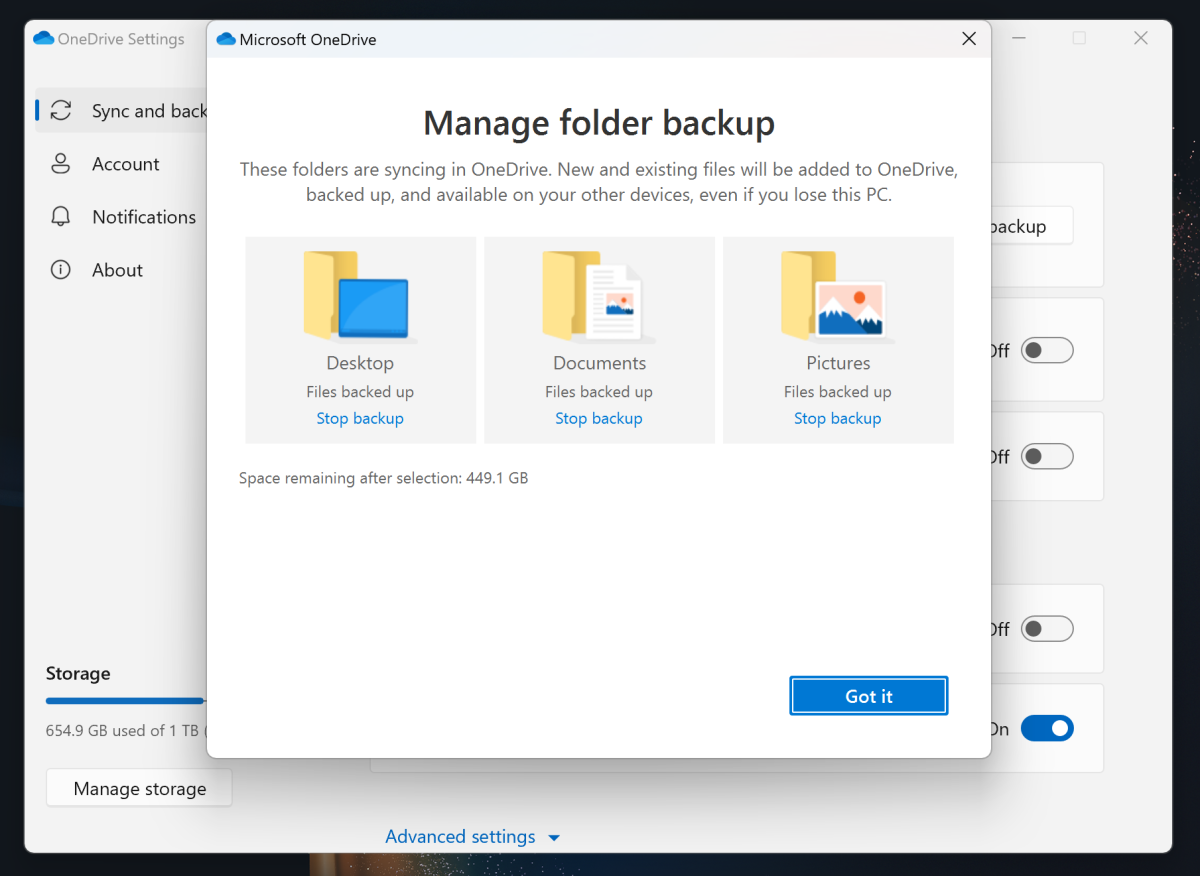 Mark Hachman / IDG
Not only would this unwanted syncing kick off a background task I had no desire to run, but it threatened to monopolize my broadband connection. My home broadband suffers from a data cap and if I lived in a rural area, chances are that backing up multi-gigabyte files would take several hours on a slow connection.
Fortunately, once I was able to install what I needed to test on the laptop, I was able to shut off OneDrive as well as isolate the laptop via its Airplane Mode. When I came back to document the "feature" further… the objection disappeared? As I sat down to snap a screenshot, I determined that I could disable the automatic backup of the Desktop, Documents, and Pictures folders once again. Unfortunately, the folder in which all my benchmark files were located was still designated for backup, so I've disabled OneDrive for the time being.
It's not quite clear whether the OneDrive sync was a glitch, a test feature, or some weird interaction between the laptop, a Windows account, or maybe Samsung's own backup services. I certainly appreciate the improved battery gauge. OneDrive's heavy hand? Not so much.