Just two processor generations ago, conventional advice about laptop shopping still held up. You could reasonably suggest people save money by buying one gen back. A performance difference existed, but never so huge that you'd stress about being penny-wise but pound-foolish.
Intel's 12th-generation Alder Lake CPUs upended that line of thinking, however—and Team Blue's release of its shiny new flagship laptop processor, the Core i9-13980HX, only reinforces the new world order. With 24 cores, 32 threads, and a max turbo speed of 5.6GHz, it's an absolute monster of a chip. Like its desktop counterparts, it's capable of incredible performance. You could buy an Alder Lake notebook, but you'd be foregoing the current best chip for heavy workloads while on the go.
You can catch the nitty-gritty deep dive into the benchmark results in our YouTube video, but for the major takeaways about Intel's new top-end mobile part, tested on a monstrous MSI Titan GT77 with the Core i9-13980HX and an Nvidia RTX 4090, read on.
Multithreaded work gets a huge boost
The faster you can rip through renders, encodes, and other heavy workloads, the faster you can move on to your next task. And the Core i9-13980HX chews through its queue like no other mobile chip right now.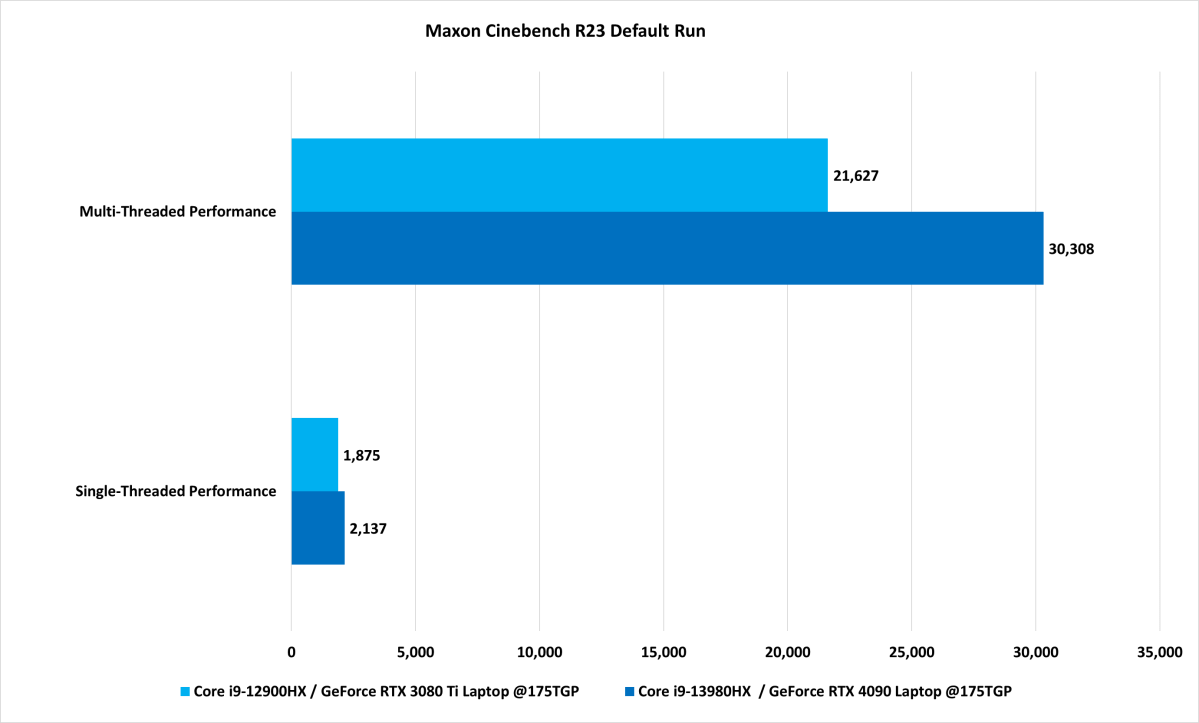 Gordon Mah Ung / PCWorld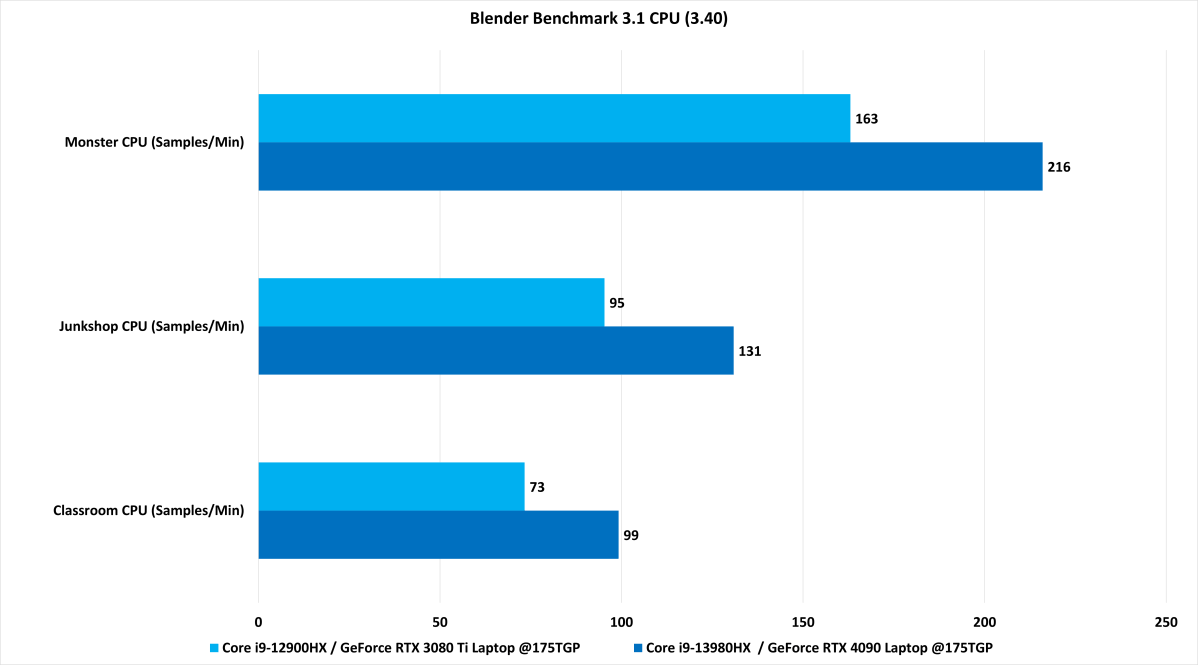 Gordon Mah Ung / PCWorld
Gordon Mah Ung / PCWorld
Raptor Lake's gains over Alder Lake in laptops run almost parallel to those on desktops, with similar heavy performance gains. No civilized wins here; 13th-gen's lead over 12th-gen is substantial. In our Cinebench R23, Blender, and V-Ray rendering tests, we saw between a 32 and 40 percent improvement, with the highest jump in Cinebench R23's multithreaded test.
The story's similar (though not as dramatic) in Handbrake, where we feed a large 4K mov file into the program and crunch it down into a more compact H.265 file. With the Core i9-13980HK, the encode finishes about 25 percent faster.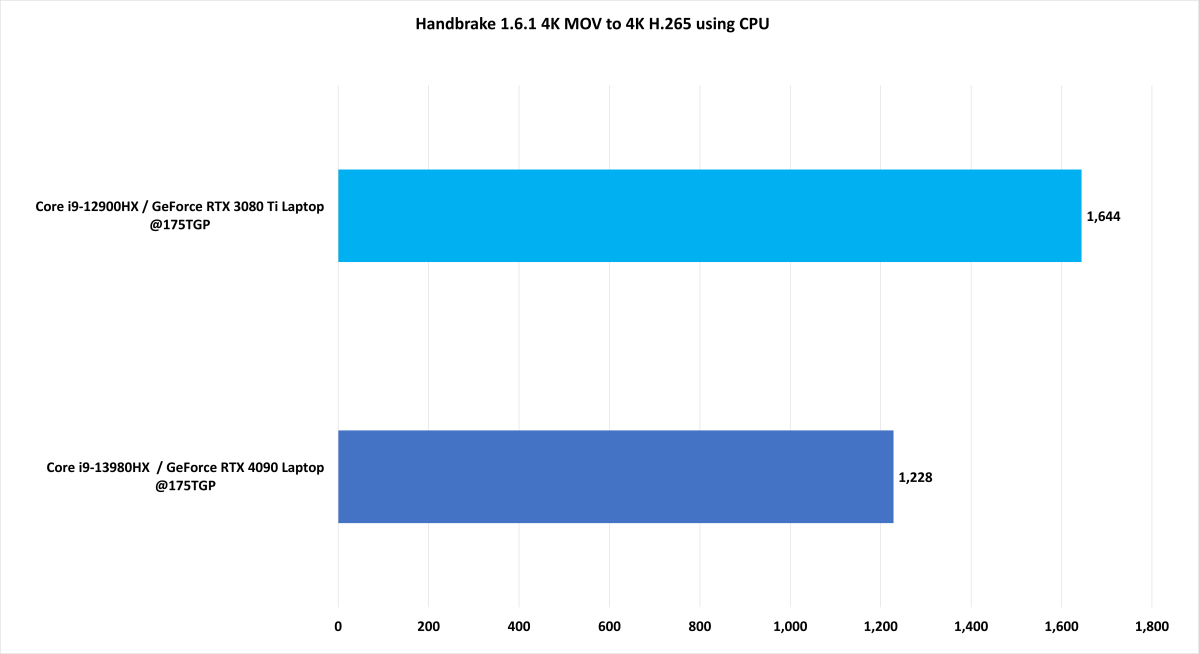 Gordon Mah Ung / PCWorld
The performance boosts apply fairly evenly as you scale up in thread count use, too, as illustrated by this test of thread scaling performance in Cinebench R23. Lightly threaded work sees lower double-digit increases, which transform into far greater jumps as you enter heavily threaded territory.
The only lingering question about the 13980HK is how it'll fare against the looming specter of the Ryzen 9 7945HX: AMD's best on mobile is set to launch soon as well, and it too should be a bruising chip. Expect some drama in the coming showdown between the two flagship mobile parts.
Not all production work benefits, though
When we turned an eye to other kinds of content creation tasks—namely those done in Adobe's Premiere Pro, Photoshop, and Lightroom applications—our experience with the 13980HX veered off into puzzling territory.
On desktop, our benchmark results showed Raptor Lake with a clear lead over Alder Lake, with modest but tangible gains ranging from 8 to 17 percent. But at the time of our testing, this new 13th-gen laptop part's test results technically came in under that of the 12900HX.
Gordon Mah Ung / PCWorld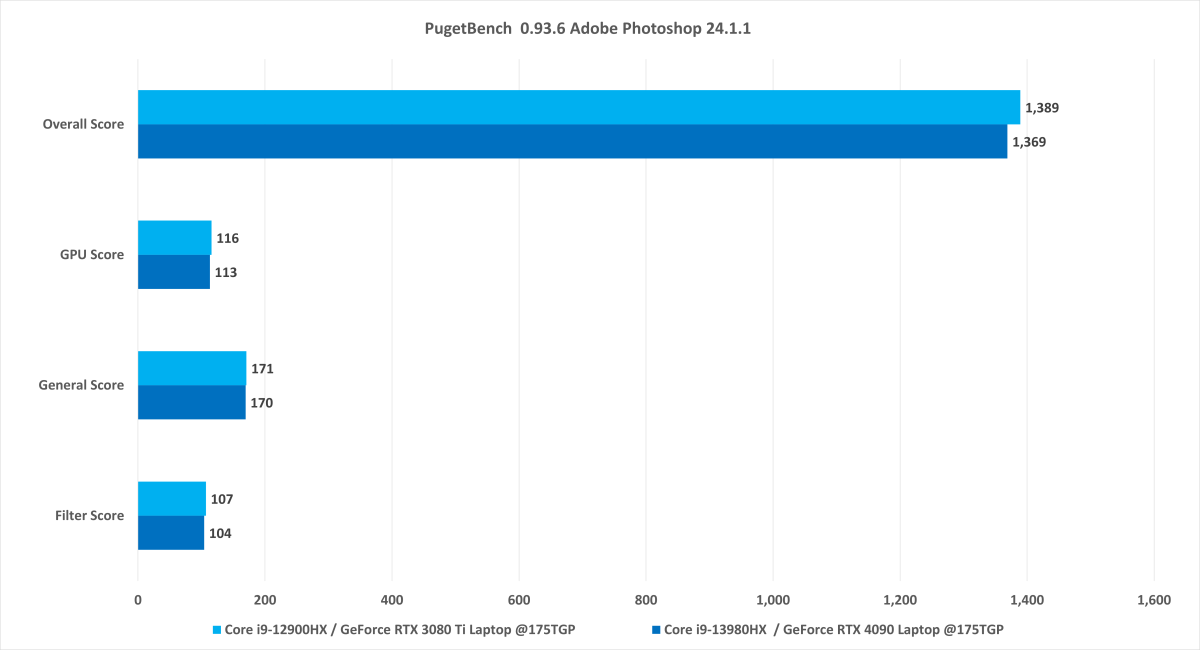 Gordon Mah Ung / PCWorld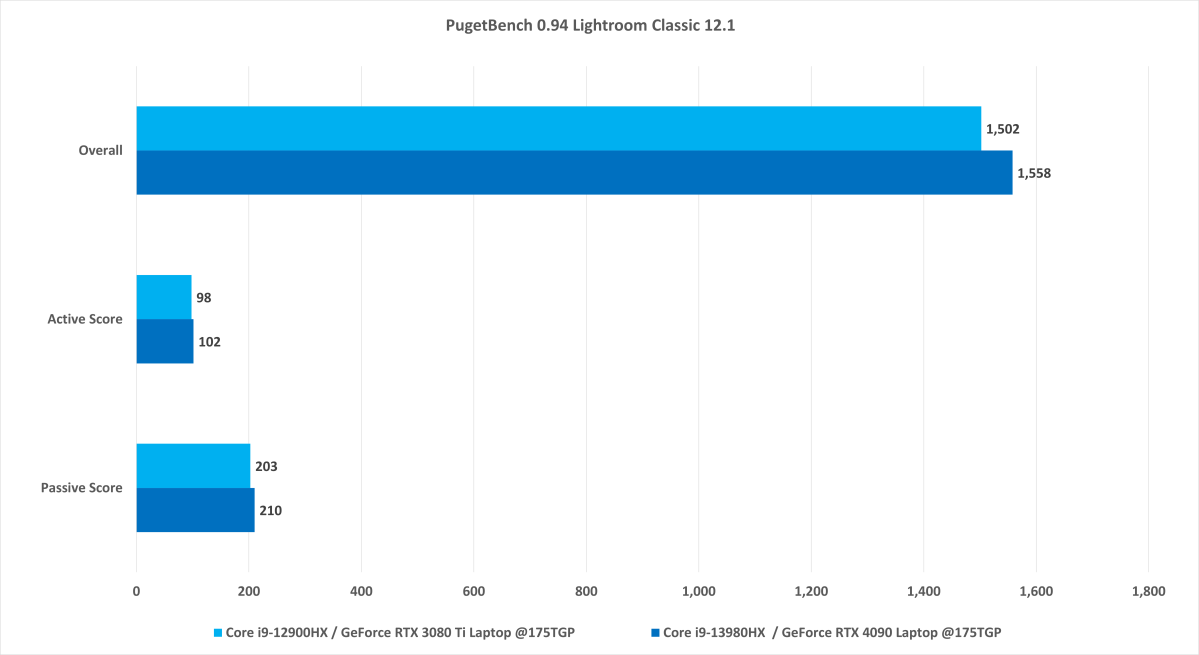 Gordon Mah Ung / PCWorld
If we were to take this at face value, the reasonable characterization of these results is that they fall within margin of error—that is, you get the same performance in Adobe apps on 13th-gen as 12th-gen. But that's still a strange outcome.
Complicating matters is that our tests simulated regular use, in that the GPU was active as well. You could say that these benchmarks don't show a clear, isolated picture of the 13980HX's performance compared to the 12900HX, and that wouldn't be wrong to say. However in the real world, most people don't lean solely on the CPU, and these results possibly highlight a possible scenario that a content creator could run into during these early days.
Did we make a mistake in our testing? Is there a driver issue? Or is the software just not yet optimized? The answer is unclear, and we'll need to do some follow-up investigation.
Games get an uplift too
Unlike desktops, getting an exact read on the laptop CPU performance in games is a little tricky. You'll rarely find two notebooks with different generation processors but the same GPU—much less from the same maker and product line.
Such was the case with the laptops we had for benchmarking. They were similar, but not the same. One was a last-generation MSI Titan GT77 laptop with a 12th-gen Core i9-12900HX and an Nvidia RTX 3080 Ti. The other? A current MSI Titan GT77 with the Core i9-13980HX and an Nvidia RTX 4090.
Given these apples-to-oranges configurations, our gaming benchmarks largely reflect the performance gains of the Nvidia RTX 4090 over the RTX 3080 Ti. Yet we did have one title among our benchmark tests that offered a clue about the 13980HX's influence on CPU-bound games: Counter-Strike Global Offensive.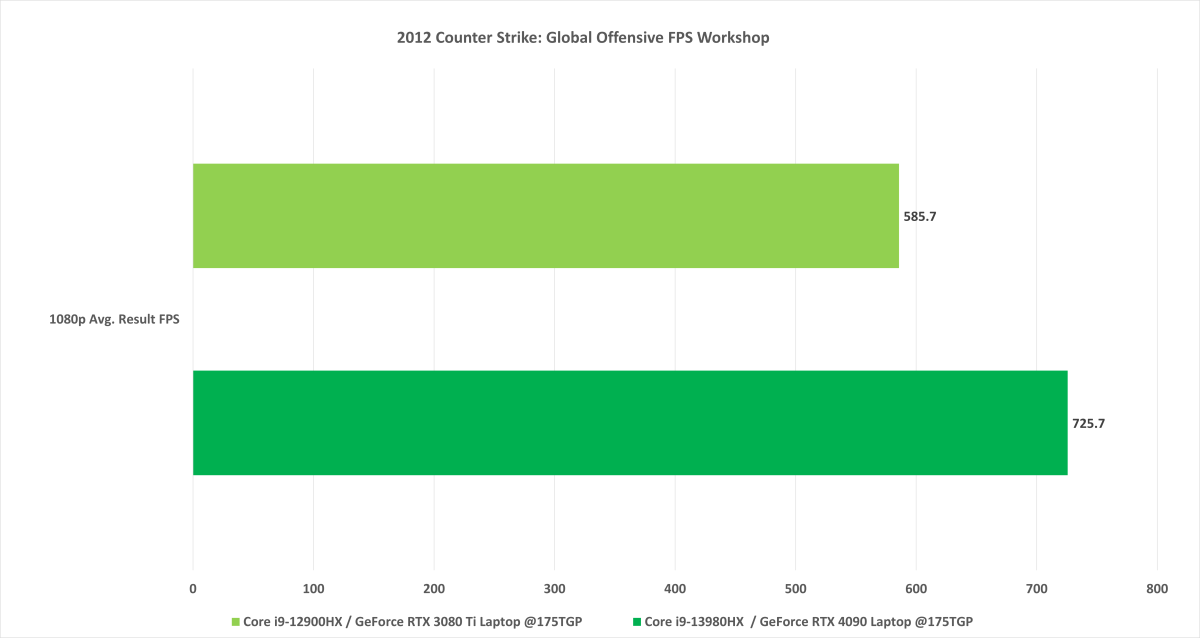 Gordon Mah Ung / PCWorld
While you can't bank on CSGO's 23 percent in all situations with a CPU-bound game, this test result at least offers some idea of the 13980HX's influence on gaming performance—a useful tidbit for folks that care about such details, especially when picking a laptop configuration.
Don't buy this chip for everyday tasks
If you follow processor news and launches regularly, you probably already know that a CPU like the 13980HX is overkill for programs like Microsoft Office apps and web browsing. Ridiculous overkill, actually, for the overwhelming majority of people.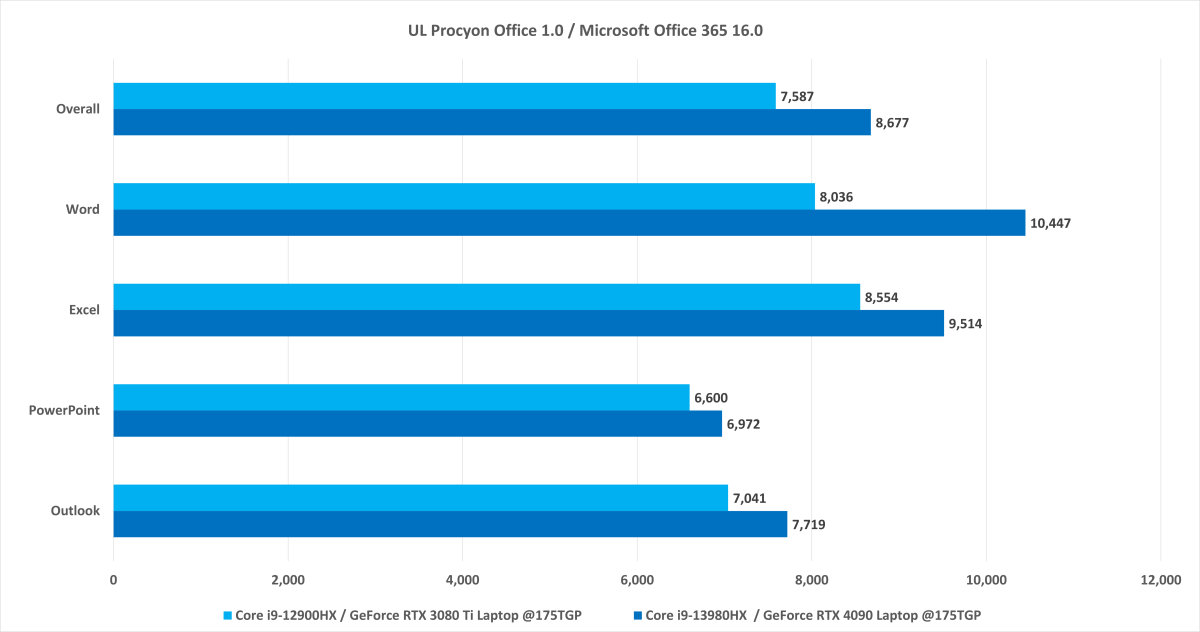 Gordon Mah Ung / PCWorld
Yes, office power users do exist—like folks who crunch intense spreadsheets. And generally, more cores equal more power for them. But that's not the workload reflected in the kind of Office benchmarks we are currently able to run. (Our special Excel eSports benchmark created for us by competitor Jason Moore is unfortunately still broken.) Procyon zeros in on more typical productivity work, and while the Core i9-13980HX outperforms its predecessor, a 14 percent overall improvement isn't real justification for a CPU with a recommended price of $668. (You'd never pay for a laptop chip independently of course, but that figure gives an idea of its relative value.)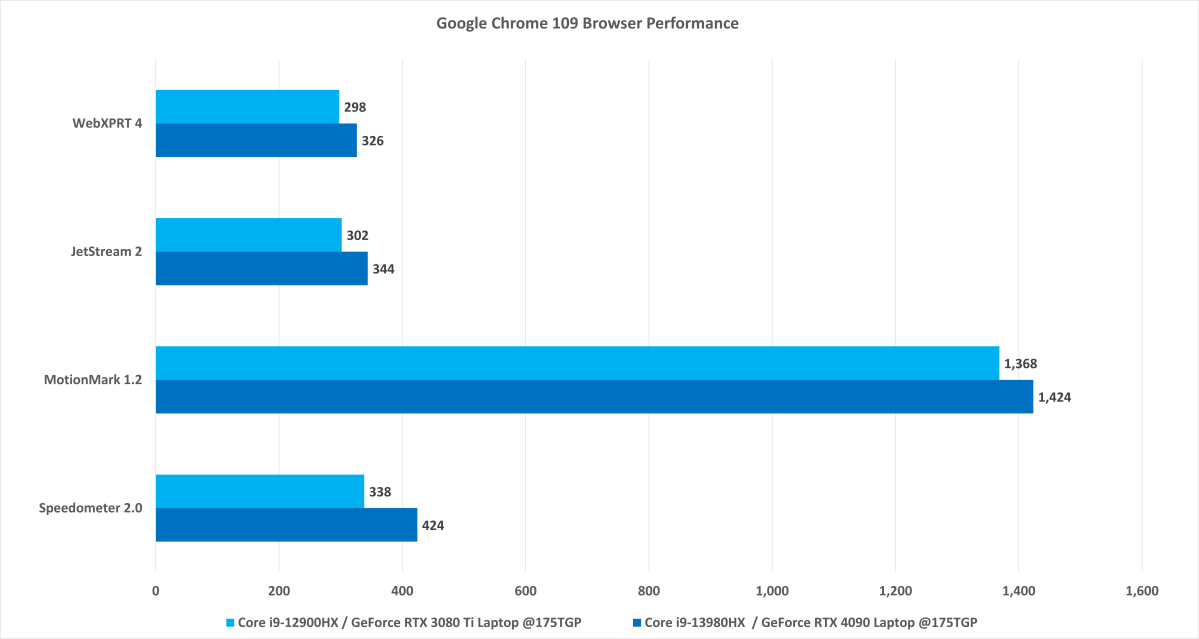 Gordon Mah Ung / PCWorld
The same story goes for web browsing. Yep, there's an improvement. But again, you're not buying this chip for a 25 percent improvement in web app performance. It's a bonus, not a feature. We recommend shopping accordingly.
Expect to see more 13th-gen laptops hitting the streets very soon. Stay tuned to PCWorld's roundup of the best laptops for a practical guide to the top current offerings available.