OpenAI's ChatGPT AI chatbot has been out for months, as has You.com's helpful YouChat. Google announced its own AI service, Bard, on Tuesday, and Microsoft is expected to unveil its own AI chatbot on Tuesday. So what's the key difference? Two show their work. Two do not.
Based upon what we've seen, officially or not, both Microsoft's "new" Bing AI-powered search engine and You.com's YouChat cite a list of sources when presenting answers. The other two, OpenAI's ChatGPT and Google's Bard, simply tell you what they think is the right answer.
Google said Bard, which it described as an "experimental conversational AI service," will be tested with a small group of beta testers before a launch sometime later. Instead of licensing AI models from OpenAI, as Microsoft has, Google developed its own, called LAMDA.
Google is rolling out Bard with a small disclaimer at the bottom of the search box, according to a blog post where it showed off the interface: "Bard may give inaccurate or inappropriate information," it says in part.
Google
Pushed by OpenAI's ChatGPT, AI chatbots have emerged from relative obscurity (remember Microsoft Tay?) to genuine smart assistants capable of a variety of tasks. Though there are still concerns about plagiarism and an AI's ability to sometimes generate false information, students and developers have begun using it to perform a variety of tasks, from coding to writing essays.
Where is an AI's information coming from?
The big problem with not citing sources? Not only do you not know where a search engine like Google's Bard actually sourced the information from, you have no easy way of checking it for accuracy, yourself. Nor do you have any idea where these new chatbots are actually finding their answers.
Traditionally, search engines have avoided the issue by acting like traditional journalists: saying little itself, and instead directing queries to a list of links where users can find the answer and context that they're searching for. Over time, however, both Google and Microsoft have acknowledged that there's no need to send a user to Wikipedia for a simple factual search on the capital of California. Instead, the search engine can answer "Sacramento" and save a click.
Over time, however, Google has begun providing "snippets," the key information it thinks users are searching for, only adding the link for additional context. What was immediately apparent was that Bard doesn't do even that.
Will that change? Maybe. "We'll combine external feedback with our own internal testing to make sure Bard's responses meet a high bar for quality, safety and groundedness in real-world information," Alphabet chief executive Sundar Pichai wrote in Bard's announcement post. "We're excited for this phase of testing to help us continue to learn and improve Bard's quality and speed."
Bing is barely more transparent than Bard
Meanwhile, Microsoft quietly asked reporters to visit its Redmond, Washington headquarters today to unveil what almost certainly is its own AI response. Based upon leaks, Microsoft plans to add AI to Office and search, as well as various tools. It can do so with a $1 billion investment in OpenAI that it recently expanded upon, with a license to use either the GPT-3 or the more powerful GPT-4 language model in its applications.
But this "new Bing," as it apparently is known, cites its sources. At the bottom of the short response, the leaked images show a series of sites that generated the response.
The problem is that Bing still doesn't provide any further hints on where it got its information from. Based upon the leaks, it will provide a list of sites (not titles or headlines) to further indicate that those sites may be able to provide additional information. We'll hopefully learn more on Tuesday.
Only You.com provides that additional context, with a headline, link, and URL and a footnote in the answer itself to indicate what part of the answer is sourced from the links it provides.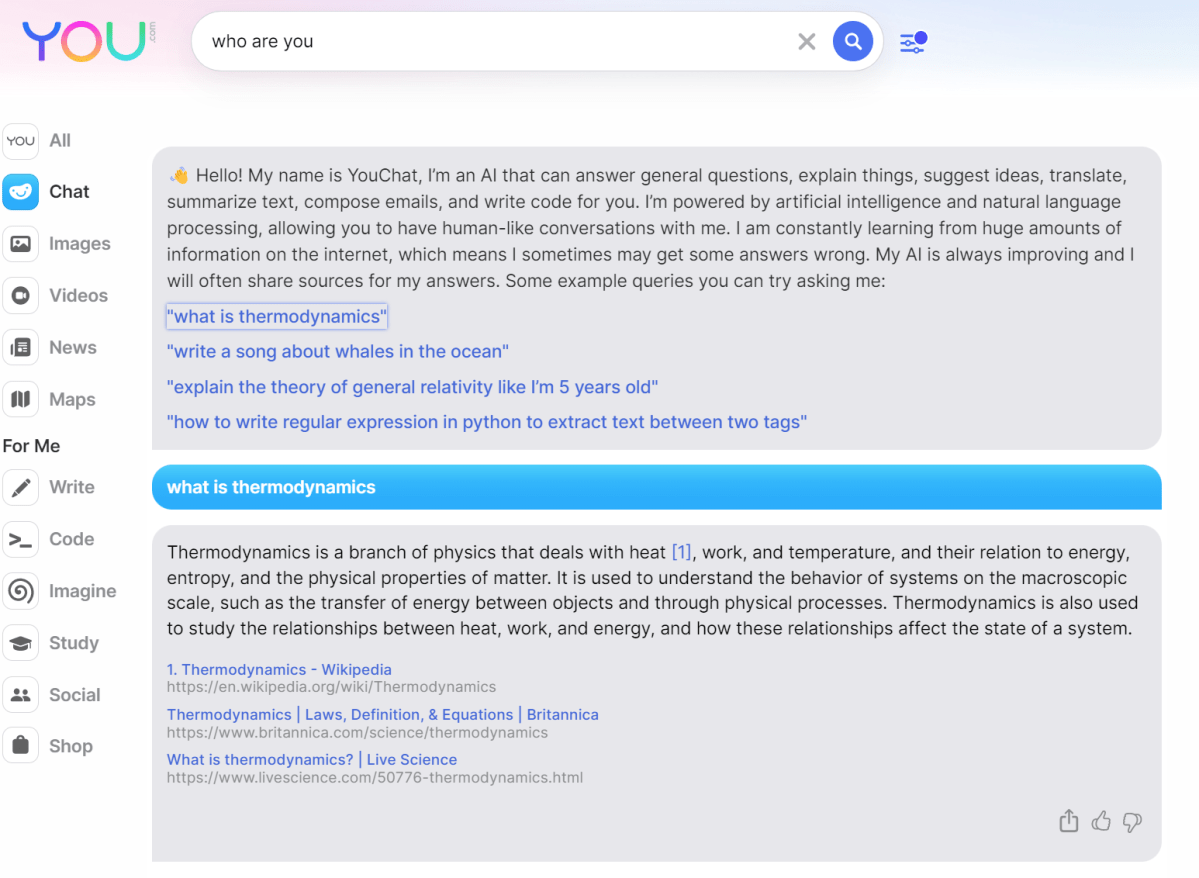 Mark Hachman / IDG
It's a matter of simple transparency—and key to actual trust.
At some point, you might ask an AI about which product is better: an iPhone versus a recent Galaxy S23, say, or a Tesla Cybertruck versus a Rivian. Google and OpenAI are making a very big bet that people simply will follow their lead. Enthusiasts, though, will probably want to dig deeper to find more context. But if ChatGPT, Google Bard, and (in some sense) the new Bing don't provide where they're sourcing their information from, how will people know where to look?