Microsoft unveiled the "age of AI" on Tuesday, with new conversational ChatGPT features for Bing described as the "AI-powered copilot for the web."
Microsoft will add contextual searches to Bing, powered by its own version of the ChatGPT algorithm. Microsoft will also integrate a separate, dedicated chat interface for Bing, complete with footnoted links. Finally, AI will be integrated into Edge, allowing to summarize a financial earnings report, for example. Bing's new search engine interface is live, but to a limited number of people. It will expand in the coming weeks.
Satya Nadella, Microsoft's chief executive, likened AI and the launch of ChatGPT to the opening of the Web. "It was the Mosaic moment," Nadella said. "…I think this technology will reshape pretty much every software category. The question is, how is AI going to reshape the Web?"
"All computer interaction will be mediated with an agent helping them," Nadella claims. And he said it will begin with search.
Microsoft executives said search has remained fundamentally the same as twenty years ago. It works well for factual queries, but stumbles when asked to make recommendations. Microsoft plans to have a new Bing search and Bing browser use chat technology to answer questions posed by users. Corporate vice president Yusuf Mehdi said that Bing will incorporate a powerful new GPT model called Prometheus, which is an enhanced model of the ChatGPT algorithm.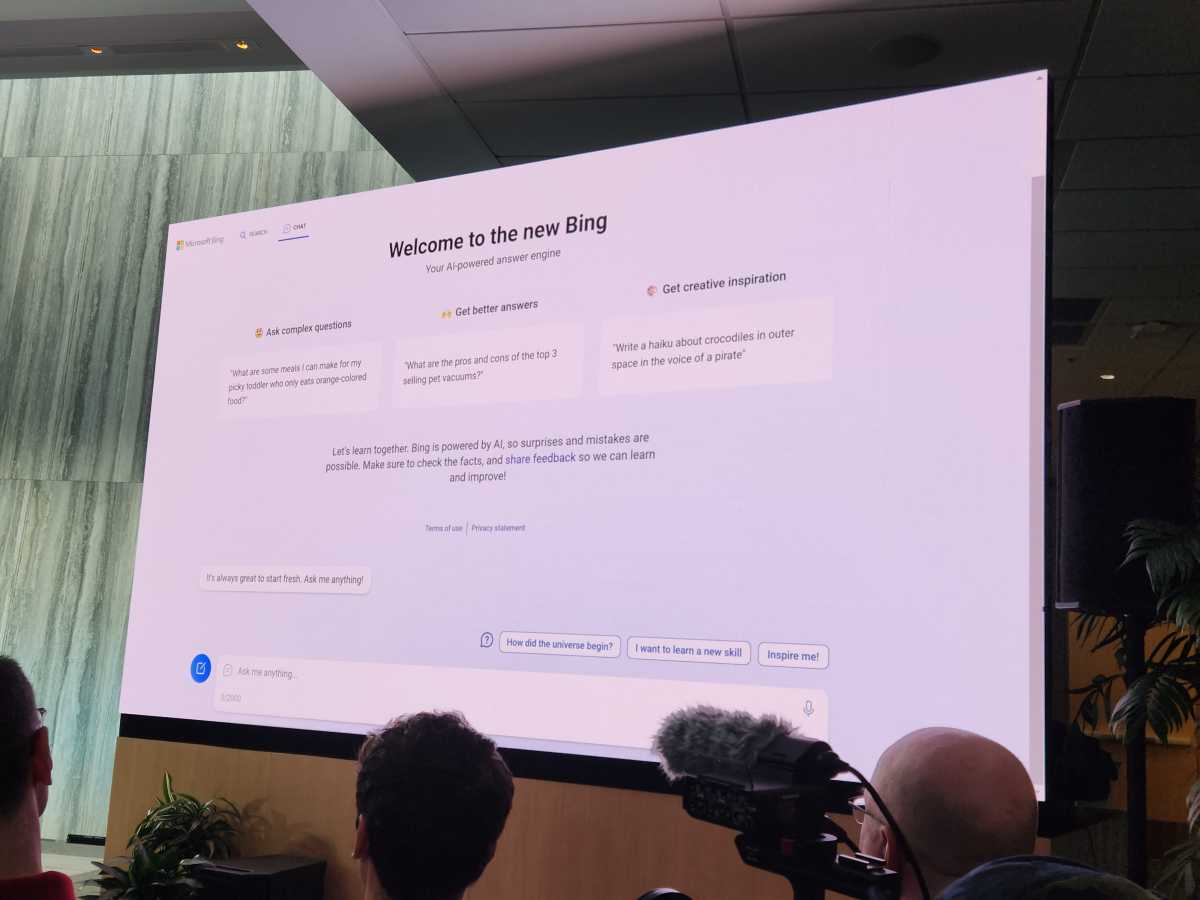 Mark Hachman / IDG
Microsoft launches an AI-powered Bing
Open Bing's home page, and you'll see a brand new interface: a large search box that can accommodate 1,000-character entries. Type in a query, and you'll see something new: a traditional list of search results will scroll down the left-hand-side of the page, but there will be a new contextual interface on the right-hand side, too.
Normally, this would be an area for Microsoft to summarize what it knows of your query: facts and figures about a travel destination, and photos and prices. Now, this area will instead be used for any context that Microsoft can pull and assimilate, and then collate in a lengthy response to your question. One key difference from ChatGPT: Bing still emphasizes facts, so you'll probably see less editorialization than in ChatGPT.
Mark Hachman / IDG
Users will also have the option to go straight to the conversational chat experience, in much the same way you can search for images or shopping results. You'll simply see a "Chat" tab as an additional search option, way up near the top of the search page.
Clicking that will bring up a chat interface, in which users can type in a query and have the chatbot respond. For now, responses will be "remembered" for about 45 minutes. Anonymous queries will be possible, but Microsoft is requiring users to log in with a Microsoft account to use the interface. Users on a waitlist to use Bing will still be able to make a limited number of queries, but users with full access will be able to generate an unlimited number of searches and chats. Mehdi showed the chat model working for television recommendations, a travel itinerary, and a 90s trivia game.
Mark Hachman / IDG
According to Mehdi, there will be no cost to use the new Bing search experience. Ads, however, will be implemented from day one — though it's not clear if he meant sponsored search results or a sponsored chat interface.
As earlier leaks indicated, Microsoft's chat results (as well as the contextual search within Bing) will be footnoted, with links to the source material so that users can check them. The footnotes are for now, bare-bones, with the clear focus on users believing the response as legitimate.
Microsoft has also implemented mitigation layers that will add filters, parsing queries to identify and defend against queries that will be may be potentially harmful, such as a potential attack on a real-world location.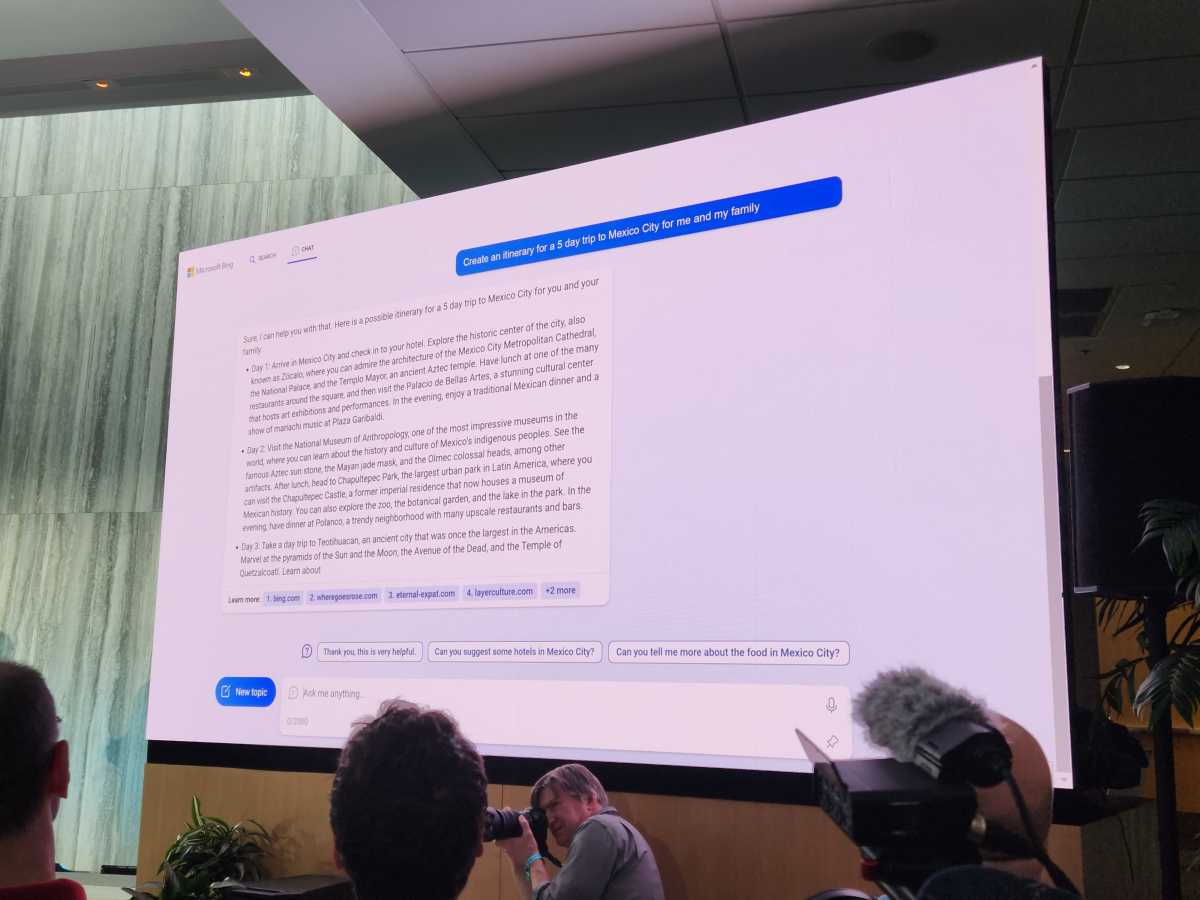 Mark Hachman / IDG
AI within Edge, too
AI chat is also being implemented inside a new version of the Microsoft Edge browser as a sidebar experience. Chat can summarize an earnings report, Mehdi said, as well as author a LinkedIn post.
It's not clear when the updated version of Edge will go live. Mehdi showed off the new chat capabilities within Edge as being accessed via a small Bing icon to the upper right of the interface. Bing already has a sidebar view, with various utilities and tools, and it appears that chat will be implemented as a more powerful version of those utilities.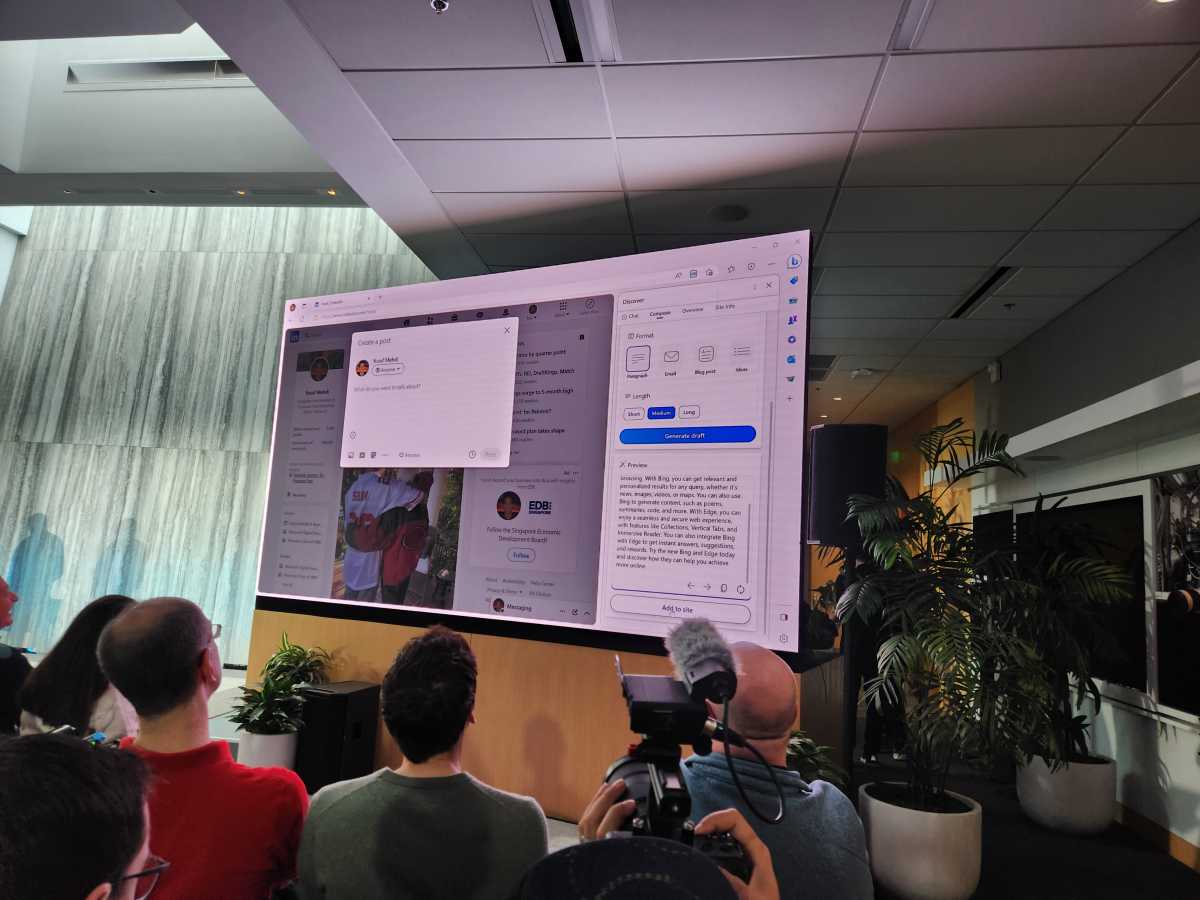 Mark Hachman / IDG
Microsoft had been widely expected to announce a sweeping AI initiative, covering both its consumer and enterprise products. In January, The Information reported that an AI-powered Bing could be released as early as March, with ChatGPT or a related technology powering Office, too. This was shortly before Microsoft invested an undisclosed amount of money into OpenAI, though reportedly the figure totals $10 billion over a ten-year period. Microsoft had already invested $1 billion into OpenAI before that.
Chief executive Satya Nadella had previously told investors that Microsoft planned to lead in the "age of AI," and deploy GPT technology across its product line. Leaks of what Microsoft referred to as "the new Bing" appeared to in the wild for a short time earlier this month. It offered basic citations to indicate where it had sourced its information.
Microsoft's Bing will now compete against ChatGPT, the conversational AI that took the world by storm last year, and by Google's newly announced Bard, which has been released in a limited form to testers. You.com has also released a conversational AI, YouChat, which also can provide contextual answers and links to its sources, and integrates AI-generated art as well.