Enthusiast laptop hardware is nothing to scoff at these days. Especially not this day. Both the Intel and Nvidia's new flagship mobile parts have finally hit shelves, and the massive notebooks that they power are incredibly potent.
And no surprise here, but Nvidia's GeForce RTX 4090 for laptops is absolutely ferocious. Though not an exact replica of its desktop counterpart (a sore spot for some internet denizens), this graphics processor still posts huge improvements over its RTX 3080 Ti predecessor—while seemingly using less power.
How big? Think performance increases as high as 70 percent in our tests. This GPU is a juggernaut backed by impressive technology—and that bodes well for the laptops coming our way. Our YouTube video dives deep into the details, but for the key points (as tested on a monstrous MSI Titan GT77 with the Core i9-13980HX and an Nvidia RTX 4090), read on.
Interested in how the equally brand-new Intel Core i9-13980HX stacks up? We've got a rundown of its performance, too.
Head-turning performance
No matter the gaming benchmark, the RTX 4090 hits impressive framerates. That fact can't be denied when you see the numbers, particularly in 3DMark's respective DX12 synthetic benchmarks.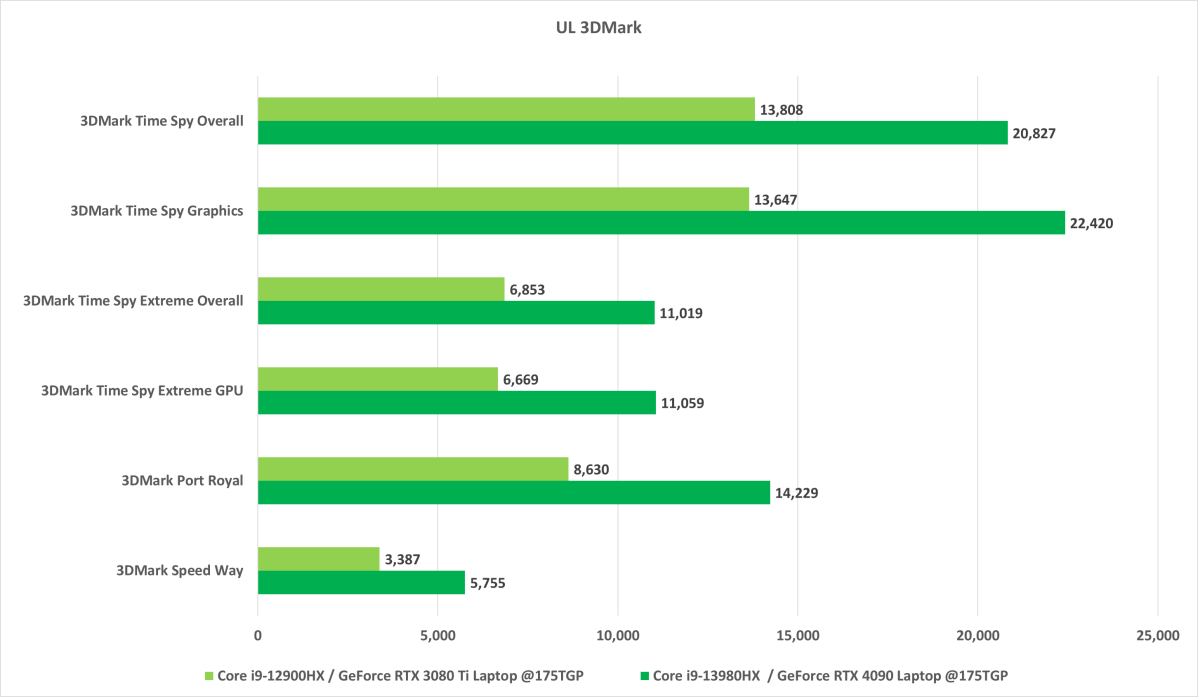 Gordon Mah Ung / PCWorld
These tests aren't playable games in the real world, but they simulate the kind of workloads your GPU get hit with when you're playing AAA titles. And when you isolate the GPU performance, the new RTX 4090's gains hit well over 60 percent compared to the 3080 Ti. In both Time Spy and Time Spy Extreme, which test at 1440p and 4K respectively, the 4090 snagged a roughly 65 percent lead.
You'll see similar results in Port Royal, which tests general ray-tracing performance at 1440p. Even in the new Speed Way benchmark, which adds in the evaluation of newer ray-tracing features at 1440p, the 4090 pushes out a nearly 70 percent increase.
It almost seems unreal—and in a way it is. Real-world benchmarks for the GeForce RTX 4090 have more nuance in how certain frame rates are achieved (as you'll see in a moment). But this snapshot of performance remains striking.
DLSS 3 is still incredible
Benchmarks in shipped games are where the rubber hits the road—even when the test is a built-in feature. They give a better glimpse into what to expect across a landscape where some games support technologies that can bump up your frame rates, are optimized for certain hardware, or even run a little cludgier on PC.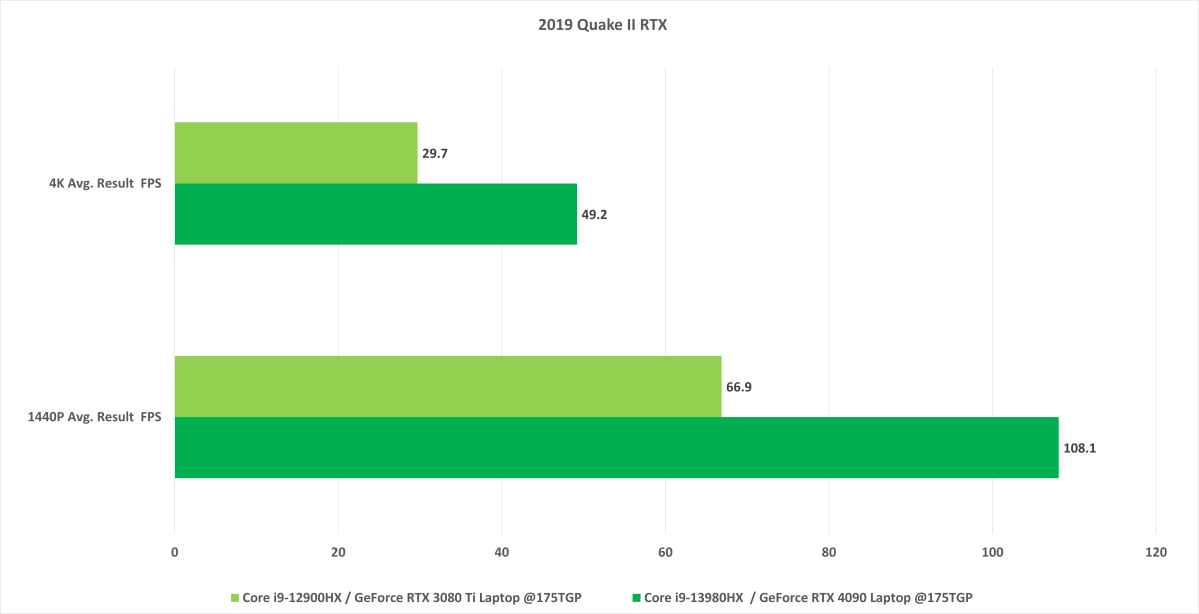 Gordon Mah Ung / PCWorld
The picture that our real-world gaming benchmarks paint of the RTX 4090 is that of a GPU that clobbers previous frame rate expectations. Whether rasterized or ray-tracing performance, it doesn't matter. Take for example 2019's Quake II RTX, a path-traced version of the venerable 90s title. The amount of ray-tracing in this edition punishes graphics cards, as seen by the RTX 3080 Ti's 29 fps at 4K—barely playable by modern standards. The RTX 4090 pushes that frame rate up by over 60 percent, putting it far closer to the preference for 60 fps baseline.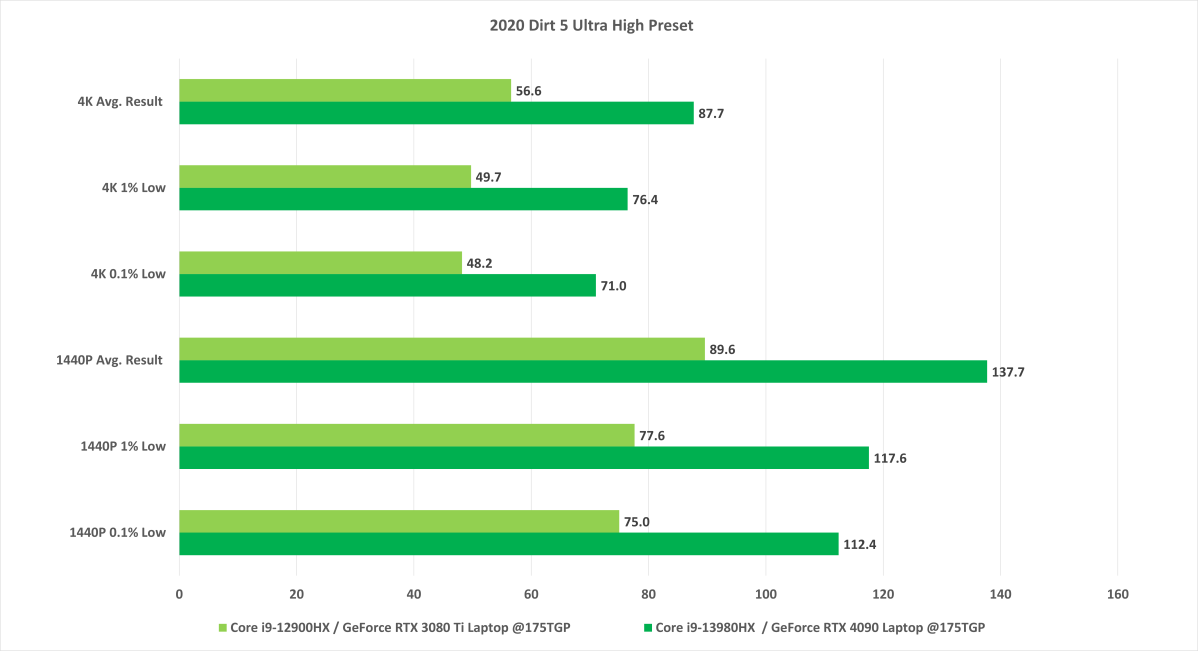 Gordon Mah Ung / PCWorld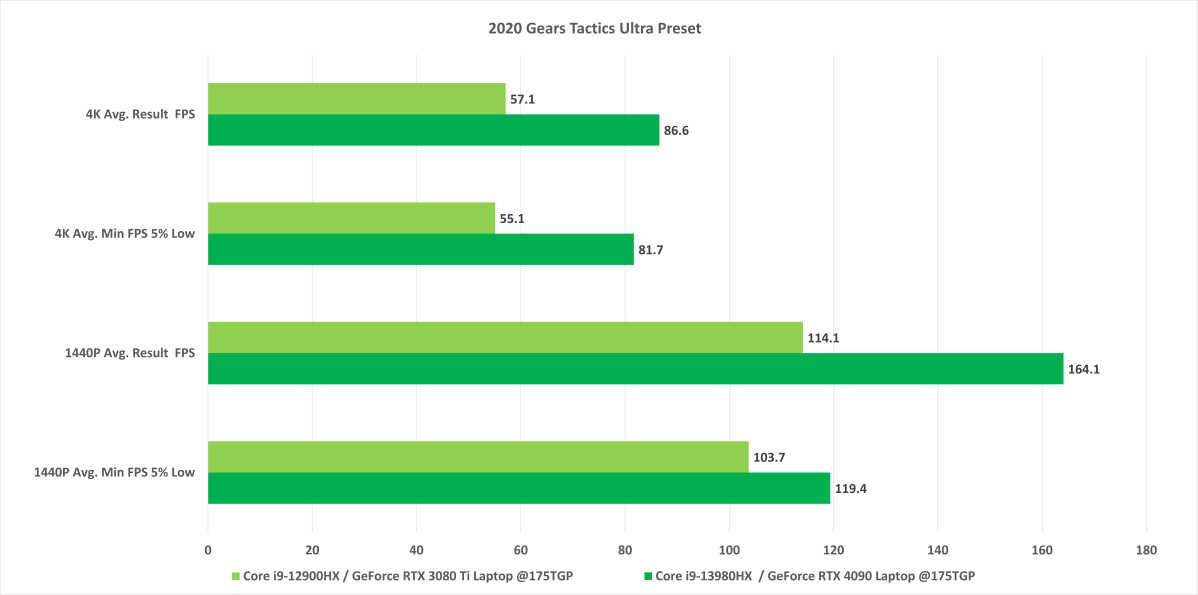 Gordon Mah Ung / PCWorld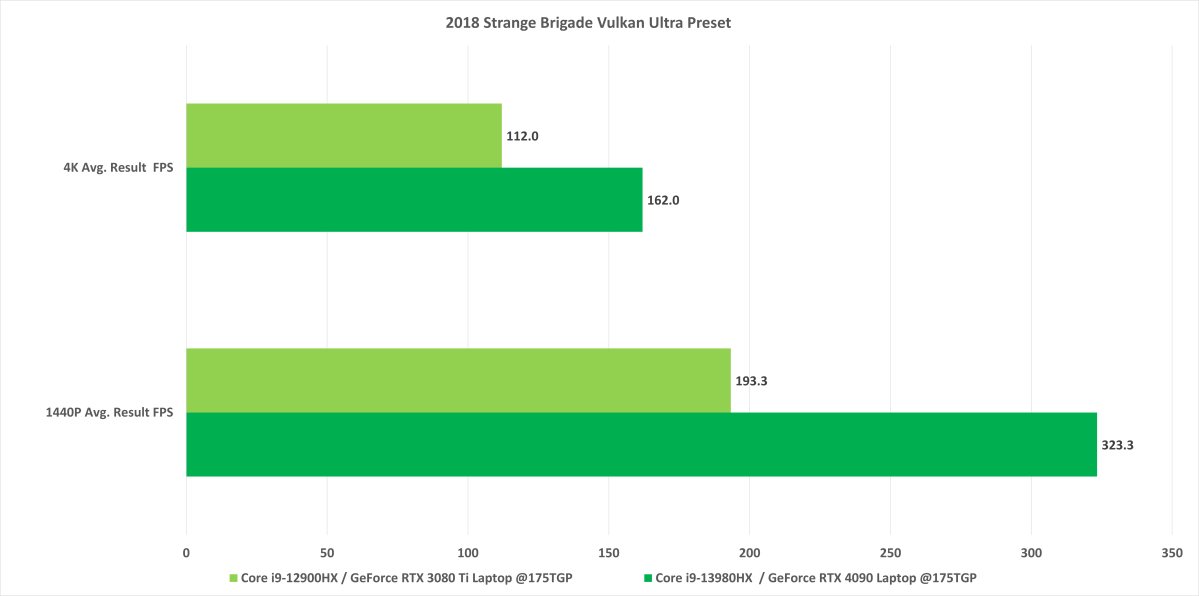 Gordon Mah Ung / PCWorld
Meanwhile, in several games where we simply cranked up the graphics settings to Ultra and let the test fly, you'll see substantial (though slightly lower) percentage uplifts. At 4K, we got a 55 percent increase in Dirt 5, 51 percent in Gears Tactics, and 44 percent in Strange Brigade. Not shabby.
Where things get interesting is when Nvidia's frame rate–boosting tech comes into play. DLSS 2.0 already helps counteract the demands of ray-tracing, as you can see in games like Shadow of the Tomb Raider—while the 3080 Ti at 4K offered a comfortable 74 fps with both ray-tracing and DLSS Balanced mode on, the GeForce RTX 4090 gets you to a silky smooth 120 fps.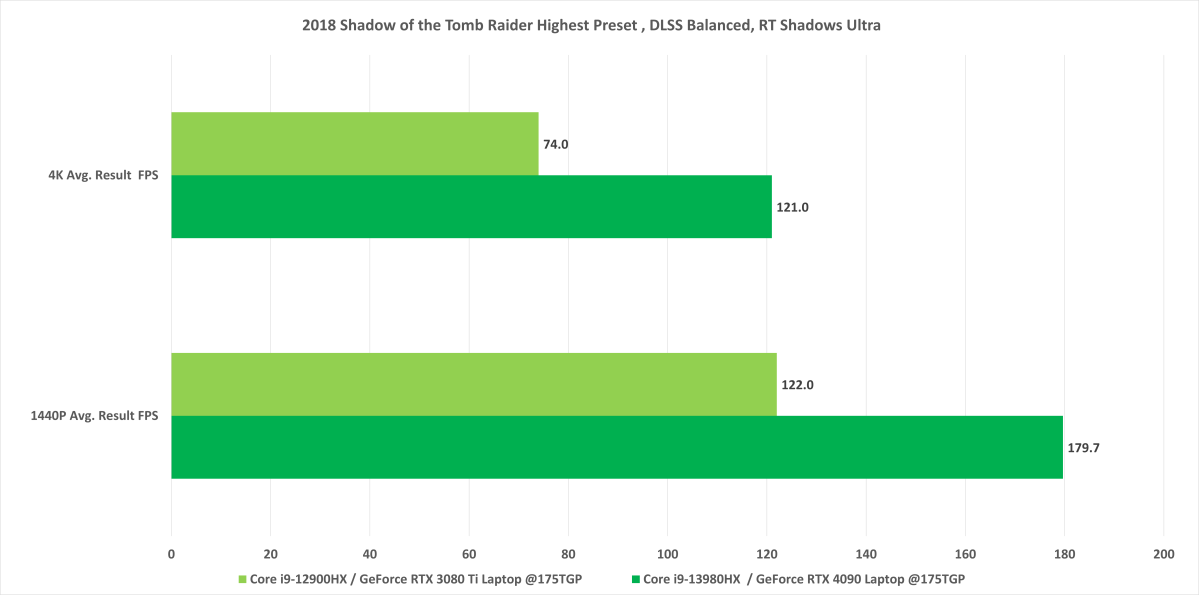 Gordon Mah Ung / PCWorld
But DLSS 3, oh my—this upgraded tech has a magical effect on frame rates. Its new frame generation technology, which leans on AI technology to generate frames that get interspersed with GPU-rendered frames, dramatically amps up performance. A glance at Cyberpunk 2077 on Psycho settings and with ray-tracing illustrates this clearly, even at 4K.
Gordon Mah Ung / PCWorld
Without frame generation, the performance improvement already sits at a massive 57 percent. (And in practical terms, a more playable 48 fps.) But with it on? The jump shoots up by nearly 200 percent to 89 fps. DLSS 3 does have a caveat—namely, the potential introduction of latency into gameplay, especially if you forgot to flip on Nvidia Reflex at the same time—but this tech is still no less exciting now than it was last fall.
In fact, it may end up more thrilling on laptops. Smaller, thinner laptops will also host the beefy RTX 4090 and 4080, like the Asus Zephyrus M16. Often a downsize of the chassis affects performance, but DLSS 3 could shrink the difference between a dainty 14-inch and gigantic 17-inch laptop in games.
Content creation gets a boost, too
Not everyone buys a high-end laptop with the intention of gaming—sure, maybe during off-hours, but in the day? Time to rip through some work.
While some production tasks are better completed using the CPU (like the Core i9-13980HK our review sample was paired with), others benefit from pushing the load onto the graphics chip. And in such scenarios, the RTX 4090 offers a nice bump in performance.
Gordon Mah Ung / PCWorld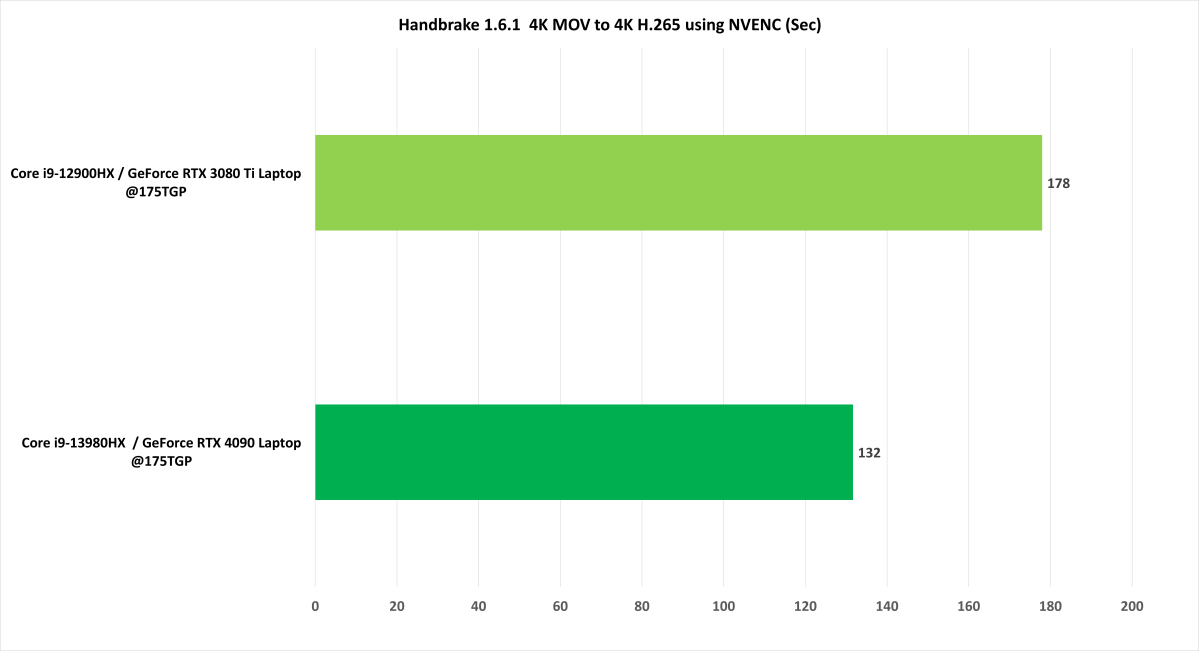 Gordon Mah Ung / PCWorld
While not as jaw-dropping as in games, the numbers still take a solid step up. In Blender, a program where rendering is thought to be faster on the GPU than CPU, speed improved by as much 31 percent. Meanwhile, in our homebrew Handbrake encoding test, converting a 4K video formatted as a QuickTime file (.mov) to the more compact H.265 format was 25 percent faster.
Gordon Mah Ung / PCWorld
The only oddity in our tests came when using Adobe products—while the results did show a 20 percent uplift in GPU performance, overall results seemed depressed. It's a strange outcome that bears investigation, but at least in principle, the RTX 4090 makes a difference.
Better efficiency, more laptop diversity
PCWorld / Asus
Not that long ago, size mattered for performance. You simply couldn't expect eye-popping results from thin, light laptops. They were great as travel companions when completing basic productivity tasks, but heavy work? Forget it.
But the GeForce RTX 4090 demonstrates just how much more efficient Nvidia's Lovelace architecture is. It outperforms its 3080 Ti predecessor with the same amount of available power—and doesn't even use all the juice. Our preliminary findings suggest that the RTX 4090 undercuts the 3080 Ti's power draw by 20W.
That likely plays a factor in the astonishingly small laptops the RTX 4090 is slated to appear in, like the ever-popular Asus Zephyrus G14. Even constrained by a smaller chassis' design limitations, this spread of Nvidia's flagship mobile GPU only bodes well. If an RTX 4090 will fit in a laptop weighing under four pounds, just think of all the ultra-thin productivity laptops the inevitable 4070 and 4060 could squeeze into.
The MSI Titan GT77 we used for testing is available to preorder for $5,299—squeezing every ounce of possible performance out of the latest, greatest technology doesn't come cheap. Expect to see more GeForce RTX 4090-wielding laptops hitting the streets soon. Stay tuned to PCWorld's roundup of the best laptops for a practical guide to the top current offerings available.