After a few high-profile releases last year and a flurry of announcements at CES 2023, it's finally OLED's time to shine in the PC gaming space. Samsung's first major release of the year was actually announced way back in August, but it now has a date and a price. The Odyssey OLED G8, a 34-inch ultrawide that's not quite as bombastic as the top-of-the-line G9, is now available to order.
Now for the doozie: It costs $1,499.99. That's not very surprising, considering the premium that Samsung tends to put on its displays. But it's also a solid 50 percent more expensive than Dell's latest offering, the Alienware AW3423DWF, which launched at $1,100 and has dipped under the $1K mark on sale. Samsung has a fantastic reputation in the TV space, but Dell's Ultrasharp and Alienware lines are just as respected on the PC side of things. It's a battle of the brands.
Samsung
Both monitors feature the same size and 3440×1440 resolution. They also have OLED panels featuring quantum dot technology and so should offer similar (if not identical) picture quality and performance. Both are certified for HDR 400 True Black (OLED panels can make that claim because they technically have zero light coming from a pixel displaying black) and are compatible with AMD FreeSync Premium Pro. They each have rear RGB lighting effects and an identical 1800R curve — gentle, but typical at this size. The Samsung screen is a hair faster at 175Hz versus the Dell's 165Hz and it claims a slightly shorter .03ms response time.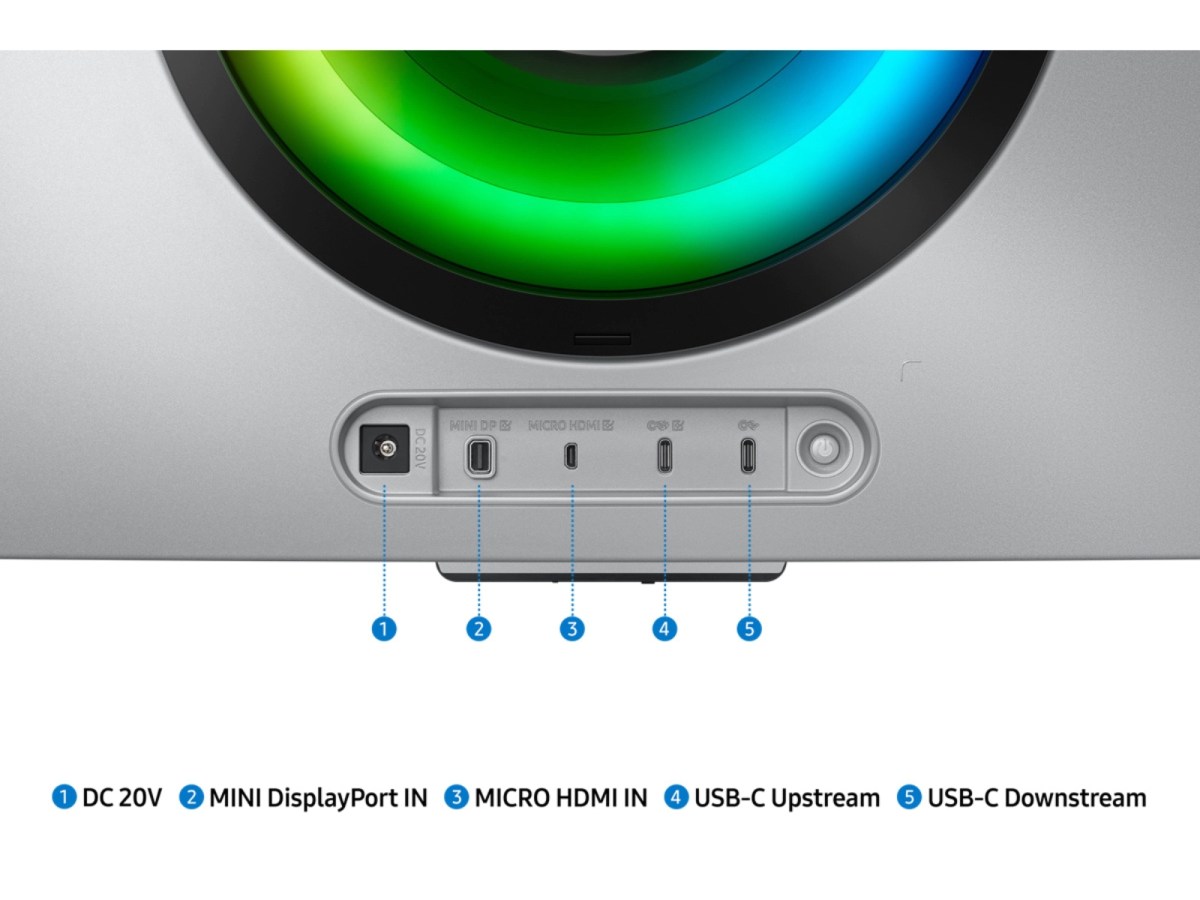 Samsung
So, what are the differences? Most immediately, the Samsung monitor has USB-C powers. While Dell relies on HDMI and DisplayPort 2 plus a few USB-A ports for accessories, the Samsung screen can handle USB-C connections with 65 watts of power delivery. That makes it a much better choice for connecting a laptop with an all-in-one cable, though using the smaller Mini-DisplayPort and MicroHDMI standards for gaming desktops and consoles might be kind of annoying.
Samsung
It's also packing a lot of the same software features as Samsung's TVs: Wi-Fi and Bluetooth connections, built-in streaming apps on the company's Tizen TV operating system, and the "Gaming Hub" package that includes access to services like Xbox Game Pass and GeForce Now. The screen integrates with various smart home features using Alexa. I won't argue the aesthetic qualities of either monitor — the Dell is black and the Samsung is white, whaddya want? — but the Samsung screen and stand are a solid five pounds lighter despite the extra smart TV hardware.
If you're sold on the new design, it's up for order on Samsung's website right now. Shipping is free and the site says it'll arrive at my Pennsylvania home by February 23rd. Samsung's much larger OLED G9 as well as a truly massive 57-incher with a mini-LED panel should arrive sometime later this year.