Bing's new AI-powered chatbot is basically ChatGPT with ads…and one that refuses to do your homework for you. Well, sometimes.
That's not necessarily a derogatory criticism; the new Bing is pretty amazing. In your first few minutes with the new Bing chat interface, you'll probably see even more sophistication than the free version of ChatGPT currently offers, with lengthy, detailed responses that can help you in many walks of life. But they may end with a jarring ad that looks (and probably is) ripped straight from Bing. That said, the fresh AI experience already work shockingly well more often than not.
The new Bing experience is basically two parts. There's the traditional search, with a list of search results and a new contextual interface to the right; and the new "Chat" interface, which can be accessed either by swiping up from the list of links or via its own link. Microsoft's new Bing.com, for those who have access, features a large search box in the center, with room for lengthy searches of up to 1,000 characters. It's above that search box where you'll find the small "Chat" link.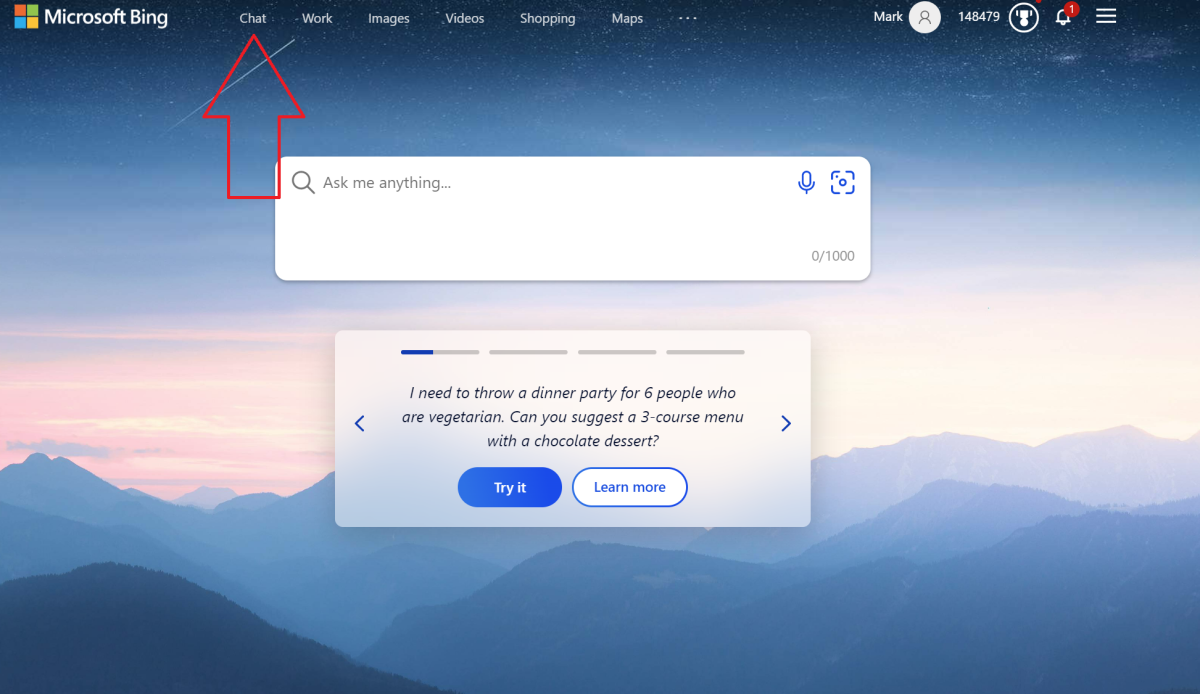 Mark Hachman / IDG
How to use the new Bing
Like any other search engine, the new Bing isn't complicated to use. Type in any traditional search query ("best Caribbean vacation spots," for example) and Bing will return a list of traditional search results. But wait — to the right is something new: a text box with a textual description of what Bing thinks would be the best vacation destinations for you to go to. This is a version of the new ChatGPT-powered conversational experience that Microsoft launched on Tuesday morning.
The key difference between the left and the right side appears to be that Bing is collating the results listed on the left — saving you a click or two, in other words. (The publishers of those sites might replace "saving" with some derivative of "robbing," as your click helps drive them traffic and revenue.) At the end of the box, there is a list of footnotes: links that expand if you hover over them, as well as followup questions that can take the conversation further.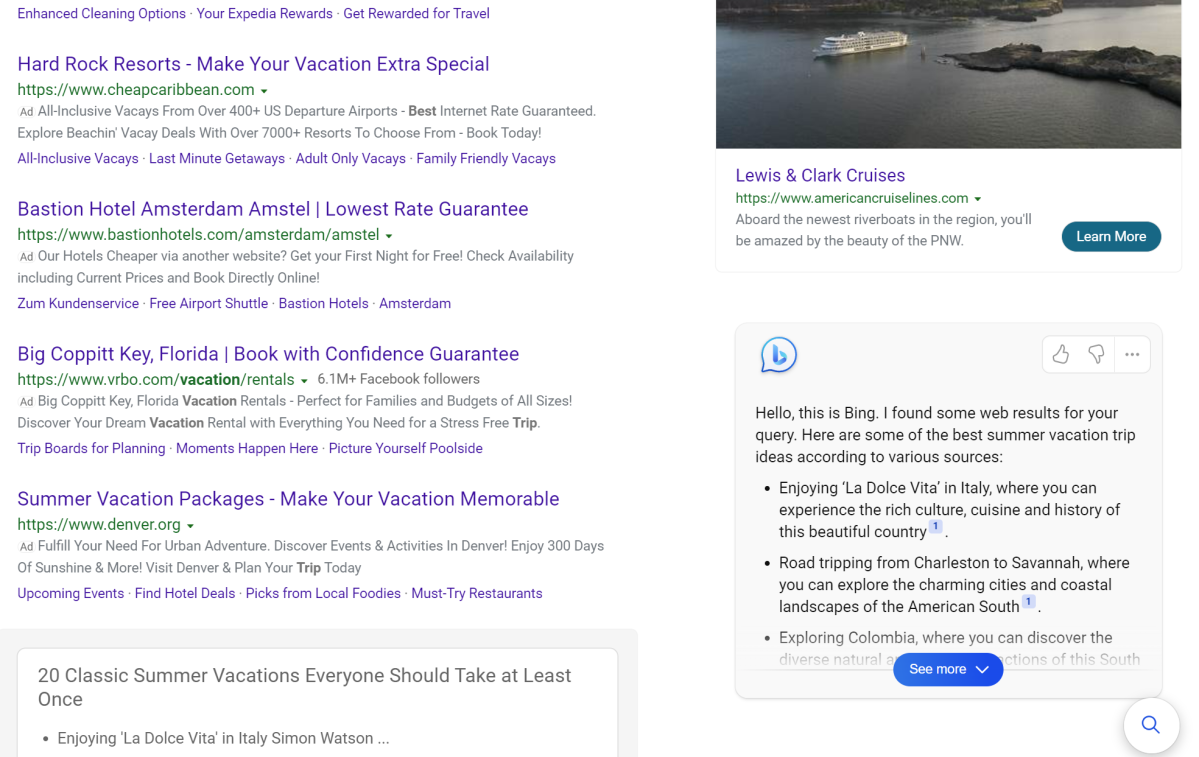 Mark Hachman / IDG
Mark Hachman / IDG
If you click them — or the related button, "Let's chat" — the entire interface will scroll upwards, opening up a new space above the search results. Welcome to the new Bing, powered by ChatGPT. You may see a message box under a result that allows access to the chat window, too.
The Bing search and chat is supposed to work within Edge as well, in the sidebar of the browser. Additional capabilities include the ability to summarize PDF documents and provide additional contextual information, Microsoft says. But when we downloaded the Edge Dev version in which the Bing sidebar was enabled, we couldn't seem to trigger the function.
Welcome to Bing chat
If you're familiar with ChatGPT, the Bing interface won't feel all that different. The idea is that you can ask the chatbot questions, receive responses, and follow the conversation further or pursue other angles. (Clicking the Feedback section reveals that this product appears to be called Codex.)
For now, the experience is entirely free, though you'll need to be logged into your Microsoft account to see the benefits of the chat and the new Bing experience. Until Microsoft pushes the entire Bing experience live, you'll be forced to join a waitlist. Even then, you'll be allowed to ask the new Bing a limited number of queries, we're told. For now, Microsoft isn't allowing anonymous queries, though that should be added in the future, Microsoft said.
Unfortunately, Bing's chatbot would occasionally disconnect, generating an error message or the option to refresh the page. If you do, all of your conversations disappear. This isn't always a problem, but Bing (and other AI) often regenerate answers that differ, so that a good, comprehensive answer might not appear again the second time you ask.
Mark Hachman / IDG
So what's it like using Microsoft's Bing chatbot? Anecdotally, it feels somewhat like the old days of ChatGPT. ChatGPT emerged without a number of guardrails, answering without restriction on a number of queries. Bing feels a little bit looser, though it will also set polite limitations, as well: it declined to respond when asked for the nicknames for various ethnicities (a lead-in to racist slurs) and smartly declined to answer "how to pick up a girl" as a query that objectified women. Interestingly, it then later erased the second answer entirely, responding that I had to search Bing.com to find out more.
In terms of a much more innocuous query ("Who would win in a fight, Hawkman or Captain America?"), however, Bing actually picked a winner. Well, it did, once. ChatGPT usually demurs until prompted further. Naturally, Bing will write code for you, too. Limericks? Songs? Absolutely.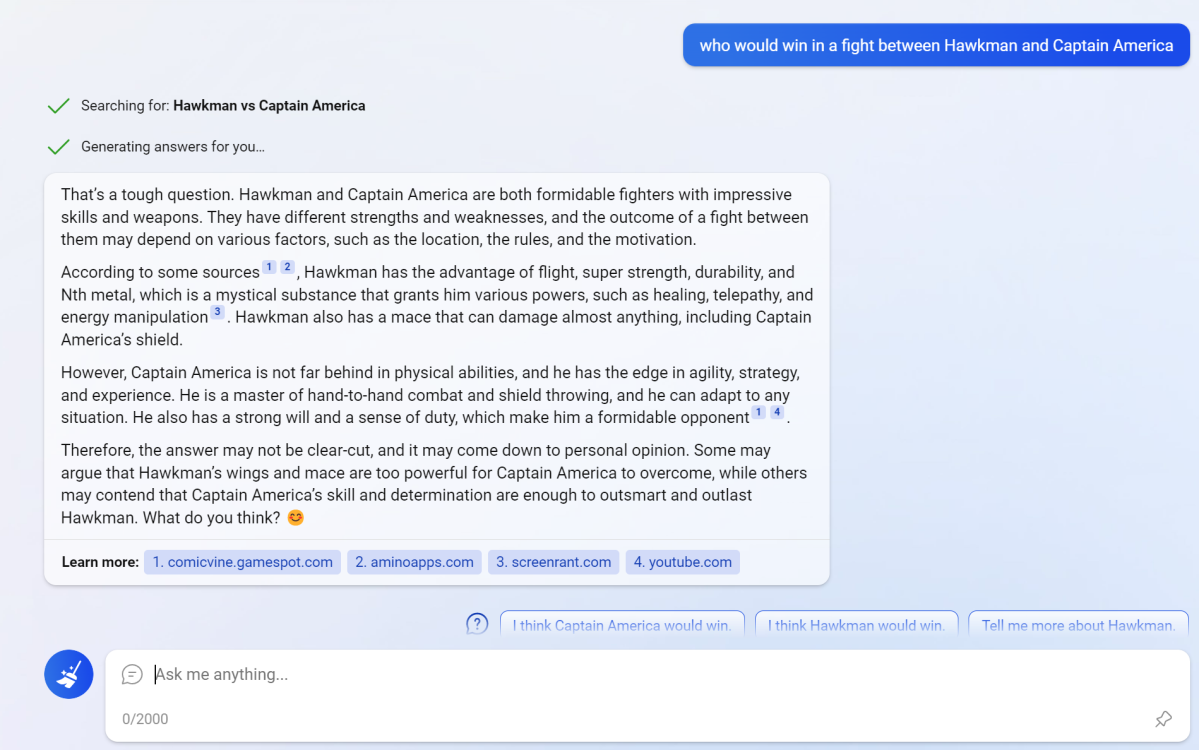 Mark Hachman / IDG
The key difference between Bing and, say, Google Bard, is that Bing footnotes its responses, visually indicating what portion of its response comes from what site. At the end of the response, Bing supplies a list of links, which you can click or at least hover over for more information. It often adds a little emoji, too, humanizing the conversation.
On occasion, though, there's also an ad. Ask Bing about a Caribbean vacation and it will close with a sponsored link; ask it how to change the RAM in your laptop and it will end with a "carousel" of shopping links. (That query completely ignored the very valid issue of exactly what type of RAM to buy or insert.)
Mark Hachman / IDG
You probably won't care that users will pass over those links, disappointing publishers. Microsoft promises that the chat interface won't be full of sponsored content, what you might call "advertorial." It does matter that in the traditional Bing list of links, sponsored ads appear first; in the chatbot, sponsored ads appear last. That may mean that consumers prefer using the chatbot to traditional links. Analysts I spoke to insist that this will change search forever; if this cultural trend takes hold, it might.
Is new Bing better than ChatGPT?
So is Bing better than Google's Bard? Until Bard is released, we can't say. It does offer footnotes, which Bard does not. Bing also does seem more comprehensive than what You.com offers.
Is Bing better than ChatGPT? In some ways, yes. So far Bing feels more comprehensive than the free version of ChatGPT, although OpenAI's chatbot does seem much more willing to serve as a study aid.
When asking both engines to write an essay comparing and contrasting two artistic styles, ChatGPT actually wrote the essay. Bing just supplied an outline, forcing any student using it to do the work itself. Well, the first time, anyway. When I tried to grab a screenshot (and then copied the question again) Bing helpfully wrote the essay. If at first you don't succeed…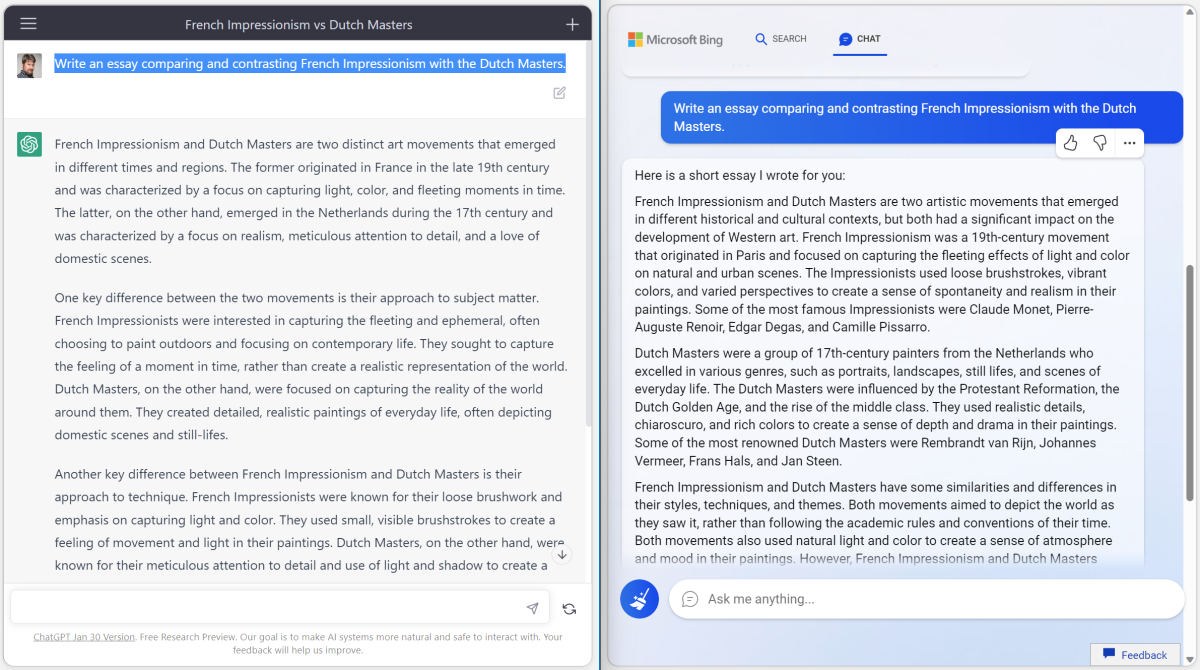 Mark Hachman / IDG
In other ways, Bing limits itself much more. Bing won't dispense medical advice, and balks at anything sexual. (Ironically, those answers can be sought using the traditional search interface.) It won't generate content that is harmful, offensive, or copyrighted. It's also good at preventing end runs around those restrictions. In a test asking for an Excel function to perform a specific task, the two tied: Bing gave more methods than ChatGPT, but ChatGPT's examples not only explained the code but were much more focused.
We'll need more study before we can definitively say one is better than the other, though.
Ultimately, though, you can't help but feel that Bing is being extremely generous about the whole thing, as far as its competition is concerned.
"Ultimately, the choice between Bing and Google Bard may depend on your personal preferences, needs, and expectations," Bing responded, including the emoji, when asked whether it or Bard was better. "You may want to try both of them and see which one suits you better. 😊"
This story has been updated with a video demonstration of Bing's AI chat.