At a glance
Expert's Rating
Pros
Light weight and sharp text make for hours of comfortable reading
Waterproof
Built-in OverDrive support
Book management offers many filtering and sorting options
Cons
Can only play audiobooks from Kobo
Battery life not quite as good as on Kindle
Our Verdict
Not only does Kobo's revamped Libra e-reader sport a sharp screen and physical buttons for page turning, but it also offers wide support for content formats and sources. Battery life could be slightly better, but overall, reading on this device is incredibly enjoyable.
Amazon Kindles dominate awareness when it comes to e-readers—friends and relatives ask me what Kindle they should get, not which e-reader.
But overlooking the competition can limit both available features and places to buy books. Take the Kobo Libra 2, a close competitor to the Amazon Kindle Oasis. Its native support for library books and a wider variety of book formats enables more reading options, while still providing similar features as the Oasis, like physical controls and a 7-inch screen. It also offers an interface some people might like far better. Oh, and you pay less.
In fact, after months of using the Libra 2, it's often my first suggestion to folks seeking an e-reader with physical buttons—even people already deeply invested in the Kindle ecosystem.
Kobo Libra 2 (2021): Specs, features, price
Price: $190 MSRP (as of 2023)
Colors: Black, white
Storage: 32GB
Display: 7-inch, 300 ppi E Ink touchscreen
Front light: Yes (plus adjustable brightness and color temperature)
Dimensions: 6.4 x 5.7 x 0.35 inches (144.6 x 161.6 x 9mm)
Weight: 7.6 oz (215g)
Connectivity: Wi-Fi 4, Bluetooth
Battery life: "Weeks of battery life"
Charging: USB-C
Waterproof rating: IPX8
Supported formats: EPUB, EPUB3, FlePub, PDF, MOBI, JPEG, GIF, PNG, BMP, TIFF, TXT, HTML, RTF, CBZ, CBR, Kobo Audiobooks
Kobo is a longtime veteran of the e-reader wars—for over a decade, the company has steadily produced affordable models that have pushed the envelope on features. For example, Amazon wasn't the first to introduce waterproofing and warm lighting with its Kindles. Kobo already had done it years prior.
The Libra 2 marches on in this vein, though without the launch of revolutionary new tech. Instead, you get a solid collection of premium features designed for power reading. Its spec list ticks off all the major boxes: a 7-inch 300 dpi touchscreen, 32GB of storage, two physical side buttons, a compact, IPX8 waterproofed body, and Bluetooth support for audiobooks (new to Kobo devices). The screen also supports both automatic and manual color temperature adjustment for nighttime reading. And when you turn on the device, you drop into a fully ad-free interface that includes built-in support for OverDrive, a service used by many libraries for digital book loans.
mentioned in this article
Kindle Oasis (2019)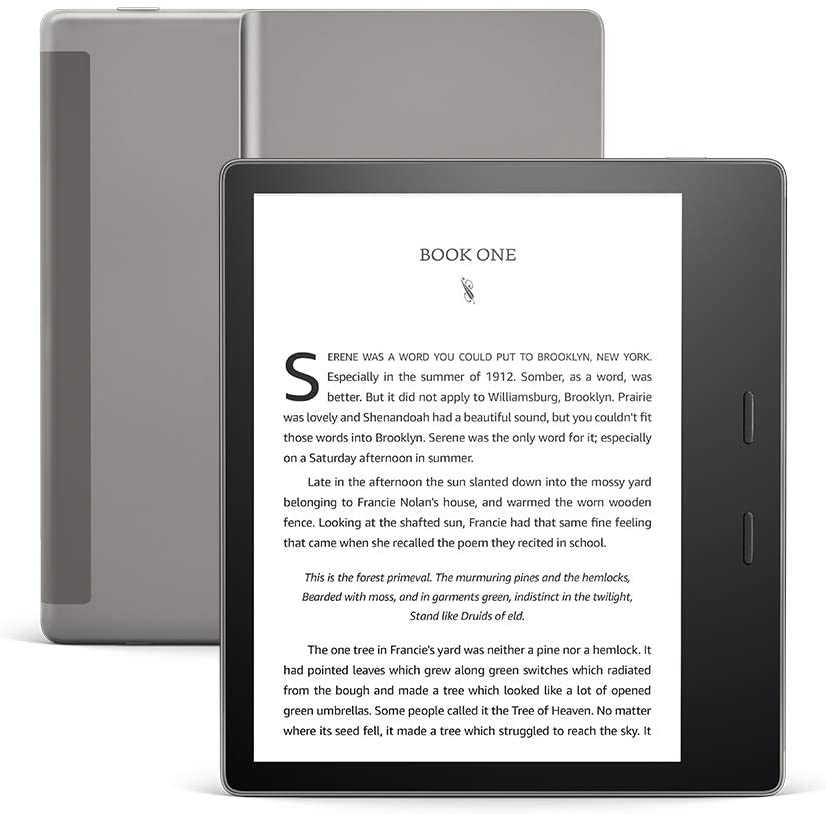 Price When Reviewed:
$249.99
This Kobo e-reader does however have a heavier, cheaper body compared to its main rival. The Amazon Kindle Oasis is about three-quarters of an ounce (22 grams) lighter, and housed in aluminum, while the Libra 2 is encased in plastic. The Libra 2 also lacks automatic brightness settings. But it largely makes up for these differences with a comfortable feel in hand, and a nifty user interface trick that lets you adjust the brightness by sliding a finger along the side of the screen.
It's hard to complain about it lacking certain features, however, given Kobo's lower pricing. Originally launched at an MSRP of $180 back in 2021, the price has nudged up to $190 for 2023—which is still more than $100 cheaper than an Amazon Kindle Oasis with near equivalent specs.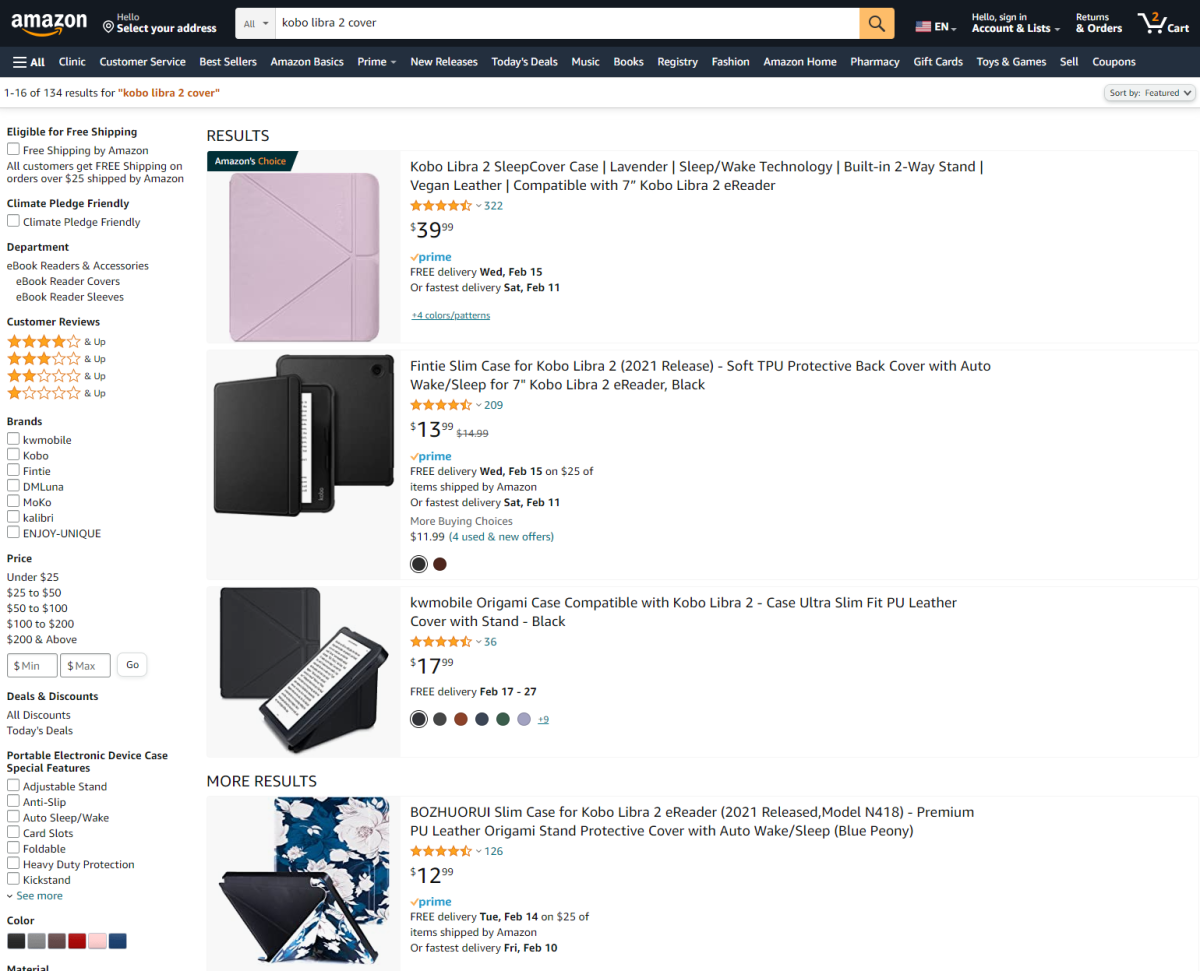 PCWorld / Amazon
Kobo Libra 2 (2021): Reading experience
The Libra 2 makes devouring books a pleasure, in part due to the 300 dpi screen. It's crisp and easy on the eyes—as it should be, since it's the same resolution as printed books. But the hardware contributes as well, with page turns responsive even in graphic novels, magazines, and PDF documents. Pinch-and-zoom in those file formats is also fluid.
The screen itself is evenly lit, with good visibility in outdoor situations and blackout conditions alike. The color temperature of the LEDs shift broadly between cool and warm, though with less granularity than on Amazon's readers. No numerical scales here; you only have a sliding scale with 11 positions to choose from. I found it less hassle to use the automatic adjustment between daytime and nighttime temperatures—I selected transitions at set times, but you can also tie it to your local sunrise and sunset. Brightness settings are easier to navigate, with a percentage given. You'll get more precise control by sliding your finger along the side of the left screen (relative to the device's current orientation); using the top navigation option jumps along in small, irregular increments.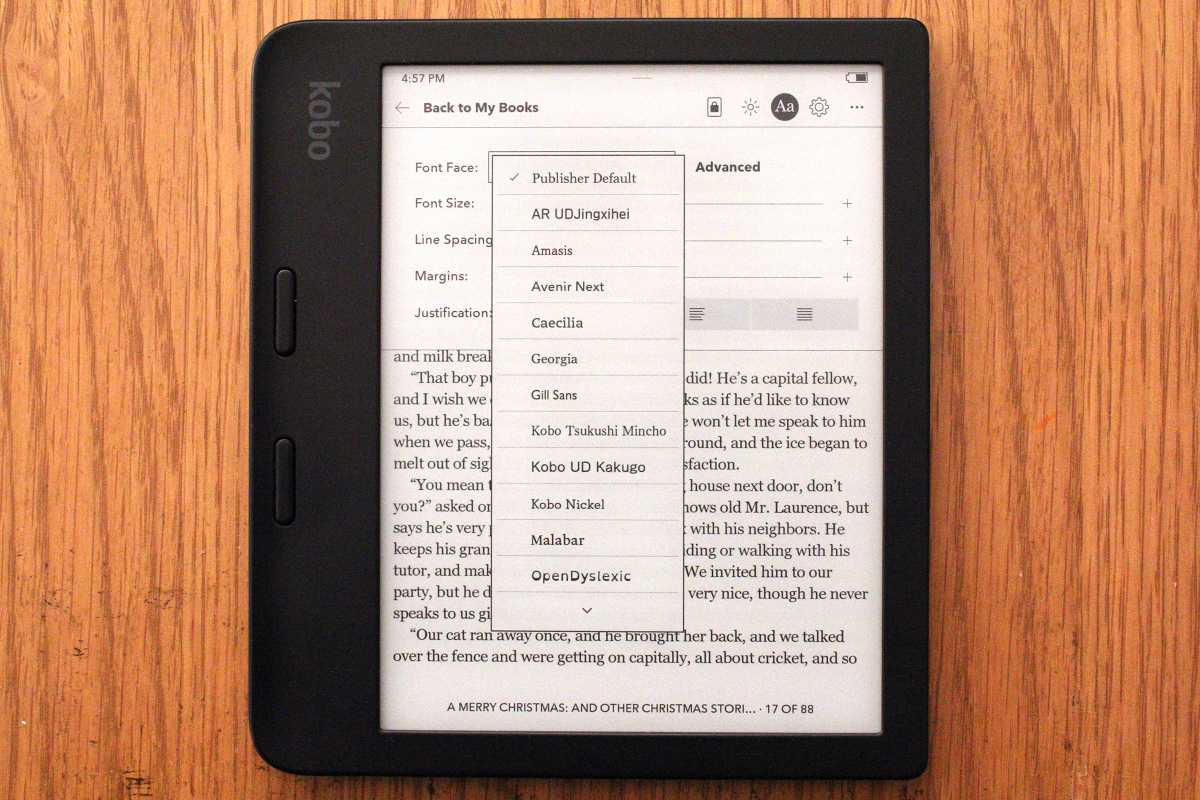 Alaina Yee / Foundry
Arguably, the best part about the Libra 2 are its two physical buttons. One-handed use is a no-brainer, especially with the crisp feedback for each button. I absolutely loved using it while cooking and eating, because I never got sidetracked with user interface flubs as on touchscreen-only e-readers. Same with the position of the power button, which rests on the back—I personally find side-mounted power buttons more fiddly to deal with.
Physically, the sole awkward aspect of the device is its charging port, which is placed on the side with the buttons. You can only comfortably hold the Libra 2 in your right hand when reading while charging.
Kobo Libra 2 (2021): Battery life
The lone issue—if you can call it that—with the Kobo Libra 2 is its battery life. Kobo gives its estimate as "weeks," rather than any quantifiable number, as Amazon does. Can you get weeks of use from a single charge? Yes, and I did during my months of use.
But on the whole, the Libra 2 burns just a little faster through battery life than expected, even with light use, a dim screen, and no active Wi-Fi. Even when left on standby for long stretches, it just quits a little sooner than long-time Kindle users may be accustomed to. I noticed it most during heavy periods of reading, when I binged books for a few hours a night and at least three or four times in a 7-day span. I ran out of charge by the end of such a week more than once.
The difference in battery life doesn't feel huge, though, and so didn't negate the device's appeal for me. It charges reasonably quick, and you can still use the e-reader while topping up. The placement of the port isn't elegant (as mentioned above), but it's workable.
Kobo Libra 2 (2021): User interface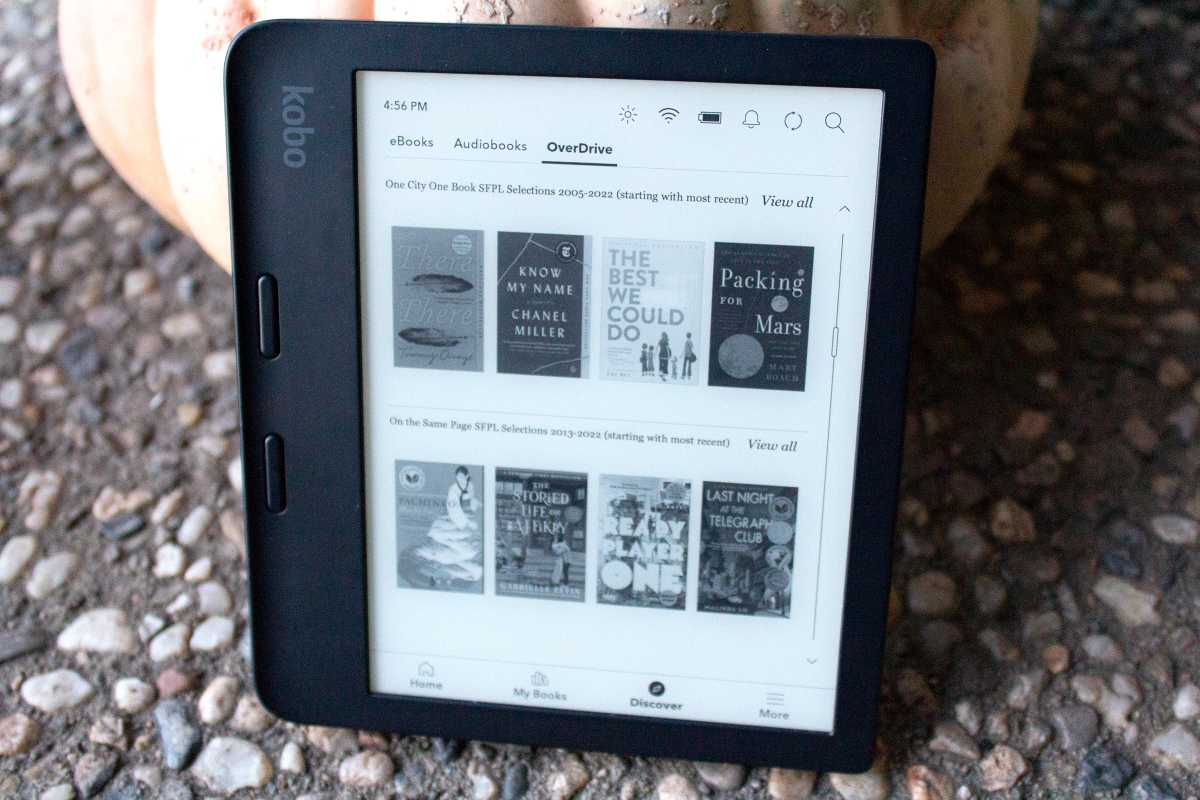 Alaina Yee / Foundry
I genuinely don't think the Kobo Libra 2's battery life is a huge issue for most people—they'll be near electrical outlets frequently. (It's a different story if your life often takes you into off-grid areas; you may find a Kindle a better match.)
But in fairness, I'm possibly more patient with the Libra 2 because of its price, physical buttons, and its built-in features, which are a good match for my priorities. Most important to me is direct access to library books, magazines, and graphic novels via OverDrive, as libraries are a major source of content for my reading binges. You can log in to your OverDrive account through the Libra 2. My one quibble: Search results show the paid Kobo store version of a book. To check out the library version, you have to use the drop-down menu in the book's listing.
I'm also a fan of how my books are displayed. Kindles currently use a more streamlined interface, which looks cleaner but buries filtering and sorting options in drop-down menus. While you can manage books in a similar way as on a Kindle, the Libra 2 also has a tabbed menu at the top of the screen that lets you instantly view books as one big pile or instead grouped by authors, series, and collections you've created. Between all the options, I generally find a desired book faster on the Libra 2, thanks to fewer taps and less scrolling.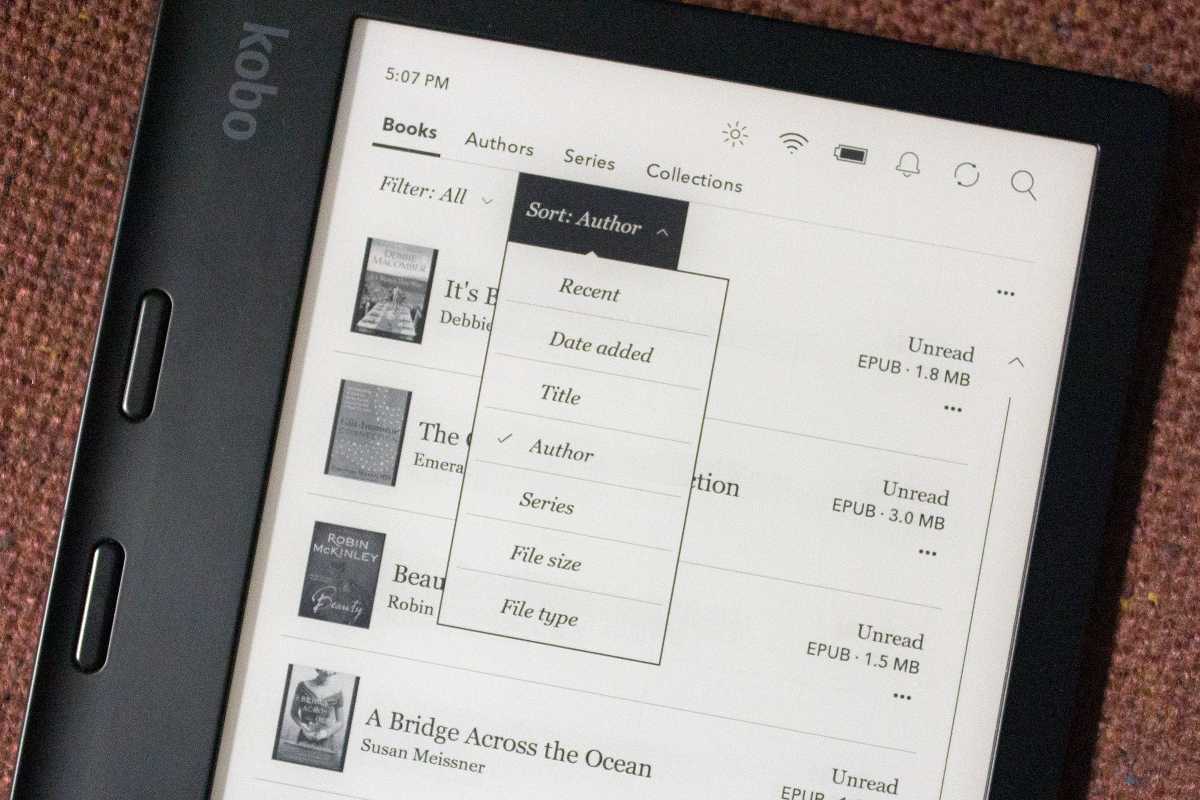 Alaina Yee / Foundry
Within books, navigating is straightforward and intuitive. Kobo makes book-related settings visible as soon as you tap the center of the screen—a second tap usually gets you to where you want. The only missing option? A native ability to make the time always visible, as on Kindles. If I'm not careful, I can lose whole hours while reading.
Curiously, Kobo doesn't offer screensavers for Libra 2 while it's in standby mode, like Kindles do. Instead, your two options are the cover of the book you're currently reading, or a blank screen and a bit of text that says "Sleeping." You have to do a little work on your own to add your own custom screensavers.
In addition to downloading borrowed books from OverDrive and purchased titles from the Kobo store, you can of course plug the device into a PC to transfer files. Windows will recognize your Libra 2 as a USB drive, into which you can copy books and other compatible formats like PDFs and even Microsoft Word files onto. (Books can't be protected by DRM for this method to work, however.)
Should you buy a Kobo Libra 2?
Kobo's e-readers pack in features at affordable prices, and the Libra 2 is no exception. Its sharp screen and physical buttons makes digital reading incredibly enjoyable, and its software offers flexibility in supported books and other reading content. If battery life is the highest priority for you, you may need to stick to Amazon's tightly integrated ecosystem, but for most everyone else, the freedom you get with this device is worth its minor quirks.