If you're looking to pick up a new PC mouse for your home office setup, you should consider getting one specifically designed for gaming. They're responsive, customizable, and come in all different shapes and sizes. Plus, there are tons of wired and wireless options out there. You don't even have to be a gamer to use one. If you're not totally convinced, don't worry, I aim to persuade. Read on to learn several compelling reasons why a gaming mouse is good for anyone.
To see more options, check out our roundup of the best PC gaming mice.
Sensitivity
Gaming mice feature a higher DPI (dots per inch) than traditional mice, which directly impacts sensitivity and responsiveness. DPI is a good indication of how fast your mouse will move across the screen. The higher the number, the faster it will travel. For gaming mice, DPI can be anywhere from 400 to 26,000 DPI. That's a massive range, I know. Typically, the higher number is important to those who play faster-paced games, in which every second matters. That said, for general use, you don't need a super-high DPI.
Luckily, most gaming mice have a physical button that allows you to change the DPI on the fly. If you pick up a mouse with no DPI button, then you can easily change it in your computer settings. For everyday tasks, the most comfortable range is 800 to 1,200. Anything faster than that and the mouse will quickly get away from you.
Ergonomics
Gaming mice are designed to be used for long periods of time, so personal comfort is a major factor. They offer a natural grip and a naturally comfortable place to rest your thumb. This helps alleviate any strain on the hand or wrist. They're also designed for different grip styles like palm, claw, and fingertip. Traditional mice, on the other hand, tend to be flat and not raised or sloped. They lack the support needed to keep your hand in a natural position.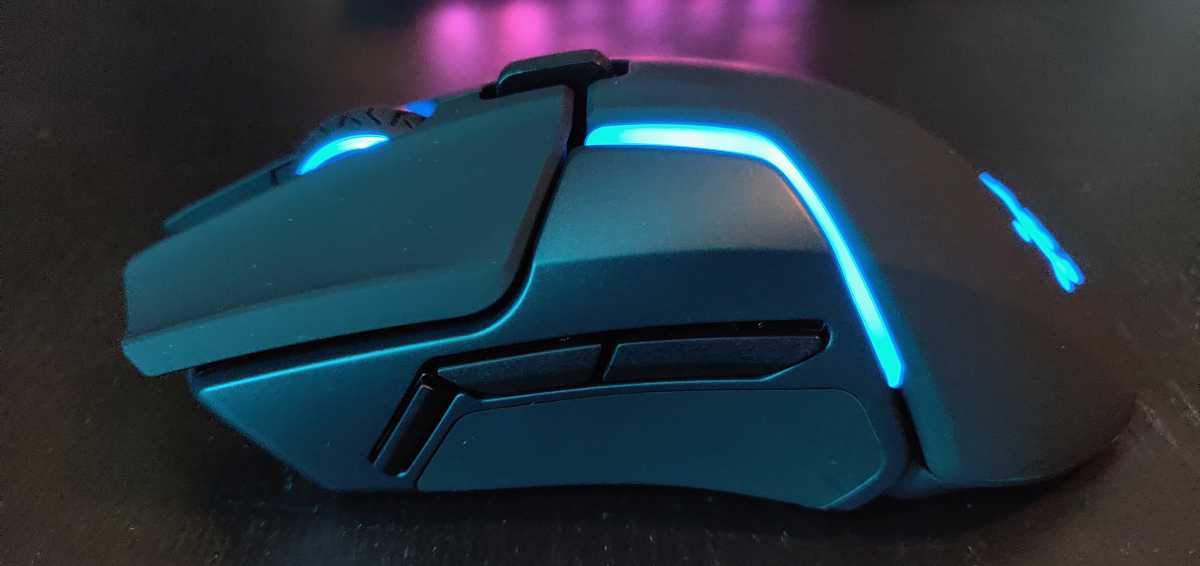 IDG / Hayden Dingman
Extra buttons and macro abilities
Gaming mice allow you to bind the physical buttons to software, in-game commands, and so on. The idea is to easily access time-saving shortcuts. The SteelSeries Aerox 9, for example, has up to 18 programmable buttons. However, if you're using a gaming mouse for work or everyday tasks, that many buttons may be overkill. That said, you can still program these buttons to help maximize your workflow and save you time. You can set them up to copy and paste information, close and open browser tabs, and so on. Traditional mice don't have all these extra buttons, which means you'll spend more time clicking around.
RGB lighting
RGB lighting is just plain fun. However, it has no effect on the functionality of the mouse. It's just there to set the mood. If you're looking to add a little flair to your home setup, RGB lighting is the way to go. Personally, I use the SteelSeries Rival 3 gaming mouse and I love looking at the flow of rainbow lights. It's super mesmerizing and relaxing. If you find RBG lighting too distracting, you can always switch it off.