At a glance
Expert's Rating
Pros
Discrete front, interior, and rear cameras
Type-C power and thin cabling
4K captures
Excellent video quality from all three cameras
Cons
Quite a few wires to accommodate
Connecting app to phone required several reboots
Our Verdict
The Viofo A139 Pro 3CH uses three separate, freely-placeable cameras (front, interior, rear). Captures are excellent during the day, very good at night, and we appreciate the slick design and thin cabling.
Price When Reviewed
329.99
Best Prices Today: Viofo A139 Pro 3-channel dash cam
Most of the three-channel dash cams we review consolidate the front and interior lenses into one body. This cuts down on cabling, but can mean compromising on where you place it—e.g., hiding it behind the rear view mirror may cut off your interior coverage.
Not so with the $370 Viofo A139 Pro 3CH whose interior camera is a separate unit. There's also a discrete rear view camera for the ultimate in versatile coverage. The cherry on top is the very good (night) to excellent (day) capture quality of all three cameras. But yes, it is pricey.
Note: See our roundup of the best dash cams to learn about competing products, what to look for in a dash cam, and buying recommendations.
Viofo A139 Pro: Design and features
As mentioned, the three-channel A139 Pro system consists of a main body with the controls and a 2160p/140-degree field-of-view front camera, plus separate 1080p/170FoV interior and rear view cameras. The interior and rear cameras are identical in size and shape (nicely rounded and attractive), with the interior camera sporting infrared lighting.
Generally speaking, I'm not a huge fan of display-less dash cams such as the A139 Pro, though the design makes up for that absence somewhat with plainly labeled buttons and status lights on the camera's rear deck.
The reason I prefer a display is that I don't want to be reaching for my phone (interrupting anything else I'm doing with it) whenever I want to check a video, or to change a setting. Granted, those are relatively rare instances; but there's also the fact that I'm just not as phone-centric as many other modern citizens. Use your own bias in judging this aspect of the dash cam.
On the other hand, I must commend Viofo on the connection and wiring solutions. The power connection is Type-C, which is something I'd like to see the world finally consolidate around in order to cut down on cable waste. Viofo also opts for much thinner cabling to the interior and exterior cameras than most systems.
Thin cabling is easier to hide and less obtrusive in places where it can't be hidden. The cables are a bit stiffer than normal, but that didn't hinder my installation. The connectors are also smaller than normal and click into place. Sweet.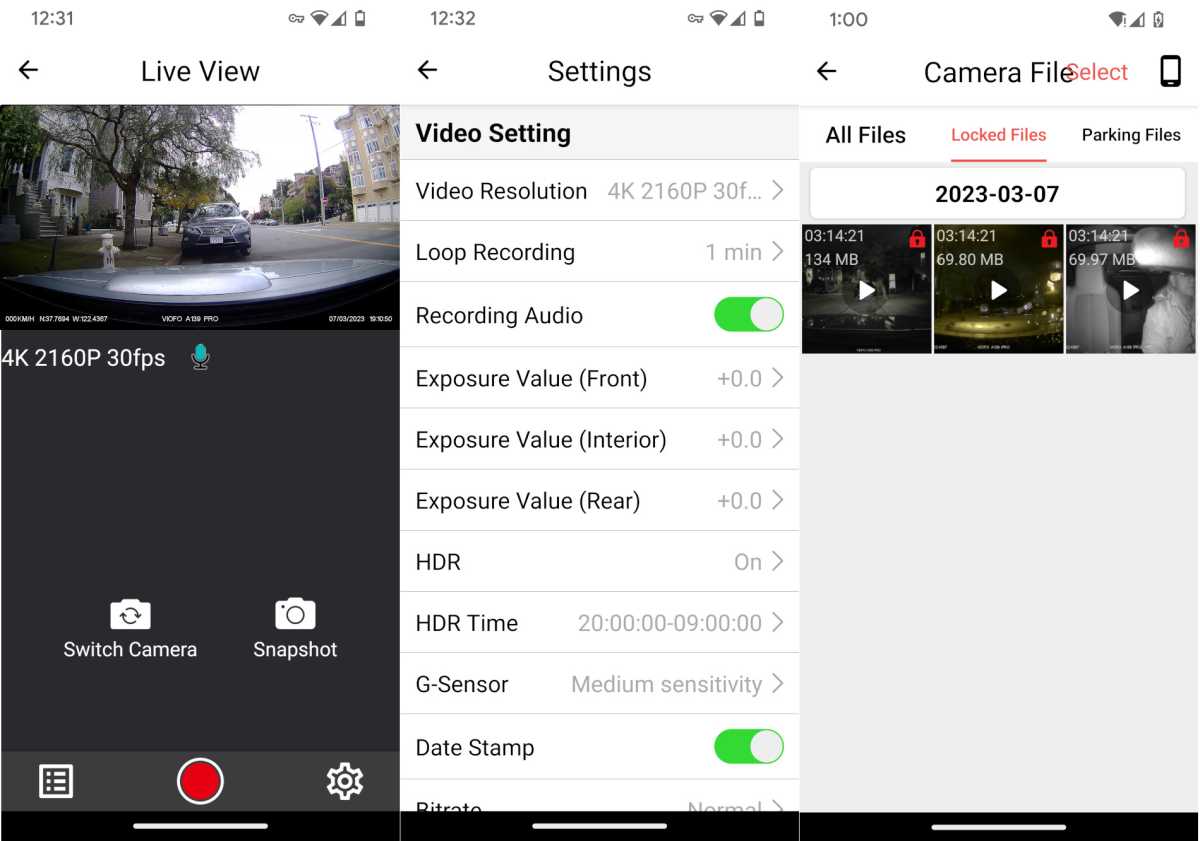 Software features include a parking mode, time-lapse recording, and low bit-rate captures to save storage. The A139 Pro accepts up to 256GB SD cards and is warrantied for 18 months after registration.
GPS is integrated into the camera, as you'll see in the captures below. But you'll also note that the time is off. I wrongly assumed that Viofo, an old hand in the business, would automatically set it using the GPS info, but only the date was set. Go figure.
Viofo A139 Pro: Performance
Getting a display-less dash cam to connect with its app—the only means of changing many settings—is part of its performance. Hence, I must mention that it was like pulling teeth to get the A139 Pro 3CH to connect first to Wi-Fi, and then the app. The process required power cycling the camera several times.
When it finally connected to the app, it chirped about switching to 5G and multiple power cycles were again required, as well as quitting and re-launching the app. It was all good in the end, but Viofo should work on this initial process. Note that this was on Android, not iOS.
I've already praised the A139 Pro 3CH's video quality, but in finer terms: Daytime detail is sharp in both light and dark areas; color is nicely saturated and accurate; and motion is handled very well. There's no frame tearing, and none of the shot-through-quivering-gelatin effect that I recently experienced with the Garmin DriveCam 76.
If the day capture below seems a little dark in temperature, it's because I used the polarizing filter that was included with the A139 Pro 3CH Viofo sent me. Relative hue is still accurate and details are easy to distinguish.
Note: Right-click on any of the images and select "Open image in new tab" to see them at full resolution.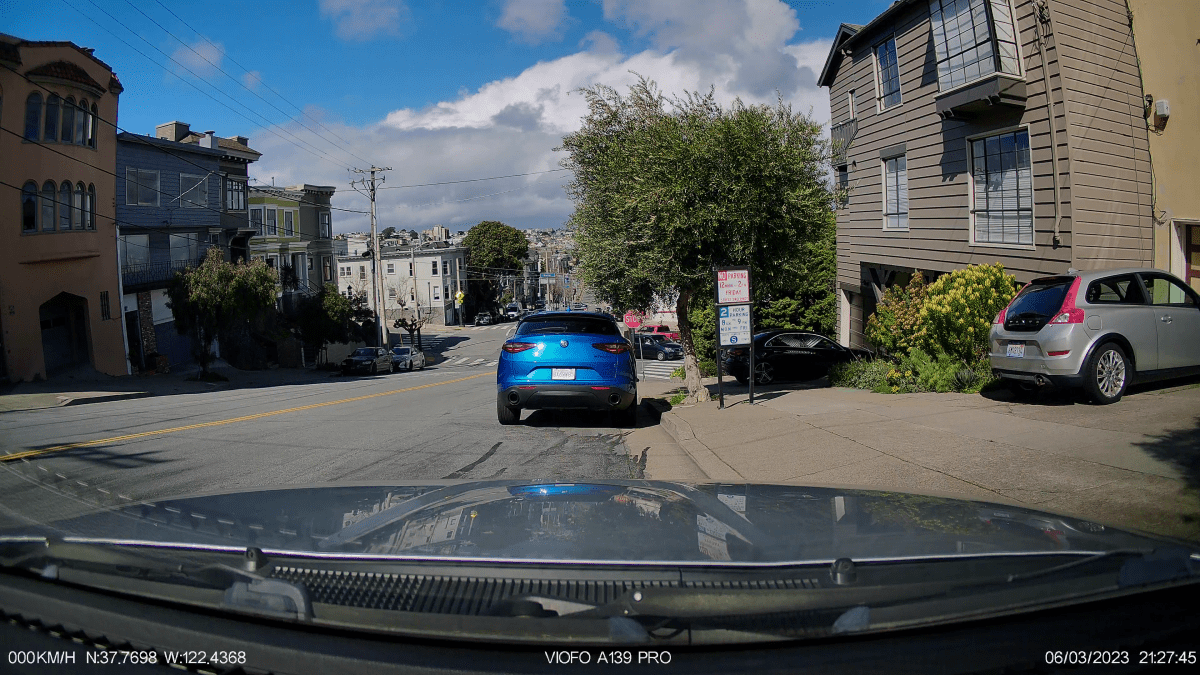 Daytime interior captures were among the best I've seen. Yes, that's the cable to the rear camera that I had not yet run along the convertible top. That's also my backpack and one of my dogs in the foreground.
The 1080p rear captures during the day are equally compelling—better than some front video I've seen.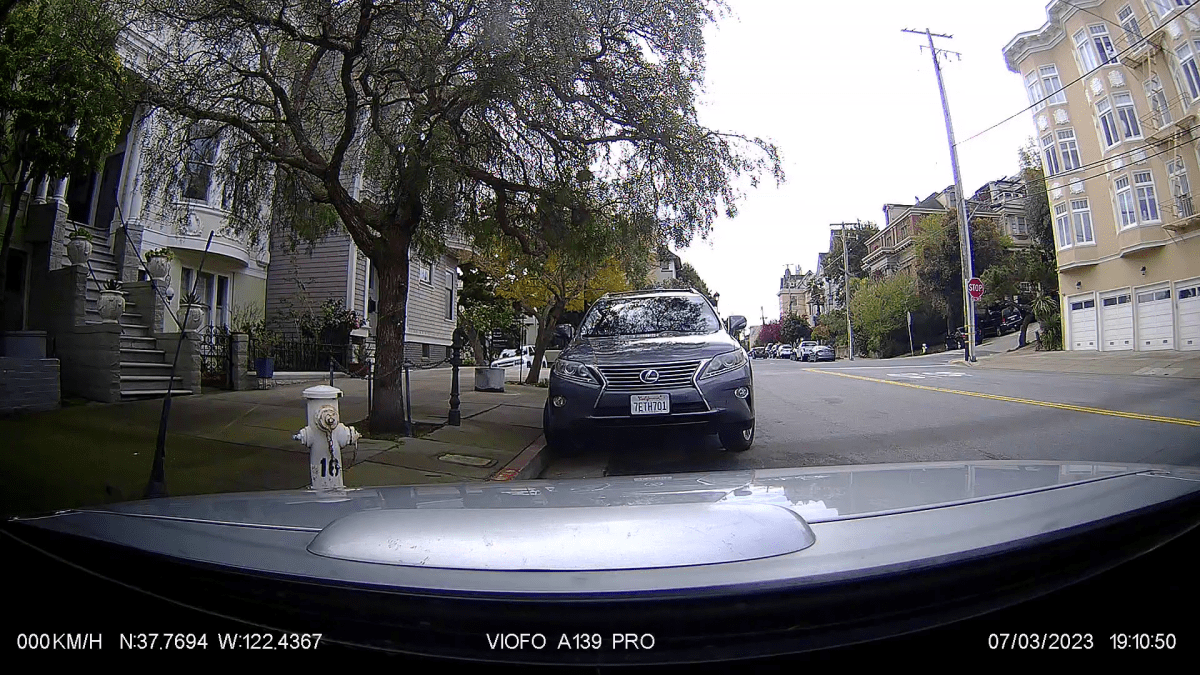 Come nighttime, and the A139 Pro's performance dropped off a bit. Part of that may be because I forgot to remove the polarizing filter. Perhaps I was bowing to the inevitability that most people will also forget to do so on a regular basis. Just saying….
You can still make out detail in the front, which is the most important aspect, but surroundings suffer a bit in that regard. On the other hand, the A139 Pro handled headlight flare extremely well. There is none of the blowout you'll see from cheaper cameras. Impressive.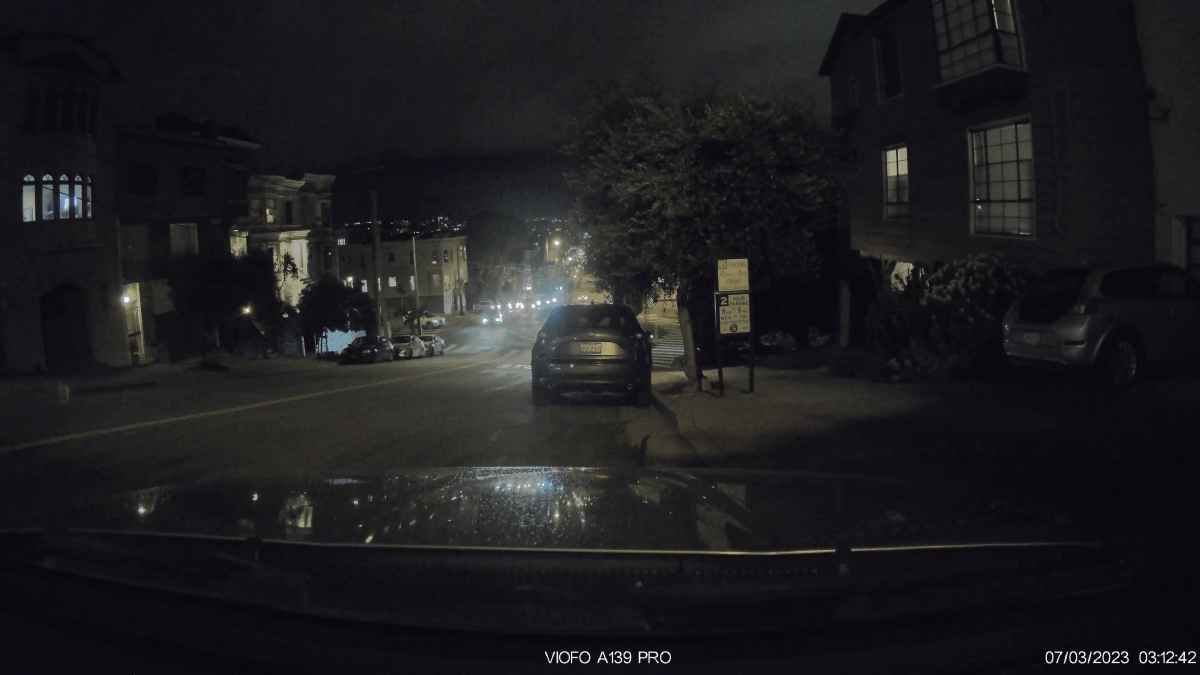 There was also a major drop-off in detail with night interior captures. Nothing fatal, but compared with the daytime interior capture above, the difference in acuity is obvious.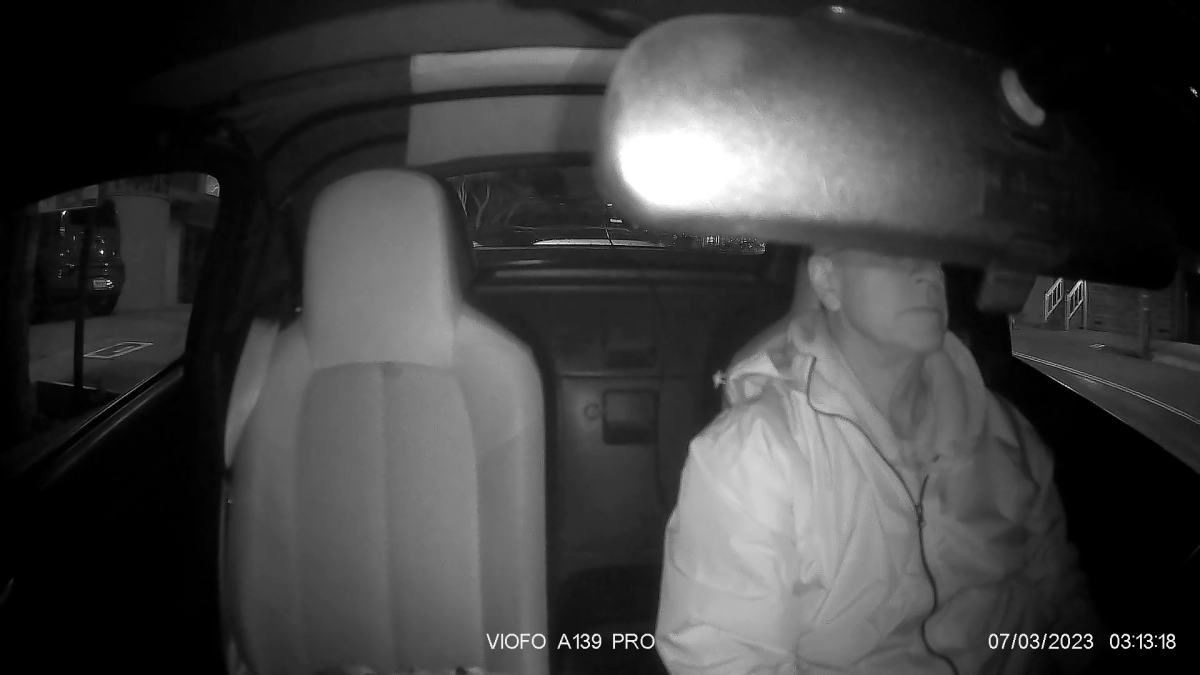 On the other hand, the rear camera seems to do just as well at night as during the day. Forgive the massive moisture drops. They're from the copious rain we've been having here in San Francisco and I didn't notice them at the time. Look in between the drops, however, and you'll see impressive detail.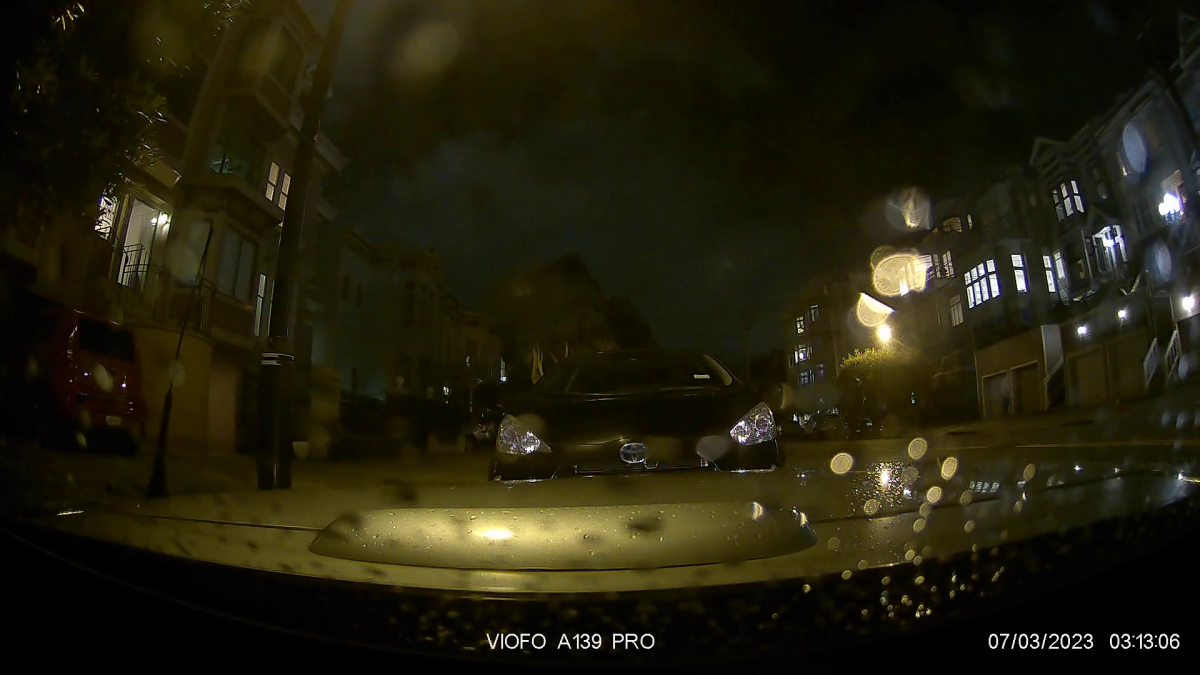 In total, the A139 Pro is an excellent daytime camera, and if you forgive some details in the surroundings, an excellent nighttime recording apparatus. The stellar way it handles headlight flare could be paramount in the case of a head-on collision. Nice job, Viofo.
Note that the A139 Pro 3CH uses a super capacitor for one or two seconds runtime should the power source fail. That's enough time to save the last video, but not to capture events post power loss. Power loss is rare in accidents, but not unheard of.
Should you buy the Viofo A139 Pro?
The A139 Pro 3CH is a great three-channel dash cam. The captures and cabling are first-rate, and the three cameras are a fantastic way for ride-givers to achieve near 360-degree coverage. But at $330 it is pricey and competing against such standouts as the Cobra SC 400D with its fantastic front video. If you can live with 1440p front video, the non-Pro version is about $100 less, though we've not tested that version.
This article was edited on 3/24/2023 to change the conclusion, which was affected by confusion between the pricing of the non-Pro version with the Pro version of the A139 3CH.
Best Prices Today: Viofo A139 Pro 3-channel dash cam