At a glance
Expert's Rating
Pros
This laptop has enough high-end CPU and GPU power to run AAA games and creative programs smoothly.
The primary display renders images in rich and vivid color and with deep blacks.
A new dual screen design provides better visual continuity between the displays.
Cons
The trackpad is small, and its right-handed positioning still feels a bit awkward.
There's no space to rest your hands on the laptop's chassis when you're not using the keyboard.
This laptop doesn't come cheap.
Our Verdict
The Aus ROG Zephyrus Duo 16 is the most capable dual screen laptop for gamers and content creators we've used to date, performing superbly in games and creative apps and delivering superlative visuals that you'd be hard pressed to find elsewhere.
Price When Reviewed
$3,825
Best Prices Today: Asus ROG Zephyrus Duo 16
The Asus ROG Zephyrus Duo 16 is a remarkable laptop, not only benefiting from a chipset upgrade that makes it faster and more powerful than predecessors, but also a design revamp that delivers a new and improved dual screen viewing experience.
What's even more impressive is that Asus manages to bundle all this into a chassis no bigger or thicker than that of a laptop with a single display. Granted you don't mind using a smallish sized trackpad, the Duo 16 is the kind of laptop that will entrance you with its visuals and impress you with its zippy performance in both games and productivity apps.
Asus ROG Zephyrus Duo 16: Specifications and features
The Asus ROG Zephyrus Duo 16 comes in CPU configurations up to AMD Ryzen 9 6900HX. The specifications of our review unit are as follows:
CPU: AMD Ryzen 9 6900HX
RAM: 32GB DDR5 / 4800MHz
GPU: Nvidia GeForce RTX 3080 Ti
Displays: Primary: 16-inch QHD (2560 x 1600) MiniLED, 165Hz refresh rate, 100 percent DCI-P3 color gamut. Secondary: 14.09-inch UHD (3840 x 1110), 60Hz refresh rate, IPS level, touch-sensitive
Storage: 1TB SSD PCIe 4
Ports: 2 x USB-A 3.2 Gen 2, 1 x USB-C 3.2 Gen 2 (DisplayPort), 1 x USB-C 3.2 Gen 2 (DisplayPort and 100W Power Delivery), HDMI 2.1, microSD card reader, 3.5mm audio port, RJ-45 Ethernet port
Networking: Wi-Fi 6E (802.11ax), Bluetooth 5.2
Dimensions: 0.81 x 13.98 x 10.47 inches
Weight: 5.73 lbs (2.6kg)
Color: Dark Tech (Black)
Battery capacity: 90WHr
Price: $3,999.99
Asus ROG Zephyrus Duo 16: Design and build
Despite being a dual screen laptop, the Duo 16 looks every bit as stylish as any other Asus ROG gaming laptop. From its fine edges to the ROG slash and logo and dot matrix patterning on the top cover, it's remarkably elegant.
That styling, of course, helps to distinguish it from the more productivity-skewed dual screen laptops in Asus's stable, like the Asus ROG Zephyrus Pro Duo 14 – the Duo 16's closest relative being the more gaming focused Asus ROG Zephyrus Duo 15 SE. But it also gives it that high-end appeal that makes you feel proud to show it off anywhere you go, whether that be your gaming den or workplace.
Asus
Asus deserves praise for squeezing two panels into such a lightweight and thin chassis. The Duo 16 measures just 0.81 x 13.98 x 10.47 inches, which amazingly puts it on par with some single display laptops like the HP Victus 16. It also weighs just 5.73 pounds, which means it's never a burden to carry around.
While the Duo 15 SE was a class act in its own right, Asus have pushed the envelope further, building upon that best-in-class design to make the Duo 16 the glaringly better option.
For one, its primary display is now bigger, bringing to life visuals in a more satisfying 16-inches. It's also taller and has thinner (4.3mm) bezels that frame it up in a 16:10 ratio instead of a 16:9 ratio that now feels a bit dated in the Duo 15 SE.
The main benefits of these changes are obvious: If you're a gamer, you will undoubtedly see more action in the periphery of the Duo 16's display. Creators, on the other hand, will revel in how much easier it is to compare spreadsheets, run apps side-by-side, or view multiple windows—all things that are now much simpler.
Asus ROG Zephyrus Duo 16: Keyboard and trackpad
Fitting two glorious displays into the Duo 16 has meant its trackpad is quite small—that's despite Asus increasing its size year-on-year. It's also positioned at the far right hand side of the laptop's chassis, which feels a bit awkward.
Despite these small grievances, the keyboard is both very comfortable and attractive. It sports spacious keys that are neither too bouncy nor too squishy, with generous 1.7mm travel between them.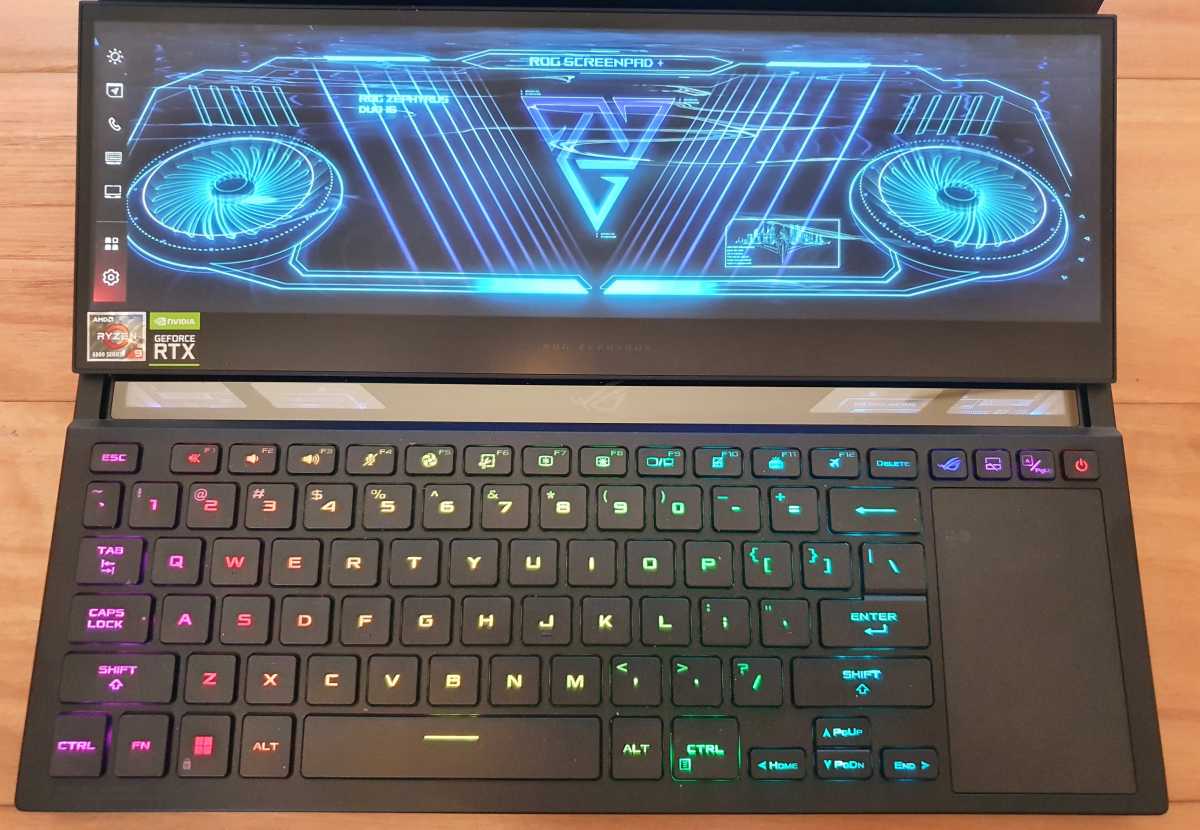 Dominic Bayley / IDG
The keyboard's per-key lit RGB backlighting is also a sight to behold, looking beautiful any time of the day. You won't get any unsightly halo effects around the keys either, even on the brightest setting. The RGB lighting can also be easily customized via the Aura Sync utility in the Armory Crate software app.
Asus ROG Zephyrus Duo 16: Dual displays
My review unit's QHD (2,560 x 1600 pixel) ROG Nebula HDR primary panel with 165Hz refresh rate produced superbly detailed images and smooth, consistent frames that made gaming and watching videos a blast. The 14.09-inch UHD ScreenPad Plus was similarly stunning, and being touch-sensitive, it saved me a ton of time – I could simply move files and icons around with my finger.
The primary display is powered by MiniLEDs with 512 zones of illumination, so it's a lot brighter than standard LED displays. I measured 1039 nits by my Lux meter, which trumps some rivals by nearly 600 nits of brightness. It also has a 1000:1 contrast ratio.
If that sounds like overkill, wait until you see the colors and darks it can produce; it renders some of the richest hues and deepest blacks I've seen at this resolution, making it ideal for creative work involving photographs or shading. The color accuracy on this 100 percent DCI-P3, VESA DisplayHDR 1000 certified panel is also top notch, so it's perfect for comparing images.
Asus
Although I didn't get to try one, Asus also give you the option of a Dual Spec primary display. This lets you switch on a dime between a productivity-friendly UHD resolution with 120Hz refresh rate, or an esports-primed FHD resolution with 240Hz refresh rate. This is an excellent choice if you intend on using your Duo 16 for both work as well as competitive gaming.
In comparison to the Duo 15 SE, there's also much better visual continuity between the displays. This can be attributed to the new positioning of the ScreenPad Plus.
Just like in the Duo 15 SE, it tilts up at a 13-degree angle, but its new home 25 mm closer to, and directly below, the primary display renders the bottom bezel almost invisible, giving you a more comprehensive view of both panels at once.
To say this makes multitasking easier than in the Duo 15 SE is an understatement. For example, where before it would have taken me a whole second cross-referencing a gaming map or reading my Discord chats, in the Duo 16 it took just milliseconds.
One can only predict the impact this will have on users' gaming performance or productivity. Suffice to say, it's going to make for a much more enjoyable experience overall.
Asus ROG Zephyrus Duo 16: I/O options and audio
With games and video content now shared between my devices on a daily basis, I need my laptop to have an excellent selection of ports to keep up. Thankfully, the Duo 16 had just what I needed, including two USB-A ports and two USB-C ports, a HDMI 2.1 port and a microSD card slot for quick file swaps.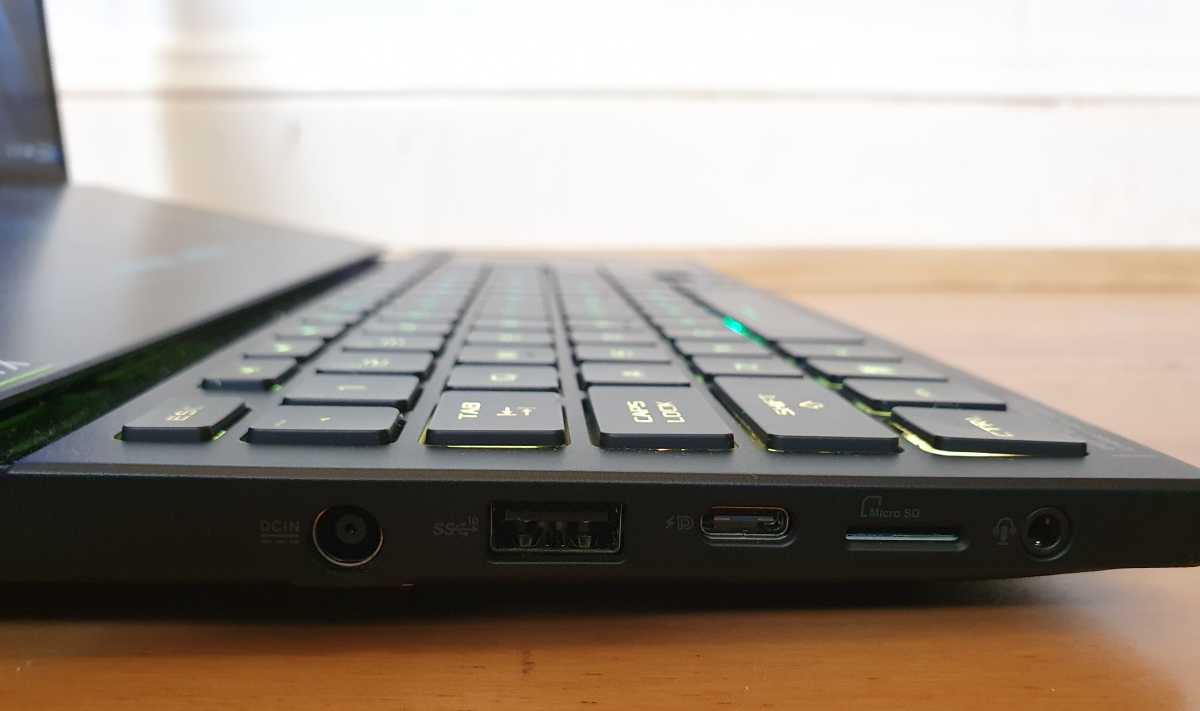 Dominic Bayley / IDG
The Duo 16 also comes with next generation Wi-Fi 6E wireless connectivity, which harnesses an extra 1200 MHz on the 6G frequency band compared to standard Wi-Fi 6. This is a must have for gamers who want the fastest possible latency in high-performance games, but it's also really useful for content creators juggling large files in the cloud.
With not two or four but six speakers onboard, including dual force-cancelling woofers, the Duo 16's audio is surprisingly resonant for a laptop so thin. It also sounds very crisp. Dolby Atmos support also helps deliver a cinema-like surround sound experience, so watching movies with dramatic storylines is a real treat.
Asus ROG Zephyrus Duo 16: CPU performance
The Duo 16 sports an 8 core, 16 thread Ryzen 9 6900HX mobile processor belonging to AMD's 6000 Series. This CPU has a base clock of 3.3 GHz and a maximum boost clock of 5.0 GHz – fairly decent operating speeds by anyone's standards.
AMD says its 6000 Series processors are 1.3x faster than the previous 5000 Series generation of mobile processors, which means the Duo 16 gets a nice speed boost over the Duo 15 SE. What's more, these chips are more energy efficient, benefiting from approximately 50 built-in power-management features, including some for the laptop's fan and cooling system.
While we didn't have benchmark scores on file for the Asus ROG Zephyrus Duo 15 SE, we did have results from a panoply of powerful laptops to compare and contrast our Duo 16's performance to. These included laptops featuring Intel's nearest CPU equivalent—the Core i7-12700H CPU, like the 2022 Razer Blade 17.
First test off the block was Maxon's Cinebench R20 Single-Threaded benchmark which tests just a single core of the Ryzen 9 6900HX CPU. Below, our graph shows the Duo 16's performance was just average compared to the comparisons.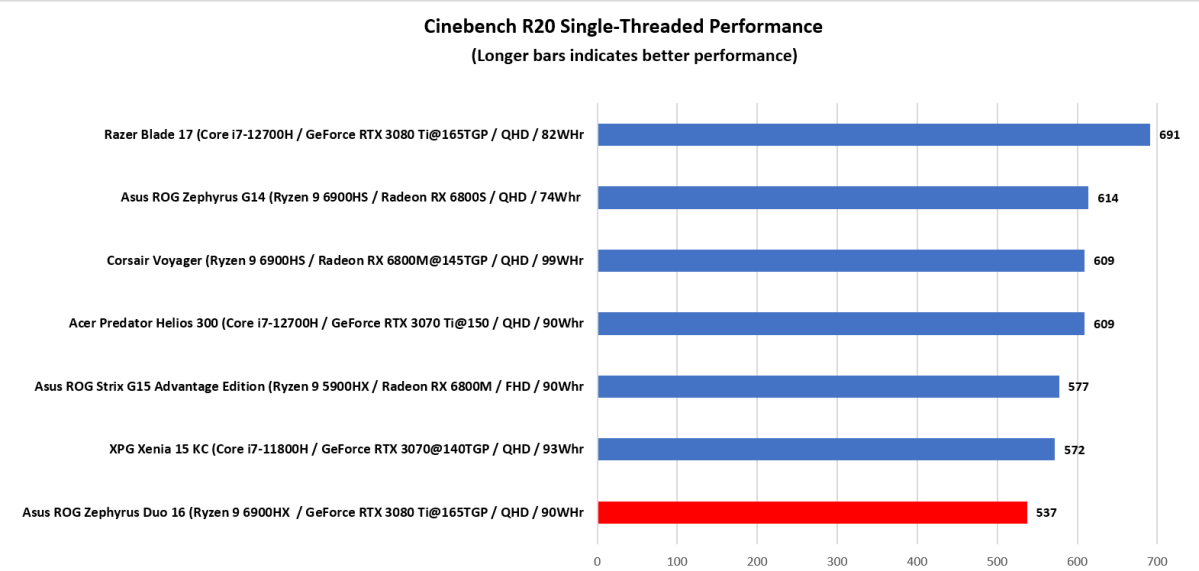 Dominic Bayley / IDG
This result isn't all that unexpected; AMD's own benchmarks show only modest gains for Ryzen 6000 CPUs over previous generation CPUs in single-threaded tasks, but bigger gains in multi-threaded tasks. Nevertheless, the Duo 16 will still have no trouble running lightweight programs, or apps.
Still in the Cinebench R20 program, we completed the Multi-Threaded benchmark. Here, every core of our laptop's CPU was put to work rendering a detailed image on its primary display. At test's end, it scored 5,398, a result that proves it can easily handle AAA games or demanding productivity programs.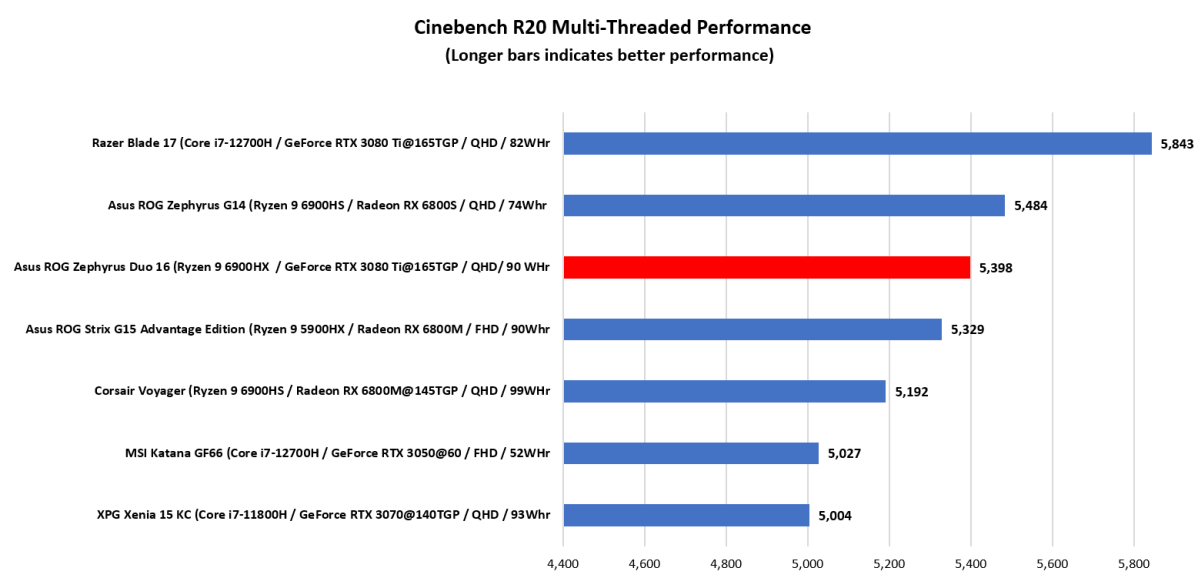 Dominic Bayley / IDG
The free HandBrake utility was the next port of call. This is our go-to program to test how well a laptop can stay the course when processing a CPU-intensive task before it gets too hot and needs to throttle performance.
Dominic Bayley / IDG
As you can see in our graph, the Duo 16 finished in the quickest time of 1,018 seconds. Serious gamers, or creators that do encoding or video editing will be well encouraged by this result that implies the Duo 16's CPU can stay cool and power on, even when some competitor laptops fall by the wayside.
Asus ROG Zephyrus Duo 16: GPU performance
Our Duo 16 review unit featured an Nvidia RTX 3080 Ti discrete GPU—a very powerful RTX 30 Series card that's highly coveted by gamers and content creators alike for its ability to produce fast frame rates.
This almost-top-tier mobile GPU has a lot of powerful cores onboard, including 232 Tensor Cores and 53 Ray Tracing Cores. It also benefits from Nvidia's most up-to-date software support, including DLSS AI rendering and Dynamic Boost technology. Let's see how the Duo 16's RTX 3080 Ti fared in our graphical tests…
The 3DMark Time Spy 1.2 Overall benchmark provided a good snapshot of the GPU's abilities within the framework of our laptop's componentry. In this test, the Duo 16 placed second in our field of comparisons—more than proving its suitability for rendering high fidelity graphics in gaming or video applications.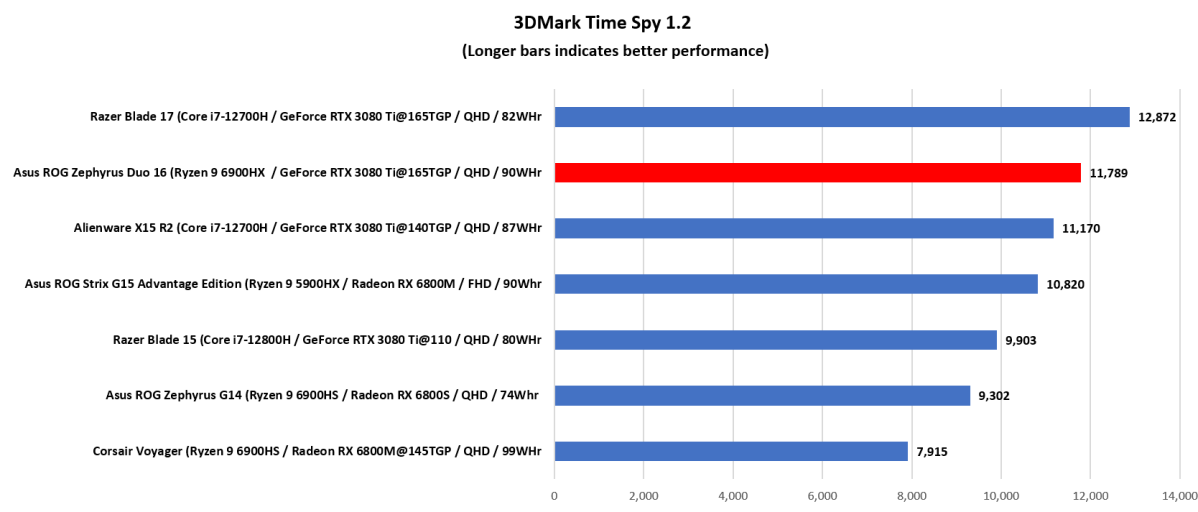 Dominic Bayley / IDG
In our first gaming benchmark for Rise of the Tomb Raider, the Duo 16 outclassed the Asus ROG Strix G15 Advantage Edition, but was pipped at the post by two of the most powerful gaming laptops released within the last 12 months—the Razer Blade 17 and Alienware X15 R2.
Dominic Bayley / IDG
Finally, we ran the benchmark for the game Shadow of the Tomb Raider. As you can see in the graph, the results are highly consistent with our previous results, in that the Duo 16 fell shy of producing framerates as high as the Razer Blade 17 or Alienware X15 R2, but still outpaced a collection of other very capable laptops.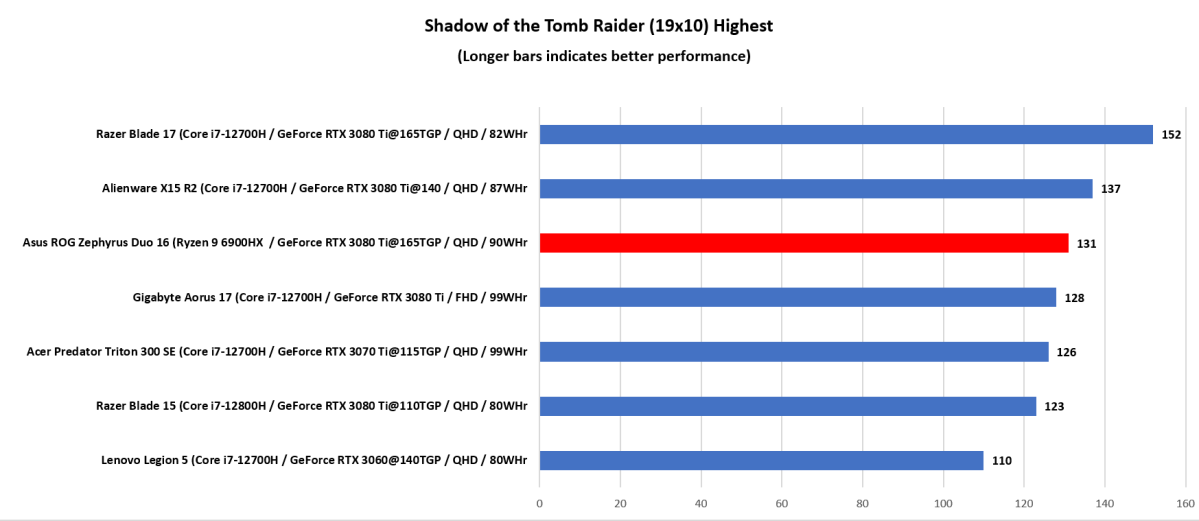 Dominic Bayley / IDG
So, what's the verdict? Although it didn't top our charts, these results show the Duo 16 to be a strong performer in graphics-based tasks, which is no mean feat for a laptop with not one, but two displays. By demonstrating consistently high frame rates, we can confidently say the Duo 16 is wholly up to the task it was designed for.
Asus ROG Zephyrus Duo 16: Battery life
To test the Duo 16's battery we juiced the laptop up to 100 percent charge then let it run down to standby by playing a 4K Hollywood movie on repeat. Following that, we examined the battery usage report which showed that the Duo 16 lasted just shy of the six hour mark.
Dominic Bayley / IDG
This is not surprising, nor a bad result for a gaming laptop. The battery longevity of gaming laptops is average at best, since they tend to have the most power-hungry hardware onboard. That said, in an unplugged gaming scenario the Duo 16's battery is likely to drain down in double time, so you can expect approximately three hours gaming when away from an outlet.
Asus ROG Zephyrus Duo 16: Conclusion
Dual display laptops have always been an enthusiast's choice and at around $4,000 you'll have to be completely sold on the dual display experience to buy one. The Asus ROG Zephyrus Duo 16 doesn't change that fact, but it does make the proposition of switching to one incredibly appealing. Gamers and content creators will undoubtedly revel in the extreme power, beautiful visuals and excellent portability this laptop has to offer.
Best Prices Today: Asus ROG Zephyrus Duo 16