With the release of AMD's RDNA 3 RX 7900 XTX, Nvidia has some serious competition!
The GPU landscape has been a tough one to navigate the last few years, with perpetual "out of stock" issues and increasingly high prices.
Looking to put the last generation behind them, Nvidia launched first, with the RTX 4090. Almost universally praised for its performance, its high starting price still left many gamers out.
The $1,199 RTX 4080 came next, and hit some sour notes with its pricing. AMD finally responded with the $899 RX 7900 XT and $999 RX 7900 XTX, the latter of which is geared to go head-to-head with the RTX 4080.
We'll discuss pricing, availability, performance, and important things to be aware of. Which of these two graphical powerhouses deserve your attention? Let's find out!
Thiago Trevisan
Nvidia RTX 4080 vs. AMD 7900 XTX: Price and availability
$1,199 is what it takes to get the cheapest RTX 4080, a price our very own Brad Chacos was not very fond of in his review—and he's right!
The market has spoken, and the availability of the RTX 4080 is the highest we've seen of any recently released GPU. RTX 4090? Sold out quickly and remains elusive. The RTX 4080 has been more consistently available, but it can often be sold-out, too, depending on the retailer that you're visiting.
That's where AMD hopes to steal some of Nvidia's thunder, with the $999 7900 XTX. A savings of $200 is nothing to scoff at, especially if performance is also close. The one problem is availability, however. The 7900 XTX has been much more difficult to find than the RTX 4080, since it's likely more appealing at its price point and perhaps less were shipped.
The $899 7900 XT is more readily found, however – but $100 more for the XTX is a no-brainer with the increased performance.
Who wins this round? So far, the nod goes to the 7900 XTX – while the RTX 4080 is not a good buy at $1199, it's easier to find – even if it is sometimes slightly more than that MSRP for some AIB models. The $999 7900 XTX is a much better value but remains difficult to find within the first few weeks of its release.
If the situation changes and both are available at their MSRP prices, however, the clear winner will be the 7900 XTX if you can snag one.
Nvidia RTX 4080 vs. AMD 7900 XTX: Performance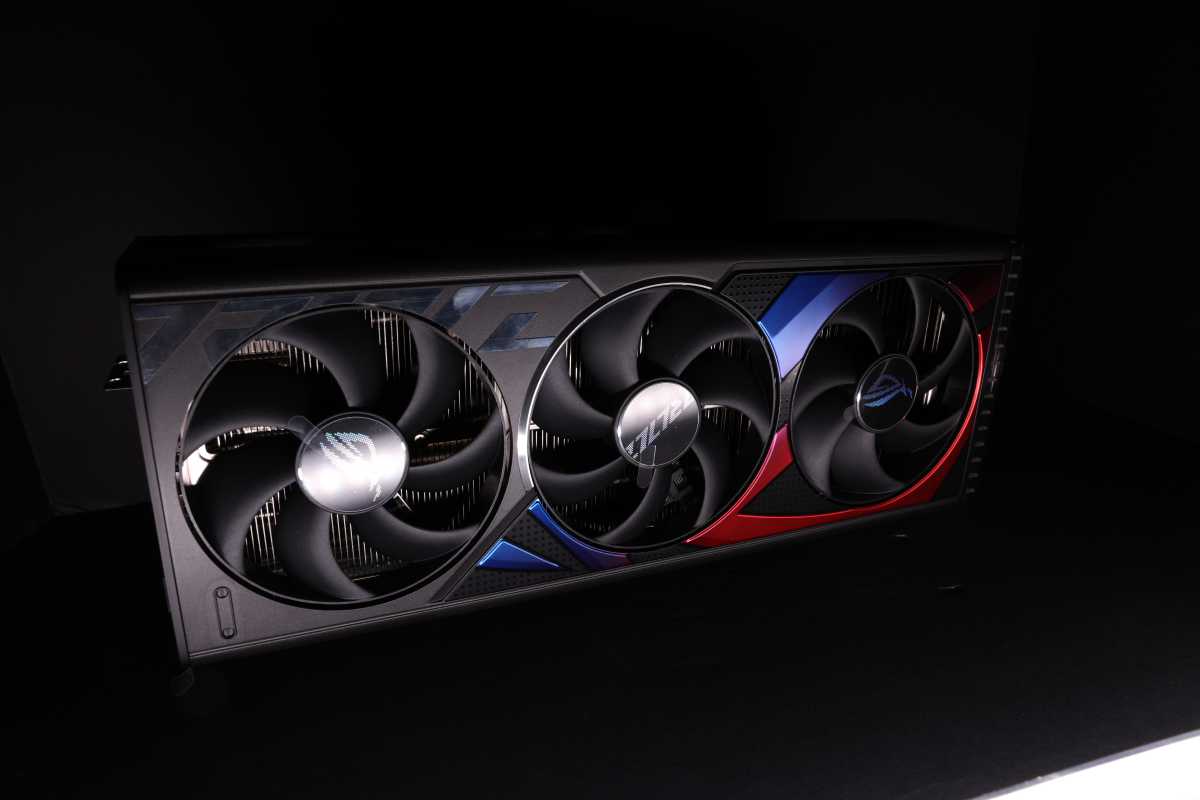 Thiago Trevisan
Please ignore the RTX 4090's lead in (almost) every graph where it isn't CPU bottlenecked. The RTX 4080 and 7900 XTX have quite the battle going on underneath. Looking at a popular title such as Call of Duty: MW2, the 7900 XTX gets a whopping 121fps at 4K, demolishing the RTX 4080's 98fps. It even beats that RTX 4090 we told you to ignore earlier! The story continues regardless of resolution, and it's clear this game has an obvious liking for the AMD GPUs.
Keep in mind that AMD gives us 24GB of GDDR6 VRAM versus 16GB of GDDR6X (faster) VRAM in the RTX 4080. Not a huge deal currently, but eventually it may start to matter more as resolutions increase.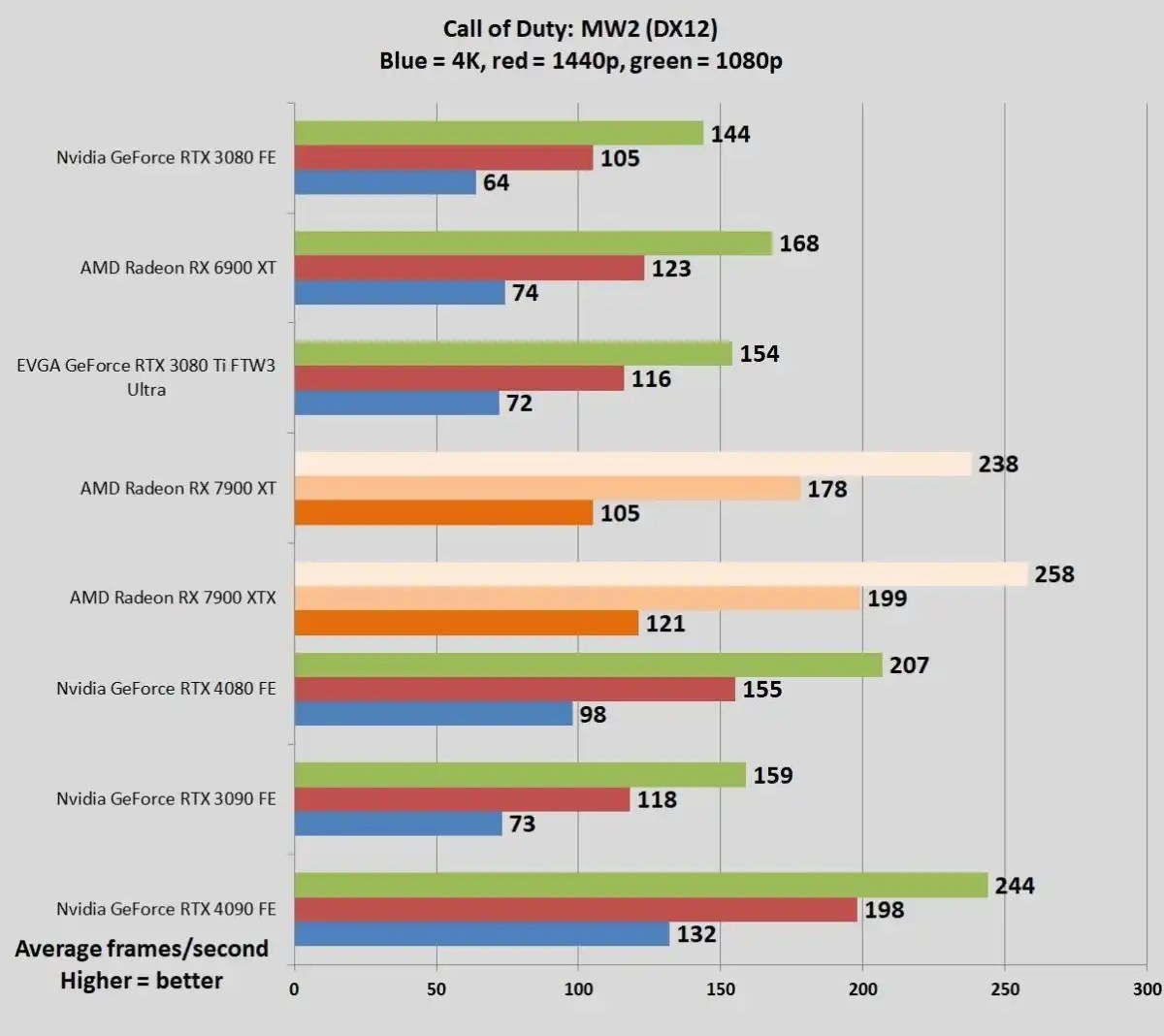 Thiago Trevisan
With ray tracing off, in Cyberpunk 2077, the 7900 XTX once again does well: 70.4fps versus the RTX 4080's 59.7fps. Even the RTX 4090 isn't completely safe here, either. AMD seems to often do better at 1440p, and Nvidia at 4K—but It can go back and forth. It's clear that the 7900 XTX has the chops to both meet, and beat, the RTX 4080 when it comes to rasterized gaming prowess.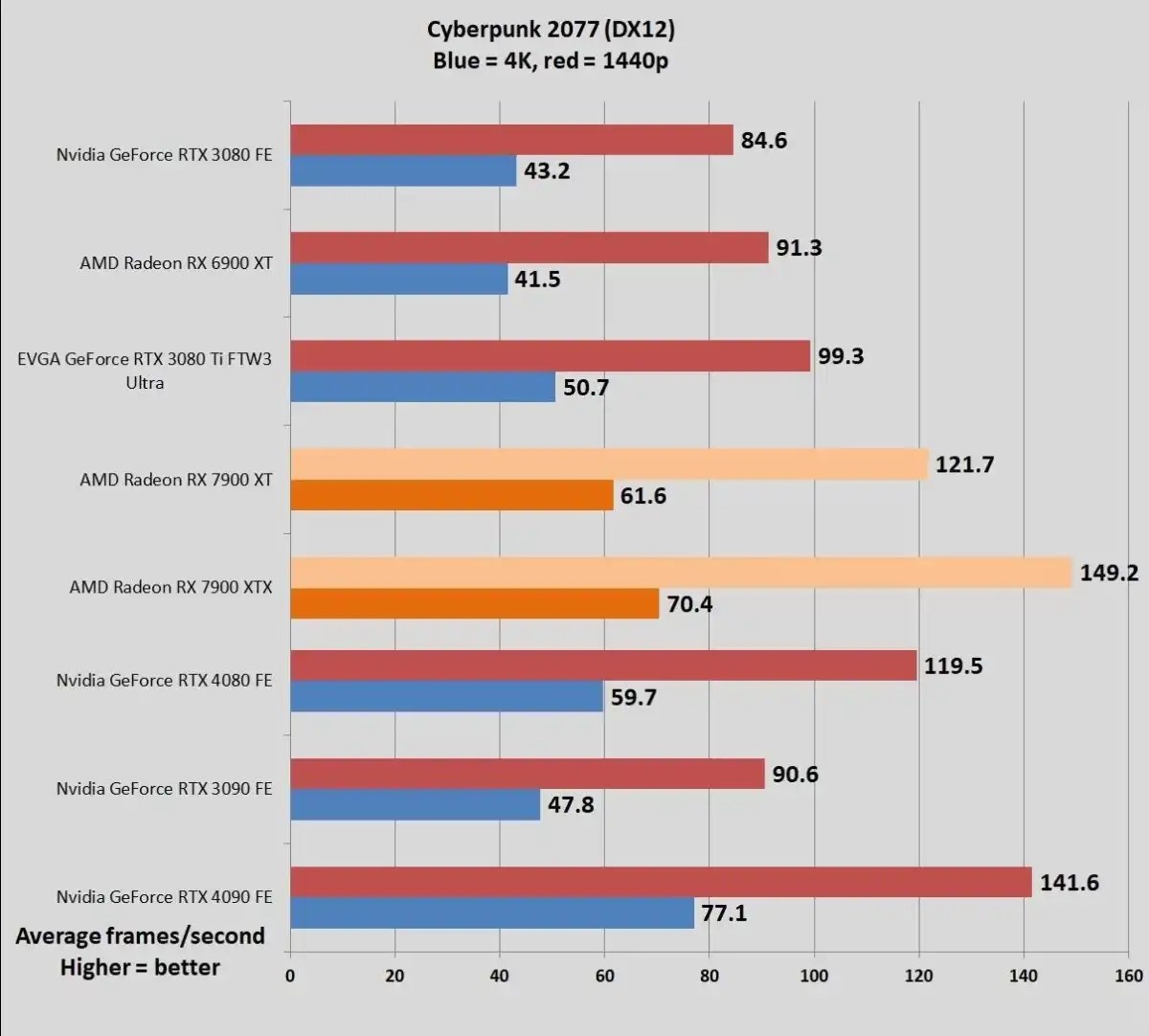 Brad Chacos
With a term that AMD probably doesn't like to hear at the dinner table—ray tracing—how do these GPUs stack up? Here is where the table turns, and Nvidia pulls ahead confidently.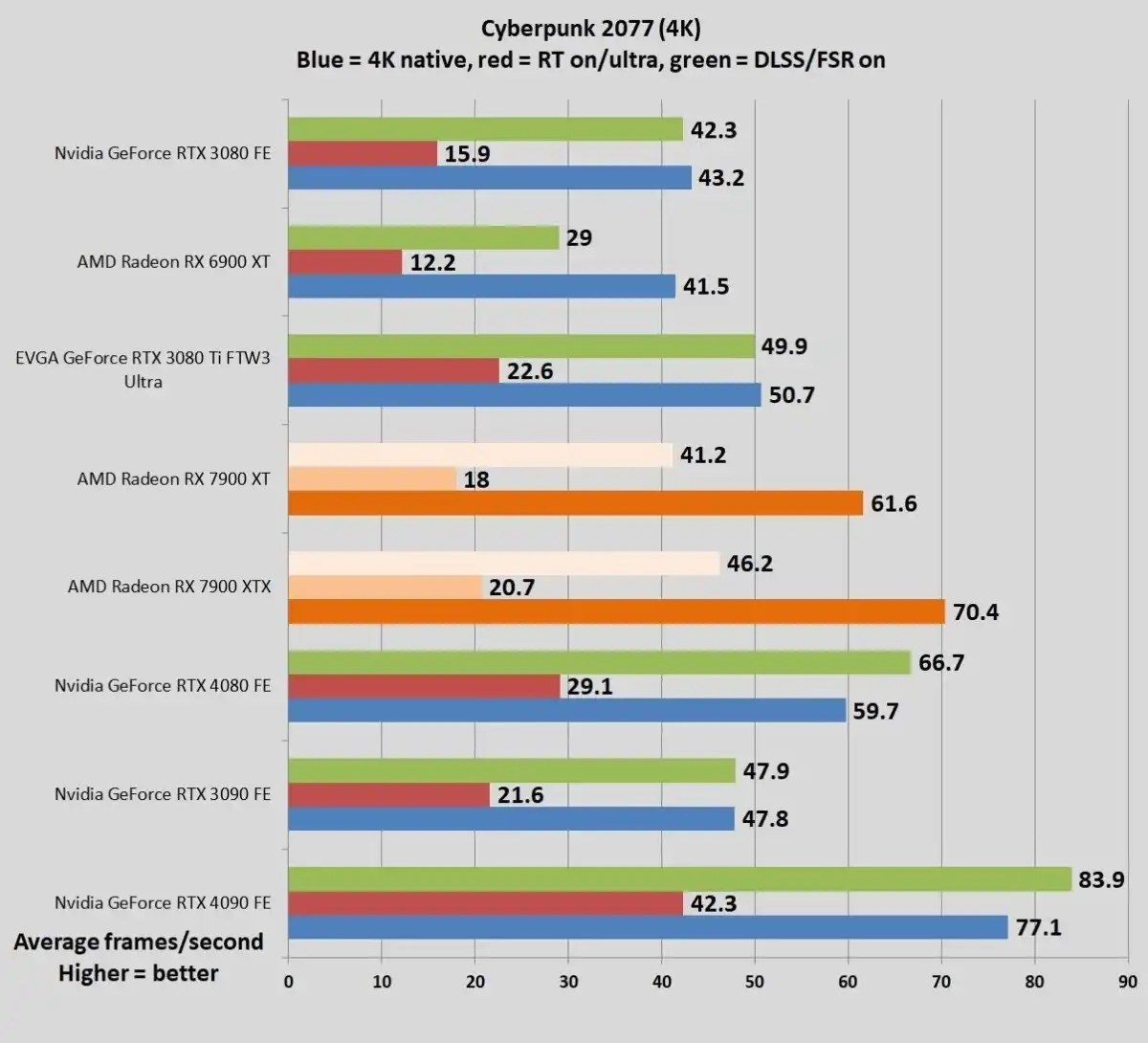 Brad Chacos
Once again looking at Cyberpunk 2077—but now with ray tracing on—the RTX 4080 now gets 29.1fps at 4K, and the 7900 XTX an unplayable 20.7fps. Even the RTX 4090 can barely push beyond 42fps. Only when turning on DLSS or FSR do we see playable frame rates from both GPUs—and the performance between both tightens.
When DLSS 3 and frame generation enter the chat, the Nvidia RTX 4080 pulls ahead further in games that support this. For example, in testing Flight Simulator 2020 at Ultrawide 5120x1440p, the RTX 4080 jumped from 69fps to 151fps with DLSS 3. By comparison, the 7900 XTX only had minimal gains and stayed under 100fps even with FSR balanced, showing the benefit of Nvidia's DLSS 3. We'll need FSR 3 before making a better comparison.
Who wins the performance round? It must go to the AMD 7900 XTX, which on average was able to best the RTX 4080 across a wide variety of games, even at 4K. The RTX 4080 is still ahead in ray-tracing performance, especially with its superior DLSS 3—so if your games make heavy use of ray tracing or take advantage of DLSS 3, the winner here may be the RTX 4080 for you. Overall, especially at $999, the 7900 XTX puts up a winning effort.
Nvidia RTX 4080 vs. AMD 7900 XTX: Power and other things to know
Nvidia's RTX 4080 has a TDP of 320W, which overall lands it as the more efficient GPU versus the 7900 XTX at 355W. This has some clear benefits—such as in quieter performance and lower thermals. Those huge RTX 4080 coolers have it easy compared to the RTX 4090!
Team nvidia
Nvidia GeForce RTX 4080 Founders Edition
Price When Reviewed:
$1,199
The RTX 4080 does have the 12VHPWR adapter, and no, we are not aware of any issues such as were experienced on a small number of RTX 4090s. AMD's 7900 XTX still has either dual 8-pin or triple 8-pin standard power, which can be a plus if you want to avoid the adapter.
On average, the RTX 4080 should be larger in terms of its cooler than most 7900 XTX cards, especially when comparing AMD Reference vs. Nvidia Founders edition. The PowerColor 7900 XTX Red Devil pictured is thicker than the RTX 4080 here, so keep in mind some models can be just as large!
Nvidia's drivers are typically very stable and bugs get squashed quickly—while AMD's new RDNA 3 may have a few more growing pains. Brad Chacos points out he encountered a number of (minimal) bugs, which seemed slightly higher than normal. It's a new GPU architecture, so it's expected—but AMD must remember that Nvidia is praised by gamers for its drivers, so it better act quickly!
Thiago Trevisan
Nvidia RTX 4080 vs. AMD 7900 XTX: The Verdict
Who takes home the cake? The AMD 7900 XTX. First, the pricing is a huge plus—$999 makes it at least a much better value than the RTX 4080's $1,199. To sweeten the deal, the 7900 XTX is faster on average too—in everything but ray tracing.
AMD also has some competing technologies such as FSR that look to bring even more performance parity with Nvidia's DLSS, alongside various perks found in AMD's software. Nvidia still maintains the lead on the software side and with ray tracing, however.
The current GPU market isn't great right now, and availability is still an issue. Not to mention that it's hard to classify a $999 GPU as a "good value," but that's where we are currently. At least comparatively, it feels like a much better purchase than the RTX 4080 at this point. Don't be seduced by the $899 7900 XT, either—that $100 more for the XTX gives you significantly better performance. That's our winner: AMD 7900 XTX!