At a glance
Expert's Rating
Pros
Good build quality for the price
Bright, attractive display
Two USB-C inputs, plus mini-HDMI
All cables included
Cons
Stand only adjusts for tilt
Limited image quality adjustments
Mediocre contrast ratio
Our Verdict
Arzopa's A1 Gamut has its limits, but delivers good image quality and useful connectivity at an extremely low price.
Price When Reviewed
$189.99
Best Prices Today: Arzopa A1 Gamut
The Arzopa A1 Gamut is a simple portable monitor sold at a very low price. Its specifications, feature set, and image quality won't blow your hair back, but the monitor delivers the fundamentals most shoppers will expect while avoiding serious flaws. It's an easy, reliable budget pick.
Note: See our roundup of the best monitors to learn about competing products, what to look for in monitor, and buying recommendations.
Arzopa A1 Gamut: The specs
The Arzopa A1 Gamut's specifications are identical to most portable monitors sold around $200 and below. It has a 1080p panel with a 60Hz refresh rate and doesn't support Adaptive Sync. Input options include two USB-C and Mini-HDMI.
Display size: 15.6-inch
Native resolution: 1,920 x 1,080
Panel type: IPS monitor
Refresh rate: 60Hz
Adaptive Sync: None
HDR: None
Ports: 2x USB-C with DisplayPort Alternate Mode, 1x Mini-HDMI
Stand adjustment: Tent, tilt
VESA mount: None
Speakers: Yes
Price: $189.99
Arzopa's MSRP is $189.99, but pricing can dip as low as $118. Amazon price-tracking websites show these cuts happen with clockwork regularity, so it's wise to wait a week or two if you see the monitor being sold at MSRP.
Arzopa A1 Gamut: Design
Arzopa opts for a mostly flat portable monitor with a small bump on the lower half to house the monitor's electronics. This has more-or-less become the default design for a portable monitor, minimizing size, weight, and price. The display panel is clad in mundane plastic, but the non-gloss finish seems likely to hold up well to travel—and the scratches and bumps that inevitably result.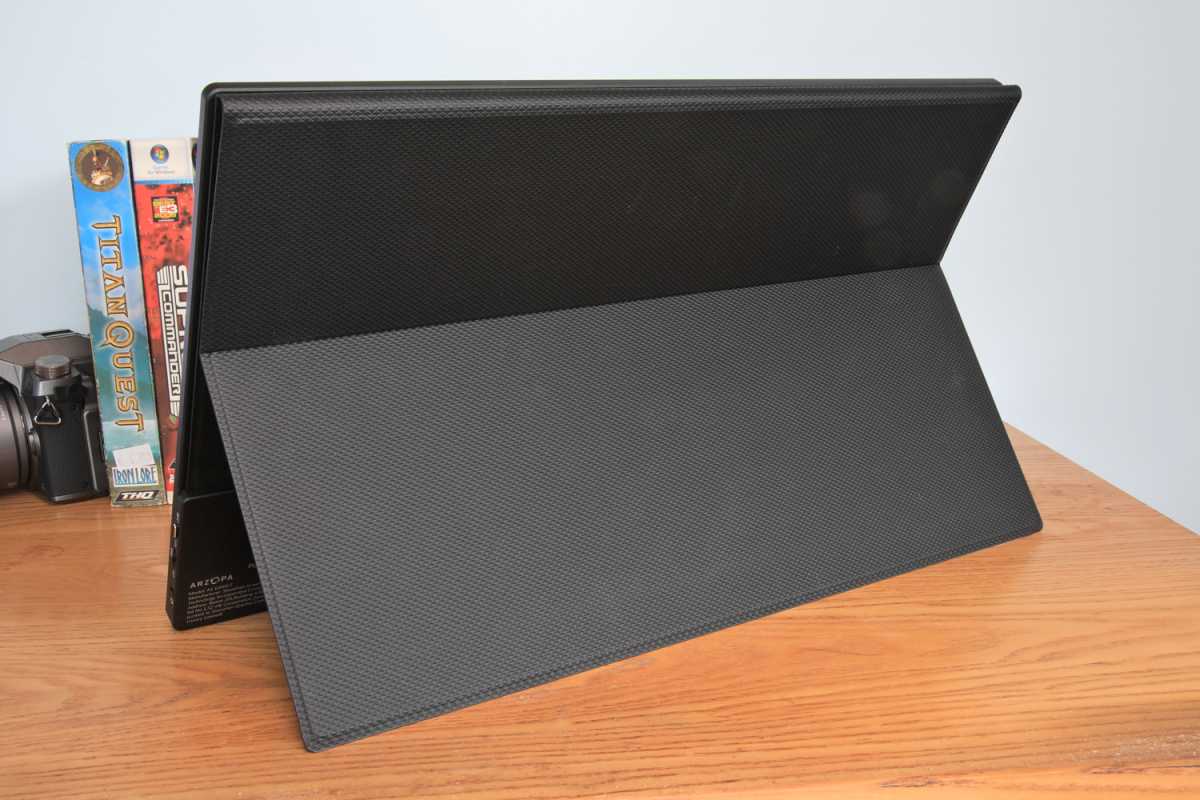 Matt Smith
The monitor ships with a faux-leather cover and stand that attaches magnetically to the monitor. It's sturdy enough to provide some protection and the magnets are strong. The case seems unlikely to slip off the monitor while it's in a bag or suitcase or while moving the monitor to a new desk.
Flipping the cover open converts it into the monitor stand, which holds the monitor up at a slight angle. The stand feels planted and doesn't easily slip backwards. Adjustment is limited, providing just a few degrees of tilt, and VESA mounting isn't an option. This is typical for a budget monitor but a few, like the AOC I1601FWUX, have a stand that can also hold the monitor in portrait orientation.
Arzopa A1 Gamut: Features and menus
Matt Smith
The Arzopa A1 Gamut has three input options: two USB-C with DisplayPort Alternate Mode and one Mini-HDMI. Both USB-C ports provide power to the monitor, so an external power source isn't required when using the monitor with a laptop, tablet, or other device that can deliver power over USB-C. A small power brick is included and required if you connect to the monitor over HDMI, or if connecting with a USB-C device that can't provide power.
Many competing portable monitors, like the KYY K3 and Koorui 15B1, offer a similar arrangement of ports—but it's not guaranteed. The AOC I1601FWUX and Asus Zenscreen MB166C have a single USB-C input.
Arzopa provides all required cables and accessories. This includes a USB-C power brick and three cables: USB-C to USB-C, USB-A to USB-C, and HDMI to Mini-HDMI. It's great to see all required cables included at this price.
The monitor's menu system and image-quality adjustments could hardly be more basic. A toggle button on the right flanks offers the only options. Toggle up to adjust brightness, or down to adjust volume. The power button acts as the back button. There's no color temperature, gamma, or color preset adjustments. That will disappoint anyone looking to calibrate the monitor—though, at this price, a limited range of image-quality adjustment is expected.
Speakers are included, but they're rather awful. They're fine for basic system noises or listening to a podcast in a pinch, but you'll want to use external speakers or headphones in most situations. A 3.5mm audio-out is included.
Arzopa A1 Gamut: SDR image quality
Budget portable monitors often struggle with image quality, for obvious reasons. Squeezing a halfway decent IPS display panel into a monitor under $150, and which also includes USB-C connectivity and a bundled cover, isn't easy. Fortunately, the Arzopa A1 Gamut makes few compromises in its pursuit of low pricing.
Matt Smith
Brightness comes in at a respectable maximum of 297 nits. That's the second-highest of the monitors included for the comparison, beating not just the AOC I1601FWUX portable monitor, but also the Acer K242HYL and MonoPrice 44029, a pair of budget 24-inch desktop monitors. The Arzopa A1 Gamut isn't bright enough to use comfortably outdoors, or next to a sunlit window, but it's otherwise up to the task.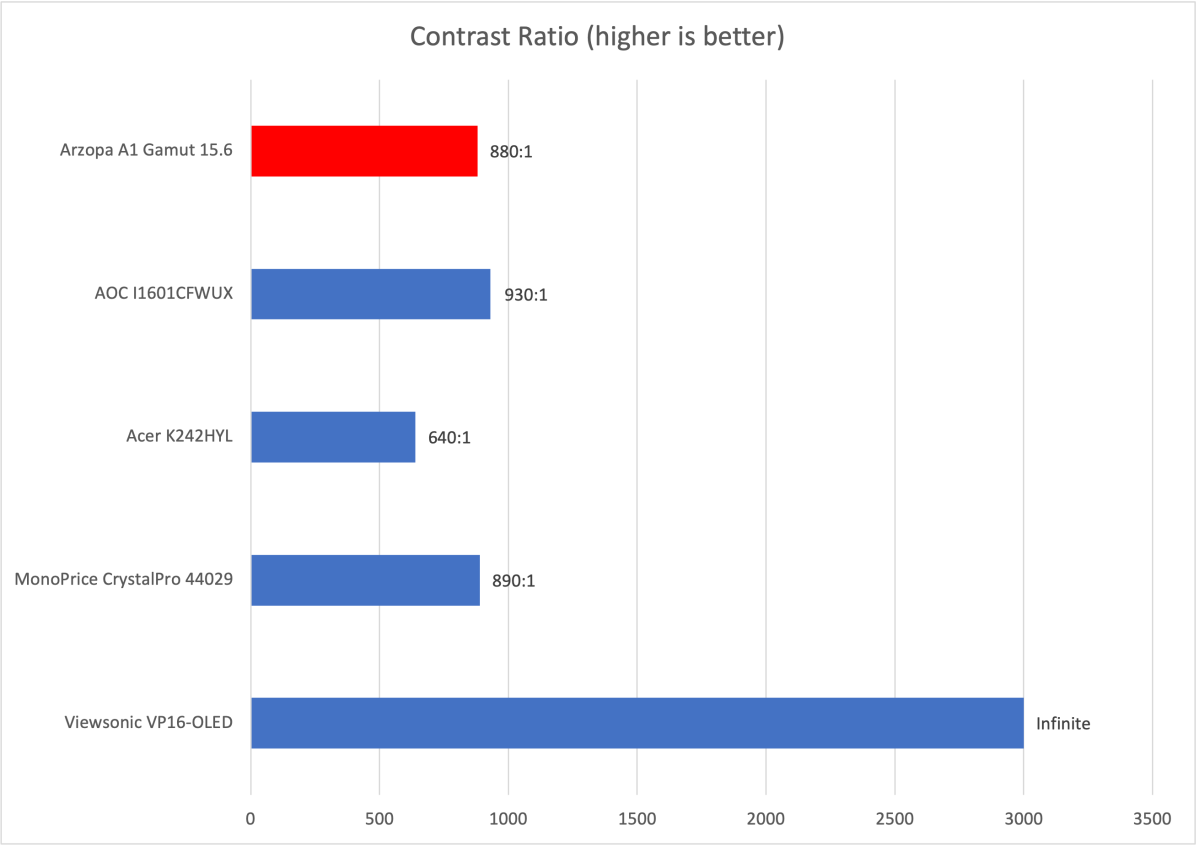 Matt Smith
Contrast comes in at a ratio of 880:1. The Arzopa A1 Gamut can provide some sense of depth, but it can't display a deep, uniform level of black in dark scenes. This limitation is most noticeable when the monitor is used in a darkened room, and it can make photos, movies, and games look flat and hazy.
A premium portable
Viewsonic ColorPro VP16-OLED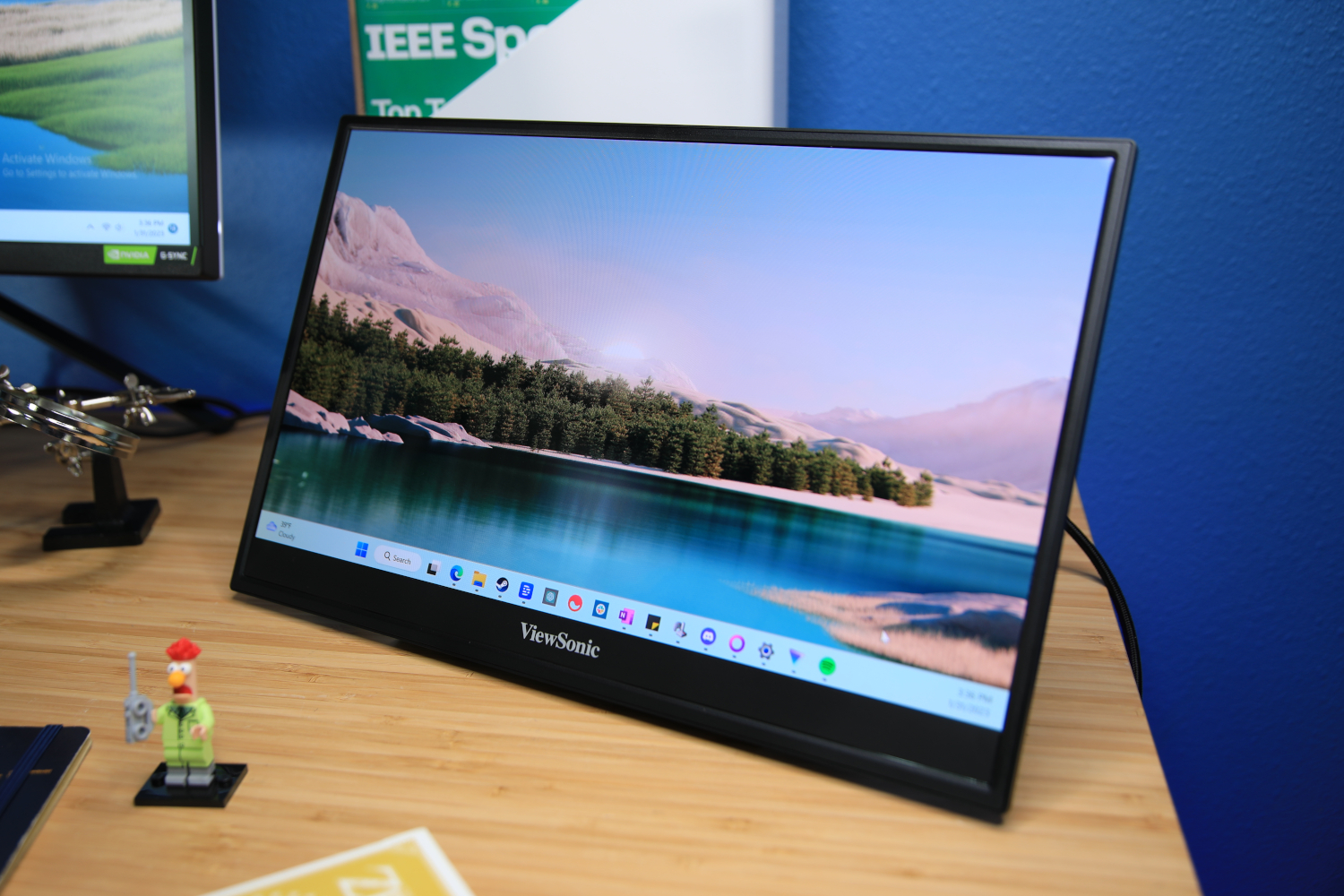 Price When Reviewed:
$399.99
That's not great, but comparable to other monitors of similar price. Viewsonic's VP16-OLED is obviously the champion. However, with a price closer to $400, I'd expect it to be.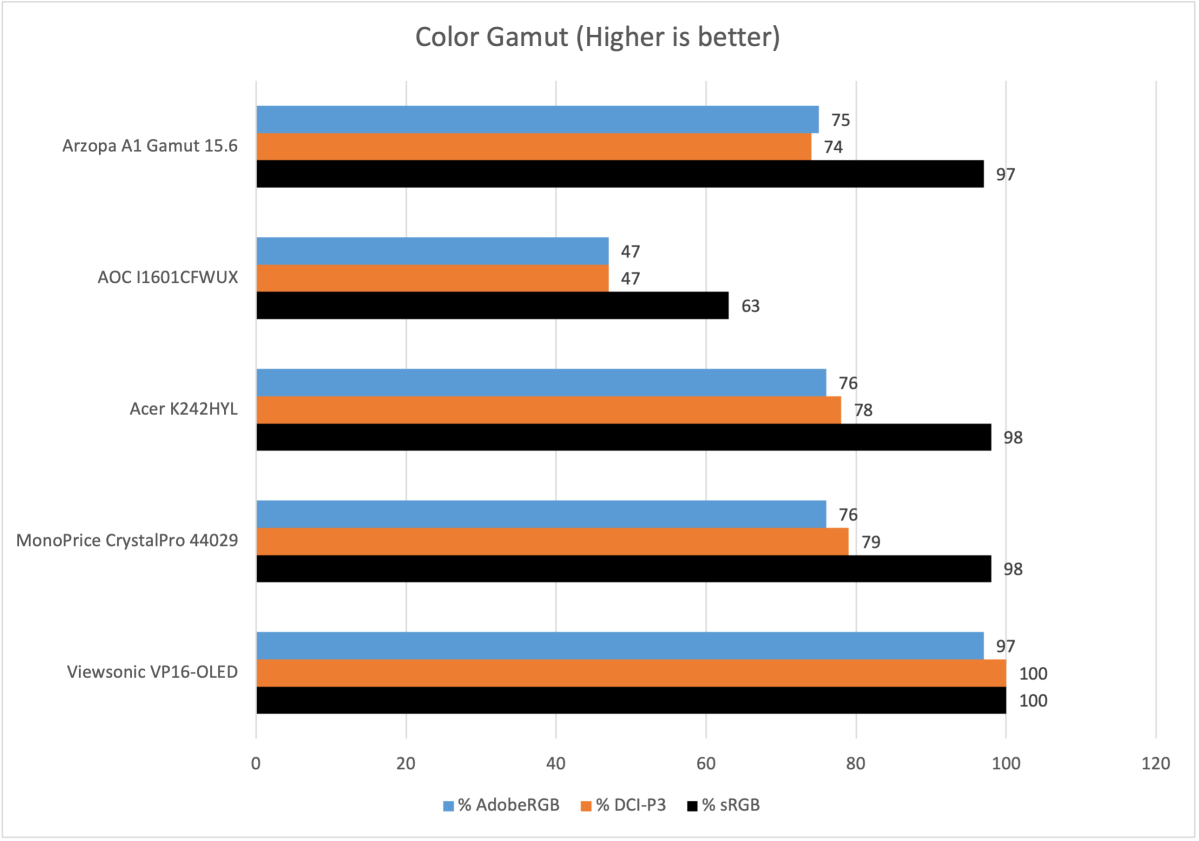 Matt Smith
The A1 Gamut's color gamut spans 97 percent of sRGB and 74 percent of DCI-P3. This isn't a spectacular result, but comparable to other budget monitors. The color gamut could be much worse—as evidenced by the AOC I1601FWUX's lackluster performance.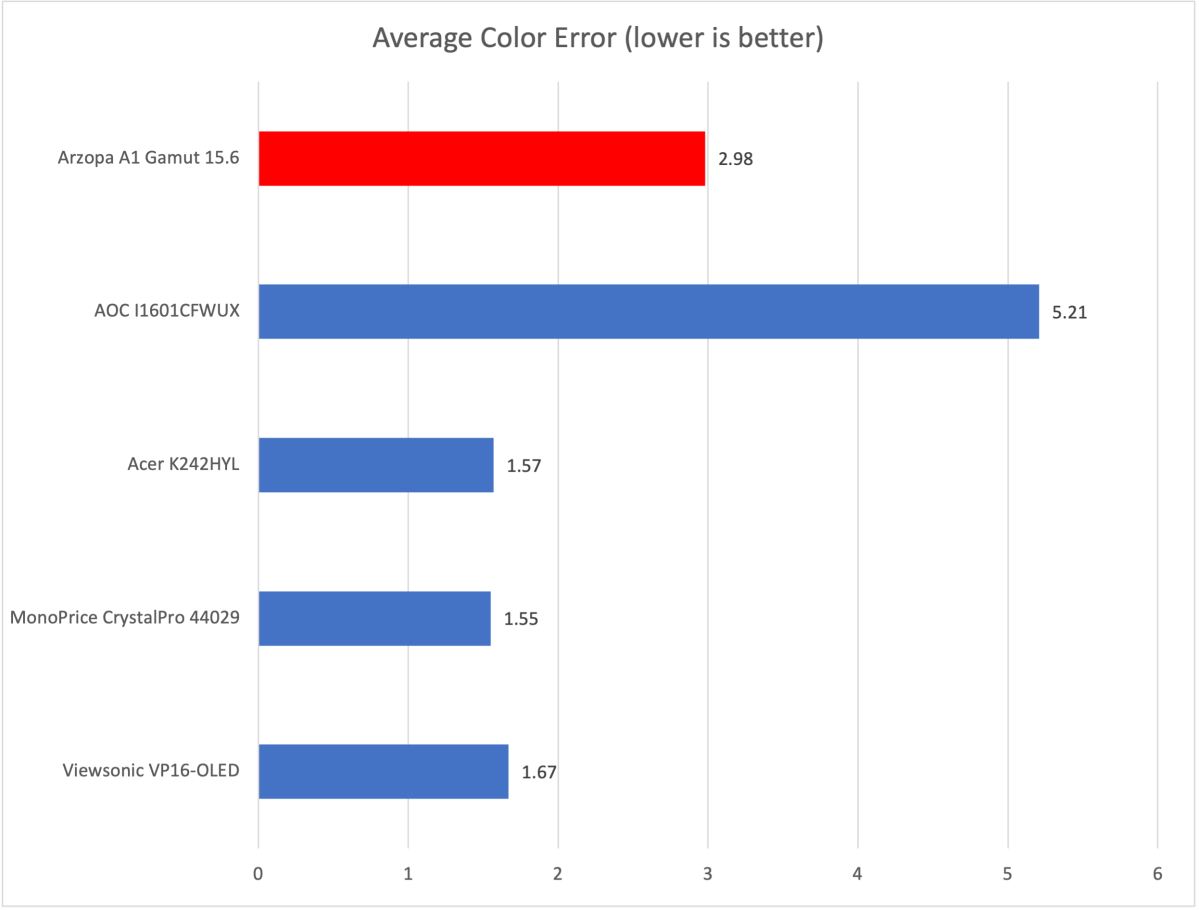 Matt Smith
I can say the same of color accuracy. The A1 Gamut isn't the most accurate monitor, but also far from the worst. This level of color accuracy won't hold up in professional or semi-professional content creation. However, that's not the A1 Gamut's target audience.
Surprisingly, the A1 Gamut has an on-target default gamma curve of 2.2, which means the luminance of content appears as it should. The color temperature is also near ideal at 6600K, a hair off the target of 6500K. That means the image doesn't appear too warm or too cool. Combined, these traits help provide an image that looks realistic and accurate.
Sharpness is excellent, as well. 1080p resolution may not sound impressive but, on a 15.6-inch panel, it works out to 141 pixels per inch (PPI). That's much sharper than a 27-inch 1440p monitor, which delivers 109 PPI, and almost as sharp as a 27-inch 4K monitor, which packs 163 PPI.
The Azorpa A1 Gamut won't leave anyone's jaw on the floor, but its image quality is more than adequate for a budget portable monitor. It has a bright, lifelike picture with excellent clarity, and it outperforms similarly priced alternatives with bottom-rung IPS panels.
Arzopa A1 Gamut: HDR image quality
The Arzopa A1 Gamut doesn't support HDR. That's just as well. Though its image quality is solid for the price, the monitor lacks the brightness and color gamut required to do HDR justice.
Arzopa A1 Gamut: Motion performance
Gamers won't find the Arzopa A1 Gamut alluring. It has a standard 60Hz refresh rate and lacks Adaptive Sync. Games feel responsive, but no more so than with any modern LCD computer monitor.
Motion clarity isn't great. Test images that scroll through scenes from DOTA 2 and League of Legends show significant blur. Fine details, like character names, are impossible to read, and even character silhouettes can be difficult to discern.
That's not to say games are unplayable. Most games look fine, and titles with less frequent motion are easy to play. Still, those who want a portable monitor for fast competitive games should consider an alternative with a 144Hz refresh rate.
Should you buy the Arzopa A1 Gamut?
The Arzopa A1 Gamut isn't an amazing display, but it checks the right boxes on a tight budget. It looks and feels sturdy, has a nice bundled cover, offers plenty of connectivity, comes with all required cables, and delivers a bright, usable picture. It's a decent deal at its MSRP of $189.99—and, when its price falls below $150 (which is common), it's a steal.