If you're interested in trying out the far future of Windows features — say, Windows 12? — the new Windows Insider "Canary" channel may be right up your alley.
Microsoft debuted the fourth new Windows Insider Channel on Monday morning. "Canary" joins the other Windows Insider channels as a way for you to try out new features before they arrive on Windows 11. Typically, the arrangement goes as follows: Release Preview is for code that's just about to be released, while the Beta Channel is code that's definitely scheduled, through a bit further out.
The Dev Channel and the new Canary Channel are more experimental. Microsoft "relaunched" the Dev Channel on Monday, with an eye toward enthusiasts who want to try out new code that may never see the light of day. "Canary" is even riskier, and the new channel was accompanied by warnings that it could end up putting your PC into a state where you might have to reinstall Windows.
On the other hand, the Canary Channel may end up as a way for you to see what Microsoft is working on for the next release of Windows. What Microsoft won't do, apparently, is always tell you what those features may be. "We will offer limited documentation for the Canary Channel, but we will not publish a blog post for every flight – only when new features are available in a build. We will continue to provide blog posts for Dev, Beta, and Release Preview releases like we do normally," Microsoft said in a blog post.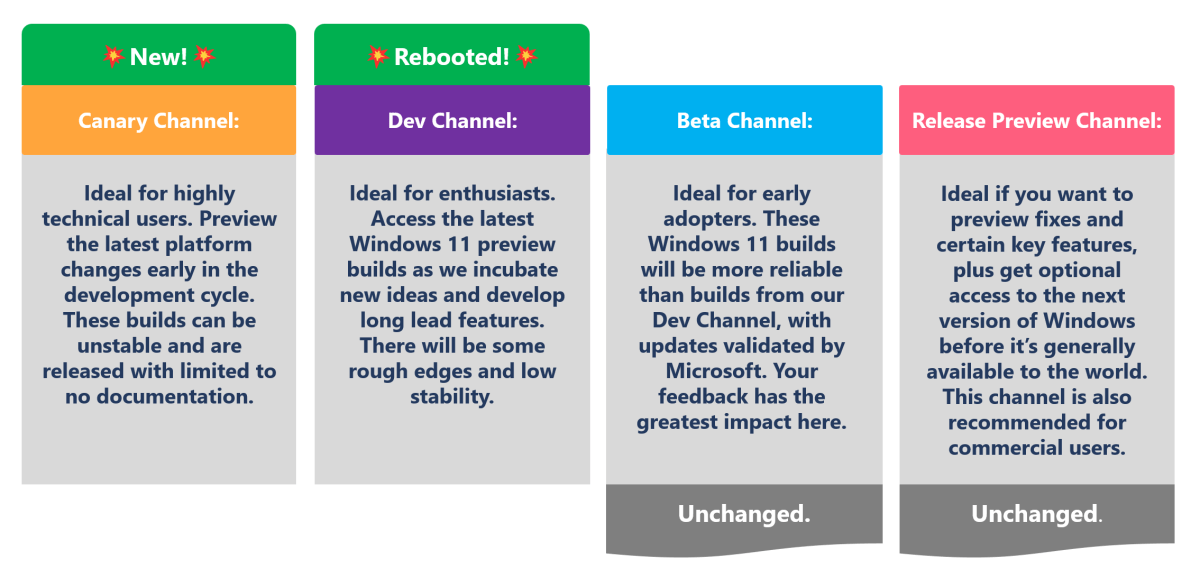 Microsoft
Windows Central points out that the new channel may be used to debut so-called Windows vNext, code that won't end up in Windows 11 but may be released in an entirely new version, aka Windows 12. Put another way, the Dev Channel is being designed for enthusiasts who want to try out code within the Windows 11 timeframe, but the Canary Channel could wind up reserved for Windows 12 (or 13?) experiments.
Joining the Windows Insider program for Windows 11 is easy. In its blog post, Microsoft suggested that now might be a good time for switching channels, which you can do via the Windows Insider portion of the Settings>Windows Update section of the Settings menu. Just remember that while it's easy to switch to more advanced channels (from Release Preview to Beta to Dev to Canary), it's more difficult to go backwards. That's because Windows doesn't want you to go "update" to an earlier build. In that case, you may have to reinstall Windows, which will erase all of your installed applications. In other words, Insider builds are still best left for a secondary machine that's tolerant of bugs and other glitches.
Rumor has it, though, that Windows 12 could debut in 2024. If you'd like to roll the dice and start getting an early peek, than the Canary Channel may be for you.