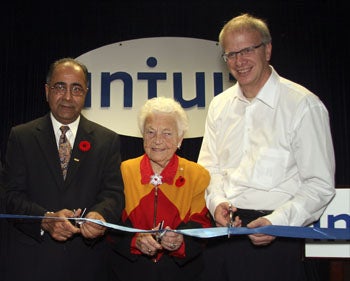 Intuit's QuickBooks small business accounting software runs the back office for many of North America's 31 million small businesses. Now Intuit plans to expand globally by targeting 10 Asian countries, including India, Indonesia, Malaysia and South Korea. Collectively, these 10 Asian countries have 250 million small businesses.
You won't see many notebook computers in the street stalls of Jakarta. Yet even a street sweeper has a mobile phone. So Intuit plans to grow globally by developing mobile-based versions of QuickBooks at its Global Business Division office, based in Mississauga, Canada.
I toured Intuit's new Global Business office, located just west of Toronto, at its recent official opening. The building is equipped with the typical Intuit employee-friendly furnishings, including nap rooms and a yoga studio. An HD teleconferencing suite will cut down on the need for 20-hour long trans-Pacific flights to consult with employees based overseas. About 40 work here now, but eventually more than 250 will call the new office home.
At the ribbon-cutting ceremony, Alex Linter, president of Intuit's Global Business Division, said all the new apps will be Web-based because it's easier to distribute.
I expect some aspects of Intuit's new mobile technology will work their way into American versions of QuickBooks. And why not? The processing power and storage capacity of an iPhone 3G or BlackBerry Bold rivals that of the notebook PC I relied upon a decade ago.