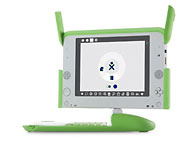 John Lennon is reaching out from beyond the grave, encouraging you to donate laptops to poor children.
Using digital technology to recreate Lennon's face and voice, One Laptop Per Child (OLPC) created an ad, approved by Yoko Ono, promoting its cause. The organization donates rugged, solar-powered laptops to children in developing nations.
Digital Lennon riffs on Imagine, his most famous song, as he "talks" about changing the world. "I tried to do it through my music, but now you can do it in a very different way. You can give a child a laptop and more than imagine, you can change the world."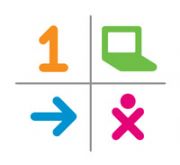 OLPC previously enlisted living celebrities, including Tom Brady of the New England Patriots and Masi Oka of the NBC television show Heroes to promote its cause. But apparently the organization needs dead celebrities to really make a difference -- or perhaps it is just trying to tap into the wallets of Beatlemaniacs.
This isn't the first time corpses have been digitally dug up for modern purposes. Remember when Celine Dion sang a duet with Elvis? Or when Fred Astaire danced with a Dirt Devil in 1997? It was creepy then; it's creepy now. However, you can check it out below.