The Next Generation of Netbooks
Netbooks: All About the New Ultraportables
The Next Generation of Netbooks
Processor Power
With bargain-basement prices, svelte dimensions, and full-blown operating systems, models in the current crop of netbooks look great on paper. But the Intel Atom processor powering these machines can't do anything much fancier than editing basic documents, sending e-mail, and browsing the Web. The standard configuration for the machines you'll find on store shelves includes a 1.6-GHz CPU with 1GB of RAM using Intel's 945 chip set and running Windows XP--not exactly a performance powerhouse, but it works.
Making the most of your netbook is all about managing expectations. Don't plan on playing modern PC games, editing huge pictures, or creating 1080p videos on these machines--at least not yet. Later this year, nVidia will release its Ion graphics platform, and AMD will launch its Neo processor. These two mobile chips promise to boost netbook performance significantly, and may very well change the way we think about small computers.
Growing Displays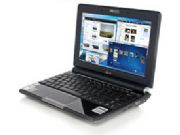 When I first encountered the original Asus Eee PC's 7-inch LCD, I had to increase the magnification in my eyeglasses' prescription--and spin the scroll wheel like a manic gerbil--just to read an everyday Web page.
Fortunately, times have changed. Even the smallest machines these days offer about 8 inches of viewable display area, with at least 800 pixels across. That is adequate for Web browsing, though the 10-inch screen available on the largest netbooks makes a real difference in the experience. I've streamed TV shows over Hulu.com onto an HP Mini 2140, and the images look great. But you also need to account for a couple of visual X-factors when selecting a netbook. The screen coating is a critical consideration. The HP Mini 2140's glossy screen may look snazzy indoors, but in broad daylight--where many people would at least occasionally use it--the glare on it can be blinding.
Another characteristic to weigh is native resolution. The default setting for most netbooks is 1024 by 600 pixels. Though this slightly odd aspect ratio will work with most software, some programs require a different resolution to run properly. For compatibility, Lenovo also incorporates a 1024-¬by-768-pixel-resolution option into its IdeaPad S10. If you intend to run proprietary business apps that demand a specific resolution, make sure that the netbook you buy can support it.
Better Battery Life
Though the Intel Atom CPU is by no means an energy hog, netbooks aren't known for long battery life. That is partly because vendors typically try to keep costs down by providing a modest three-cell battery. If you're lucky, a battery of that size will last 2.5 hours on one charge, judging from PC World Test Center results. So if you want to stay productive on your netbook while traveling, you'll probably need to buy an oversize, extended-life battery to power your machine.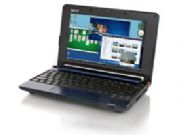 The best-selling Acer Aspire One is a case in point. As configured, this neat little machine sells for roughly $300; but if you want it to run longer (surviving a cross-country flight would be nice), prepare to shell out another $100 for an optional six-cell battery that effectively doubles its duration. The bigger battery adds a little more weight to the system, too: There's roughly a 0.3-pound difference between three- and six-cell netbook batteries, but the longer life between recharges is worth the extra investment.
So far, Asus has earned the laurels for producing netbooks that have the longest battery lives. One reason for its preeminence in this area is the company's inclusion of an eight-cell battery. Another is its practice of offering both a standard and a larger battery with its netbooks, letting users choose the right battery for their needs.
You get one other bonus when you buy a bigger battery, in some models at least: The double-stuffed power source props up the netbook at a slight tilt, making ergonomic typing on the (usually) tiny keyboard a little easier.
The Next Generation of Netbooks
Shop Tech Products at Amazon