The Next Generation of Netbooks
Netbooks: All About the New Ultraportables
The Next Generation of Netbooks
Work or Play
The first generation of netbooks targeted nonbusiness consumers--especially students. After all, you can stuff one of these affordable task-specific portables in a bag, and it can take a beating. But machines of this class make sense for corporate users, too. Why lug a huge laptop through the halls of an office complex when all you need is a good keyboard and a wireless connection? Such thinking has led vendors to divide netbooks into business and consumer subcategories.
Corporate netbooks pack more premium components than their consumer counterparts. HP's rugged Mini 2140 comes with 802.11n Wi-Fi instead of the usual 802.11b/g. A built-in accelerometer protects the hard drive if the system is dropped, and a spill-resistant keyboard keeps it dry. Asus's N10Jc was the first mini-notebook to include a discrete graphics processor (nVidia's GeForce 9300M GS) that the user could toggle on or off. Of course, premium gear is expensive, and corporate netbooks command prices above $600.
The Next Generation
Netbooks won't stay as they are for very long. By the end of the year, they will have emerged as a major computer category, with diverse options to augment similar basic features.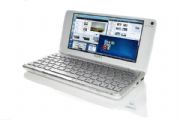 Sony's new $900 VAIO P, for instance, relies on a 1.6-GHz Intel Atom processor to run Vista Basic and gives users an 8-inch screen (a little smaller than a DVD case) to work with. The company's marketing people may cringe when you call it a netbook, but it sure looks like one. Another company pushing the Atom CPU to new heights is MSI, with its X320--a 13-inch portable with the style of a MacBook Air but a price of only $1000.
Other chip makers hope to get in on the ultraportable action, too. nVidia has been making some noise about its Ion platform concept, which will likely consist of a GeForce 9400M GPU married to an Intel Atom CPU on a tiny motherboard. The Ion has performed well on basic tests, but who knows whether it will gain any traction with vendors (or whether Intel will ever support the idea of a different company's chip set working with its Atom CPU)?
Meanwhile, AMD is aiming for yet another tweener category of laptops: ultraslim and affordable. The company's Athlon Neo processor is designed to run reasonably powerful ultraportables that start in the vicinity of $700--just a hair more than the amount some companies are charging for their high-end netbooks--and run as high as $1400. In AMD's case, the baseline configuration has a 1.6-GHz CPU working with ATI Radeon X1250 graphics processor on the motherboard. Though this arrangement is faster than Intel's integrated option, it hasn't set the world on fire yet. Partner a Neo with an ATI Mobility HD3410, however (as the company is proposing), and it can offer 1080p high-definition playback and reasonable game performance. AMD already has a proof-of-concept model shipping this March: the HP Pavilion dv2, a 12.1-inch machine priced at $600 to $800.
Our focus on netbooks here shouldn't lead you to ignore the rest of the notebook market. With the economy in extended decline, prices for full-size laptops are sinking. You'll soon be able to find last year's gear in newer, cheaper notebooks. Toshiba plans to release a low-end all-purpose laptop, the Satellite L305, for around $550. And that machine will have an optical drive. In short, no one portable is perfect for everyone--but you'll soon be able to find the perfect set of options for just about anyone.
The Next Generation of Netbooks
Shop Tech Products at Amazon